Cool online drum machine
This online drum machine emulator is an interactive pattern oriented audio sequencer , has an automatic composer, automatic sound assignations, a custom drum kits with a vintage drummachine like the famous TR-808.
The orDrumbox is a software drum machine, designed to a creative pattern based way of drum programming with automatic music composition capabilities. You can compose beats even with polyrhythms, bass line and complete songs using included drum kits with the audio sequencer functions.
An electro minimalist tune is generated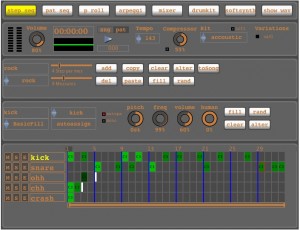 – New color scheme and bug fix too.
Visit: ordrumbox.com
Comments