Hπ Instruments Microsynth: New Synthesizer App For Mac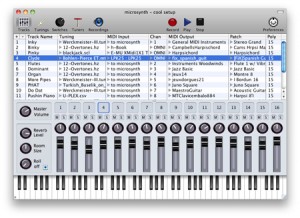 Make some microtonal music on your Mac with Hπ Instruments Microsynth, a polyphonic multi-timbral microtonal synthesizer application (standalone). It's now available in two versions: the multi-timbral version and the mono-timbral (single-track) version dubbed Microsynth-mini.
Both are Mac OS X SoundFont synthesizers for microtonal music, supporting seven types of tuning files, instant retuning, audio file recording, routing to and from standard MIDI hardware controllers, and sequencing and notation software such as Sibelius and Finale. Overall, Microsynth is designed to give you total control of tuning in your music.
The tuning features are the same in both Microsynth and Microsynth-mini. There are 16 independent tracks, each with tuning, MIDI I/O, SoundFont, and patch selection. Check out all the synth features, below.
Microsynth features:
Unlimited tunings, any key to any pitch
Individual tuning per track
Supports MTS real-time Sysex messages
Supports .scl .tun .hz .csv .mtx .gly and .tonex tuning files
Supports single channel tuning tables of 128 tones
Supports OMNI-channel tuning tables of 2048 tones
Allows real-time transposition and remapping of scales
Unlimited user-defined MIDI CC tuning switches and tuners
Supports pitch bending of microtonal pitches
Comes with GM / GS sound set
Built in reverb
Loads .sf2 SoundFonts
Unlimited MIDI connections
One virtual MIDI input and output
Records WAV audio files
Loads and saves scenes
Multiple Undo
The Hπ Instruments Microsynth synth for Mac (standalone) is available for $19.99. Microsynth-mini (single-track) is half as much, at $9.99. For more information, go to the company's Web site at h-pi.com.
Comments