KORG SDD-3000 Pedal – new delay based on the classic 80′s SDD-3000
Korg has introduced the SDD-3000 Pedal, a new delay pedal, based on the classic 80′s SDD-3000.
The SDD-3000 PEDAL packs all of the SDD-3000?s functionality into a convenient pedal unit. Featuring a pre-amp with ample headroom, a filter circuit that modifies the feedback sound, and modulation waveforms that allow a diverse array of delay effects, it covers all of the SDD-3000′s important elements.
In addition to specifications that will satisfy SDD-3000 users, it provides many new functions such as eight delay types, long delay times up to 4,000 milliseconds, selectable modulation waveforms, stereo input/output, and MIDI compatibility. The user interface has also been updated for dramatically improved ease of use.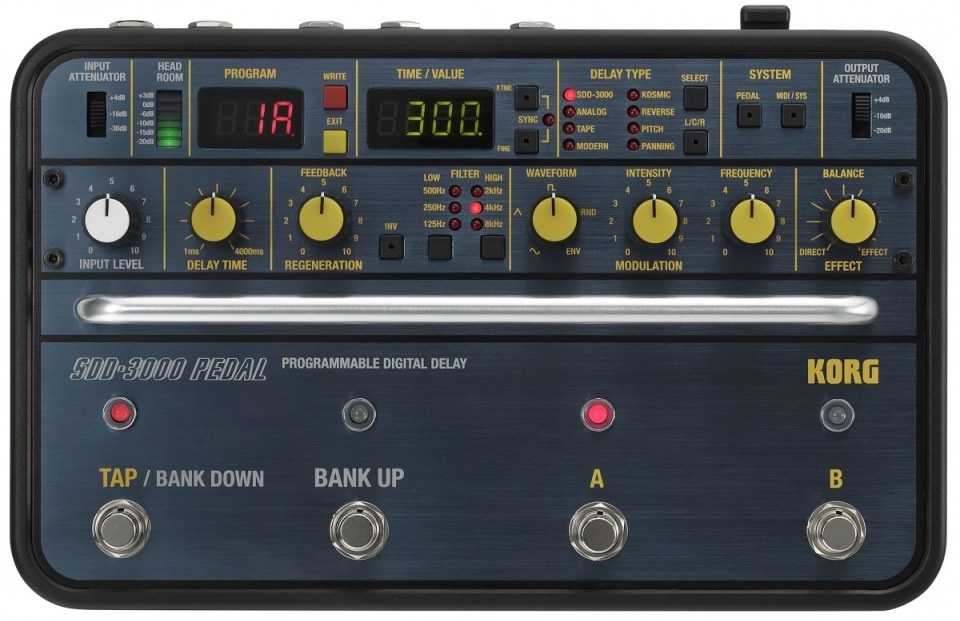 Features:
All features of the SDD-3000 digital delay, packed into a pedal unit.
Eight distinct delay types including SDD-3000, Analog, Tape, Modern, Kosmic, Reverse, Pitch and Panning.
The preamp that defined the sound of the SDD-3000 is faithfully reproduced.
Selectable filters that alter the sound of the delay repeats.
Choose from five types of modulation waveforms that modulate the delay time. You can also create waveforms that interpolate between two types, and make fine adjustments to the waveform.
Use flanging, chorus, vibrato, doubling, and Doppler effects.
A wide range of delay times is available, from 1 millisecond to long delays with a maximum of 4,000 milliseconds.
Sync mode lets you specify the delay time in terms of 11 different note values ranging from whole notes to 32nd notes.
A total of 80 programs (40 banks x 2 channels) can be saved.
LCR function lets you create multi-tap delay effects.
MIDI connectors are provided, allowing you to trigger program changes from an external device, or to transmit program data as a bulk dump to and from other units.
Seamless bypass and program changes allow you to retain the reverberant sound when switching sounds.
Reliable true bypass design.
An optional expression pedal can be used to control multiple effect parameters simultaneously.
The SDD-3000 Pedal is available now, with a street price of around US $400. See the Korg site for more info. 
Comments