More info on Propellerhead´s upcoming Rack Extensions
The guys at Propellerhead has released some more info on their upcoming Reason 6.5 release (free for registered users) including the newly announced Rack Extensions, here's what they have to say:
It's not just third parties who are getting into the creation of Rack Extensions. On release day, Propellerhead will be releasing their own Rack Extension devices for Reason 6.5 and Reason Essentials 1.5. Below is some early information on what we'll have on offer.
Radical Piano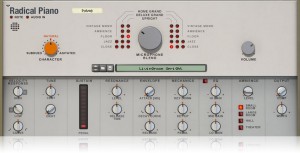 The premise is simple. The results are stunning. We'll give you three basic pianos paired with the technology to make an infinite number of your own. Based on a custom blend between sampling technology and physical modeling algorithms, Radical Piano affords songwriters, producers, and sound designers an unprecedented level of control to craft a realistic piano that is 100% unique.
Pulsar
Pulsar LGM-1 is a dual channel modulation power house for the Reason rack. We call it a dual LFO but it's also a powerful little synth in its own right. More info coming soon.
Polar
Polar is a classic harmonizer/pitch shifter with a host of modern tricks up its sleeve. Use it for old school harmonizing and stereo widening effects, or use it to go totally granular filtered pitch shift repeater on your music. More info coming soon.
When Reason 6.5 and Reason Essentials are released, we'll also be launching the Propellerhead Shop. It will be the central location where users can try and buy Rack Extensions with single-click ease. While many companies have begun developing Rack Extensions for the Reason platform, we'll leave their own product announcements up to them. Below is a small sample of companies that are currently planning to launch Rack Extensions in the Propellerhead Shop:
Uhe, Rob Papen, Softube, Peff, KORG…
Comments