NI Monark reviewed by Audiofanzine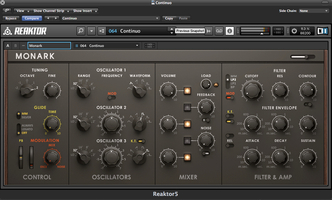 In the domain of analogue synthesizer emulation, the race for fidelity continues. The biggest breakthroughs have not necessarily originated from the top editors. One of them, Monark, is reacting with a promise of the most faithful recreation of an old analogue hero, the Minimoog.

An ET from Mars ? Is it really possible that one day a virtual synthesizer with its 1s and 0s could equal the sound and reactivity of a purely analogue synthesizer? Can an imitation waveform even come close to sounding as good as the original? Can we really reproduce a random reaction from a computer? To answer these two last questions, we know that the human ear has (up to a certain point) the phenomena known as sound « smoothing » (imagine that the ear allows you to hear transistors at real average volume) and that the stair effect brought about by digital audio on the wave form (and therefore, the sound itself) has a tendency to not be heard thanks to the improving quality of converters, clocks, etc. (unless you want to work with 8 bits at 11kHz).

As for the randomness, that's probably where the real problem is: with analogue, random is… random. With digital, it's pseudo-random. A machine can't choose a number at random. It would have to « think »… and we're not there yet.

So two vital characteristics in analogue equipment can not be identically reproduced in the digital domain. Should we conclude that well thought out programming ideas, and ideas to « get around » the problems should not be considered pertinent? Some editors have shown us that this is not the case: certain aspects of the virtual MS-20 from Korg are pretty convincing, especially the G-Force series, with the impOSCar, the Minimonsta or the Oddity, which sound great. The Arturia products also have their own qualities with nice emulations (their most recent software), and Diva from u-he is still today one of the most extraordinary virtual analogue synthesizers around.
Read the whole eview here
Comments