Shoogle Studios has announced Shoogler, a free Max for Live filter device.
To celebrate the launch of our new Max for Live course we're giving away this incredible multimode filter device! Featuring:

2 Independent Filter Units
Low Pass, High Pass, Band Pass, Band Stop and Peak filter types
4x standard LFO's and 1x combo to modulate cutoff, Q and gain
Full Push compatibility!
The Shoogler device is a free download (requires Facebook like).
Shoogler is an incredibly powerful dual-multimode filter with extensive modulation possibilities. It was developed by Shoogle Studios M4L guru Robert Goldie to demonstrate the type of effect you will be able to build after completing our new Max for Live: Introducer course.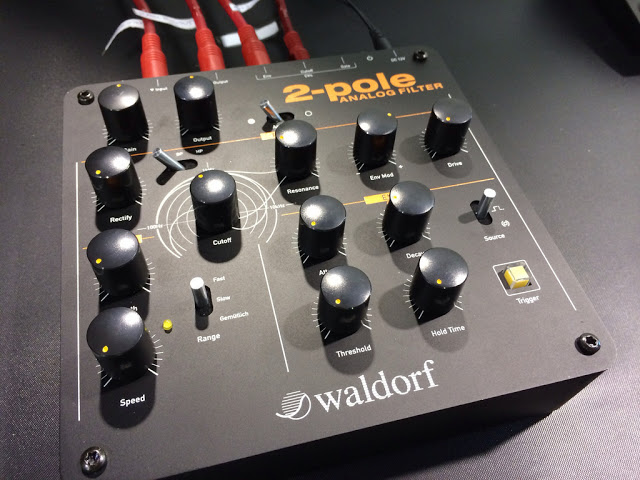 "Waldorf's mystery knob is the filter control from a big filter in a box.
That's right, Waldorf is introducing a 2-pole filter. And one heck of a 2-pole filter it is:
Filter with cutoff and resonance, but also a Drive setting, Rectify, and switchable between low-pass, band-pass, and high-pass
LFO with Depth and Speed
LFO set to Fast, Slow, and (hilariously) Gemütlich (kinda hard to translate, actually easy-going and slower than slow)
Envelope controls: Attack/Decay/Hold, threshold, a source (hard to tell what that does), and trigger.
And it takes CV for envelope, cutoff, and gate, with jack plugs for input and output."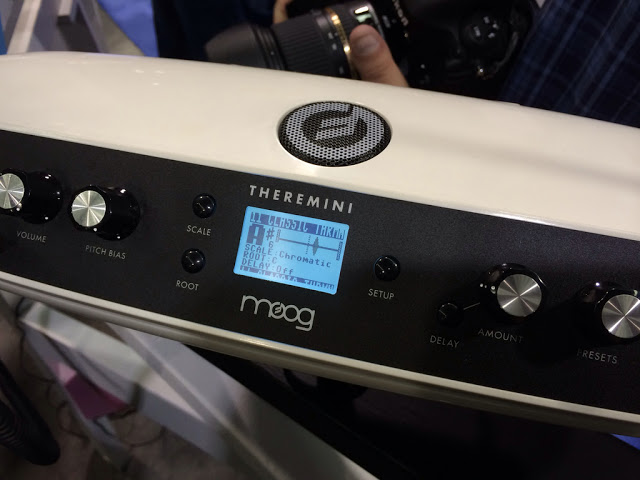 "Then there's Moog, who are introducing, as rumored, a new Theremin. And this isn't just any Theremin: it's a Theremin that can assist you in keeping things in tune, all whilst looking like a space-age egg from Woody Allen's Sleeper.
It's a Theremin with presets. Crazy presets.
It's a digital instrument with Theremin-style controls. (Readers who speculated, you guessed right.) It'll upset purists, perhaps, but this is rather cool: it's based on the unique-sounding Animoog sound engine.
The synth is digital, but the input is analog: classic heterodyning style, then digitized as control signal for the engine. Onboard MIDI, CV output (presumably pre-digitization, in fact), and USB. But that engine gives you more different ways to play.
Yes, there's a display, scale and root controls, a Presets knob, plus built-in delay. There's a built-in speaker and headphone jack, as well, for convenience.
Price: US$299 estimated is what we heard on the floor…"
Product descriptions from our colleagues at CDM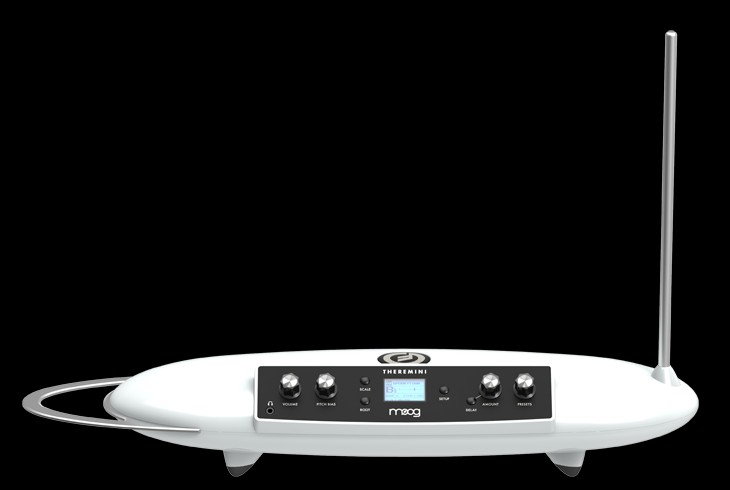 "The Theremini is a re-imagination of one of the oldest electronic musical instrument in history, and Bob Moog's first love – the theremin. Its design fuses the experience of performing with an instrument you don't actually touch, with a powerful sound engine derived from Moog's award winning synthesizer, Animoog. The Theremini guarantees immediate success to any player at any skill level, while providing new ways to experiment with music, education, and gestural control.
Assistive pitch correction allows each player to adjust the instruments level of playing difficulty. At the maximum position, the Theremini will play every note in a selected scale perfectly, making it impossible to play a wrong note. As this control is decreased, more expressive control of pitch becomes possible. When set to minimum, the Theremini will perform as a traditional theremin with analog heterodyning oscillator and absolutely no pitch assistance.
A built in tuner supplies real-time visual feedback of each note as it is played, as well as its proximity to perfection. This is useful for correcting a users playing position, or to educate younger players about pitch and scales.
The presets section allows you to select from 32 wave or wavetable-based patches, store a selected scale & root note, set and recall a specified playing range, and specify per-patch settings for the included stereo delay.
Recessed in the top of the Theremini is a compact speaker perfect for private rehearsal and quick setup anywhere. Silent rehearsal is also possible via front panel headphone jack. Simply plug in ear-buds or headphones and the built in speaker becomes silent.
For live performance and gestural control, the rear panel features two line level audio outputs, a pitch CV output with selectable range, and a mini USB jack for MIDI I/O and connectivity.
Here is a demonstration of the sound and functionality of the Arturia MicroBrute filter.
John Keston explores the Bass Station II, below his report:
I have recently been trying out a Novation Bass Station II monophonic analogue synthesizer. I am quite impressed with this big sounding synth in a small package. While digitally controlled, Novation have focused on packing in proper synthesis features rather than trying to gloss over the sound with onboard effects. For example, as I have illustrated in the video, the filter self oscillates nicely with a clean sine wave that can be modulated in unique ways especially with distinct features like oscillator slew.
The video starts with the self oscillating filter getting modulated by LFO 2 using the triangle wave. After that I switch to using the sample and hold setting creating the well-known 60s computer sound of random notes. Here's where it gets interesting though. Once I switch the LFO to sample and hold I start turning up the oscillator slew I mentioned earlier. What this does is variably smooth the wave shapes created by the LFO. You'll hear this come in at 0:28. It sounds like portamento. At 0:35 I switch the LFO to the square wave, but with the slew on it sounds more like a sine. As I reduce the amount of slew the square wave regains its recognizable character. Next I switch it to the saw tooth wave. The nice thing here is that the LFO amount can go into negative values allowing the saw to be reversed.
Another distinctive feature is the oscillator filter mod setting. This modulates the filter with oscillator 2. Since the oscillators range from subsonic to almost supersonic this feature offers modulation effects that are not possible with the LFOs. At 1:29 you will start to hear the oscillator filter mod come in using a pulse waveform. What makes this interesting is that while oscillator 2 is modulating the filter it can also have the pulse width modulated by LFO 1. This can cause bit-reduction-like effects that can be heard between 1:49 and 2:19. At 2:20 I start tapping the octave and waveform buttons on oscillator 2 illustrating what happens when the modulation source is instantly shifted an octave at a time. After a bit more messing around I added a final, manual filter sweep at 3:20.
http://audiocookbook.org/novation-bas…
This is a demo of the Boomstar 4075 (ARP 2600 filter) being sequenced by a Doepfer Dark Time. Because of the nature of the demonstration, it could get a little boring during some sections. Pay attention to the subtle changes and you will be impressed. Stay tuned through the whole video to see how much range the Boomstars can cover. This is only a short segment as well, these synths are capable of much more. This is a Perfect Circuit Audio favorite of 2013!
Look out for another Boomstar demo coming soon, this time played by a MIDI controller.
A quick inspirational video showing a nice result from step sequencing the Moog Voyager's filter cutoff.
Exploring filter modulation on the Prophet, details below:
I was able to to borrow a Prophet 12 recently. Since it has analog filters, I thought it might be interesting to do "analog things" to it. This is part of what happened next.
At first I was disappointed when I saw that there were no CV connections, but I soon found that the two pedal inputs can be used with a variety of CV gear.
In this video I have the Koushion Step Sequencer iPad app sending MIDI notes to the Moog Mult-Pedal. The Multi-Pedal converts them to an analog control Voltage which step-sequences the Prophet 12's filter.
The Moog CP-251 allows us to make multiple copies of the Control Voltage so we can also step-sequence a Moog Voyager and Little Phatty. Learn more at www.experimentalsynth.com

Cerberus Audio has announced the release of Epoch Dynamic Comb Filter, an effect plug-in for Windows and Mac.
Epoch Dynamic Comb Filter is a unique alternative to traditional filtering and dynamics processes such as equalizers and compressors.

Unlike most equalizers, Epoch is musically reactive, and Epoch has a wider range of tonal color than most compressors.

The heart of Epoch is its Comb Filter Section which features a 360° Phase Rotator and a Fractional Delay. The filtered signal is applied selectively by Epoch's bespoke Dynamics Section.
Epoch (VST/AU) is available to purchase for $72 USD (single user) / $86 USD (commercial).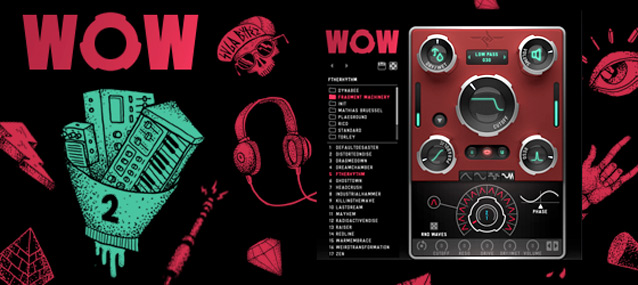 SugarBytes dreamt of a WOW2 and now it is here! With a future-dripping user interface, 21 incredible filter types with the famous vowel mode. With distortions that cover your tracks with gas and put them on fire. Modulations that cause more trouble than your modular dark room. And finally that warm and juicy sound, that you were looking for.
– 21 Filter types like Lowpass, Bandpass, Highpass, Bandreject, Comb and much more. Low pass types up to 48 db, including flavors like SVF, Diode Ladder and Transistor Ladder.
The filters and distortions have been designed for best harmonics without aliasing, for high definition audio quality.
– Three different analog modeling overdrives and four digital distortion functions are included. Use them pre or post the filter.
– Modulation is power. Power is sex. Create stunning trance gates with the step sequencer, do some giant wobbles with the wobble generator or let all the modulators interact with each other. The LFO offers many different wave forms, restart options and sync flavors.
– Presets are just one click away. Randomize presets to inspire yourself.
Get WOW2 now! Skrillex, Boys Noise, SiriusMo, Modeselektor, MouseOnMars already did.
WOW2 is the new filter plugin from Sugar Bytes.
Find it on www.sugar-bytes.com.
Within the last year a new generation of analog mono-synths have appeared on the market from larger manufacturers like Korg, Moog, Novation, Arturia, etc. This is indication that people are re-discovering the beauties of crafting sounds via analog subtractive synthesis in the 21st century.
These recent designs retain the quality of a pure analog signal path but control voltage elements (EG, LFO, Keyboard, Midi to CV) are reaping the modern benefits of advanced micro-controllers and smaller components. One design feature that has been included within almost every synth within this new wave of monosynth is some form of overdrive to give the sound an extra aggressive, growly, shrieking distortion. The Arturia Minibrute has the "Brute Factor", Moog Sub Phatty has the "Multi-Drive", the Novation Bass Station II has onboard filter distortion, and so on.
Trends in music shape the features of musical electronics and vice versa, but we wanted to highlight a quality of the new Korg MS-20 Mini that is inherent in the original as well. The sound of the MS-20 filters being overdriven is legendary and thus many clones in various formats have been spawned. This is especially heard in techno, IDM, dubstep, noise, and experimental music.
This demo shows off just how the MS-20 mini growls, shrieks, hisses, gets nasty, and is the real thing. The patch we have setup is audio from the headphone jack being fed back into the signal processer section and the routed to the total control up top. Having the flexibility of a resonant high pass and low pass filter allows you to fine tune the grit and sputtering distortion this synth is capable of and always was. These are certainly not the only sounds it can make, but a finer point worth mentioning.