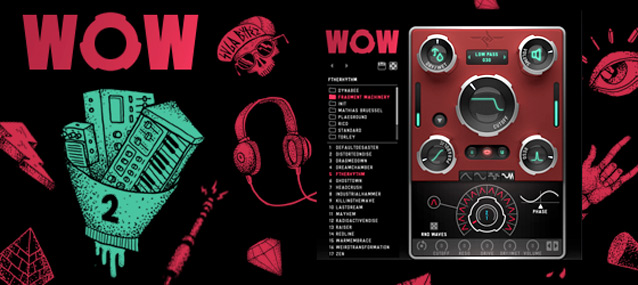 SugarBytes dreamt of a WOW2 and now it is here! With a future-dripping user interface, 21 incredible filter types with the famous vowel mode. With distortions that cover your tracks with gas and put them on fire. Modulations that cause more trouble than your modular dark room. And finally that warm and juicy sound, that you were looking for.
– 21 Filter types like Lowpass, Bandpass, Highpass, Bandreject, Comb and much more. Low pass types up to 48 db, including flavors like SVF, Diode Ladder and Transistor Ladder.
The filters and distortions have been designed for best harmonics without aliasing, for high definition audio quality.
– Three different analog modeling overdrives and four digital distortion functions are included. Use them pre or post the filter.
– Modulation is power. Power is sex. Create stunning trance gates with the step sequencer, do some giant wobbles with the wobble generator or let all the modulators interact with each other. The LFO offers many different wave forms, restart options and sync flavors.
– Presets are just one click away. Randomize presets to inspire yourself.
Get WOW2 now! Skrillex, Boys Noise, SiriusMo, Modeselektor, MouseOnMars already did.
WOW2 is the new filter plugin from Sugar Bytes.
Find it on www.sugar-bytes.com.
Within the last year a new generation of analog mono-synths have appeared on the market from larger manufacturers like Korg, Moog, Novation, Arturia, etc. This is indication that people are re-discovering the beauties of crafting sounds via analog subtractive synthesis in the 21st century.
These recent designs retain the quality of a pure analog signal path but control voltage elements (EG, LFO, Keyboard, Midi to CV) are reaping the modern benefits of advanced micro-controllers and smaller components. One design feature that has been included within almost every synth within this new wave of monosynth is some form of overdrive to give the sound an extra aggressive, growly, shrieking distortion. The Arturia Minibrute has the "Brute Factor", Moog Sub Phatty has the "Multi-Drive", the Novation Bass Station II has onboard filter distortion, and so on.
Trends in music shape the features of musical electronics and vice versa, but we wanted to highlight a quality of the new Korg MS-20 Mini that is inherent in the original as well. The sound of the MS-20 filters being overdriven is legendary and thus many clones in various formats have been spawned. This is especially heard in techno, IDM, dubstep, noise, and experimental music.
This demo shows off just how the MS-20 mini growls, shrieks, hisses, gets nasty, and is the real thing. The patch we have setup is audio from the headphone jack being fed back into the signal processer section and the routed to the total control up top. Having the flexibility of a resonant high pass and low pass filter allows you to fine tune the grit and sputtering distortion this synth is capable of and always was. These are certainly not the only sounds it can make, but a finer point worth mentioning.
KingKORG includes filters that can model those of classic analog synthesizers. In this video, Korg USA's Rich Formidoni highlights the characteristics of some of the various filter types
Product Highlights:

A full-fledged, 61-key analog modeling synthesizer designed for live performance
Powerful oscillators that are understandable to the beginner, yet satisfying for the expert
Modeling filters that reproduce the sound of classic instruments
Three master effect sections (each with six effect types) add the finishing touch to your sound
Vacuum tube driver circuit adds rich overtones and powerful distortion
New panel layout designed for intuitive operation
CV/GATE OUT jack lets you control a Korg monotribe or MS-20
Support for librarian software that lets you manage programs
Mode Machines Wasp Filter – Band-Pass Filter Demo
1. TB 303 thru Mode Machines Wasp Filter – Band-Pass
2. Minibrute thru Mode Machines Wasp Filter – Band-Pass
3. MS20 thru Mini Mode Machines Wasp Filter – Band-Pass
4. TR-606 thru Mode Machines Wasp Filter – Band-Pass
5. Rocket thru Mode Machines Wasp Filter – Band-Pass
Mode Machines Wasp Filter – High-Pass Filter Demo
for more infos visit www.modemachines.com
Background video description from 'acemonvw':
Just put this up because someone (sicks) on the forum wanted a tutorial on how to route external gear through the lowpass filter on the Spectralis. I used my Virus TI as the external device (not shown) and it's audio output was put into the spectralis's Ext. Inputs.
Please don't hesitate to ask me questions for clarification, this was made rather quickly.
Make sure to check out my other tutorials in case this tutorial is too difficult to follow:
http://www.youtube.com/playlist?list=…
The KOMA BD101 is a complex (short) Analog Delay & Amplitude Modulation unit that can be used for filtering and treating audio signals; the very short delay time closes every "standard" application, but opens a whole landscape of sonic crushing and underclocking distortion. Pretty Wild. The IR sensor is very sensible to strong lights for shooting; so, on this video, its sensibility is not so strong than in the real life.
KOMA BD101 amplitude modulating Doepfer Dark Energy; Dark Time retriggers synth eg and BD101 is AMing signal for a rhythmic interaction; short delay and underclocking of BBD as usual.
The short BBD into BD101 is modulated with LFO triangle/square wave out from Doepfer Dark Energy. A lot of harmonics and – when underclocking takes act – a lot of severe audio changes. Not a standard delay, but a complex sound sculpting machine.
Background video description:
We recently restored a Polymoog Synthesizer for a client. He wanted the Vox Humana patch, so we transplanted the Vox Humana filter in to his Polymoog Synth. This is a demo of us playing with the new filter in the Polymoog Synthesizer, If you would like this modification, or would like a Vox Humana filter circuit board, contact us at www.NewEnglandAnalog.com.
Here 'noddyspuncture' is using the Sample and Hold on mainly the Filter, but the Oscillators do play a part as well… set to various intervals – unison and also a 3rd and a 5th apart.
A continuation of the exploration of the Doepfer A124 Wasp Filter. The Notch, Lowpass, and Highpass portions of the Doepfer A124 Wasp Filter are explored. In the next segment this filter is compared to the Doepfer A121 Multimode Filter. Sound and Video by Raul Pena.
Here is a demonstration of the sound and functionality of the Roland Juno-6 voltage-controlled filter.