Here is a demonstration of the sound and functionality of the Moog Sub Phatty's filter section.
"Previous to the shooting of these demo videos, I set all of the "under the hood" functionality to settings that would cause the synthesizer to act most like a vintage synthesizer. In the process of shooting, the synthesizer was turned on and off a number of times. A couple of times, I found that certain obvious settings had been reset (like the LFO pitch tracking feature, which kept coming on). When it didn't affect the subject I was shooting, I didn't reset them to my tastes. It appears that I should have, because it now seems likely that this video was shot with the filter in 18 dB or12dB per octave mode, despite the fact that I had set it to 24dB per octave before starting the series of shoots. Keep that in mind! (sadly, I no longer possess the unit, so I can't reshoot!)"
The Moog Foundation has really been busy over night – uploading some 20+ videos, below you will find a snapshot on what you can explore on their Youtube channel
This is the introductory video for the Bob Moog Foundation/macProVideo series "The Foundation of Synthesis." In it, Marc Doty sets the stage for the intent of these videos, which is an integrative instruction which not only describes synthesizer function and operation, but also gives a historical foundation for the functionalities and their implementation.
Pulse Width Modulation is a pleasing aural effect generated by the voltage-controlled adjustment of the width of a square wave. In this Foundation of Synthesis video, Marc demonstrates this function on several classic synthesizers. The video includes an oscilloscope, which shows you exactly what is happening when the width of the square wave output of the oscillator is changed!
In this part of the 3rd Tutorial of the Foundation of Synthesis, Marc outlines the history of the filter from its origin in the telephone to its application in electronic devices in order to give a firm understanding of how the filter came to be an important part of modern synthesizers. The filter is a function which removes harmonics from a sound. Since harmonics define the timbre of the sound, this is a fast and easy way to create new timbres.
Control voltage is the concept synthesis had waited for for 60 years. This technology united the synthesizer into a single device as well as allowed that device to become fully controllable and automated. Control voltage was a revolution in synthesis. In this video, Marc gives a short history to this amazing development.
Here is a demonstration of the sound and functionality of the Yamaha CS-50's filter section.
The brand new desktop filter box from mode machines. the F-106 Juno filter. 12db & 24 dB Low Pass Filter. Selfosc switch. VCA FREQ RESO CV inputs.
in this demo the sound source was a real juno 106 synthesizer. as mod. source was a make noise maths used.

SKnote has launched the C165a, a circuit modeled emulation of a VCA compressor with internal peak limiter.
C165a has been developed by measuring and testing a classic VCA compressor with a great sound and very simple to use. Its features have been extended including sidechain filters, a sample-aligned parallel mixing control and a limiter switch.
C165a features
Mono/stereo.
Auto mode for easy compression, punch and smooth sustain.
4x oversampling for nice saturation.
Internal sidechain equalizer (low, mid and high bands).
Internal limiter with controlled distortion (for more punch, peak control or creative drive – switchable).
Sample aligned internal parallel compression.
Knee meter (leds) and in/out/compression meter.
Simple 3D interface.
From transparent compression to extreme punch, sustain and creative distortion.
The plugin is available for Windows and Mac (32/64bit, VST/AU/RTAS), priced at $29.99 USD.
Live ambient music performance on Access Virus C (Indigo 2) using rhythmic LFOs, reverb, resonance and envelope filter adjustments.
Excerpt take from a longer session.
Studio Electronics has released these photos of the first production Boomstar synthesizer – a Boomstar 4075. Earlier this year, Studio Electronics announced a new line of four Boomstar synthesizers, each with a different style of filter:
4075-classic Arp 2600
5089-classic Moog 24db ladder
SEM-classic Oberheim 12db
303-classic Roland TB.
The Boomstar synths are priced at $799.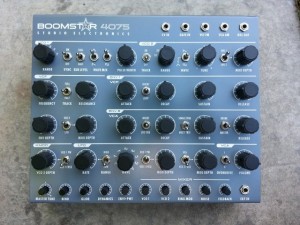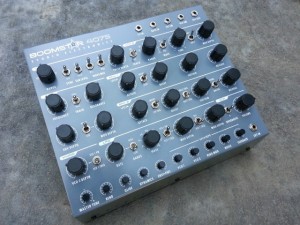 Official Description:
Back to the raw power and purity of non-programmable* discrete analog––where STUDIO ELECTRONICS started in 1985. The snap and punch of hardware envelopes drive the BOOMSTAR's brilliant voltage controlled circuits with unparalleled sonic integrity and versatility. BOOMSTAR is the ultimate desktop analog synthesizer for those who remember and desire still, the electronic Analog sound that changed the world and for seekers who have yet to discover that magic and delight… in their time.
This new blazing brainchild of STUDIO ELECTRONICS represents the design collective ethos of circuit and software "Saseong" Tim Caswell, tactile layout and lead feature specialist Greg St. Regis, graphic and sound consultant Marc St. Regis, art design wizard of vector truth, John Greczula, cool-headed concept leader Geoff Farr and our relentless and wise feature and functionality consultant, Drew Neumann.
Four Models/Filter types: 4075-classic Arp 2600, 5089-classic Moog 24db ladder, SEM-classic Oberheim 12db, 303-classic Roland TB.
This All-American-Made music machine's discrete voltage controlled analogoscillators, hand matched transistors in its filters and amplifiers and STUDIO ELECTRONICS' typically expressive programming feature realizes its name: Earth Grounding Subs to Deep Field Shimmers… BOOMSTAR!
Studio Electronics Boomstar 4075 – ARP Filter Sneak n' Peak (Take 2)
Get the .aif.zip here: http://studioelectronics.com/assets/Audio/boomstar/Boomstar-4075-GSR-1.aif.zip (for you listening pleasure only).
Greg St. Regis' clever twists and turns launched the first 4075 Boomstar past "the surly bonds of earth," via a cheap audio interface that happened to be around. More Boomstar filter type demos, live footage and markedly superior D/A Converters to follow.
Headphones mandatory. Production units are mere weeks away!
MSR
Greg St. Regis comments:
We've spent the last month debugging the prototype pcbs and perfecting the analog circuits. At this point, I felt it was good enough to give you all a sneak preview of the sound. It has about 90% of it's hardware functional. Still to be implemented is the software LFO. This is raw BoomStar recorded though a Focusrite Scarlett interface (nothing special), into Reason with a Macbook Pro. We did this in about 20 minutes, one take. I played a small Akai controller with a built in arpeggiator with my left hand and turned knobs with my right. It's "kinda cool.
It was originally about 11 minutes long; Marc did a small amount of normalizing and edited it down to 8 minutes 30 some seconds.
Put some decent headphones on and listen to huge low booms end and searingly crisp filter sweeps. I tried to take it though a full compliment of waveforms, xmod, rmod, oscillator sync, feedback looping, resonance squeals and overdrive. There is quite a bit more to come when the LFO gets in on the action.
The chassis are getting screened this week. We'll post more demos in the days to come with video included. And no, this is not an SE1X or ATCX! They sound quite good, but there is nothing like the clarity and impact of pure discrete analog with hardware envelopes.
Enjoy!
GSR
p.s. Expect to see these in the shops in about 30 days… we're in love with this little beast.
Previous MSR comments:
"Four Boomstar hardware circuits: crossmod, ringmod, feedback, AND distortion are at play here at one time or another. The idea was to stretch out… and let things get greasy and messy."
"The "feedback" feature (a la the Minimoog) is employed throughout this track so that distortion is an effect. If you are attempting to listen to this through your laptop speakers they will be overwhelmed quickly."
http://vimeo.com/49551176
This is the first in a new series of Reaktor Tutorials that will be posted on flipmu.com. This video covers the different ways in which you can modulate a Filter in Reaktor, and discusses the details about why you would choose one input over the other.
Atomic Shadow has set up a self playing S/H patch on the EMW-200 and ran the result through the STG Sea Devil and Krisp1 ring mod. All of the raw sound is coming from the EMW-200, the Krisp1 mini LFO was controlling the filter. Part of the signal made it through the Strymon El Capistan echo pedal. The improvised drums were then performed live with the patch on the V-Drums. The film was then finished by Micky Dodds who also made the film for February-Moon Of Ice from the Twelve Full Moons album.