Here's a patch showing the new Analogue Systems rs450 CV Recorder/Sequencer and the Cwejman MMF-2 Stereo Multi-mode Filter module. The Cwejman MMF-2 is filtering a basic saw wave bass from the Cwejman VCO-2RM running into a version of lowpass on the MMF-2. The kick and snare were created using Analogue Systems modules. The sixteenth note percussion is a modulated Cyndustries Zeroscillator through a Cwejman VCA, opened by the Cyndustries Four Transients module.
They've pre-recorded a few CV sequences into the incredible new Analogue Systems rs450 CV Recorder/Sequencer. It's being clocked by an A.S. rs200 sequencer (which is running the whole patch actually). They are switching between four or five preset sequences which in turn is controlling the pitch of a Cwejman RES-4 module.
The rhythms for this patch are derived from the 4ms Shuffling Clock Multiplier and we're also using a 4ms PEG module as a slow modulation source for the MMF-2. Rad!
Ableton Live sidechaining tutorial part 2: Auto Filter. Ableton's compressor, gate, and auto filter all have side chaining capabilities. In this second part of a three part series, AfroDJMac will show how the sidechaining function on the Auto Filter works.
Music created with AfroDJMac's Premium Ableton Live Pack: http://afrodjmac.spinshop.com
New video by 'gstormelectro' exploring filters on the Alesis Andromeda, details below:
http://gstormelectronica.blogspot.com/
This continuing tutorial series will focus on editing patches on the Alesis Andromeda. In this video I will examine the FILTERS and POST-FILTER MIX modules in more detail. I will continue topics for Filter FM and Filter Feedback and show how to finalize their configurations. I will introduce the ribbon controller as a mod source, and show how to tweak some more sounds along the way.
CONTENTS
0:05 Introduction
0:33 FILTER2 INPUT Configuration
1:30 FILTER2 Self-Oscillation
2:49 FILTER Parameters and FILTERFM
4:20 POST-FILTER MIX module and FILTER FEEDBACK
5:49 RIBBON CONTROLLER
6:26 Patch: Ripper
12:39 Closing
More details on the Pi Synth:
A short demo showing filter cutoff, resonance and more LFO- and EG-driven Phase Distortion.
Description:
Thinking about Bob Moog on the anniversary of the founding of the Bob Moog Foundation, so I cranked up some synths and modulated some filters in his honor. www.moogfoundation.org
Vintage Space Chorus VST Demo by Softrave:
Vintage Space Chorus is intended to create unusual stereo chorus space effects good for rock, electronica, disco and experimental styles of music
Price is 11 Eu \ 15 usd
you can purchase plugin here
http://www.tikov.com/softrave/vschorus.htm
New Reason rack extensions – DR-1, AP-12 and VE-3:

Synapse Audio has announced the release of its DR-1, AP-12 and VE-3 Rack Extensions Propellerhead's Reason.
Synapse Audio Software introduces three high quality Rack Extension effect plugins for Propellerhead's Reason: DR-1 Deep Reverb, AP-12 Analog Phaser, and VE-3 Vintage Equalizer.
New Synapse Audio Rack Extensions
DR-1—Inspired by a high-end 1980s outboard reverb, the Synapse Deep Reverb DR-1 delivers a deep, lush sound not found in modern software reverbs. Rather than trying to imitate real spaces, the DR-1 gives an uncolored and pleasant reverb sound that is especially well suited for synthetic material and lead sounds.
AP-12—The Synapse AP-12 emulates vintage analog phasers, which are composed of a series of phase shifting stages with a feedback path wrapped around them. The phase shifting stages (switchable between 6 and 12 stages) are modulated by a LFO, which can be synchronized to the current song tempo.
VE-3—he Synapse Vintage EQ-3 is a precise model of a 3-band analog tone stack, as found in late 50s guitar amplifiers. The unique sound of these devices is due to the coupled, passive circuits employed, where changing any parameter affects the entire network in a complex way. This is different from a digital parametric EQ, which operates on just one isolated region of interest.
The DR-1 and AP-12 are available to purchase at 32 EUR each, VE-3 is 25 EUR.
Twin Bass free bass synth plugin: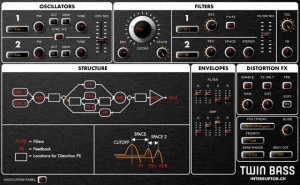 The Interruptor has released version 1.1 of the Twin Bass bass synthesizer instrument for Windows.
VSTi Bass Synthesizer with a double filter architecture allowing to create rich mid-range bass textures together with a solid sub bass foundation. Also vocal-like timbres can be easily created. Features an extensive modulation matrix and individual outs for the filters.
Twin Bass features
2 Oscillators: Sine, Saw, Ramp, Triangle, Pulse, Noise.
2 Filters operating in parallel (connection in series is also possible).

Filter 1: 2 x Low pass, 2 x High pass, Bandpass.
Filter 2: stereo filter with separate cut-off for left and right side (2 x Low pass, 2 x High pass, Bandpass).

Feedback loop for the entire filter section.
Distortion effect with two modes

hard: metallic distortion sound.
soft: tube-like warm distortion.

Modulation

3 x LFO, synchronized to host application.
3 x ADSR Envelope.
Matrix: 5 modulation slots connect 12 modulation sources to 26 modulation destinations. Pitch bend, amplifier envelope and filter envelope are pre-wired.

Process external signals: In Oscillator 2 an external signal can be selected as the waveform.
MIDI learn: Right-click any control to assign a midi control and automate the parameter from your DAW.
Monophonic modes with glide.
Polyphonic modes with max. 8 simultaneous notes.
Individual Outs are available for the two Filters.
Structure display shows the signal flow of the synth as it results from your settings of the filter and FX routings.
Pop-up hints: While the mouse hovers over a control a hint appears explaining the function of the control.
The Twin Bass is available to download as a freeware VST plug-in for Windows.
Short Doepfer A-106-5 Demo by NetPierre
Starts with a sequenced bassline, generated by my Doepfer MAQ16/3 and Doepfer VCO A-110 (saw wave)
Bandpass Mode first, LP/HP later
A-118 Random voltages added to VC2 input somewhere in the middle.
Drums provided by an Elektron Machinedrum
More info on the A-100 and related stuff at http://PatchPierre.blogspot.com
Filter Lancet is processing audio from MIAMI analog drum machine; first with static filtering, then with gate and enf foll extraction from audio
Acidlab Miami Drummachine
16 instruments, all analogue – fat and good, 3 trigger outs, ind. outs, 64 steps per pattern (A/B) max. , chase light principle, 4 fill ins, DIN sync – the 808 can be equipped with midi 2 ways: 1) a DIN sync interface is built in, there are lots of din sync to midi converters (doepfer,kenton..) 2)send it in and let kenton add a nice midi interface! (see the red button the the right side? it's a midified TR-808 here!) Roland TR-808 and Jupiter 6 / 8 Buttons.. warning!achtung! the 303 buttons needed to be "slightly adjusted".. most buttons on 808 and Jupiters do not work perfectly these days. here's a replacement: —> omron B3F-4000 farnell nr.:176434 für 303 ( B3F-4050 ) F.nr.: 176435 and TR808 env/decay times Roland TR808 laufzeiten der hüllkurven – envelope running times: bd (decay =min) 242ms – (max) 1646ms. sd 199ms lconga 341ms mconga 234ms ltom 455ms mtom 309ms rim 15ms clave 41ms maracas 33ms clap 1964ms cow 1157ms cymbal min 276ms to max 3956ms OH min 144ms max 586ms CH 112ms 5 sounds must be switched and can not sound at the same time like d nicht gleichzeitig zu hören: conga or tom (3x). Maracas or claps and rimshot or claves.
built 2009 / 11x polyphonic
+ TR sequencer
this is basically a clone of the Roland TR808 but with MIDI, all analogue but really as simple about controlling the instrument parameters.
A video discussing & demonstrating some design aspects of the Akai AX-60 analog synthesizer, in particular the filter resonance.
The AX-60 has been described as capable of some very 'industrial' timbres and one reason for this is the very strong filter resonance of the cem3394 voice chip. The design choice by Akai to use a full 5V CV for the resonance brought this out. Additionally, they used a linear taper slider for resonance, and a linear 5V response to the CV (they could have used a log taper, like I did here, or they could have processed the panel voltage and did a voltage taper conversion in firmware – cheaper! – to limit the resonance CV to the range in the cem3394 data sheet, but they didn't).
These design choices meant many users probably ended up exploring a more 'brash' part of the AX-60's sound palette than if Akai been more like Sequential Circuits in their limited internal programming of the cem3394.
a threatening pattern from MIAMI drum machine heavily filtered with Vermona Lancert and Bassline straight into the mixer. Some fiddling on front panels and, special guest, Mario Bianco playing his wery own Bassline cutoff and resonance controls…