The never ending expandable modular synth from 4ms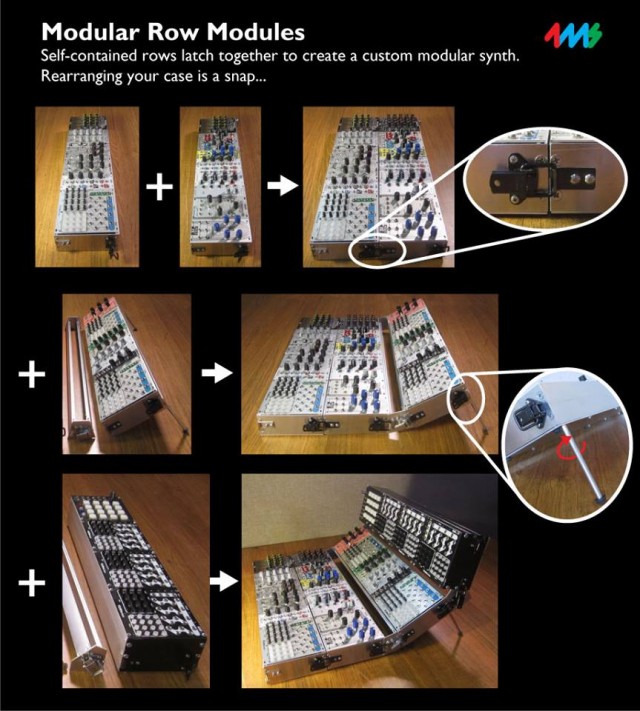 4ms has announced a new case solution for Eurorack synths – Modular Row Modules. Each row is an independent Eurorack case and can be latched together to form any size or shape system you need. Table top. Vertical wall. Console style. Angles and curves. No screwdrivers or tools are needed – you just snap the rows together and add angle pieces and support legs where you need them.
Here are the details:
Connecting Rows

Each Row Module can be a stand-alone unit
Rows connect directly to each other with built-in latches (no tools required!)
Angled connectors allow for 30 and 45 degree angles
Support legs screw onto any Row

Specifications

Row Modules come in two sizes: 2″ deep or 3″ deep
All-metal construction, and light weight (about 2.5 pounds)
Plain aluminum sides, or a variety of colors/finishes will be available (powdercoated colors, anodized black)
Wooden end caps and angle pieces will also be available

Power

Available with busboards, flying bus cables, or without power
Barrel plug jack on the side of each row, or on a 4HP panel. For vertical configurations, 4HP panel can be mounted to the rear.
Two barrel jacks on each row allow for daisy-chaining and/or directly powering each row
Compatible with the 4ms ultra-isolated power system (forthcoming).
Pricing and availability info are to be announced.
Comments