Playing the incredible new Arturia MatrixBrute at NAMM 2016, with Sebastien Rochard from Arturia. This thing is ridiculously deep, can't wait to see it finished up and released! Get a pre-order in at an official Arturia dealer ASAP… http://www.sourcedistribution.co.uk/d…
NAMM2016 Exclusive Interview With Tom Oberheim About the OB-6 Collaboration with Dave Smith
Oberheim products, including their latest eurorack modules will be available soon from
http://analoguezone.com/tom-oberheim-…
http://analoguezone.com/Tom-Oberheim/…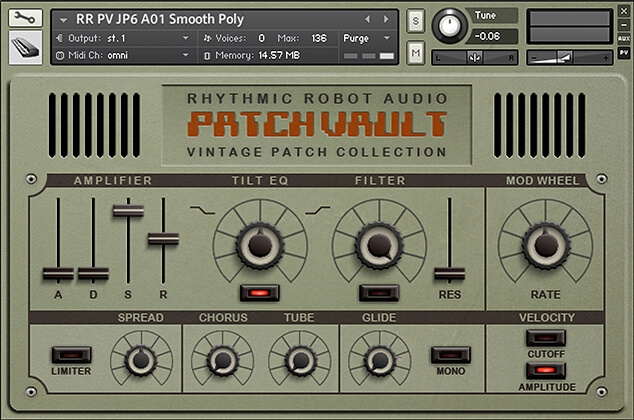 Rhythmic Robot has announced the release of a free taster of its upcoming PatchVault range of vintage synthesiser patches for Native Instruments Kontakt.
PatchVault is an ever-growing collection of patches from the most coveted synths of the past. Taking original, authentic sounds from ancient hardware and wrapping them in a simple but powerful interface, PatchVault makes grabbing that sound a breeze.

The interface is geared towards hands-on, immediate tweakability. It features a neat little Tilt EQ, a powerful 4-pole filter, and can map MIDI velocity to both amplifier and filter cutoff, giving you playable expression that was uncommon on most of the original hardware. There's Chorus and Tube Saturation to enhance the sound, plus a Limiter to tame over-enthusiastic analogue waves. All the modern additions can be easily switched off, though, if all you want is the original factory patch in its raw state.

This is a freebie taster so you can get a feel for yourself of how PatchVault patches might work in your mix. It's the very first factory sound of Roland's über-cool Jupiter 6 synth, so this is most likely the very first sound you'd have heard if you bought a J6 back in the day. If you like this, keep an eye out for the entire Jupiter 6 soundset, which will be coming very soon!
The PatchVault taster is a free download for Kontakt v4.2.3 or higher (full version).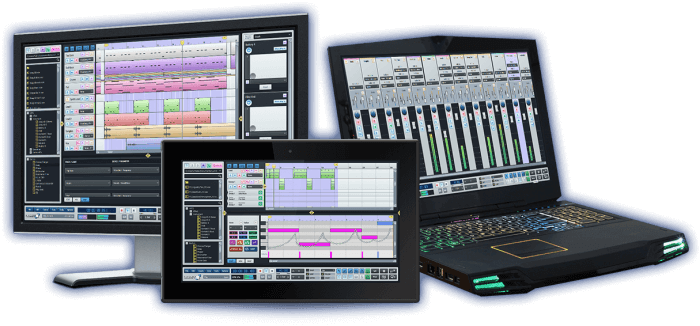 Lumit Audio has announced the release of Lumit, a digital audio workstation for Windows designed from the ground up for rapid unbridled music creation.
Lumit puts the professional sequencing and mixing capabilities you need to take your music further – right at your fingertips.

Inspired by students from Berklee College of Music®, Lumit is designed for rapid unbridled music creation and portability. No complex menu options or technology to hinder your creative flow.
Lumit features
Unlimited multi-tracking, bounce, and export 192kHz/32-bit float.
Drivers: ASIO (recommended), ASIO4ALL, Direct Sound, MME, and WASAPI drivers.
MIDI Map USB MIDI Controllers.
Full MIDI, audio, and automation recording & sequencing capabilities.
Extensive mixing console.
VSTi – VST3 support.
Drag and drop audio, MIDI files, and VST Plug-ins.
Freeze and unfreeze 192kHz/32-bit float.
Dynamic GUI – handles any resolution 1280 x 720 or greater.
Special parameters, algorithms, and hand-gestures to aid multi-touch.
Includes over 1,000 percussion, synthesizer, and bass audio samples.
Boutique audio DSP FX suite.
Lumit for Windows is available for purchase for $149.99 USD.
"Under The Roof" is Metroland's sole single from their prominent tribute album
"Things will never sound the same again", a tailor made production for their passed Passenger L.
"Under The Roof" as title was apptly chosen as it is a wink to the name of Passenger L's mastering studio since
years and years.It was a place were all Metroland members spent a huge amount of time, recording a variety of music.
"Under The Roof" is a very powerful technological track, balancing between the more darker
side of Metroland and the typical amount of bleeps and melodic synthetics, just the way that Passenger L liked it.
Metroland is proud to showcase this wonderful video created by Passenger H that honours Passenger L.
https://alfamatrix.bandcamp.com/album…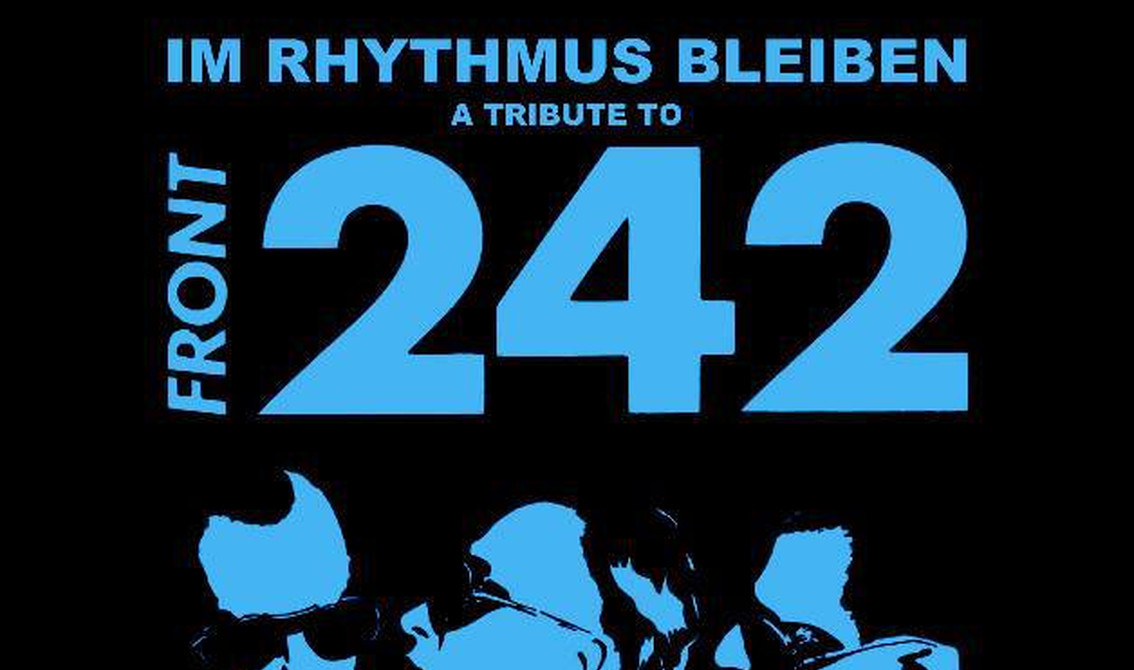 German label has announced the release of a 3CD tribute to Front 242. The first edition comes in a blue design and is limited to just 242 copies (you can order it right here).
The 3CDs feature 16 bands on each CD for a total of 48 bands (you'll recognise various more well known bands such as Leather Strip, PNE, Kant Kino, Machinista, etc). In total you get 48 covers of Front 242 classics. The brain behind this project is Stefan Rukavina whom you might know from the German Radio Body Music, a label and radio station entirely dedicated to the genres EBM, Anhalt EBM, dark electro, synthpop, futurepop, N.D.W., electronic 80s, industrial and experimental music.
You can order this limited edition set right here.
Artists/ Tracks CD1:
01 OVERGAMENT–Body to Body
02 MECHATRONIC–Operating Tracks
03 THE PAIN MACHINERY – U-Men
04 MRDTC-Least Inkling
05 D-F-O-W–He runs too fast for us
06 LEAETHER STRIP – Don't crash
07 KANT KINO–Lovely Day
08 EUFORIC EXISTENCE–No Shuffle
09 HUMAN NIHIL – Quite unusual
10 SUBSTAAT-Circling overland
11 RHESUS FACTOR & RIO BLACK-Headhunter
12 VAINERZ-Sacrifice
13 NEOTEK feat. MACHINE SOLDIER-Moldavia
14 BICHROM-Gripped by Fear
15 POST MACHINERY ENVIRONMENT-Tragedy for You
16 GIMME SHELTER–Soulmanager
Artists/ Tracks CD2:
01 TOLCHOCK-U-Men
02 KAPITAL-Kinetics
03 SHARON NEXT-GVDT
04 PLASTIC NOISE EXPERIENCE-Operating Tracks
05 SYSTEM 84-No Shuffle
06 56 DEGREES NORTH-Don't crash
07 EVO-LUTION-Controversy between
08 VAYLON feat. LEAETHER STRIP-Quite unusual
09 747 FEDERALES-Circling overland
10 TRILOGY-Im Rhythmus bleiben
11 AD:KEY-Work 242
12 WERKSFRONT-Never stop
13 IN GOOD FAITH-Masterhit
14 VUDUVOX-Headhunter
15 STERIL-Animal
16 PATENBRIGADE: WOLFF-Mutilate
Artists/ Tracks CD3:
01 LES BERRTAS-U-Men
02 reADJUST-Take One
03 MACHINISTA-No Shuffle
04 26Z-Until Death (us do Part)
05 NINE CIRCLES-U-Men
06 THE FORCE DIMENSION-No Shuffle
07 MORTAL MEMORIES-Quite unusual
08 R.B.M.K.-Punish Your Machine
09 SCHRAMM-Headhunter
10 NAKED TEARS-Moldavia
11 DKDENT-No Shuffle (Electone Mix)
12 K-BEREIT-Together
13 DPOINT-U-Men
14 AUDIOTHERAPIE-No Shuffle
15 LASTRAX-Circling overland
16 DROID SECTOR DECAY-Neurobashing
Integrated modular system with functionality of classical two oscillator synthesizer and tons of cool features to address contemporary needs of modular users in Erica Synths skiff case.
More info: http://www.ericasynths.lv/en/shop/eur…
The heart of the Black Classic System is two Polivoks-inspired Black Varishape VCOs. Unique waveform mixer, PWM circuit and transistor based suboscillators will bring you, according to the developers, 'one of the fattest sounding VCOs you can get around.'
Shape sounds with Black Polivoks VCF and Black VCA. Black Polivoks VCF has famous resonance screams in self-oscillation and can also be used as sine VCO. Versatile lin/log response VCA with CV bias control gives great tremolo effects.
Black Digital Noise delivers a range of noise options: from almost pure white noise to Atari console-like one bit noise and other more-less predictable noises. Its CV control over various parameters and clock sync feature give infinite explorations in non-musical sounds.
Black HADSR/AHDSR envelope generator has unique looping functions and CV control over each parameter and lin/log envelope option.
The two Black LFOs offer a broad range of functions, including 6 waveforms + S&H, TAP tempo, sync, start on GATE function and built in VCA with LFO amplitude hold/attack and decay function. Moreover, it can be used as envelope generator.
Other modules include the Black Output module, which has manual and voltage control panning, balanced outputs and headphone amplifier; and the monophonic/duphonic MIDI-CV interface, which has analogue GLIDE, master TUNE, modulation CV, key velocity CV, CV IN (adds CV from midi controller to external CV for arpeggios).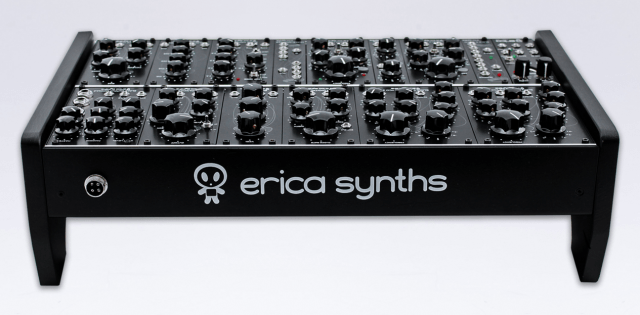 Erica Synths Black Classic System includes:
Black Varishape VCO1
Black Varishape VCO2
Black Polivoks VCF
Black VCA
Black 8-multi
2 Black LFO
Black Digital Noise
Black Mixer
Black Output module
Black CV Processor
Black Mixer/Splitter
Black HADSR EG
Black EG CV Expande
MIDI to CV
Eurorack skiff case
External linear 1,25A PSU or built in 1,3A switching PSU of your choice
Horizontal wooden side panels
20 Patch cables
The Erica Synths Black Classic System is priced at 2222 € (ex. VAT). Buying modules separately, the price is 2770 € (ex. VAT). See the Erica Systems site for details.
Limited to 100
NAMM2016 Exclusive interview with – the Creator of E-MU Systems
His modules will be available soon from
http://analoguezone.com/rossum-electr…
The first eurorack offering from Soulsby