Nitzer Ebb
Stereoklang talks to legendary EBM act Nitzer Ebb on music, gear and today´s synth scene
Nitzer Ebb needs no further introduction, but fact remains that Bon Harris and Douglas McCarthy with albums like, "That Total Age" and "Belief", in the late 1980s set the scene for EBM going forward, with their devotion to pounding bass rhythms. Having toured with Depeche Mode few doubt their impact on electronic music and after a break in the 1990s the band finally reunited and went on tour again in 2006. Last year the critically acclaimed album Industrial Complex came out and as of right now they are on a long European tour together with Die Krupps. As a special treat for fans both bands play jointly on stage and an exclusive mini album called Rhythm of the Machines can be obtained on site. Stereoklang met up with the band backstage and had a long chat about gear, the synth/EBM scene of today, the shift of label and how they still maintain a enthusiastic crowd everywhere they go.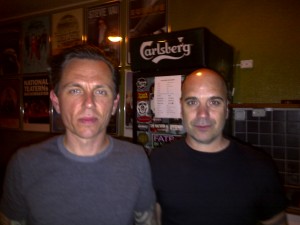 How has your new material been received and how did the collaboration with Die Krupps come about?
Well it is not technically all that much new material, but it has been laid out to fit our tour and the collaboration we have with Die Krupps. But we are of course pleased with the response we have received so far and our fans seems to like it. The idea of collaboration with die Krupps happened in November last year when we met each other in San Antonio, Texas. However we do have a long joint history together, so when Ralph contacted us in the studio with the idea of doing something jointly we were all for it.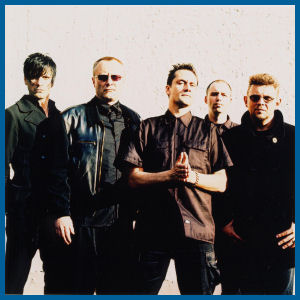 You are celebrating 30 years as a band next year, how do you work to continue excite existing and new fans?
The most important thing is honesty and be 100% true to what you do. We work hard to produce shows that match the expectations of our fans, but we are also very demanding on ourselves to deliver quality over quantity. You need to show on stage that – You mean it! The EBM scene is quite strong in North America, but here in Europe it is more of a niche scene, why is that? We have seen that as well and it is probably because of the time lag before, things that has already been reduced to niche scenes here in Europe, is getting popular in NA.
How up to date are you on today's synth/EBM scene?
Of course we come into contact with a lot of bands when we are on tour, as indicated we have been active in electronic music for 30 years. But in general it is not something that we devote so much time to these days. Personally, I (Don Harris) am more into classical music these days, like Stravinsky and Bartoch to name a few. And in a sense electronic music is today's equivalent to classical music. Electronic music is so primitive, all in the spirit of the sonic experience. Recently we have listened a lot to Stockhausen as well and we love the experimentation side of things, when Stockhausen was producing his music he did with electronic instruments that not always were that stable – fascinating in a sense. Are you experimenting yourselves? Well for most parts that is why you tend to have side projects, in principal you need to give the audience what they want, but of course we are trying to fit in as much experimentation as we can.
You changed from the classic label Mute to Major recently – how did this come about?
It was a cause of time, we signed up with Mute to deliver five albums (which we did) and from that point we wanted to be more on our own. The role of the label has changed quite a lot over the years and to be frank most of the work of the label today is all about PR. The times when labels were pumping in money to the artists to produce new material and sponsor events are over. Bands are pretty much their own labels today. The role of the album has also been drastically reduced – it is more of merchandise today along with t-shirts, limited edition vinyls and DVDs. Touring is what keeps us alive. The album is a "need to have" to show progression and that there is something new to look forward to, when we go on stage. "The Rhythm of Machines" EP does the same.
Nitzer Ebb in the studio – work, gear and idea generation process
Nitzer Ebb has a very collaborative approach to making music. Most of our songs actually emanates from improvisations, just as if we were a rock band. We don´t want one person sitting behind the PC, we want to be more like a band. Normally we start simple with an electric drum kit, some synths and vocals, and then we will see what happens.
In the studio and also on stage we use a MalletKat (xylophone) as a main controller, having 3 octaves. Other frequently used stuff are the Nord Modular, a Cwejman S1 MK2, a MFB synth as well as Ableton Live for the writing process. Drum wise we use a Roland electronic drum set, paired with SPDS for triggering.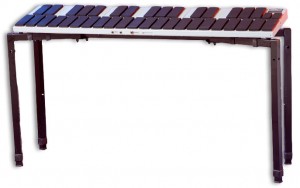 Sometimes we are even going very acoustic primarily working on a Yamaha Grand Piano, which gives a super organic feeling, it is a way of simplifying the emotions we want to convey. Have you ever thought of releasing something completely acoustic? We would love to, but would our fans like it – it is however something that we definitely want to do. What about the lyrics? Normally the lyrics are added at the end of the process, the song comes first. We want to convey as much emotions as possible through the lyrics and vocals. In the early days most of our songs was all about "Us against the world" nowadays they are more "Why did you leave me you 'beep'"
You are big fans of Propellerhead Reason as well
Yes, and it is probably the most democratic musical tool out there, very educational. In the early days synth music was the rich mans sport, now with DAWs like Reason everyone's got the same chance. In a sense Reason is the modular software system around and we use quite a lot, perhaps as much as 50% in our music. You have even released a free Reason RNS-file to show how you work in Reason, when will we see a Nitzer Ebb Refill? Laughing, well it would sound ridiculous because it would probably only contain a lot of sounds that no one could really figure out how to use. But it would be fun though; half of the joy is the actual music creation – the creative side of things.
Hardware on stage?
We normally use a hybrid acoustic set. The cost of shipping the real synths is not doable anymore. The SPDS and the MalletKat, paired with electronic percussions is the basic set up these days. Then we have Ableton together with a Roland sampler. Any favorite synths you care to mention? Well I guess it would have to be the Roland System 100M. We have also heard about your love for the Oberheim Xpander. Oh, that is true and for our two first albums the Xpander was really the backbone of our sound. Unfortunately it has dies on us, so today we are actually using almost as good software versions of it instead.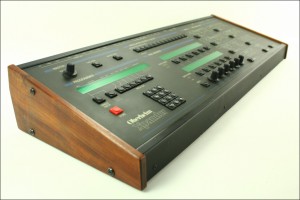 Final question: In three words what do you want the audience to remember after your performance tonight?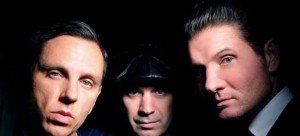 HONESTY – LOVE – ENERGY
( and lots of food and drink ☺ )