Covenant
Exclusive interview with the Lightbringers – Covenant in the Studio
Last week I had the opportunity to spend some time with Eskil and Joakim from Covenant in their new refurbished studio. Covenant is definitely Sweden's number one export in the electronic music scene, with numerous ground breaking synth/EBM albums behind them, i.e. Sequencer, Shyshaper, Northern Light to name but a few. However, although I was curious on their new EP coming out in a couple of weeks, titled Lightbringer, my main purpose were to explore their working methods and their gear.
My first impression when I entered the studio was overwhelming. The first thing that came to my mind is the old saying – "the one who has the most gear when you die, wins". Look like the Covenant boys is aspiring for the final. Korgs, Prophets, Moogs, Viruses, Emus you name it, it´s all there stacked neatly on racks across the studio. Check out the pictures below to delve in to some pure synth porn.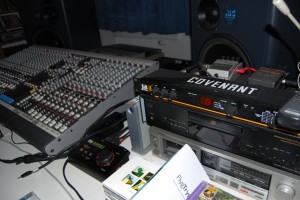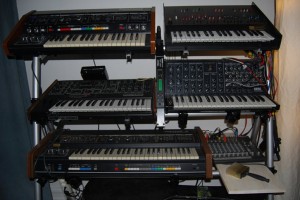 The new album and the state of the Synth scene
Even before Lightbringer is released we know it will be something different, since collaborations with other artists is not something that we are not used to. Lightbringer actually came as an idea from Necro Facility, rather then from Covenant, with the intention to have Eskil to sing on it. However it turned out to be something more. Eskil tells me that we will experience a different melody build up, then we are used to and that it's all about fear and loathing in Helsingborg, Sweden. I guess you cannot be more cryptic then that!
As Lightbringer will be released as a limited edition we came to discuss how vibrant the Synth scene is today and happily enough I can conclude that, although still a niche scene, Covenant has not slowed down on touring (note: Eskil just came back from a Gothic Cruise in the Caribbean). They say that the globalization that has come as a result from a better infrastructure (read Internet) in markets like South America and Eastern Europe really has resulted in that bands like Covenant continuously finds a new audience, and adds that they really find it exotic with synth music, creating a foundation for new sub cultures in those countries.
Speaking of sub cultures it was logical for me to ask about their various side projects like Cement (Eskil's noise project) and Joakim's joint venture with Ronan Harris (VNV Nation) exploring classical music from an electronic perspective. Eskil tells me that Cement actually came about, apart from the fact that he really enjoys noise music, as a wish of entering (and travel to) the Japanese music scene, where noise is big. But also to somewhat alter the common public image of himself, showing that there are more sides then just Covenant. Although Joakim's classical endeavor didn't continue I am pleased to inform you that Cement is alive and kicking. Major noise inspirations are Brighter than death, White house and Geometric, of course.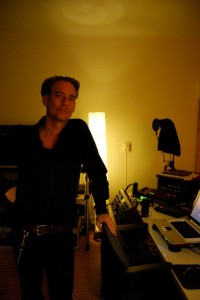 The music production process
Many fans claim that "Sequencer" is Covenant's greatest achievement and discussing this with Joakim and Eskil, they neither disagree or agree but notes that it stood out from the crowd at the time and ever since they have tried to do everything opposite to it. However, it was the album that led Covenant out into the international arena. At its release critics claimed it to be too techno, but in retrospective the distinct bass sound of Sequencer defined the Covenant sound. Sequencer was all about samples (12 bit) using gear like Akai S950, Emu ESI32, DX7, and Prophet 2000. Combining that with a TB 303 clone, some distorted samples and a mixer they were set to rock.
Speaking of it we started to focus on the production process of things. The common public version is that Eskil writes it all, but that is far from the whole truth. Normally, Eskil will show up with a demo containing verse, refrain and possibly even some drums (or Daniel Meyers will send over some stuff, the third new member of the group). In parallel to that Joakim works on soundscapes, pads and more. The band has always worked very much in parallel processes in making their songs, Joakim tells me, and that they neither work as a traditional band nor has any desire to do so. Specifically it's key for Covenant to create unique sounds that very few could actually understand how they have been made – the more electronic sounding the better. Stubbornness is probably what it is all about.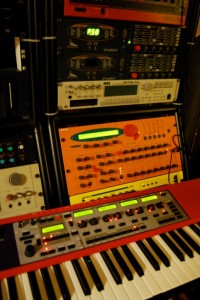 After the demo material has been merged with Joakim's material (which may takes some time I understand, after listening on their discussion on the topic), Joakim takes on writing the lyrics. Inspiration comes from everything, I learn, when he tells me about poems, web searches, trending topics and more, all hopefully brought together to something that relates to the music at hand. The song "Stalker" actually started just as a loop, a small refrain, some stolen lines of verse, before they actually started to add some rhythms to it and the right sound. Interesting to note is that Joakim and the team is very keen users of NI Absynth for completely altering sounds. By reducing and reducing the polyphony the Absynth will actually reset itself, generating very interesting sounds. At the end Eskil will pick the whole thing up and make the final production on his own, never the two of them in the same room at that time. Note: apart from "Northern Light" Covenant produces everything themselves.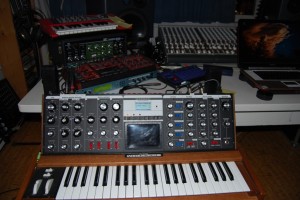 In the studio
Although Covenant has its roots and inspiration in old classics like Human League (Eskil) and Kraftwerk (Joakim) however they tell me that their songs being built in the studio is more a merge of New Romantics, Goth elements and dance music, e.g. Underworld. Covenant has never denied that they are happy to steel loops straight off, but then tweaking them so much that you really need to know your music history to figure it out, heavy compressions is a key ingredient here.
Another core element and something that is an integral part of Covenant's music is the bass sounds and I ask Joakim to give us some hints on how to go about creating those. He tells me that there are two main ways that they are using. The first tip is to use a digital synthesizer for the attack (to get the bite!) and an analog synthesizer underneath as a sub bass to get the real depth, and finally run the whole thing through serious compression so that they "melt" together nicely. Another way of fattening a bass line is to add a bass drum to each note. E.g. when using the TB-303, which has no depth, you compensate this by adding TR-808s/909s for that fat sound, this is especially true for songs over 130bpm. Nicely enough several hybrid synthesizers, like the Virus exists today, that are both digital and analog. More or less all compressions are made using software plugins.
The Covenant boys are keen users of software based production methods; Eskil is a Cubase-guy and Joakim an Ableton Live adept with some Fruity Loop Studio on the side. Joakim tells me that they love to try out all new software plug demos they can get their hands on. Joakim enjoys experimenting in Ableton Live by creating his own racks. He also mentions a couple of favorites of his like the EchoBoy by Soundtoys and Expert Sleepers dub delay with automation. If their budget had allowed it the software studio would probably be complemented with things like the Waves effects suite.
As nice as software can be, I cannot visit Covenant in the studio without talking about hardware. As mentioned previously their studio has gear from floor to ceiling, with favorites like tape delays, pre amps, Nord Modulars G1 and G2 and Universal Audio 6176 vintage channel strip. I learn that there are more than 30 different synths in their studio with thousands of pre-sets. In the beginning they only had 20 single hit drum sounds, Joakim tells me. Less is more I guess, especially if you delve into the number of pre sets you have in a standard DAW.
Eskil and Joakim are in perfect agreement that the Korg MS20 is their all time favorite, if they could only choose one, since it is so versatile and its ability to produce such a noise you wouldn't believe it, as well as how nicely it interacts with other synthesizers. Just listen to Goldfrapp, Joakim suggests. Other favorites: Eskil – Moog Voyager, SCI Pro One and Virus; Joakim – Nord Modular, DS Evolver and Waldorf. Joakim adds that the Oberkorn step sequencer also comes quite handy and that he sometimes enjoys working in a Tangerine Dreams style, and letting the synthesizers play for themselves.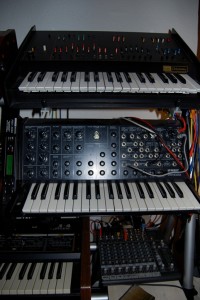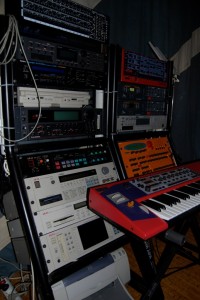 Moving on – future evolution
The sound of Covenant is quite unmistaken and I'm curious whether they ever discussed taking their music in new directions, Eskil and Joakim says that every band has its soul or identity and concludes that the more experimental sides of themselves will have to be nourished in their various side projects going forward. And from a music production perspective it seems that Covenant are fairly content with their current thinking – meaning e.g. that sometimes it is healthy to think of your band as an entire orchestra, which helps you placing your sounds correctly in the mix and don't be afraid to kill your darlings, Joakim adds with a smile. Samples are still a vital part of their music production, even old samples from the Prophet, Emulator 2 library and sounds from the old Mellotron, especially when doing choirs. Covenant does not want to sound like they are using a real choir. It is supposed sound electronic and vintage.
Finally, we rounded of the discussion with Covenant on stage; what they use today and their take on new advancements both from a stage experience and the iOS explosion. Eskil says that on stage they normally use the Nord Modular, a G2X and a Prophet 2000 (they have at least five of the latter), and this is mostly because they are robust and will not break on long trips. Meaning that this is quite a traditional Synth/EBM stage set up, I ask whether they have considered more visual equipment on stage such as the Audio Cubes, used by Björk and Mark Mosher on stage, or why not an iPad, for that matter. But they seem reluctant to do so, although cool, they do not want to risk using equipment that might break or not project correctly on projector screens or similar.
Before we wrap up and getting ready for taking some picture I ask if they are using iPhone/iPad applications. Although Eskil indicates that he is pretty keen on Brian Eno´s ambient iPhone app this has not yet emerged into the production process of Covenant.