Eddie B PAGE
Exclusive interview with Swedish synth-maestro Eddie Bengtsson
Page is currently celebrating 30 years as performing artsist on the Swedish synthpop stage and are currently planning summer gigs after the release of their first new album in 10 years. Stereoklang got an one on one interview with the synth pioneer Eddie Bengtsson, who's electronic music really kick started the Swedish synth-pop scene in the 80's, active in Page, Sista Mannen På Jorden (Last man on earth) and This Fish Needs a Bike. Page really became the Swedish answer to Yazoo/Erasure, OMD, and Depeche Mode, and made ground for popular acts like Elegant Machinery, S.P.O.C.K and many others. In this interview we have invaded Eddie's home studio to take a closer look at the synthesizers and music production gear he uses and what it really takes to make a great synth-pop song.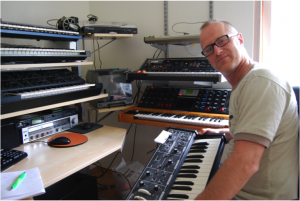 Neatly mounted in a corner of a 10sq/m room, sharing the space with Star Trek memorabilia and a huge vinyl record collection, several of the classic hardware synthesizers are hooked up and ready to bleep. Although Eddie tells me he have had to sell of several synthesizers from a logistical point of view I enjoy finding vintage gear like the Moog Rouge, a Korg DW 6000 and the personal favorite of Eddie's the Yamaha CS15 (used on every album), coupled with recently acquired gems like the Moog Little Phatty, the Moog Voyager and then some modern virtual analogs like microKORG and Yamaha CX1x.
What is used use for what
The CX1 is used as the mother keyboard and the DW 6000 mainly for strings. "Sound 11 is a personal favorite" Eddie says☺. You can for example find it also on all S.P.O.C.K songs. If Eddie on the other hand only were to take one synthesizer with him to a deserted island it would be the CS15. In fact Eddie tells me that due to the flexible routing and filters; he's able clone the bass sounds of all other synthesizers with it, if you treat it nicely. Perhaps the only drawback is the useless noise generator, which is too weak, although a weakness that many synthesizers has as he puts it.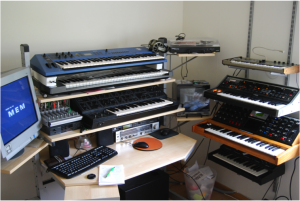 Neatly tucked under racks of synthesizers a well hidden Roland S760 sampler can be found. Curious about the fact that this particular device hasn't been replaced by software versions already, Eddie admits that years of collecting disketts has made him somewhat lazy, somewhere among all those hundreds of disketts there is always that one with the right sound. But I wouldn't be surprised if that device will be left out from future productions in favor of software alternatives.
The lazy side of Eddie shines through on several occasions during the interview and for the last two records other people have contributed in replacing sounds with updated versions. However, the new Page album actually came as a turning point for him and a lot of hard work has gotten into it, resulting in more focus on sound search and music production then before.
Moving on to the next rack of synthesizers Eddie tells me that the microKORG is actually a very capable machine used primarily for strings and pads. The Rouge on the other hand is the real stage machine and a trade mark for Page in live sets. It's compact and easy to bring, cool looking and splendid for single oscillator sounds. (Indecently the Rouge uses the same circuitry as the Taurus II Bass Pedals). (Listen to this song, all sounds by the Rouge by Hannes Rasmus. http://www.vintagesynth.com/audio/moogtheroguedemo.mp3 ) Other old gems like the Roland SH02 and Moog Prodigy have been replaced with new bass and sequencer gear; the Moog Little Phatty, as you can easily spot on the new Page album.
Why all the Moogs?
Easy answer would be that everyone is talking about them, prestigious and expensive stuff that is. And although proud to have them, some drawbacks can be found also here; the sound is a bit chilly and there is no noise generator to be found at all, as with the Prophet 8, it takes forever to heat up and sometimes the oscillators are not really in sync. The Voyager is really a beast and lit up it looks really impressive. Currently it's mainly used to discover cool sounds in the studio it might end up on the stage some day. "But why on earth did they implement this totally useless performance pad on it, when turning the knobs is the way to do it and it is not even multi-touch, which might have given it some extra advantages". I asked what's next and Eddie kind of suggests that a DSI Mopho might end up on the rack within short.
Where do you start making a song?
"Never, or very seldom, I have an idea or the song in my head. When I feel like making new songs I always start off with a bass, then adding drums, melody and finally the vocals. I really need to get the beat going first."
I asked whether Eddie use loops in his composing, but no, no loops what so ever, and the main reason for this is that Eddie is first and foremost a hardware guy and in order to do loops effectively you need to know your software studio much better. Eddie is still on the old version 2 of Cubase.
Music production perspective
When Eddie makes his songs he makes them basically completely dry, meaning no effects, apart maybe for some simple pre-sets, such as small room reverb etc and the reason for this is that he wants to maintain an organic feeling to the music as long as possible into the production process. He almost never uses sequencers either, he tries to play all synthesizers manually and the same goes for drums, although sampled, very often my drums are real acoustic drums. Eddie seldom uses his synthesizers for drums either since he wants a more organic sound. Below is a a screen shot from one of the songs on the new Page album, uploaded in Cubase: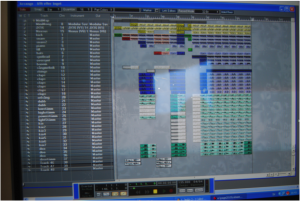 Interesting to know is that Eddie often comes back to punk music when describing his synth-pop. His love for space and punk combined makes the foundation of Page, clearly visible in the fact that almost all songs have a 1/8-th bass. And he says that he uses his synthesizers as if they were guitars, so you will often find a traditional bass and comp guitar set up, but made with synthesizers.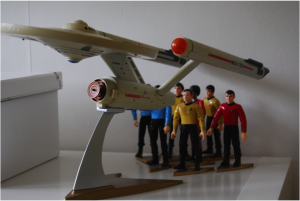 Experimenting with other electronic styles
Listening in on Eddies music, be it Page, SMPJ or TFNAB you can always tell it's Eddie, so I had to ask if he had done any music in other genres. And the answer was yes, however modern styles like trance, euro-beat, glitch etc he only gets bored doing – it is too easy. "Not even the money lures me to do this" he says, every time he has tried to make a trance song it always ends up him adding more into it, as he hates that monotone feeling. However, he has been somewhat into more ambient stuff, made under the name Jeddy 3. Below are two songs for you to explore Eddie's alter ego in the ambient space.
Working with vocals
Comparing with other classic synth-pop bands, like Yazoo, Depeche or the Human League, Eddie very seldom have choirs or duets, and I asked him why this is so, since it very often adds to the overall sound. The easy answer from Eddie is that he seldom has the time, but it's something that he would have liked to include. Looking at the new Page album, Eddie has included a cover of an old Liquido song where he and Marina are singing together for the first time. (Marina Schiptjenko was the one encouraging Eddie to re-start Page as BWO decided to put their music adventure on hold for a while). Going back to recording of vocals I quickly understood that this is something done at a recording studio and that Eddie had little insights into what microphones and compressors were used etc. On stage he always uses his trusty old Sennheiser E845.
It is obvious that for Eddie it all boils down to the love of music and music making and that the inspiration for how he constructs his songs and works with his synthesizers is a carbon copy of the traditional line up of a guitar band. He tells me that a dream of his would be to perform on stage with a complete guitar line up, all made up of synthesizers. Speaking of inspiration I believe his massive library of vinyl records will last for many more records going forward.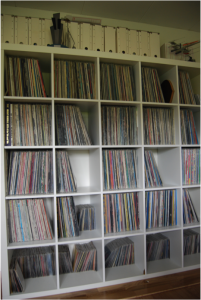 Eddie as a producer
I asked Eddie if he had ever worked with other bands in the producer role. To start off, Eddie tells me that he is not the type of guy who can take the seat behind the mixer board; he is not technical enough for that. So when he works in that role he's more centered around the arrangements and structure of the songs. One of the bands he has worked the most with is the Danish act TV2 (still one of the biggest bands in Denmark) and if you tune in on the song "Jorden heldigeste" on the album "Handen af smatt brandbart" you will immediately hear that Eddie has been in charge. Other bands that enjoy working with the Swedish synth-pop maestro includes iSatellite and Celluloide.