Analog Signature
Analog Signature v3 – Trigger your music creativity
We have had the pleasure of reviewing the latest Reason Refill from Soundcells, based out of Germany. Soundcells definitely belongs among our absolute favorite providers of high-quality Reason refills, and for other formats as well for that matter. The nice thing about Soundcells' Refills is the variety and complexity provided covering everything from chip tunes to ambient to synthpop music.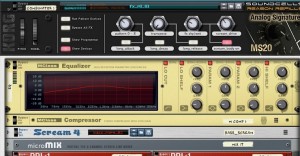 This time we have taken a closer look at the recently released Analog Signature v 3, which is a follow up version 1 and 2 containing some 40 nicely crafted Combinator patches (CMBs) and an additional set of Thor, REX, Scream modules. Being slightly biased, based on the type of music Steelberry Clones are making we must say that the real treat is the MS20 Combinator patches included, all perfectly balanced and with that right low-bass "knorrrr" sound typically for the MS20. The sounds of the Waldorf Microwave and Pulse are so genuine in their sound structure that you can even spot the original pre-sets and inaccuracies that portrayed the original hardware synthesizers. I have added some sample snapshots in the SoundCloud player below, so that you really can see what we mean:
Reason refill sound demo – Analog Signatures v3 by Stereoklang Produktion
So based on the type of music you are in to, and judging from the fact that you are reading this blog, probably indicates that you enjoy the same type of music as we do, this Reason Refill will add those vintage sounds that often are fairly hard to come by. KORG MS20, Waldorf Microwave and Moog are all in there and perfect for punchy bass lines, leads and pads. The Combinator section is probably the one you will use the most, but there is more…
Another thing we really like about the Refills from Soundcells is the fact that they also put in some time to work with some of the effect modules in Reason, such as the Scream Sound Destruction unit, which in our personal view is something often neglected by other Refill providers and even by Propellerhead themselves (judging from the quite poor sets provided with the off-the-shelf Reason package). Soundcells offer smooth and beat enhancing capabilities to your music through the Scream unit that we have not come across anywhere else.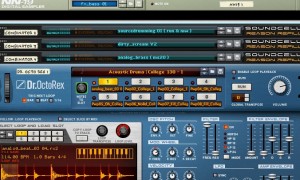 So is everything but glory in this Reason Refill? Well the only part of this Reason Refill that we possibly would have hoped more for is the REX loop section, which in our mind is fairly basic and not so inspiring. If you are looking for standard vintage drumbeats to accompany your tracks, then you will definitely find what you are looking for, but if you are hoping to spice up your tracks with something unique, then you need to look elsewhere.
Overall verdict
Soundcells has done it again, that is delivering a high-quality product that triggers your music creation process
NOTE: We hope to be able to feature the creators behind Soundcells in a later post, so stay tuned