Mirrors
Stereoklang interview with UK synthpop act Mirrors, who toured with OMD this fall
We got an exclusive interview with the probably most hyped synthpop act in Europe right now – Mirrors. Mirrors has recently finished their European tour together with OMD and Stereoklang caught up with the frontman in the band in their studio chatting about their music, gear, influences and their work on the new album. Below is one of their latest video releases.
You have been touring with OMD during the fall, how was it?
It was of course a very special thing for us, we have always been big fans of OMD and it was even more fun to discover that they were also fans of us. The fact that we now come to play in front of an audience made up entirely of people devoted to electronic music is a tremendous experience.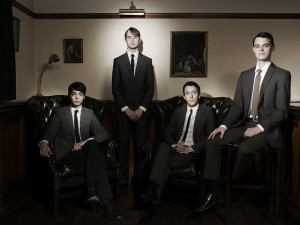 Mirrors lets me know that they also felt that the two bands really complemented each other on stage, rather then just that Mirrors were there to warm up the crowd. Mirrors adding perhaps a more saturated, heavy and modern sound to the equation.
You have received very positive reviews, what is the secret behind the success?
Apart from being happy by this for me obvious fact they gave me this explanation: For Mirrors it is all about combining great and cold electronic sounds, with a heart. If your soul is not present there will not be any great songs, a cliché perhaps, but you need to follow your heart. A lot of bands are "just" making futuristic music, Mirrors wants it to be warm as well – just like Kraftwerk. Of course the songs need to be well structured. Almost everything we do emanates from a traditional piano exercise, then you can get carried away when you do remixes
Your stage line up resembles another quartet based out of Germany, is that a coincidence?
– Not really ☺, although I need to say that the dress code is a coincidence. Kraftwerk is certainly a massive influence. However, in a sense Mirrors is more kind of a revolt to the massive indie-scene we have in the UK – and we are the anti-thesis of that.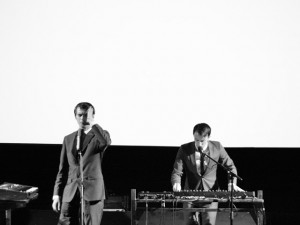 Can you tell me what synths you are using on stage, are you a pure hardware band or are there software synths hidden in your studio?
To begin with James is writing most of the material and what is being used differs, but in general you will always find a Juno 60, Moog Phatty (although they are dreaming of a Moog Voyager) and a Prophet in the mix. The Juno is used for pads and chords, the Moog for basses, and then we have some samplers like the MPC in there as well.
We asked them if the Linn drum sounds were genuine or samples, and although they could have lied to us, they said that they were samples. In general Mirrors rely very little on backing tracks. – If we can´t play it we loop it. We want to do everything live on stage. So if you spot an Apple on stage it will only be used for the visuals.
In the studio we also have access to some other goodies like the 808, SH101 and Siel Cruise, sometimes Mirrors have more then 10 hardware synths up and running at the same time.
From a software perspective worth mentioning is ARPs, Moog Modular, and Jupiter
I would classify your songs as pure happy synth pop, do you agree or how would you describe your music? Inspirations; new wave, krautrock…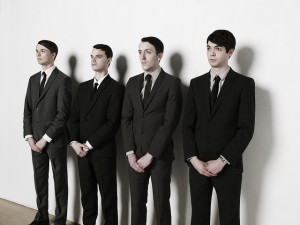 – In the UK we are defined as doing "pop noir".
Mirrors are happy we've spotted their influences from krautrock. Krautrock is a great inspiration since they enjoy the repetitive grooves, but they are also quite keen on modern techno like Carl Craig and Lindström, but then of course there are all the obvious ones from the synthpop era and the new wave bands of the 80's
At least for me you kind of popped up from nowhere during the fall, I guess this is not the case – can you tell me a bit of your background, the band and the name of the band?
Our talk on inspirational sources of course brings us to the natural question of the bands origin, which apparently started in Brighton although no one in the band can really say exactly when, but it all started with Talking Heads. Talking Heads was basically the style of the band when it all started and James and Alley formed the band. Mirrors gives you some vibes (can´t figure out why I keep coming back to "The Hall of Mirrors") and when I ask them about the band name, they do not deny any references, but the main thing was that they wanted a simple name, not over complicated and glass has something of a feeling they like.
Touring plans for the spring, when will we see you in the south of Sweden?
Mirrors will definitely come to Sweden this spring, and a big European tour are in the plans, after they finished their second album. The new album is due in the February/March time frame. – Most likely we will do the same destinations as we did with OMD plus adding some new ones of course.
Some media view you as the first band to appear in a decade that can take on the sprint baton after all those successful synth bands in the 80's, do you agree or how do you see the synth, electro, EBM scene of today?
– We are in general quite positive to the electronic music scene as of today, although there sure is a lot of crap out there as well. No one mentioned, no one forgotten.
Mirrors are especially keen on many new solo artists that are doing great stuff and the growing dub step scene is quite interesting they tell us. Mirrors actually thinks that electronic music is still the ones leading the music scene of today, this is where the innovation is made. Electronic music is taking music into new directions and Mirrors wants to be part of this creating their own world. – Our world is something new, where we create something new without the use of modern influences.
Can you briefly tell us a little about the production process – from idea to final product, who is doing what and what equipment do you use, etc?
Mirrors are happy to share their production process and it is quite clear that they are using the traditional route in music making, starting with playing the piano. My guess is that at least one or two in the band have schooled music backgrounds ☺. After the piano and added vocals they move into the studio, where they make 5-6 iterations or versions of the song. Using different sound building blocks they craft up the final product. By saying this it is also quite clear that Mirrors seldom or never jams up any songs. James will write (most of) the songs, Joe will add the "dancy" rythms, James focuses on the sonics and Alley the pulse.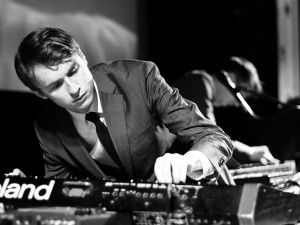 Four quick ones
a. Moog or Korg
>> Moog
b. Analog or Laptop
>> Without saying the obvious – a combination of both; analog synths and modern compressions
c. 80s or 2010s
>> 1970s
d. In the studio or on the stage
In the studio (personally), enjoys both of course, but it is stressful being on stage