Synth-Werk
Review of Synth-Werk – Going Kraftwerk all the way, or…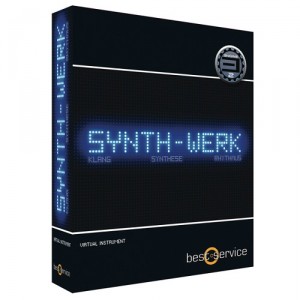 We have had the pleasure of reviewing the recently released sampler studio called Synth-Werk from Best Service, powered by Yellow Tools' Engine 2. The product was originally released under the name Kraftworker based on the clear fact that with this sample library you get basically all possible sounds inspired by this legendary band.
Our first impression, browsing through this 7,7Gb large sound library, is impressive. Every possible sound we are trying to think of, coming out of the old studio in Düseeldorf, is there in one form or another, everything neatly packed into its respective catalogues; i.e. FX, Bass synths, Vocoders, Lead sounds etc. Although with a slight overweight, in our opinion, on the more recent sounds pertaining to Kraftwerk's latest release – the "Tour de France soundtrack". Which in no sense is bad, since a lot of those nice metallic echo based sounds used on that album will easily fit any modern electro, EBM, synth pop, trance type tune.
The favorite section is probably the one containing bass synths since they faithfully reproduce several of those unique and groovy synth bass lines that has made the sound of Kraftwerk so characteristic. This especially true, for several of the sounds using arpeggiator or other types of sequenced rhythms. Forest Kingdom is also something that sounded completely amazing to us. If you compare it with TITAN which we would assume is one of Best Service's top selling products, and somewhat marketed as a "Kraftwerk-sounding product", we can easily say that Synth-Werk takes you 10 miles deeper into the realms of the Kling Klang studio. One possible down side is the way all these samples have been named. They are more or less all, in each catalogue, branded as Bass 1, Bass 2, Bass 3 etc, making it very difficult to track which tunes you wanted and, thus, making the built in search function pretty useless.
Synth-Werk comes bundled with Engine 2, a sampler instrument developed in cooperation with Yellow Tools, a product that can either be used as a VST or stand-alone instrument. The use of Engine 2 is something that has generated a lot of debate on various forums (like KVR for example) – stating that they would prefer a more general wav library so that they can use any program they like, e.g. Kontakt, and that they do not need yet another VST or that it makes their systems slow. We loaded Engine 2 onto a MacBook Pro and can at least from a performance perspective say that Engine 2 was easy to install and ran smoothly all through the trial period. So, using Engine 2 of course has its pros and cons since it kind of limits you, meaning that you will need the Engine 2 in order to play the sounds, since all sounds in the library are in the Yellow Tools specific format, however if you like we run it as a VST together with Reaper (and an AKAI MIDI) you will have a very powerful sampler to accompany you both for direct song creation and live performances.
Conclusively we can say that Synth-Werk is probably the closest you will get to Ralph and Florian in terms of quickly and accurately reproducing the sounds of this legendary act. So if you are into creating your own robotic dream – this might well be a good place to start.
Background information on Engine 2:
"To give you utmost control and flexibility for your music production, ENGINE even allows you to load 3rd party VST effect plug-ins AND VST instrument plug-ins! You have access to hundreds of totally customized, music related features and an absolutely unmatched performance. The intuitive user interface, the unique file management, an ultra fast streaming integration, multi core processor support and the Auto-RAM-Cleaner allow you to load and use an unlimited number of instruments in seconds. Whether you want to work in mono, stereo or surround environments up to 8.1, ENGINE is prepared for everything and offers creative, flexible and immediate solutions for any demands of music producers, film-composers, sound designers, songwriters and re-mixers."
Links: