welle: erdball – Der Flipperkönig
Offizieller Video-Clip zur Sendung "Tanzmusik für Roboter" (LP-CD,Vinyl)
http://www.welle-erdball.de
Eine Funkhausproduktion (c)2014
Electro-Bass
BUY THIS TRACK & MANY MORE AT: http://www.debonairerecords.com
This is a shorter video version, with music making devices only. For the full video, use the link below
https://www.youtube.com/watch?v=BISNB…
Brix System; a collection of functional, hand crafted life-sized LEGO bricks, custom made from wood.
This conceptual collection consists of eight scale 6:1 versions of classic Lego bricks, each fully functional in one way or the other.
""Like most people, I was raised by Lego. For this project, I chose to work with a set of decorated bricks from the iconic 79-87 "Legoland Space" line, mainly because of nostalgic reasons. These were bricks that would trigger my imagination as a kid. 25 years later, and they still trigger"
Size for a 4×4 brick is 20x20cm, that is scale 6:1
For more info, visit www.lovehulten.com
Facebook: https://www.facebook.com/lovehultenau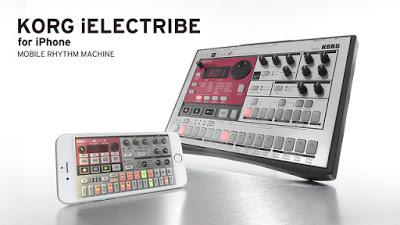 A full-fledged rhythm machine for iPhone. This app's intuitive operation allows anyone to easily create powerful beats on the ELECTRIBE series. The enormously popular ELECTRIBE-R instantly became a must-have item for track-makers around the world, and now it's been reborn as an app for iPhone.
With this app, we've effectively "put the original hardware chassis into your iPhone," by faithfully reproducing the sound engine and design of the ELECTRIBE-R. We've also included the latest preset patterns and many new functions that are currently featured on the "iELECTRIBE for iPad", released in 2010. , taking a further evolutionary step in technology. Taking advantage of the ease of use that you expect on iPhone, we have maximized the intuitive nature of the ELECTRIBE to make this new product worthy of its name: the iELECTRIBE mkII.
It won't take long for you to enjoy the ultimate experience of the Electribe series. This apps intuitive nature and familiar interface make it easy to create beats with an analog feel that's like nothing else.
Amazing rhythm machine that generates powerful grooves
We've perfectly replicated the thick-sounding synth engine of the ELECTRIBE-R and its intuitive step sequencer. Now you can instantly obtain extreme tonal changes and powerful rhythms with just one touch
Not only can iELECTRIBE for iPhone be easily enjoyed by anyone, but it also allows detailed beat-making that transcends iPhone specs. In addition to playing back the provided audio data, you can also freely synthesize sounds from a single waveform and combine those sounds into your own original beats. This allows for the true experience of music production that connects all musicians.
Three hundred built-in rhythm patterns that only this app can produce
With 64 of the latest preset patterns, 192 from the first-generation ELECTRIBE-R, and 32 template patterns for various genres, this app successfully draws out the full potential of the thick sounding analog beats. There are approximately 300 inimitable rhythm patterns that you'll hear only from iELECTRIBE for iPhone. Electro, house, techno, drum'n'bass, dubstep, hip hop, techno pop, and IDM are some of the wide range of electronic music genres that are provided.
An ELECTRIBE that you can put in your pocket and take anywhere
Whether you're on the train or bus while commuting to school or to work, at a coffee shop, or in your bedroom, you can enjoy beat-making anywhere and anytime you like. Your completed beats can be transferred to your DAW software via the audio export function. You can also use the WIST function to play wirelessly with a friend using two devices simultaneously.
Powerful functions that bring infinite possibilities to your grooves
We've packed maximum potential into this machine with eight types of powerful master effects featured on the upper-level models of the ELECTRIBE. This includes the ring modulation function of the ELECTRIBE-R and the cross-modulation function of the ELECTRIBE-R mkII. This app allows you to switch back and forth to choose between the two. It also includes the BEAT FLUTTER function that uses a proprietary randomizer to create fresh rhythms and the motion sequence function that remembers your knob movements. In addition, you can use an external USB-MIDI device such as the nanoPAD or nanoKONTROL for performance and control. There's also support for the latest iOS technologies such as Inter-App Audio, Audiobus, Virtual MIDI, and iCloud.
Operating Requirements
OS: iOS 8 or later
Device: iPhone 6, iPhone 6 Plus, iPhone 5s, iPhone 5c, iPhone 5, iPod touch fifth-generation, iPod touch sixth-generation
*Because of differences in screen resolution between models of iPhone, the display is smaller on the iPhone 4s. For the best experience, we recommend using iPhone 5 or later.
The ELECTRIBE is on sale for $9.99 (which is 50% off for launch)
Phone In Your Beatmaking! A remade iElectribe arrives for your iPhone, so you're ready to play anytime, anywhere.
This was just announced, this is my "First Look" review. Lots more soon, stay tuned!
Note: Please listen with headphones, iElectribe beats have a lot of bass you can't hear on smaller speakers! This is a direct "Line In" recording.
Yes, I realize the voice was recorded too loud, the next video will be better.
Do they sound the same? Check it out!
iElectribe for iPhone: https://itunes.apple.com/br/app/korg-…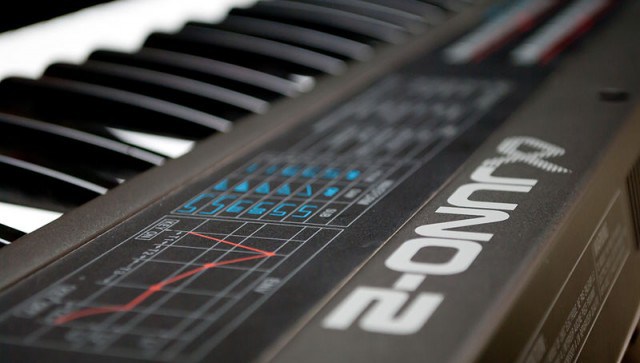 Alpha Editor – an editor and patch library app for the Roland Alpha Juno synthesizer family. Alpha Editor provides direct access to all of the Alpha Juno's patch parameters, through a clear and reactive touch based interface.
Alpha Editor is a MIDI based app; it uses MIDI to communicate with your Alpha Juno. In order to do so, it requires a coreMIDI compatible adaptor or a connection to a Mac or PC that provides MIDI capabilities.
Features:
Create, edit, manage and save Alpha Juno patches on your iPad
Organize your patches into banks
Load patches from the Alpha Editor to your Alpha Juno
Load the current patch from your Alpha Juno to the Alpha Editor
Create random patches
Ships with 5 banks (320 patches) of presets
Note: Alpha Editor is compatible with the Roland Alpha Juno 1 & 2, MKS-50 and HS-80. It is intended to only be used in conjunction with one of these synthesisers: it does not double as a generic MIDI controller and it does not produce any sound by itself.
Alpha Editor is available for US $6.99 in the App Store.

Waves Audio has announced that Image-Line's digital audio workstation FL Studio 12 is now compatible with Waves plugins.
To celebrate, Waves and Image-Line are offering exclusive specials throughout the month of September. Waves is offering FL Studio subscribers a free OneKnob Louder plugin.
In addition, FL Studio users can enjoy a discount of up to 60% on ten select Waves plugins: OneKnob Driver, OneKnob Pressure, CLA Drums, C1 Compressor, H-Comp Hybrid Compressor, H-Delay Hybrid Delay, MaxxBass, PAZ Analyzer, L3 Multimaximizer and L1 Ultramaximizer.
Throughout the month of September, Image-Line is offering Waves users 50% off select Image-Line synth and sequencer plugins: Drumaxx, Groove Machine, Morphine, Poizone, Sakura, Sawer and Toxic Biohazard.
Mick Olesh, Waves EVP of Sales & Marketing, comments, "Waves is excited to join forces with Image-Line, enabling FL Studio 12 users to augment their processing capabilities. This is an additional step in Waves' continuing strategy of supporting the creative process of recording and mixing by providing all DAW users the freedom to use our plugins everywhere and anywhere."
Scott Fisher, Image-Line Communications Manager, comments, "Image-Line is excited to announce that FL Studio 12.1 is now compatible with Waves plugins. We are pleased to be Waves-enabled, giving our users the opportunity for enhanced processing capabilities."
An oscillating stream of light attempts to intrude on an arid natural landscape, abstract light and a living environment merge, reacting to the dynamics of the music.
The luminous abstract forms are produced by a light-painting machine that, frame by frame, draws in a real environment the 3D animated figures.
This is an experimental video created by Pablo Barquín, Junior Martínez, Nathan Grimes and Anna Diaz Ortuño.
Directors:
Pablo Barquín hamillindustries.com
Junior Martínez trunk.me.uk/index.php/category/directors/junior/
Creative Team:
Pablo Barquín
Anna Diaz Ortuño
Nathan Grimes
Junior Martínez
Executive Producers:
H.I. (Hamill Industries) & Floating Points
Lead Producer:
Anna Diaz Ortuño
Director of Photography:
Nathan Grimes
Research & Technical Development:
Pablo Barquín, H.I.
H.I. Technical Assistant:
Joan Recasens
Editor:
Anna Diaz Ortuño
Lead Animators:
Fernando Domínguez
Wyz Borrero
Animators:
Ohmyhood
Luis "Inkclear" Redondo
Concept Artists:
Junior Martínez
Michele Angelo
Plants Set Decorators:
Estudio Sauvage
Post-production Team:
Agus Verrastro
Florent Bastide
Production Assistants:
Aida Busquets
Lidia Arruego
Digital Intermediate provided by RCO
RCO Colorist:
Seth Ricart
RCO Producer:
Marcus Lansdell
Special thanks to:
Fundación Rio Tinto, Ivan Rodriguez, 380 Monta Llum i Roda, Rab and Tanya Gordon, Chabeli Rodriguez, Marga Sardà, Alba Barneda, DVEIN, Agus Verrastro, Pamplona89, RCO, Laura Martinova, Pablo Hugo, Melissa, Saúl Narbona, Irina, Javo, Elsa Tejera, Jacinto Barquín, Marc Luelmo, Tinta, Cynthia, Sarah, Mita, Eric and specially to Sam for believing in this project since the very beginning.
Shot in Río Tinto, Huelva & Hamill Industries Headquarters
Barcelona, 2015
(c) 2015 Pluto
Using Ubuntu (with WINE) to upload samples to my Korg Volca Sample.
It is really easy!
You literally just open the samples in the editor, ad upload them to your Volca Sample.
I've included a demo of the pretty light show that happens.
These Samples were uploaded using Single Cell Software's Caustic Editor
http://www.singlecellsoftware.com/cevs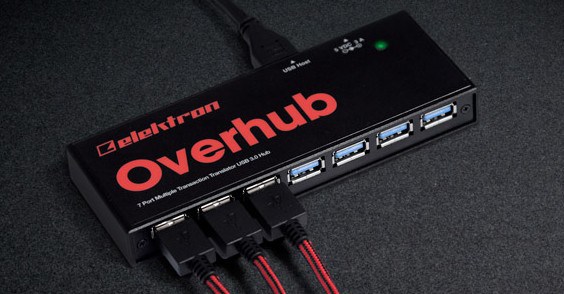 Elektron has introduced Overhub, described as 'a USB hub for the modern studio'.
According to Elektron, Overhub is the ideal USB hub solution for Overbridge-enabled gear.
Overhub lets you connect up to 7 units to a single host computer. It's driverless and is fully compatible with all USB peripherals. And it's designed with 'Multi TT technology', to deliver optimal USB data transfer performance.
Features:
7 USB ports
Supports USB 3.0
Specifically made for Overbridge enabled units
Fully compatible with all USB peripherals
MTT technology for efficient merging of multiple USB Full speed (12 Mbit/s) streams
Driverless operation
Elektron Overhub is available now for US $65/€69. See the Elektron site for details.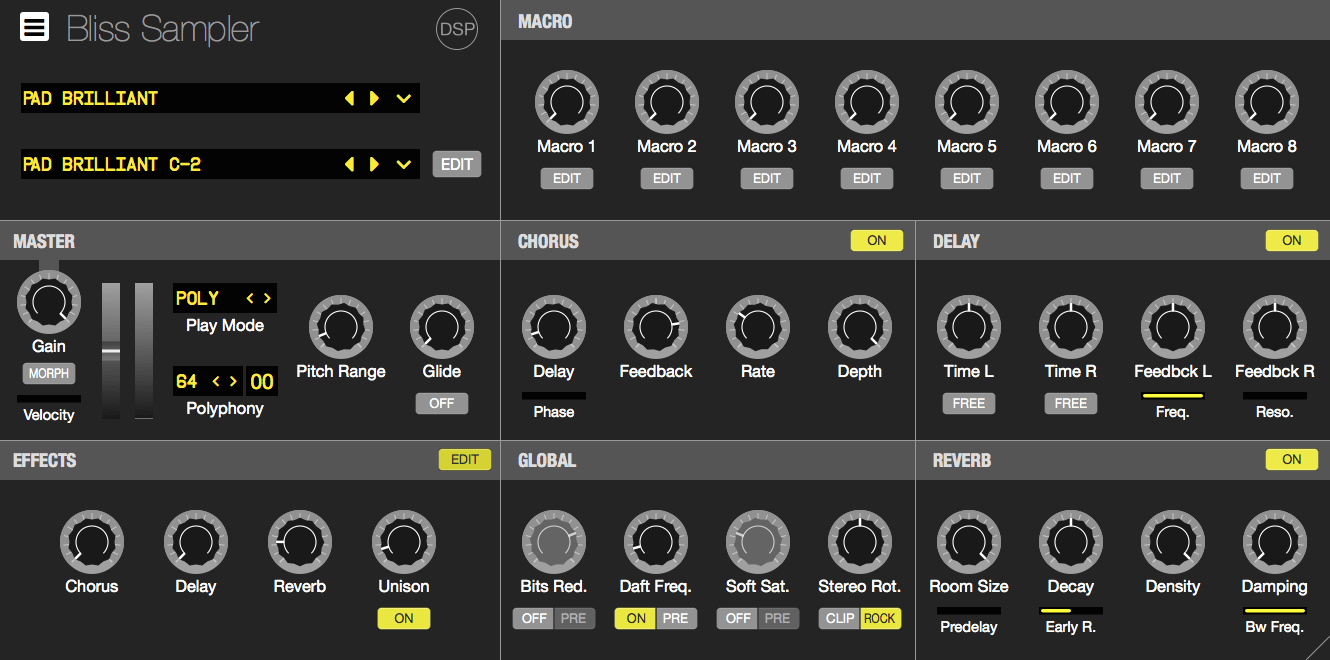 discoDSP has announced the release of Beta 2 of Bliss, a new sampler instrument plugin that is also able to load and host VSTi instruments for multi-sampling them without any quality loss for Mac, Windows & Linux.
Changes in Bliss Beta 2
Added Samples and SFZ export with 24-bit resolution.
Added an options to play slices until the end of the sample or only at the next slice boundary.
Added an option to unload automatically the plugin after sampling.
Added an option to freeze plugin appending samples to current program to create multi layered sound easily.
Added keyboard focus indication to wave view.
Added crossfade loop range slider.
Added sustain pedal midi support (sample will sustain indefinitely until pedal is switched to off, which will then trigger release stage).
Added GUI size allowed to go as low as 60%.
Added macro editor min and max sliders now display real parameter values.
Improved interpolators (normal and high for real time / extreme for offline).
Improved voice generation speedup.
Improved support for plugin hosting.
Improved modulation destination amount display of unipolar/bipolar values.
Changed macros controls moved to envelope section.
Changed downsampling filter passband to allow more frequencies near nyquist while still decrease aliasing.
Changed beta release expiration dialog appears when 7 days are left instead of 30.
Fixed bug LFO2 amount behaving incorrectly in some cases.
Fixed SF2 import for files with more than a single program.
Fixed SFZ import.
Fixed oversampling messing up plugin hosting.
Fixed the use of slices and loop modes at the same time.
Bliss is available for purchase at 50% off until the beta period ends (regular $99 USD / 89 EUR / £59 GBP). Previous customers can download beta 2 at Members Area.