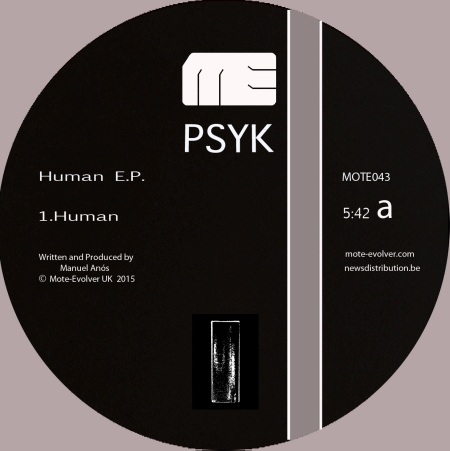 Psyk (a.k.a. Maan or Manuel Anós) is an audio technician who makes good on his name; each of his new releases acting like a steely sonic probe to be launched into the as-of-yet uncharted depths of the psyche. His newest release for the Mote-Evolver label (following last year's Time Foundation album and the EPs Aracade and Distane) is solid and elemental techno as ever: it fits neatly into the label's stylistic template of mesmerizing precision yet never forsakes individuality in order to do so. Like Psyk's other offerings for this label, the new EP works its magic on the central nervous system with a perfectly interwoven blend of up-front anxious sequences and mysterious luminous undercurrents, making for an experience whose energizing effect lasts well after the record has stopped spinning.
Where records like Distane rolled over dancefloors with a metallic, cardiac thump not unlike that shown on other standout M.E. releases (e.g. Marcel Fengler's Thwack), [title here] spins its enveloping cocoon of sound around the listener in a less aggressive – but still enjoyably intense – manner. With its crystalline mesh of bass kick, jittering hats and persistent 8th-note percolations, the opener "Human" immediately lays a foundation which will command listeners' focus, but soon enough a whole new substrata of strange, beckoning noises can be heard beneath this impermeable layer of technoid sound. This 'more than meets the ear' strategy is the key to this new release's infectiousness, and it's once again employed to strong effect on the b-side's "Powder" (which adds driving ride cymbal and a cleverly subtle filtering to the mix.) An additional b-side, "Aumento," features a gorgeous interplay between a high whistling oscillator and its lower pitched counterpart, bringing on the trance state so strongly that you can almost see pulsing concentric circles and whirling form constants as you shut your eyes. For purchasers of the digital EP, a bonus mix of "Human" provides an encore performance of the lead-off track with an additional helping of deft filtering, insistent handclap and percussive depth.
Psyk's basic mission – to map out and expand consciousness with dense corporeal music – is an exciting one to be a part of, as well as a necessary and timely one. In a teeming electronic music galaxy where many producers still mistake a bag of sonic tricks for a wealth of insight and sophistication, Psyk and Mote-Evolver just shrug their shoulders and continue to show what genuine growth and progress sound like.
This is a remake of Kraftwerk's The Model done almost entirely on the MFB Kraftzwerg (except for the choir sound). Recorded each part into Ableton Live where  final arrangements were made.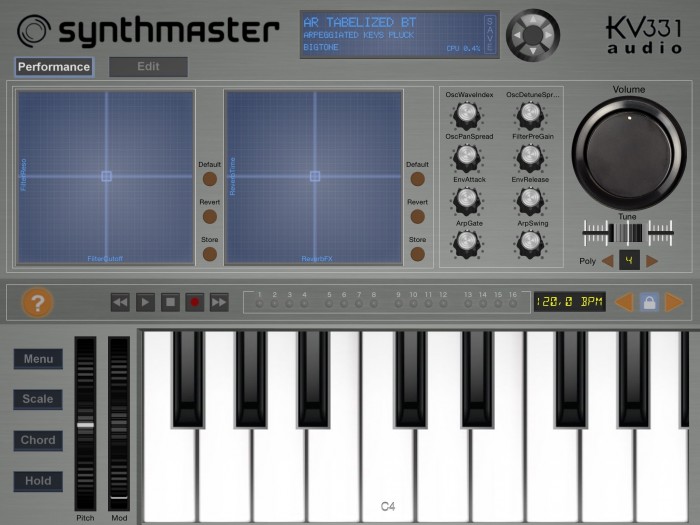 KV331 Audio has announced SynthMaster Player for iPad, a mobile player version of the SynthMaster synthesizer instrument.
It is targeted towards users who prefer to use presets rather than designing their own sounds during music production. Although it is a preset based player, users can edit the following parameters:

8 easy parameters assigned by the sound designer
2 XY Pads assigned by the sound designer
Effect bypass states and send amounts
Layer bypass states and volumes
Master volume, polyphony

The free app comes with 100 factory presets. When users complete registration by entering their names and email addresses they receive another 100 factory presets as a bonus. After completing registration, users can upgrade to the Pro version of the app by purchasing the "Factory Presets" bank via In-App-Purchase (IAP) for $9.99. With the Pro Upgrade all of the 800 factory presets are loaded and also the following features are unlocked:

Users can save the changes they have made to the presets
Users can purchase additional preset banks via In-App-Purchase (IAP)
Existing SynthMaster users can download their previously purchased SynthMaster preset banks inside the app, so that they don't have to purchase them again
Existing SynthMaster users can export their own presets in SynthMaster v2.7 and import them into SynthMaster Player for iPad using iTunes.
The app is available for download for iOS 7 and higher.
Demo of zmors modular synthesizer for ipad
https://itunes.apple.com/us/app/zmors…
Overview
zMors modular is a modular synthesizer. You can add
various modules to your patch and connect them with
cables. You can use hardware gear with up to 8 usb outputs
for audio and/or control voltage send.
Features
– 64 bit support
– send up to 8 audio/cv to your modular synth via USB Audio
– 32bit float audio engine with up to 16x oversampling
– InterAppAudio up to 96K
– Midi input
– very low Storage usage
– skinning with custom background images
Modules
OSC, MultimodeFilter, WaveTable, ADSR, Slew, VCA, DSP, Combiner, Oscilloscope, Chords,
CV Sequencer, Step Sequencer, Midi Keyboard,Midi File Player, XYPad, Delay, Reverb,
Inter App Audio Host, Sample Player, Macro for complex setups
Math
– abs(x)
– square
– square keep sign
– 1-x (invert unipolar)
– x*-1 (invert phase)
– unipolar to bipolar and back
– hard clip bi- and unipolar
– quantizes halftones and octave
– pow(2,x)
– tanh
– up- and downsampling
– convert to 55Hz/V
– DC correction
– fract(x)
– sin(2*x*pi)
– Shaper
– Slide low pass
The SoundForce SFC-60, dedicated MIDI controller for the TAL U-NO-LX synth plugin (Roland Juno-60 model), has now new a built step sequencer function. The step sequencer function can be used with the TAL plugin as well as any other plugin instrument as it simply streams MIDI notes via USB-MIDI.
All users can upgrade their SFC-60 to the latest version of the firmware using the Arduino IDE and the teensy software-add-on. Please visit the support page on the SoundForce website : http://sound-force.nl/?page_id=1151. More detailed update toturial coming soon.
Einsturzende Neubauten – Sand
No video, just the song.
Originally by Lee Hazelwood and Nancy Sinatra.
vom album: 'fuenf auf der nach oben offenen richterskala'
aus privatsammlung, alle rechte bei den artisten
Taken from Einstürzende Neubauten 's Haus der Lüge
Haus der Lüge is the fifth full length studio release from the German band, released in 1989.
Sample Magic has released Ableton Bass Instruments, a collection of bass instruments for Ableton Live.
Using Ableton's powerful Analog and Operator synths alongside custom-built FX chains, Ableton Bass Instruments serves up 10 intuitive and versatile bass instruments modelled on the most iconic bass sounds in electronic music.
From the distinctive acid of the TR-303 to the bouncing subs of the TR-808 to the complex Moog Voyager and Korg MS-20 and beyond, this diverse pack offers instant pan-genre bass sounds that can be jammed, tweaked and automated in almost endless permutations for total bassline satisfaction.
The pack is available for purchase for £14.90 GBP. Requires Ableton Live 9.
You can get the Korg iM1 here at the App Store.
https://itunes.apple.com/us/app/korg-…
Waldorf Microwave provides for all the sounds; Nord Drum plays the drums. Only own patches used. Everything midi-sequenced and multitracked with Cubase. Some effects (delay, reverb, chorus), EQ and dynamic processing added.
Quick run-thru of the different beats this machine puts out!