Automat is an album of instrumental electronic music composed by the Italian musicians Romano Musumarra and Claudio Gizzi. It was produced in 1977 and released in 1978 by EMI Italy, through its Harvest label.
All the sounds in this album were generated by the MCS70, a monophonic analog synthesizer designed, built and programmed by the Italian engineer Mario Maggi.
Automat was Musumarra's initiative – after learning about the new instrument, he proposed to EMI Italy that he produce an album of electronic instrumental music. Although at the time such a project was considered risky, the answer was positive. EMI suggested, however, that Claudio Gizzi, a more experienced composer that already worked with them, also participate in the project.
The composition work was divided: Gizzi contributed to side A, who filled it with a long suite with 3 movements, and Musumarra contributed to side B, who composed three shorter pieces.
They had very little time to complete the project with only four weeks in the studio. As a result, the last track, Mecadence, was left somewhat incomplete.
The sound engineer in charge of the project was Luciano Torani.
Production
Automat was the result of an unrepeatable sequence of events. The final result did not please either Musumarra and Gizzi nor the producers. They never collaborated on any other project nor had the opportunity to use the MCS70 again. Automat has only been released on CD once. Despite of this (or perhaps because of this) achieved a "cult" status among many fans of electronic music. Musumarra and Gizzi subsequently had successful careers as movie soundtrack composers. Musumarra also had many partnerships as a songwriter and/or producer with famous pop artists, among them the Canadian singer Céline Dion. His remarkable style of electronic arranging and composition can be heard, for instance, in the track "Je Danse Dans Ma Tête", from the Céline's 1991 album "Dion chante Plamondon".
Equipment
Besides the MCS70 they also used: Sequential Circuits 3 row by 16 steps analog sequencer synced to a 16 track recorder for overdubs, EMT digital reverberation unit, Horban parametric equalizer (x2), 30 band graphic equalizer, natural echo chamber for reverberation, a 2 track recorder for delay effects.
The condition imposed by Mario Maggi to participate on the project was that the MCS70 were the only synthesizer used in it. All the sounds had to be obtained from it, even the drum sounds. The MCS70 would be presented in the 1978 Frankfurt Musikmesse and, for Maggi, the album would be a demonstration of the capabilities of his new synth.
MCS means "Memory Controlled Synthesizer". It was common for synths at the time to need the manual adjustment of every control in the panel to get a desired sound, a task that often took a considerable amount of time. In the MCS70 a sound, once programmed, could be stored in memory and quickly recovered later. Mario Maggi filled the 64 available memory positions with sounds created by him and these were the sounds used in the album.
Only one MCS70 was ever built. Before going into production, polyphonic synthesizers like the Sequential Circuits Prophet 5 arrived at the market and, all of a sudden, monophonic synths were considered obsolete. Mario Maggi then dropped the MCS70 project and started what would be his most famous synthesizer project ever: the polyphonic Elka Synthex. In many regards, though, the MCS70 was superior. The MCS70 was bought by Patrizio Fariselli, member of the Italian Progressive Rock band Area, and used extensively in the band's 1980 album "Tic-Tac".
birdStepper vs. guitar….get it on the App Store 4/22/14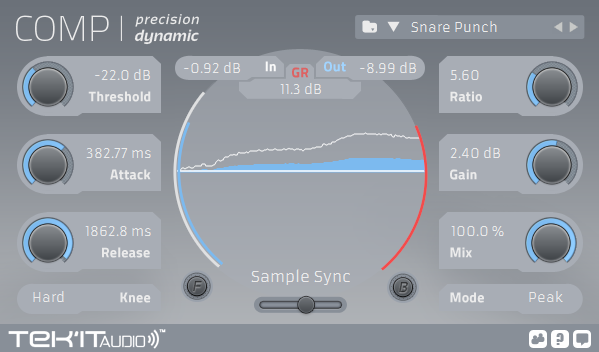 Tek'it Audio has announced the release of Comp, a compressor plug-in in VST format. Comp is a modern compressor that is designed to provide visual tools to help a user visualize the dynamics applied to a sound.
Features:
Real time visualization.
RMS and Peak compression.
Soft and Hard knee.
Attack range from 0.01ms to 0.9s.
Ratio up to 30:1.
Wet/Dry mix for parallel compression.
Input, Output, Gain reduction readouts and VU.
Scope visualization at sample sync to 200ms window.
Zero Latency.
Full MIDI automation support.
Easy MIDI learn on all parameters.
Use 7-bit MIDI Continuous Controller or High resolution 14-bit MIDI NRPN and RPN.
Integrated Preset manager, rename, copy, save, load…
Price: €29 / $39. A demo version of "Comp" is available to download as a VST plug-in for Windows. The full version is available to purchase for.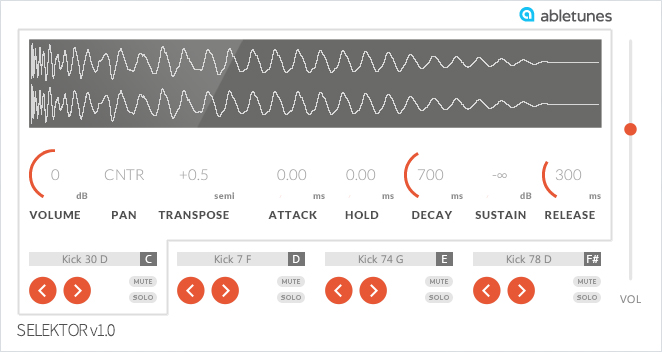 Abletunes has announced the release of Selektor, a simple drum sampler that allows user to switch between samples (much like presets on synth) on the fly while the track is playing and hear an instant result.
Features:
Can switch between samples on the fly.
Has 4 tabs for samples.
Visual representation of the sample.
Each sample tab is mapped on the keyboard.
Volume, transposing and panning controls for each sample tab.
AHDSR envelopes for each sample tab.
Responds to velocity.
Price: $35. Selektor is available for Windows and Mac OS X in VST and AU plug-in formats.
The new Moog Werkstatt in action
You can actually see sound waves as they travel through the air thanks to a clever photographic trick.
tumblr.com/follow/skunkbear
skunkbear.tumblr.com
Twitter:
@cadamole
@nprscience
Produced by Adam Cole
Hands shot by Meg Vogel
Schlieren images provided by Mike Hargather (http://infohost.nmt.edu/~mjh/people.html)
Amber Kates
Bobby Gold
J. W. Tang, A. Nicolle and J. Pantelic
MUSIC:
"Eileen" by Lee Rosevere
http://freemusicarchive.org/music/Lee…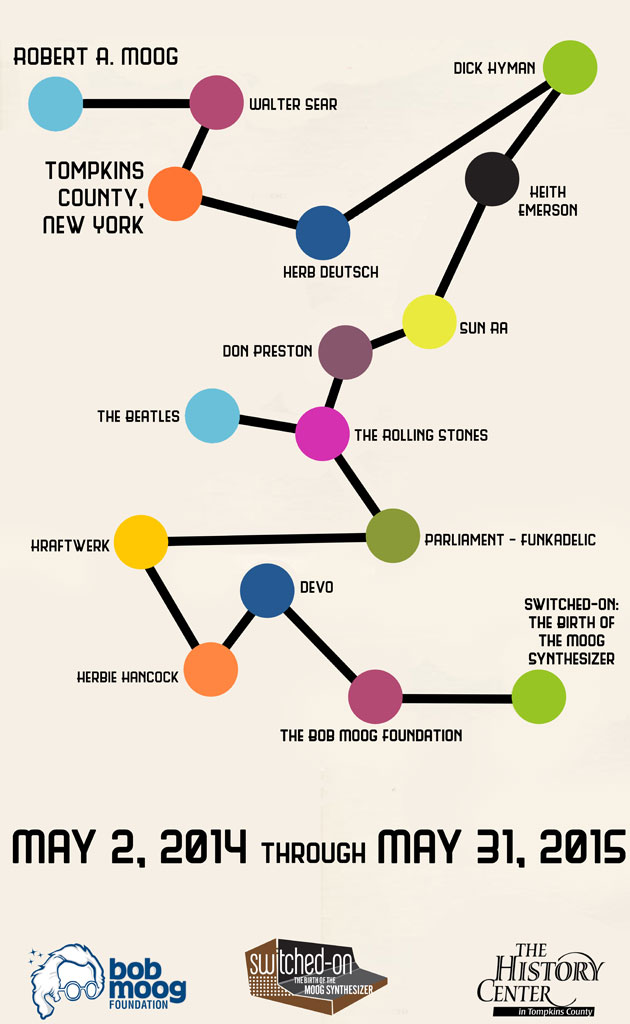 The History Center in Tompkins County will open the highly anticipated exhibition Switched-On: The Birth of the Moog Synthesizer on Friday, May 2nd. Telling the story of Bob Moog and the development of the groundbreaking electronic instruments bearing his name, Switched-On will provide museum-goers an interactive, engaging opportunity to learn about this important chapter of our region's history. Based on a series of wide-ranging oral history interviews done with family members, colleagues, and contemporaries, and done in partnership with the Asheville, N.C.-based Bob Moog Foundation, the exhibition provides unparalleled insight into the unique genius of Bob Moog and the ways in which he ushered in a revolution in music. Switched-On is the first major exhibition on Bob Moog and Moog Synthesizers to occur in the region, and will run through May 31st, 2015.
First Friday Gallery Night
Friday, May 2nd, 2014
5:00 – 8:00 p.m.
The History Center
More info on the museum here - http://www.thehistorycenter.net/thc_exhibits/2014/moog.php and more info on The Bob Moog Foundation here http://moogfoundation.org/.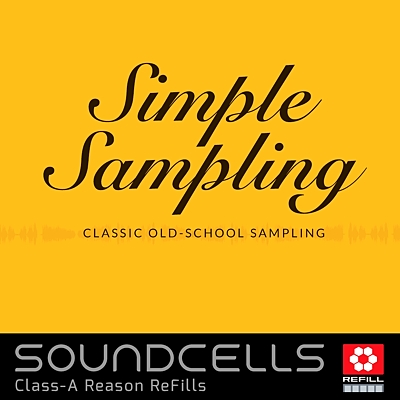 Simple Sampling – a name, a concept!
Simple Sampling is your best friend if you are looking for classic old-school sampled sounds instead of huge patches built by hundreds of individual samples. Patches are super-fast loading, CPU-friendly and they are full of 'retro' character. A lot of great instruments were sampled to get the stunning result: Rhodes Mark 1, Doepfer MS404, Supernova 2, microKORG, Nord Modular G2x, Yamaha VL1, Yamaha SY99, Kawai K5000 … 
Version 4 adds combinator & NNXT patches based on 300 MB of new samples.
Simple Sampling contains:
• 
A note by note (a2 – e4) sampled and looped original Stylophone including it´s typical release click
• The modules folder contains the basic NNXT patches which were used to build the combinators
• 9 demo tracks in Reason format
Price per unit is 19.90 ,- EUR.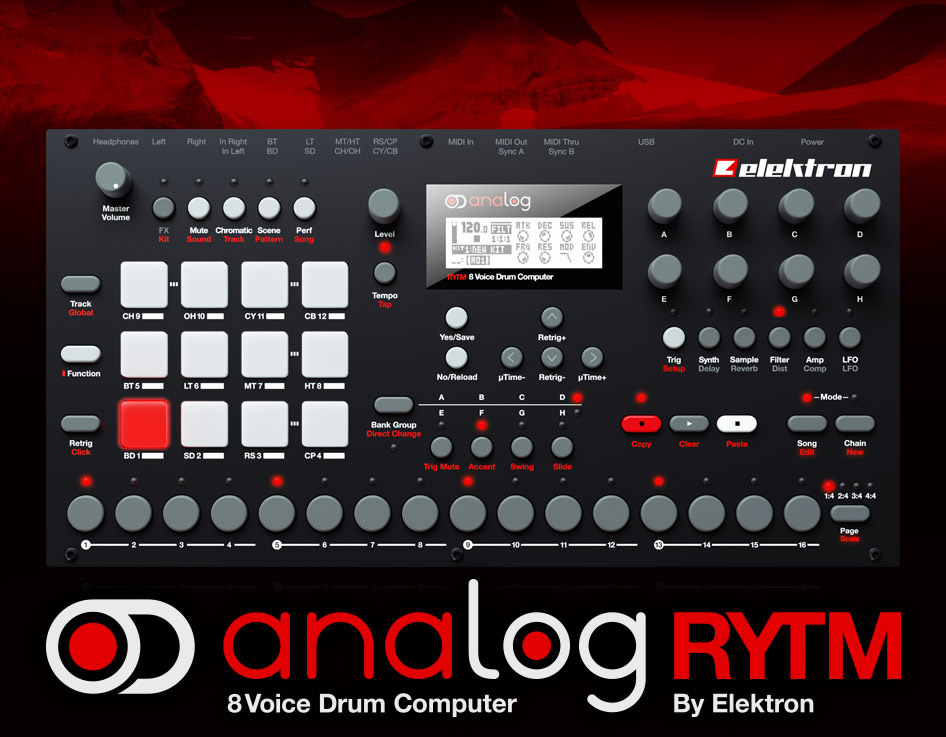 Elektron has announced that Analog Rytm, a hardware 8 voice analog drum machine with sample support, is now available for purchase.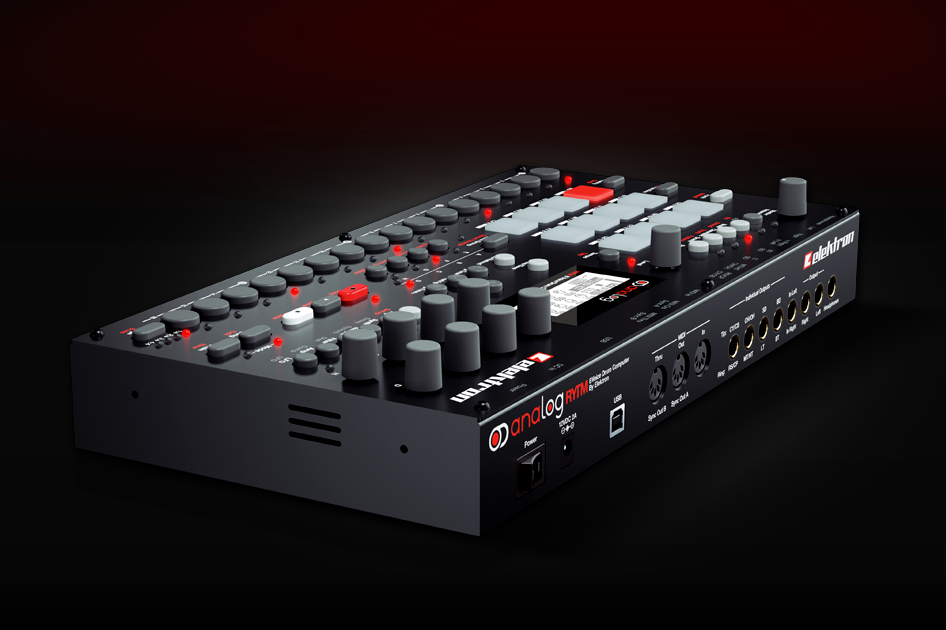 Key features:
8 drum voices, each with:

Specialized analog percussion sound generator.
sample playback (16-bit/48kHz/mono).
analog overdrive.
analog multi-mode filter.

12 velocity & pressure sensitive pads.
Analog stereo master compressor & distortion.
Reverb & Delay send FX.
Elektron step sequencer.
Chromatic, Performance, and Scene mode.
Live oriented beat control.
Individual voice outputs.
Drive storage for projects, patterns, kits, songs, sounds and samples.
Included in the box:

1 Power Supply Unit.
1 Power Supply cable of your selection (EU, US, UK, AUS).
1 Analog Rytm Quickstart Guide.
1 USB cable.
Pricing & Availability
Analog Rytm can be purchased in the Elektron Online Shop or from your favorite Elektron dealer. It costs $1549 / €1489 / £1249 / ¥174900. The demand is high and initial supplies are limited, so please note that it will be sold on a first come, first served basis – and that early orders might take a few days extra to process and ship.
Overbridge, the technology that erases the line between analog hardware and software plug-in instruments and makes it possible to seamlessly integrate the Analog Rytm in a DAW environment will be a part of a free OS update expected to be released Q4 2014.
Two years to the day since Imogen unveiled the first version of 'Me The Machine' with her Mi.Mu Gloves, here's the official music video!
Back the Gloves on Kickstarter: http://immi.fm/mimukick
Pre-order the "Sparks" deluxe box set: http://immi.fm/ihdeluxe
New album "Sparks" coming soon…
Imogen said: "Today is Earth Day and 2 years ago I performed the first version of Me The Machine written with and for my Mi.Mu gloves. I am dying to let you hear the album but I have to wait, but today I want to let you hear and see the studio version and the additional music video. Hope you really enjoy it! Most of the visuals are being manipulated live using my Mi.Mu gloves as I didn't just want to mime. So I went one step further and worked with the team on getting the gloves ready for visual manipulations."