the official video to the ex machina track "eternity" out of the album "no one" – www.exmachinaproject.com
download the album here:
http://www.exmachinaproject.com/music…
hear the entire album right here:
http://www.exmachinaproject.com/liste…
http://www.facebook.com/exmachinaproject
A compact, computer-less performance setup that can create a wide variety of new (and old) sounds. The Dave Smith Instruments Pro 2 is the heart of the setup. In addition to its great sound engine, it provides the master MIDI clock to the H9 and sends tempo-synced LFOs, step sequences and more to the MicroBrute via one or more of its four assignable CV outputs.
The MicroBrute is in the cat bird seat here, but also shown is how that position can also be nicely filled by other analog, CV controllable synths. We also take a Moog Voyager for a spin.
Learn more at www.experimentalsynth.com
New track taken from the new album "Nothing to Confess"
http://spaceracerecords.com/releases/…
Here I take you on a sound ride with the Korg Sigma, a beautiful and powerful synth of Korg released in 1979.The Korg Sigma is here driven by a sequence from the Analogue Solutions Oberkorn.
The Sigma is an interesting bi-timbric synthesizer consisting of two sections: a genuine analog "Synthe" and a Preset "Instrument" section. All together, there are 19 presets on it that give a variety of sounds. There are 11 presets for the "Instrument" section which include fuzz guitar, electric bass, clavi, string, flute, double reed, trumpet, hammered percussion, etc. And there are 8 presets for the "Synthe" section that give variable waveforms (square, pulse, sawtooth) in different pitch ranges (from 32′ to 4′). Each preset has its own rotary control to vary its sounds. The Sigma is also unique for its ability to combine the synth and instrument sections for a nicer, layered synth sound or effect. While the synth section is nice, the instrumental sounds (tuba, trumpet, strings, guitar, etc.) are pretty darn bad, and only get interesting when mixed with the "Synthe" section sounds.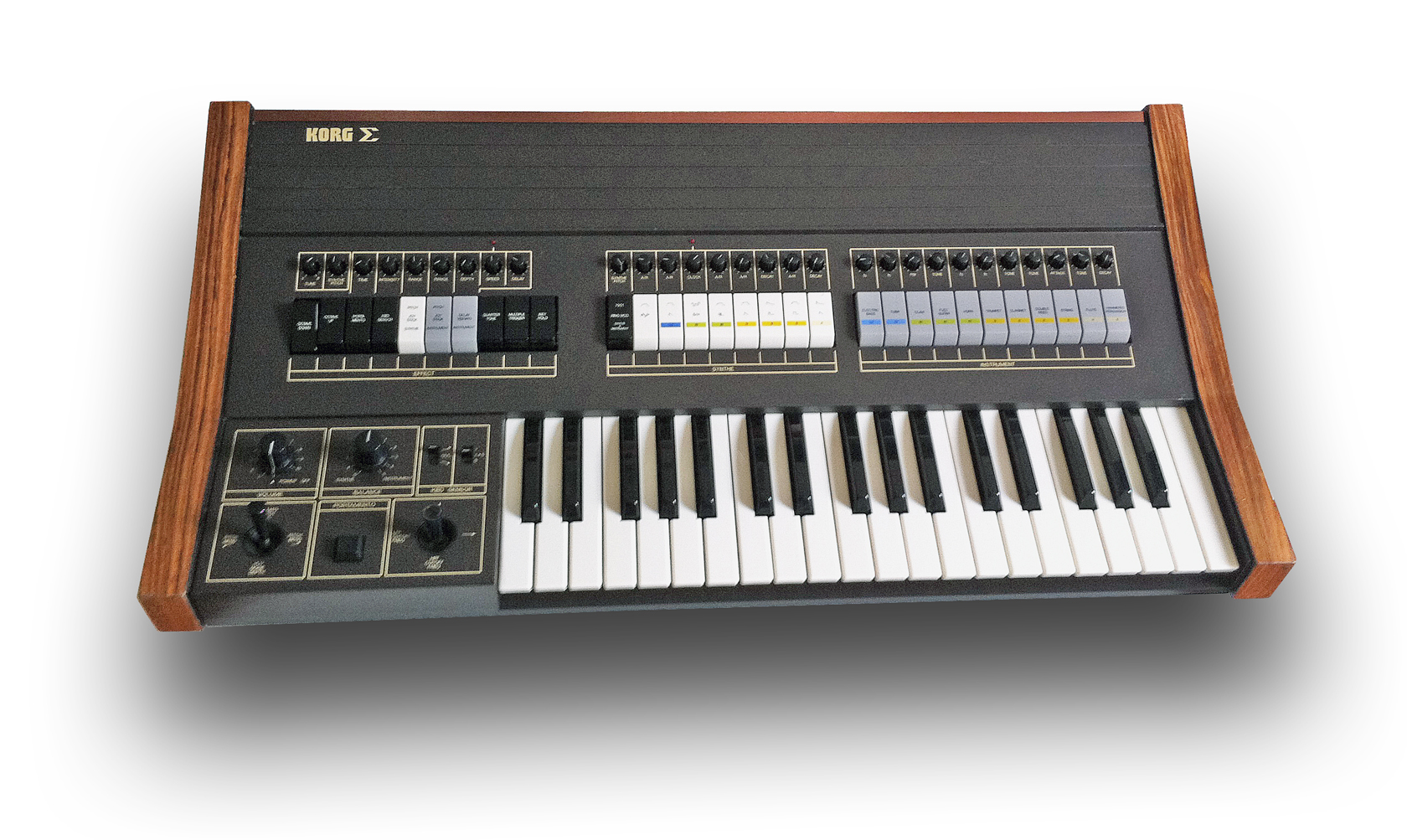 Cool joysticks add multi-dimensional control. Use one to control pitch, noise and vibrato and use the second joystick to edit the low-pass and hi-pass voltage controlled filters! There is also an "Effect" section which is for Vibrato, Portamento, Sample and Hold, Noise, Key Hold, Multiple Trigger and Ring Modulator (each with it's own rotary control to vary it's sound). Even though it has a switch labelled "Ring Mod," it's actually a cross-mod. It lets you cross modulate between the instrument and Synth sections.
Ultimately, however, a basic design, limited edit-ability and a pure lack of memory and MIDI leave the Sigma far behind on the evolutionary scale (although it does let you play a quarter-tone scale). The Sigma has a metal music stand that slides out the back to hold your sheet music suggesting it may have been aimed at hobbyists
Background video description:
This video is for David but everyone else is welcome to watch as well. This is one of the 4 memorymoogs from Alan Gary Campbell's collection that I restored back to fully working order, it was a parts unit originally that I ended up turning back into a very good unit. I upgraded many things in this unit including the autotune circuit which helps with accuracy.
I hope you enjoy it David and congratulations on your purchase.
Lost Reality – Perfect passion (official video)
"Fleeting Awareness"
Digipack CD/Digital available december 19th, 2014
Space Race Records (SRRCD011) – Broken Silence – Audioglobe
*audio frequency reference tuned at 432hz
Tracklist:
01 – On the moon
02 – What remains
03 – Don't move
04 – Unknown
05 – If you want to change
06 – 7 p.m.
07 – Lightless box
08 – Among the stars
09 – Perfect passion
10 – Fleeting awareness
Garmo: vocals, keyboard, programming
Kaos K: bass, guitars
http://www.lostreality.it
https://www.facebook.com/lostrealitys…
http://spaceracerecords.com
http://elektrokommando.org
http://www.gildrome.it
A very special thanks to Audi (https://www.facebook.com/audi.dees) for the London's additional shoots
this song is registered with siae (copyright)
Chris Calcutt used nothing but hardware to generate all these sounds and perform this tune. How? Click here to replicate his setup: http://www.novationmusic.com/project-…
Here's a hint: he used an Elektron Octatrack to control his Novation Bass Station II and Novation UtraNova. He also used his Novation Launch Control XL to control the volumes of all the Octatrack's audio tracks.
For more great videos, click here: http://bit.ly/NovationTV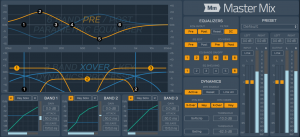 Tracktion DSP has released Master Mix, a stereo mastering-grade plug-in that offers multi-band dynamics processing and equalization.
Master Mix has three individual dynamics processors, each with its own set of controls and selectable crossover points. There are two separate six-band parametric EQs, one located before the dynamics section, and the other after. Each dynamics band is typically used as a compressor, but expansion is also possible. A dynamics contour edit screen provides setup of compressor parameters and allows a user to create the soft knee curve. Master Mix also offers a noise gate and soft-clip limiter.
Price: $59.99 – Master Mix, and other Tracktion DSP plug-ins such as the Micro Synth Pack, are currently offered at a 50% discount introductory price at marketplace.tracktion.com.
Mutronics Mutator creates mind boggling filter sweep effects on any sound source—guitars, vocals, keyboards, drums, etc. The Mutator can clearly be heard on records by artists such as Radiohead, Beck, Daft Punk, The Chemical Brothers, Nine Inch Nails, Massive Attack and many more. It is now available as a plug-in for VST, AAX and Audio Units, both on Mac and Windows platforms. More info: www.softube.com
Features:
Mind boggling filter effects
Control filter sweeps by the sound source's amplitude, from the LFOs or from an external sound source
Used on many seminal records from the 1990s
Based on technology developed for analog synthesis from the 1960s
Each and every component carefully modeled
Extremely analog behavior of frequencies, phase, distortion, etc
Mutronics Mutator is available now for US $219. Includes licenses for VST, VST3, Audio Units, RTAS and AAX Native.