Here's the official video premiere for Red Mecca's "Pressure". Shot by Emil Nordin.
Background video info:
Synthbug Demo of the Korg Arp Odyssey recorded at NAMM 2015. Played by Carmen Silva from Synthbug, patch design by Draven (me). Audio recorded line out directly into my recorder at 48K 24bit.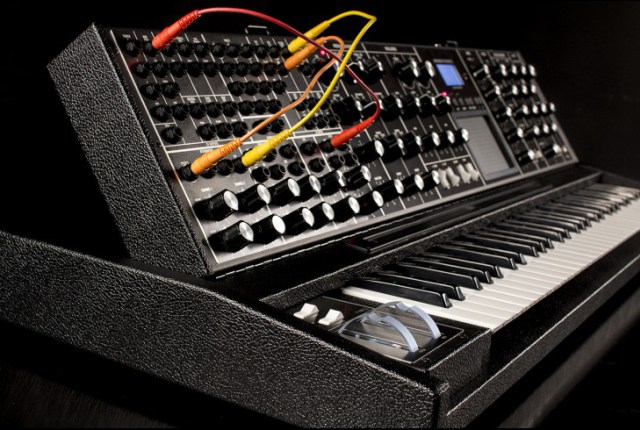 Moog's new Tolex Minimoog Voyager XL – a limited production run (100 pieces) version of the Minimoog Voyager XL, in honor of the 50th anniversary of the Moog modular synthesizer.
The Minimoog Voyager XL is designed to combined the immediate playability of a Minimoog with the flexible synthesis options of a traditional modular synthesizer.
With the Tolex Minimoog Voyager XL, the wood cabinet has been hand-wrapped in black tolex, just as the Model 15 modular synthesizer, and the chassis has been updated to parallel that of the original Moog modular synthesizers.
Features:
61-Note Velocity Sensitive Keyboard with After-Pressure
Ribbon Controller with Pitch and Gate CV Outputs
Touch Surface Controller with X, Y, A and Gate Outputs
External Audio Input
Effects Loop Insert
2 Active Attenuators
4-Input CV Mixer
Lag Processor
Additional LFO Source with Multiple MIDI-Syncable Waveforms
3 Four-Way Mults
20 Control Voltage Outputs
3 Gate Outputs
10 Control Voltage Inputs
4 Gate Inputs
2 Modulation Busses
Solid Maple Cabinet
Tilting Control Panel
The Tolex Minimoog Voyager XL is available now, priced at US $5,500.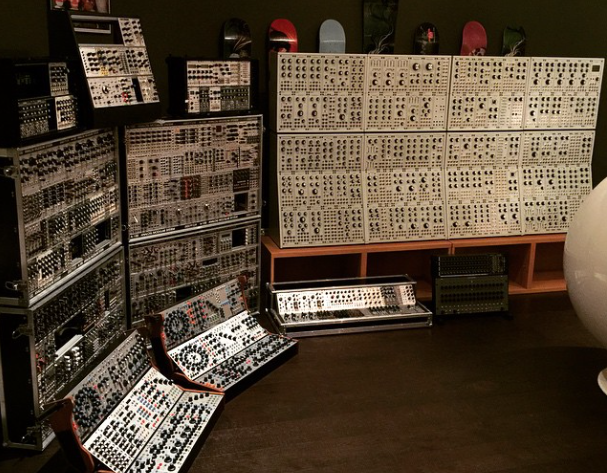 Deadmau5 (Joel Zimmerman) says that he is 'Building an analog modular fort in the basement for the production of the Seven Virtues.'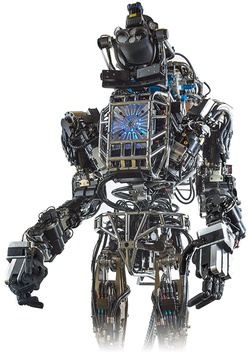 Tone2 has announced the release of the Vocoder Soundset, a collection of vocoder presets for the Electra2 synthesizer instrument.
The vocoder soundset offers 200 impressive vocoder presets ranging from playable vocal phrases to robotic chants, organic vocal synths and droidic drum grooves. It takes advantage of the powerful speech synthesis possibilities and the excellent vocoder module that Electra2 offers.
Vocoder Soundset features
200 superb presets created by an expert.
Comfortable installation.
Perfect integration into the user interface.
All sounds are properly programmed – they are 'not just samples'. This gives you the complete dynamic range, a lot more expression and the highest possible sound quality.
Focus on the new features that Electra2 introduced (requires v2.0 or newer).
Most sounds automatically sync to the BPM.
Vocal chants can be can be played as a single note, melody or chord.
Many patches can be 'morphed' with the modwheel.
The soundset is available for purchase for 39 EUR.
Keyboardist Zac Baird demonstrates how he uses the Moog Werkstatt analog synthesizer within Ableton Live DAW software. After the video, click the link above for even more info on the Moog Werkstatt and Ableton Live.
JD-Xi Interactive Crossover Hybrid Synth with Analog and Digital Sound Engines, Vocoder and more.
Learn more here:
http://www.rolandus.com/products/jd-xi/
http://www.rolandus.com/blog/2015/01/…
Company co-founder and principal designer Paul Maddox of Modal Electronics (née Modulus) walks through the features of his Modal Electronics 002 analog/digital hybrid polysynth at NAMM 2015. After the overview he surfs through some example patches (with direct-in stereo sound).
Using high quality components, the Modal Electronics 002 is a premium product designed to be the flagship in the Modal Electronics range. The keyboard layout includes a semi-weighted, five octave key mechanism and has been ergonomically designed by musicians so that the hands fall naturally and intuitively to the controls. It provides twelve discrete voices of polyphony with full multi-timbrility if required. Adding to the ease of use is a large integral display screen that is context sensitive, i.e. it displays the control parameters of any control knobs immediately when touched by the user. Quick recall banks enable preset sequences and settings to be stored for instant use such as during a live performance. NCOs (numerically controlled oscillators) are used for stability and accuracy while an analogue transistor ladder filter provides classic 'warm' sounds.
Pre-order here: http://www.erasurethevioletflame.com/ The third and final single from Erasure's current album 'The Violet Flame' will be 'Sacred' and will be released as a full single on March 16th (March 17th in North America).
Background video description:
Truly an amazing demo!