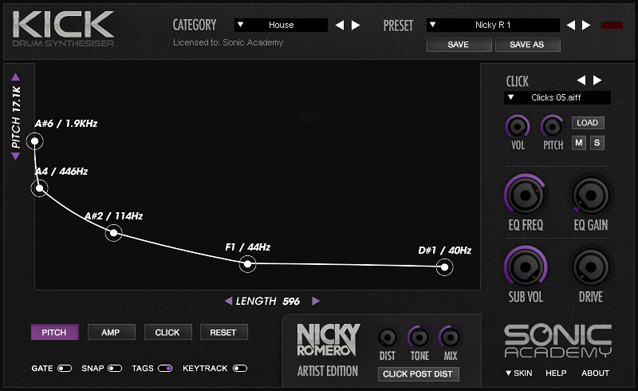 Nicky Romero introduces KICK Synth which has been developed together with Sonic Academy. KICK is a Kick drum synthesiser allowing you to quickly and precisely create kick drums and tune them to your tracks. It combines a synthesised sub oscillator and sampled clicks to create a wide variety of kick drums, percussive and even bass sounds. With Pitch, Amp and Click envelope editors, drive, pitch control and the Nicky Romero designed distortion section
With 175 factory presets and 40 exclusive Nicky Romero presets you can access that special Protocol sound right out of the box. In addition kick comes bundled with 32 Nicky Romero clicks lifted straight from his productions. The user can also load their favourite clicks, kicks, and even fx to create truly unique personal sounding kicks.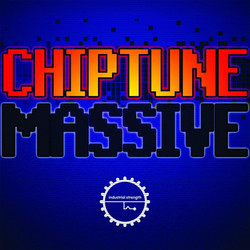 Industrial Strength has launched Chiptune Massive, a sound library featuring loops, samples, and patches for the Massive & FM8 synthesizer instruments by Native Instruments.
Our new collection was made from the ground up to provide you with a truly unique selection of quirky 24 Bit audio samples and game ready patches for Ni Massive and NI Fm-8. (Included in the Main Pack Only)

This pack is a one stop shop for sequences that you can play by just hitting one key on your midi keyboard Controller while using Ni Massive. Yes, all your favorite sounding old school video game style sequences all at just one finger tip.

We even thru in over 200 Chiptune Audio files and a dope set of Growls, Wobbles and Leads for you to rip apart. Each sample has loads of head room for you to rework and really use with your own Fx. Everything you here in the demo is in the pack and way more.
Chiptune Massive features
1.37GB content, 24 bit quality.
70 NI Massive Presets, 31 NI FM-8 Presets.
244 Apple Loops.
Includes 137 Chiptune Loops, 119 Drum Loops, 119 High Hat Loops, 25 Chiptune Bass Loops, 117 Chiptune Vocals, 24 Speak n Spell Vocals, 86 Bass Shots, 41 Mettel Synsonics Drums, 9 Virus TI Drums, 52 MT-52 Shots, 39 Casio Cz 101 Samples, 62 Moog Perc Shots, 11 Moog Fx, 60 Moog Lazors, 18 Long Moog Fx, 24 Moog White Noise Fx, 5 Edm Claps, 5 Edm Kicks, 10 Blips, 10 Closed Hats, 30 Kick Drums, 10 Open Hats, 20 Snare Drums, 26 ISR Fx.
7 Ni Battery 4 Kits, 1 Mattel NI Battery 4 Kit, 2 ISR Battery 4 Kits (96 Additional Samples), 1 Maschine Kit.
The sound pack is available to purchase for £24.95 GBP.
Download it here:
http://basicunitproductions.bandcamp.com/album/minimal-distraction
Enjoy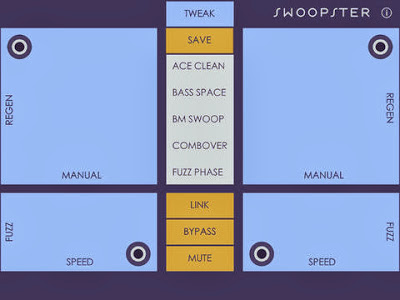 Swoopster is a wild, fuzzed out Flanger/Vibrato effect designed for Audiobus and Inter-app audio.
Process synths, drum machines and hundreds of other apps by connecting through Audiobus. Use Swoopster as an effect inside Garageband, Auria, Cubasis, and AudioShare using Audiobus or Inter-app audio.
Swoopster features two distinct modes:
PERFORM and TWEAK.
PERFORM mode is focused around four XY touch pads. Touch to control flanger speed, manual, feedback and fuzz amount independently for left and right channels.
TWEAK mode features large expressive sliders and additional effect parameters, allowing you to fine tune your sound.
The center panel of Swoopster's interface is part of the instrument and meant to be played in real-time, including the scrollable preset list. Tap a preset to instantly load it's settings, play different presets in rhythmic patterns, or re-trigger the current preset to restart the sweep of the Flanger. The MUTE and BYPASS buttons function as momentary switches for DJ mixer style control.
Echo Pad users loved the creative stereo imaging possible with its effects, and this approach continues with Swoopster. Both Perform and Tweak modes allow you to control the left and right channel's effect parameters independently for wide stereo sound design. You can easily toggle between linked and unlinked channel parameters by tapping the LINK button.
In addition to Audiobus and Inter-app Audio support, Swoopster can also process external instruments such as guitar, voice and synths by connecting a microphone or professional audio interface such as the Apogee Jam, ONE, or any iOS compatible USB audio interface.
For more info visit www.swoopsterapp.com
Background video description:
アナログシンセサイザー「SUB PHATTY」を試してみました・・
demo by Mitsuru SAKAUE
Digiland(デジランド)
島村楽器株式会社のデジタルガジェット情報配信サイト
http://info.shimamura.co.jp/digital/
Googlish:
I have tried analog synthesizer "SUB PHATTY" …
demo by Mitsuru SAKAUE
Digiland (Dejirando)
Digital gadgets information delivery site of Shimamura instrument Co., Ltd.
MAKE SOMETHING THAT MAKES MUSIC
littleBits and Korg have demystified a traditional analog synthesizer, making it super easy for novices and experts alike to create music.
LEARN MORE:
English: http://littlebits.cc/
Japanese:http://jp.littlebits.com/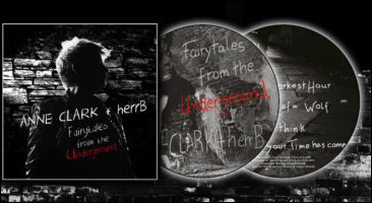 Out on the 10th of January 2014 but available in pre-order right now (in a limited run of 500 copies) is the 7-track vinyl "Fairytales from the Underground" by Anne Clark + Herr B.. Originally released as a 3-track-maxi-CD, this re-release comes as a picture-vinyl containing the 3 tracks from the CD-version + 4 brand new remixes by MRDTC, Angst Pop/Technomancer, B Infinite and Stadt aus Draht.
Tracks:
Darkest Hour 5:04
Eye of a Wolf 6:05
When you think your time has come 4:36
Darkest Hour (Remix by MRDTC) 4:00
Darkest Hour (Angst Pop & Technomancer Remix) 4:34
Darkest Hour (B Infinite remix) 5:23
Darkest Hour (Remix by Stadt aus Draht) 11:26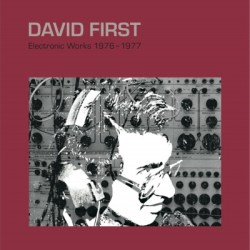 DAIS Records has an upcoming release that features vintage Buchla works by composer David First. Here's what they have to say about the album, David First: Electronic Works 1976 - 1977:
During his time at Princeton, First was introduced to the classical electronic music studio there, a lonely outpost of the famed Columbia-Princeton Electronic Music Center which housed one of the very first Buchla 100 series systems acquired by Vladimir Ussachevsky & Otto Luening.
Due to the introduction of digital technology within the music world, this system was left to languish in the studio unattended and nearly forgotten. First fell in love with this equipment and seized the opportunity to compose using the Buchla 100 synthesizer, at first experimenting only with electronic synthesis but later adding in his signature guitar stylings to make these compositions unique to the academic output typical of university music.
Thankfully, these compositions were recorded by First at Princeton on various reel to reel tapes and stored away for over 35 years. It wasn't until the summer of 2012, when David First and Ryan Martin (of Dais Records) decided to revisit and transfer these reels to compile an album presented here as a selection of genuine, uninhibited exploration into modular electronic synthesis.
The release is limited to an edition of 500 copies, with liner notes by David First. The release/shipping date is Jan 21, 2014.
Beatport: http://www.beatport.com/release/tantr…
iTunes: https://itunes.apple.com/gb/album/tan…
Amazon: http://www.amazon.co.uk/Tantra-EP-Tim…
'Tantra' is the new single from Timo Maas. Taken from his latest artist album, 'Lifer', the release comes during a vintage year for the acclaimed German DJ and producer. The video for the single presents a fascinating nexus between human ingenuity, electronic music and mechanical design — whereby the 'audio' for 'Tantra' programmes a purpose built machine and brings it to 'life'.
The machinery that forms the art installation at the centre of the piece was designed, built, operated and then filmed by a group of Japanese artists and creatives, including Daito Manabe. Motoi Ishibashi, Muryo Homma and Youichi Sakamoto. They spent weeks researching and testing materials before building the final installation from Arduino controlled ball dispensers, motorised rotating steel plates and LED lights for filming.
'Tantra' was then deconstructed into MIDI parts (the computer code that runs the synths, drum machines and samplers in the musical composition), the data that specified notation, pitch and velocity, control signals for parameters such as volume, vibrato, audio panning, and cues from were then run through the machine to control its movement.
Daito Manabe explains:
"The first time I listened to 'Tantra', I imagined someone producing something endlessly in a base, deep underground. With this image in mind, we started testing different machines, systems and so on, and then we finally figured out the structure and how we'd control the machine — and the motion of the balls — with the music. We felt that this would give it a sense of reality and beauty that is impossible to realise with CGI.
Remixers on 'Tantra' include Tom Demac (who's about to drop a forthcoming collaboration with Will Saul on Aus), James Teej (the My Favourite Robot boss returns the favour for Timo's reworking of 'Liking Your Disorder'), Atelier Francesco (a new project and accompanying pseudonym from an already eclectic Italian producer) and Wolfgang Haffner (the ECHO music award-winning German drummer famous for his work with Nightmares On Wax and beyond).
Creative director/ Software engineer: Daito Manabe
Hardware engineer: Motoi Ishibashi
Video director: Muryo Homma
Installation designer: Youichi Sakamoto
https://www.timomaas.com
https://www.facebook.com/timomaasfans
https://www.twitter.com/timomaaslive
https://www.soundcloud/timo-maas
https://www.youtube.com/timomaasofficial
Stated as the next generation groovebox for iPad coming soon, screen shots below: