AfroDJMac has released Univox Bass Lucy, a free Live Pack featuring a sampled Univox bass from the 70′s.
Free Download @ http://bit.ly/freesynth107
Multi-sampled bass guitar instrument for Ableton Live. Created from samples of a Univox Bass guitar. The bass can be heard on this track: https://soundcloud.com/afrodjmac/id-n…

Visit AfroDJMac's site for more stuff like this, including Live Instrument downloads, tutorials and music! http://www.afrodjmac.com
I've had a lot of experience recording this bass, and I'm often torn on how to best record it. Running it through a bass amp is usually my first choice, but I also really like how it sounds coming out of my guitar amp. So what I did while sampling was run the bass through an SWR bass amp and my Fender Deluxe tube guitar amp. Also, I put up an AKG C414 mic in the room to capture both amps simultaneously. On the Ableton device, you can mix the three signals together to meet your taste.

When you pluck a string on a bass, it will always sound slightly different. So to emulate that, I recorded 3 different samples of each note that I recorded. I set the LFO in Sampler to play any of these three samples at random. That means that any melody you play will always sound slightly different. Even a MIDI clip will never loop in exactly the same way with the same samples. You will always get a bit of subtle variation, just as you would with a real bass player.
Amen break – coming from the late 60′s is one of the most famous drum loops sampled and remixed in hundreds of jungle, drum'n'bass and hiphop records. This six-second clip spawned several entire subcultures and gained massive fame among DJ's, producers and music fans. 

We bring you the Amen Break Generator – a vintage-looking loop player designed for a real-time generating of infinite combinations of this famous break! You can remix the loop with your fingers, use three different randomizing algorithms and add various DSP effects.


FEATURES 

• 44.1 khz, 16-bit low-latency audio engine
• beautiful vintage-looking graphics
• 16 buttons for manual tempo-synced triggering of the breaks
• live recording to WAV files
• randomization algorithm for automatic remixing
• single slice freezer and loop reverse mode
• high quality DSP effects including ring modulator, stereo hipass filter, chorus and resampler.
• 7 additional classic drum loops just for even more fun!
Classic Kraftwerk tune, video details below:
No copyright infringement intended.
It's not quite like the original, neither is not intentend to be.
Sequenced parts sequenced on Cubase 5 (several VSTs were used) then audio mixdown passed to Roland SP-404.
Synhts used:
Korg T3ex Master Midi Keyboard
Roland JP-8000
Yamaha AN1x
Roland XP-60 with SR-JV Vintage Synth Board
Roland JV-2080 with SR-JV Vintage Synth Board
Roland V-Synth XT for vocoder sound
The PO-12 is a new drum machine from Teenage Engineering. This is one of the first 200 prototypes ever manufactured, made exclusively for the artists who performed at Moogfest 2014.
Here the PO-12 is featured with the MF Ring, MF Delay, and MF Drive from the Minifooger line of Analog Effects Pedals by Moog.
Learn more about Moog Minifooger Analog Effects here:http://bit.ly/Minifoogers
This is the music from the game Firequest.
Played on an original Commodore 64 with 8580 SID Chip (R5-3888).
introducing CosmosƒFx, a stochastic live input processor effect plugin, having identical engine with Cosmosƒ vSaturn. Preferably, listen to the demo with headphones to perceive some subtile nuances. And please be careful with the volume.
Features:
Three different live input handling methods for the micro events
The direct input mode delivers the live input directly to the micro events being sampled and manipulated synchronously.
The circular buffer sampling mode records the live input into a circular buffer and each micro event can access to this buffer with different sample lengths set individually.
The additive synthesis sampling mode offers the data in the circular buffer to each of the 12partials of the Cosmosƒ additive synthesis engine. Their pitch and amplitude balance can bet individually to build fascinating clusters with the live input audio stream.
Cosmosƒ Fx is bundled with vSaturn synthesizer, which is priced at US $230. See thesonicLab site for details.
Reveal Sound has introduced Industrial Universe, a soundset featuring 50 presets by Vi Ta Lee & Dark Like Hell Records for the Spire synthesizer.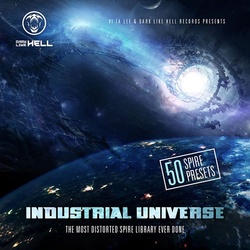 The most distorted spire library ever done. Smashing industrial sounds will take your productions to new levels of your imagination.

Use it for industrial / techno / hardcore / hardstyle / and all other electronic genres.
Add a little bit of darkness to your film score or even some evil to your band's next track.
The soundset is available from Reveal Sound for 10 EUR / $13.50 USD excl. 19% VAT for EU.
Info :https://www.facebook.com/darklikehell
L Studio 32 vs 64 Bit FAQ - http://support.image-line.com/redirec…
Image-Line's FL Studio Guru has posted a video on FL Studio 32 vs 64 Bit, explaining the differences and similarities between the two versions of the music production software.
Since we launched FL Studio 64 Bit we've had a lot of questions from customers asking if they should switch from FL Studio 32 to 64 Bit. In this video we look at the differences and similarities between these two versions and hopefully make the decision a little clearer.

FL Studio 64 Bit is a free option for existing customers while new customers get FL Studio 32 and 64 Bit with no change to current FL Studio pricing. FL Studio 64 is available in a single unified FL Studio 32/64 Bit installer or as a 64 Bit update installer for any version of FL Studio 11.
FL Studio is available for purchase for $99 USD (Fruity Edition) / $199 USD (Producer Edition) / $299 USD (Signature Bundle). New Image-Line customers get a 10% discount on their order.
Background video description:
A song I did by Multitracking a DSi Mopho. All sounds from the Mopho. I also used the Mopho as carrier signal on my Vocoder Syntovox 222 & on my Banshee Rocktron Talk Box. Long Live the Mopho!!!
Music & lyrics composed by Val Solo 2014
Live improv/mix with Nord Lead 3 and Analog Keys. Berlin School style electronic music.