The official video for 'Monument (The Inevitable End Version)' featuring Robyn, taken from Röyksopp final album: 'The Inevitable End'. The video was shot on Röyksopp & Robyn's Do It Again Tour through 2014.
This new version of Monument is available as an instant download when you preorder the forthcoming album The Inevitable End on iTunes here: http://smarturl.it/ryxptieit?IQid=you…
Vinyl: http://smarturl.it/ryxptie12?IQid=you…
CD: http://smarturl.it/ryxptiecd?IQid=you…
We feel like this is a goodbye to the traditional album format. In our consecutive run of albums, we have been able to say what we want to say and do what we want to do with the LP. We're not going to stop making music, but the album format as such, this is the last thing from us…
If you wanna ride with us… http://theinevitableend.com
S&T
——–
CREDITS:
Director & Cinematographer: Stian Andersen
Edit: Erik Treimann
Colorist: Raymond Gangstad
Additional Photo: Erik Treimann, Mads Hoel, Tage Lokoy, Fredric Posé.
Watch the Sushi Sequencer Episodes with Just Blaze and TOKIMONSTA here: http://www.redbullmusicacademy.com/ma…
Subscribe to our YouTube Channel: http://bit.ly/10OyDHc
Visit our official website: http://www.redbullmusicacademy.com
Follow us on Twitter: https://twitter.com/RBMA
Like us on Facebook: https://www.facebook.com/RedBullMusic…
Visit our Japanese website: http://www.redbullmusicacademy.jp
As part of the 2014 Red Bull Music Academy in Tokyo, we're celebrating Japan's many artistic practices. The Sushi Sequencer brings together two of them: Sushi and music technology. The idea was to make a sushi conveyor belt a playable sequencer. While the results in the video are tongue-in-cheek, the technology behind it is anything but: Helped along by a team from Native Instruments, both Just Blaze and TOKiMONSTA synced music to colored plates on the conveyor belt, making for one of the world's most delicious music-making machines ever created.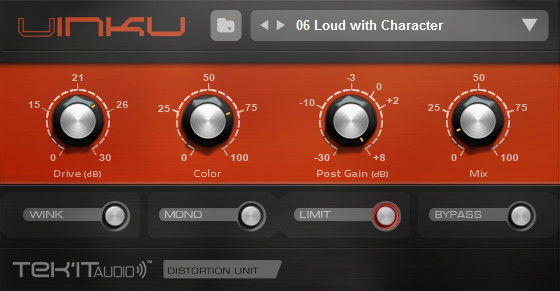 Tek'it Audio has announced the release of Uinku, a fold-back distortion effect plug-in for Windows and Mac.
Uinku creates subtle harmonic changes to extreme distortion helped by the "Drive" control to add saturation and the "Color" control in an effort to bake the perfect tones.

The interface features a "Mix" control for blending the original sound with the sound of Uinku and an "Output Gain" control with a clipper stage to drive distortion further.
Uinku features
2 Flavors of Foldback distortion, including the "Winkl" sound.
Distortion drive and color controls.
Mix and output gain controls.
Activable gain stage clipper.
Bypass switch.
x16 Oversampling.
64-bit internal processing.
Full MIDI automation support.
Preset manager, rename, save, load presets and banks.
Works in mono or stereo.
16 factory presets.
The plug-in is available for Windows and Mac (VST/AU), priced at 39 EUR / $49 USD.
Modern beat making without distraction
Download free from the App Store: http://appstore.com/auxy
Let us know what you think: feedback@auxy.co or https://twitter.com/auxyco
Introducing a new way to make electronic music. Create your own drums, bass lines, and synth melodies. Auxy is modern beat making without distractions.
Interview 2014
Daniel Miller showing Minimoog, Pro One, TR 808 / 909 and even the Anyware Tinysizer – shown on the last modular synth meeting – as well as  polivoks, System 100m and SE1X along with Microwave and Matrix 1000 by Oberheim and Arp Sequencer.
KDJ-ONE Official Website: http://www.kdj-one.com/
The video feature interviews with Sid Wilson (DJ Starscream) of the internationally-acclaimed metal band, Slipknot and avid user of the KDJ-ONE during its early testing stages. Watch DJ Starscream create several songs on the fly, demonstrating the device's wide range of features.
KDJ-ONE is a mobile audio workstation
with advanced synthesizer, sequencer, and audio capabilities.
The KDJ-ONE is a hand-held device with which you can
create songs from nothing on the go using it as an
advanced synthesizer, or even work on previously made ones
using it as a sequencer.
It has both a touch panel and keyboard built-in,
which can be used easily anywhere on the go to create realistic
sounding music. The internal battery can last up to
10 continuous hours, able to create music for an entire direct flight
from America to Tokyo!
In this week's development video, Louis delves into Codename Digits' powerful phase distortion oscillators. This is only one of the features that makes Codename Digits such a unique and rich sounding synthesizer.
Wej needs you! Help support wej by pre-ordering yours and get 20% off. Get Wej for just $99.00 through November 7th preorder.retronyms.com
Follow Retronyms
http://www.facebook.com/retronyms
http://twitter.com/retronyms
The Build is a semi-regular series of videos showcasing what's in development! Take a peek behind the scenes at our new tech and latest progress in Audio and Music creation.
Dark electronic madness by Glenn Keteleer with pounding Rave sounds and techno hooks. No excuses regarding styles, Gloomy atmosphere's ,Wave & Elektro infuences by legendary bands as TNJ and Front 242 are part of the game" – radicalg.com
David Rees has made an album of Aphex Twin / Taylor Swift mashups, because they both have great production and, at least in his view, 'Taylor Swift is as scary as Aphex Twin':
"We've got to acknowledge that Taylor Swift is sort of terrifying," writes Rees. "Aphex Twin is famously camera shy, and employs a lot of cryptic/creepy imagery in his videos. Of course, I wouldn't describe Taylor Swift as camera-shy … but her incredible poise and superhuman competence are, to me, just as alien and intimidating as Aphex Twin's photoshopped leering ghoul-faces. It's a cliche to describe a celebrity as controlled and masterful as Taylor Swift as robotic, but I think there's some truth there, especially in an age when we assume — rightly or wrongly — any pop singer who hits a high note did it with the help of a computer."
Video by Scott Byrne
"All through the night" by Kemper Norton
Based on the Welsh folk song Ar hyd y nos (trad)
From the album Loor (Front and Follow 2014)
www.frontandfollow.com
The label explain that, "[t]he songs on Loor [Cornish for 'moon'] are a loose trilogy of nocturnal encounters, searches and awakenings, often with Kemper Norton revisiting old foes from previous albums and encouraging new treacherous encounters", drawing on "real and imagined cities from childhood" folk influences and found sounds. As such, it's fitting that Scott Byrne's excellent, computer-animated new video for 'All Through The Night', based on the Welsh folksong 'Ar hyd y nos', should feature skeletal figures engaged in various acts of crepuscular rumination in a greyscale city.