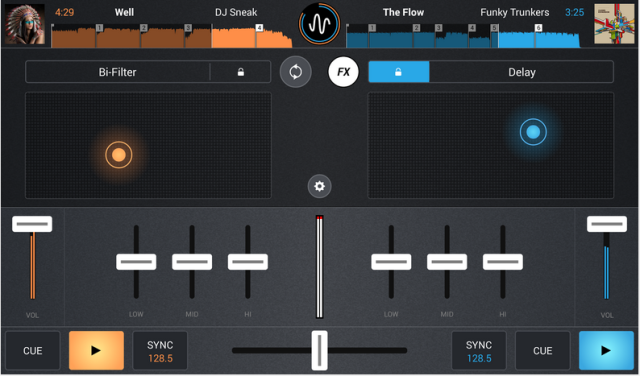 MixVibes has released Cross DJ for Android, an app they call the 'first pro DJ app' for the platform.
Features:
Mix in Sync

Accurate BPM detection, right down to the last decimal.
Sync button: one-press, and the 2 tracks never go out of phase.
Manual pitch & pitch bend.
Beat-grid editing, to sync your old tracks correctly.
Parallel waveforms: to visually check if your tracks are synced.
Quantize mode: set hot cues & loops automatically on the beat.
Smart-seek: Tap on the waveform to fast-forward & get a seamless jump.

Audio Performance

Low latency: music reacts instantly to your actions.
Extremely realistic scratch sound.
15 effects (Bi-filter, Low-pass, Hi-Pass, Delay, Echo, Phaser, Flanger, Cut, Crush, Bliss, Brake, Roll, etc.)
No loading time when starting-up the app.

Interface

1 crossfader, 2 turntables, 3-band EQ mixer.
Direct access to your device's music( MP3s, AAC & more.)
Multiple music sorting options: title, artist, album, BPM or length.
Large control pads: XY effect pad, 16 hot-cues pads.
HQ live recording of your mixes.
Optimized for display on 4″, 7″ & 10″ devices.

Minimum Configuration

Android 4.1
Android 4.3 for recording
4″ screen
RAM: 1GB
Dual-core processor
Cross DJ for Android is $4.99 – Get it here >>
The first additive synth for Propellerhead Reason is now available – the Parsec Spectral Synthesizer. Now, Nucleus SoundLab has released Hyperdrive, the first Reason ReFill created specifically for Parsec.
Here's what they have to say about it:
Hyperdrive contains a full palette of new sounds for Parsec, suitable for a variety of electronic music genres – such as ambient, IDM, trance, or filmscore.  Nucleus SoundLab has employed five experienced sound designers to produce a ReFill of truly varied scope.  Inside Hyperdrive you'll find their work has produced Blade Runner-esque FX, piercing psychedelic leads, glassy sweeping pads, hybrid Parsec/Thor duets as well deep sci-fi atmospheres.
The same quality customers have come to expect from Nucleus SoundLab is well-represented in Hyperdrive:  Unique Combinators with unique Combinator controls; Parsec patches that make up each Combinator are individually available; full categorization of both Combinators and device patches; careful volume-balancing for every single patch.  Together, Parsec and Hyperdrive are the perfect combination to propel your electronic music productions to vast new aural galaxies!


Features:
128 unique Combinators across eight categories
178 Parsec device patches
2 demo songs packed inside the ReFill
All Combinator rotaries/buttons/modwheel uniquely mapped.
Patches designed by veteran Reason sound designers – Adam Fielding, Shaun Wallace, Lewis Osborne, Navi Retlav, James Miles and Jeremy Janzen.
Requires: Parsec Rack Extension.
Background video description:
Almost finished setting up my "electro rig" which features these classic, but inexpensive effect units from Electrix. One fun thing to do with the MoFX is turning the delay feedback to 100% and "sampling" a measure of a beat and manipulating that sample with the delay time. Be sure to listen with headphones if you've got them handy and hear the "ping pong" delay!
Easily create your own Multi Band FX by dropping them into this Ableton Live Audio Effect Rack. Free Download of 4 Audio Effect Racks for Ableton Live.
Download Link: http://bit.ly/freesynth97
Here is a synthesizer Gtechture has designed called the Colangelo Ascension, unfortunately only still images in this video but you can listen to the sound, details below:
So far it is in an research and development phase and may never go into production. It is a virtual analog synthesizer with an analog post processing section featuring an analog filter, and a tube drive circuit. It features a powerful 8-track sequencer that can be used to sequence notes or parameters. In multi mode sequences can be layered. If you have any questions or would like to contribute, please email me at giancolangelo@gmail.com
Synthrotek Chaos Nand Synth: with added capaciter bank so you can switch between different caps to get different sounds. The enclosure is 10 gauge perforated steel on top and bottom, and the case is 18 gauge steel.
Vintage synthesizer track featuring the classic Oberheim OB-X
all synthesizer sounds: Oberheim OB-X Analog Synthesizer (1979)
drums: LinnDrum
recording: multi-tracking without midi
fx: reverb and delay
"RevolutionAir" is the new single taken from Redrum Alone's debut album "De Redrum Natura"
Buy "RevolutionAir" on iTunes:
http://smarturl.org/sqfff
Follow Redrum Alone:
http://facebook.com/Redrumalone
http://twitter.com/redrumalone
http://soundcloud.com/redrumalone
TITLE:RevolutionAir
ARTIST:Redrum Alone
DIRECTOR:Marco Gernone
DOP:Andrea Ferrante
PRODUCER:Film Found Family Produzioni Cinematografiche
www.filmfoundfamily.it
©2013filmfoundfamilyproduzionicinematogr
­afiche
Mellotron sample recorded from an iPad running Super Manetron.
Make a wavetable for the incredible PPG Wave Generator with Audio-term.