3π/2 [pi] miami beach limited edition
The circle got reopened. Standuino comes back with three quarters of the circle waiting for YOU to fulfill the remaining quarter!
mystery drone synth with patchable clock sequencer is back !
buy now exclusively from noise.kitchen: http://noise.kitchen/shop/standuino/3…
get more info: http://www.standuino.eu/musical-instr…
3π/2 is amazing sensual experience with rough mahogany knobs, the touch of 100 % natural wool&cotton felt case, golden patching nails and UV leds… and the color finish glows in the dark!
Features
-several oscillators, wavetables and synthesis types
-settings accessed by randomizers
-high probability of getting cool bass sounds
-14 bit PWM sound core
-4 presets
-patchable clock sequencer with several patterns
-internal clock or MIDI clock divider
-MIDI input
-UV leds
-numbered limited edition
-natural pure wool felt case
Find out more here – http://bit.ly/rob-papen
Due for release in December 2014, RAW is a brand new virtual synth plugin from legendary sound designer Rob Papen. It will work with all the major DAWs including Logic, Ableton, Cubase, and Fruity Loops.
RAW has two oscillators each with an X/Y field, (as included in Blade and BLUE-II) to distort the waveform using Phase Distortion.
But that's not all, you can also draw two of your own 'waveforms' and use them as LFO waveforms enabling the creation of unique 'wobble' movements that are perfect for for dubstep and other EDM styles.
RAW also features premium quality Rob Papen filters to shape your sound further, but in a refreshing twist, 'EQ', 'Waveshaper', 'Distortion' and 'LoFi' have also been added on a voice synthesis level.
Also included in the package will be an extensive collection of world class presets in a variety of styles including contributions from several well known DJs and producers.
Start your journey beyond the edge.
Some retro electronic sounds created with a mix of modern Buchla 200e modules,DIY "retro 100″ modules.. and a Tape Delay.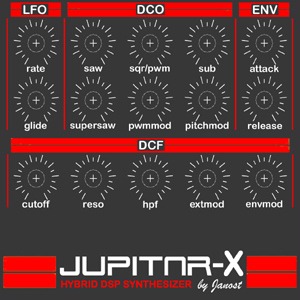 The Jupitar-X tabletop synth is a monophonic synth with a single Juno DCO voice available ready-built or as a kit from Jan Ostman at DSP Synthesizers

Features:
Oscillator with SAW, SQR/PWM and SUB waveforms.
SUPERSAW unison setting for the SAW waveform.
LFO and AR-envelope.
DSP filter with LPF, HPF and Resonance setting.
MIDI input for note on/off.
5 volt CV/Gate input for oscillator. Frequency range 65-2093Hz (C2-C7).
5 volt CV input for filter cutoff.
External audio input to filter.
Great analog sound.
Also available is the extremely tiny (65x60mm) Jano-X synth
Features:
Just CV/Gate, PWM-CV and Pitch-CV 0-5v analog inputs.
SUPERSAW unison setting for the SAW waveform.
Great for sequencing and use with external filter.
Pricing and Availability:
Jupitar-X : $330 ready built or $235 for a kit including all parts, knobs, box and frontpanel.
Jano-X: $70
Order from DSP Synthesizers
GR-SAKURAでMIDI音源を開発しました。
回路による再現ではなく、数学的技法によりアナログシンセサイザーを再現しています。
Googlish:
I have developed a MIDI sound source in the GR-SAKURA.
Rather than the reproduction by the circuit, we reproduce the analog synthesizer by mathematical techniques.
Each sound is generated using one xenophone mono synth and processed by onboard FX. Keyboards are only MIDI controllers.
Units from left to right : 1-Lead 2-Sequenced Harp 3-Bass 4-E-Piano
The Xenophone offers three oscillators, two subs, three ring modulators, one multimode VCF and analog distortion, all based on discrete analog circuits followed by a high quality stereo digital delay and reverb. In addition to its synthesis capabilities, it can be used as a powerful audio processor to colorize an external input signal by analog filter, distortion and DFX.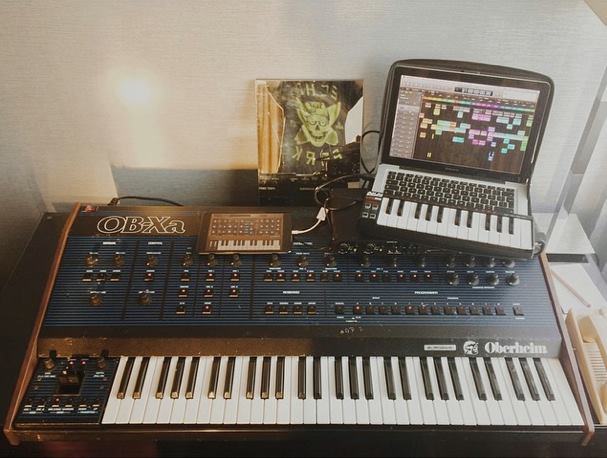 Gary Numan posted this picture of his live set up from a hotel rehearsal for his London show on Friday.
beatassist.eu says that Mantra Evo is a high capable synthesizer, combining FM and Phase Dist synthesis, all in one. Here's what they have to say about it…
Mantra Evo is based on an FM synth and a Phase Dist synth. Both of these synths are gifted with a morphing system that will morph the basic waves into some more complex ones. Each of these synths are also gifted with 5 envelopes (amp, pitch, filter, modulation and morphing). The modulation of these synths is based on FM modulation system using kbd and depth.
On the filter envelope you can tweak just cutoff, resonance or both. Each of these synths are gifted of an LFO with two targets, dedicated filter, free speed knob, sync option and waveform choice. There is a Chorus for each synth too, making your sounds phater.
The effects you can use for Mantra are Octave Stepper, Distortion, Reverb, EQ, Stereo Delay and Trancegate.
Each of the synths can be individually connected to any of these effects leaving the other off.
Mono Mode can be used with a high gliding range.
Mantra Evo runs on Windows XP/Vista/Win7/Win8 32-bits and 64-bits when bridged.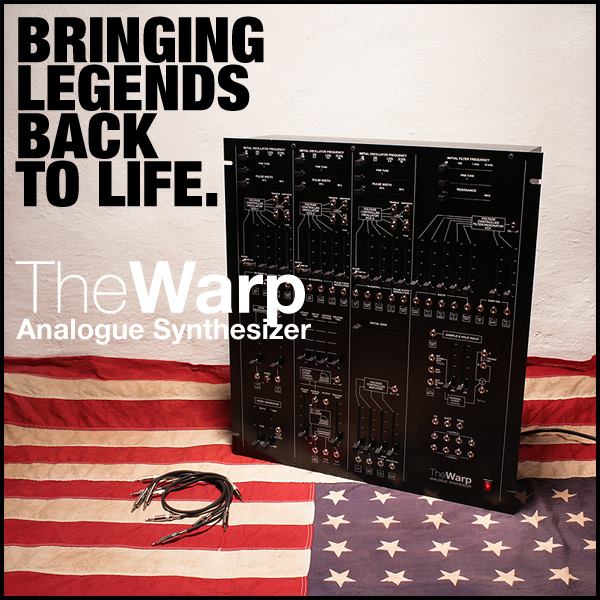 TheWarp is a modern reinterpretation of the legendary ARP 2600 semimodular synthesizer produced by ARP Intruments from 1970 to 1981.
Website to come athttp://www.thewarpsynth.com/
Update: "TheWarp is a modern reinterpretation of the legendary ARP 2600 semimodular synthesizer produced by ARP Intruments from 1970 to 1981. It is based on the original schematics and interely built with analogue components in traditional THT mounting and soldering process. Redesigned to fit within the standard 19″ rack size, the actual instrument retains the graphic design, the size of the sections and feel of the original. Series productions will start in January 2015, the sale price will be CHF 3'400 (equals approx. 3'600 US $ / 2800 Euro depending on the exchange rate).
TheWarp is the result of a teamwork between Neil Otupacca, electronic engineer and former keyboardist of the swiss rock band Gotthard, well known in the swiss Prog-scene for his skills on the Minimoog and the Hammond organ, and Roberto (Bob) Raineri-Seith, electronic music composer, vintage synth collector and "analogue synthesizer guru" since 1984 atcontrolvoltage.org . Neil was responsible for the whole technical work, Bob supervised the project, acted as a consultant and is now responsible for marketing and sales. Both were assisted by Claudio Alge, proud owner of two ARP 2600 and a model 1613 sequencer since the mid-70s, who acted as an experienced advisor and by the graphic designer Shanti Maffioli, who redesigned the front panel. All four live in the same area in southern Switzerland and have long relations, so the contact was easy and constant throughout the entire developing and testing phase of the instrument.
TheWarp's main features and what's different compared to the original instrument:
• Traditional electronic components mounting and soldering technique (THT) as in the original instrument
• Same electronic parts as in the original, with only a few modern equivalents for discontinued or obsolete components. Notably, we replaced all LM301 with the newer TL071, TL072 and TL074 op amps.
• The entire electronic is now mounted on a single PCB, thus avoiding a lot of wiring between the different sections. The PCB is mounted directly to the front panel by means of the jacks and switches without additional "mounting holes"
• The PCB is a 4-layer design; the top and bottom layers use completely solid areas of copper pour connected to ground. The metallic chassis with the sliders is also connected to the ground for better shielding against electrical interferences.
• The original design, exact size of the sections, aesthetic appeal and feel were retained but adapted to the 19″ format.
• The most complete oscillator design (VCO 2 on the original 2600) was adopted for all 3 VCO's
• The VCF is based on the first design, aka the 2012 submodule (I think they meant 4012, right?)
• No Voltage Processors, Envelope Follower and Preamplifier? Yes, to fit the new instrument within the 19″ format we had to sacrifice some functions; we've choosen to retain only the Ring Modulator and the S&H instead of functions that we considered less important and not directly related to the specific timbre of the original instrument.
• No spring reverb and no speakers? Yes again, for the same reasons. On-board speakers also add weight, and a reverb unit can be added separately to the audio chain if needed. To match the original reverb on the ARP 2600 we recommend an analogue tank spring reverb from Accutronics
• As an important improvement, TheWarp features multi-turn trimmers for easy and precise adjustment. All the trimmers for fine adjustement of the oscillators and the filter are located on the rear of the panel and easily accessible
• Gate and Trig work within the range from 5V to 15V instead of the fixed 10V of the original instrument
• Can TheWarp be considered as a clone of the ARP 2600? Concerning the electronics, definitely yes except only the sections and functions mentioned above.
TheWarp is 19″ wide, 12 U high (480 x 520 mm) and 13 cm (approx. 5 inch) deep.
Detailed infos about the instrument will be published soon here and on a specific website, stay tuned ;-)"