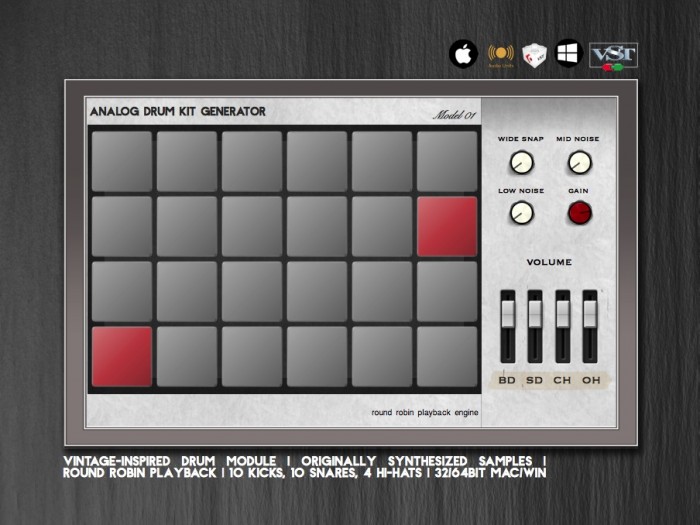 Greynote Music has announced the release of Analog Drum Kit M01, a drum instrument plug-in for Windows and Mac.
"Analog Drum Kit Generator" (model 1) is a vintage inspired drum module plugin!

It contains 10 kick sounds, 10, snare sounds, 4 hi hats along with additional noise & snap sound generators. It has an unprocessed sound, so you'll have the opportunity to shape its sound using your favorite plugins.
Analog Drum Kit M01 features
Unique Samples.
Straightforward Interface.
Round Robin Playback.
10 kicks, 10 snares, 4 hi-hats.
Noise generators, "Wide Snap" functionality.
32/64bit Audio Unit & VST Mac/Win compatibility.
Analog Drum Kit M01 is available for purchase for £4.99 GBP.
a-ha "Under The Makeup"
Listen/download here: http://a-ha.lnk.to/UnderTheMakeup
Five years after a-ha released their last single, they now return with "Under The Make-Up", the first single taken from the band's upcoming album "Cast In Steel"
Taking a look at the Arturia Beatstep Pro. The new CV/GATE/Trigger sequencer and MIDI controller. From this presentation, it looks like this could be the ideal solution for integrating your analog electronics, drum modules and MIDI gear into one unit.
Arturia Beatsep Pro takes the original Beatstep concept and adds a whole load of new features in a compact, affordable unit. With two CV/gate and MIDI sequencers, plus a 16 part drum sequencer which outputs 8 channels of trigger for driving modular kit. This is quite an impressive achievement considering its powered by a USB input – which if you didn't know, only supplies 5V – not sure how the heck they do that!
With 16 velocity and pressure sensitive pads, and a real-time looper/slicer not only can you get busy with your modular kit, but also highly complex MIDI control setups – with physical MIDI io and over USB.
All synthesizer sounds: Sequential Circuits Prophet-600 Analog Synthesizer from the year 1982
The Prophet-600 was the first synthesizer with a MIDI interface.
no multitracking.
drums: Roland TR-808
Peter Kirn and Andreas Schneider hilighted the most popular workshop at SchneidersBuero Berlin directly after Musikmesse Frankfurt in 2015. Officially introducing the little Meeblip Synthesizers on the desk – one of them is connected to a Future Retro Zillion Stepsequencer, the other one is getting bass lines from HerrSchneiders old XBase09 – they have lots of fun just improvising some beats and rhythms.
On three other videos you will see the workshops introducing the products of Mark Verbos, Tony Rolando and Dan Green soon.
This video series shows some of our favorite factory patches from the JD-Xa. More in-depth demos coming soon!
Mitch Gallagher sits down with synth pioneer Dave Smith here at Sweetwater Sound. Dave was visiting Sweetwater for GearFest '15, featuring a special panel discussion between Dave Smith, Roger Linn, and Tom Oberheim.
Legendary synth designer and Grammy-winner Dave Smith was the founder of Sequential Circuits in the mid-'70s. His Prophet-5, the world's first fully programmable polyphonic synth, was the first musical instrument with an embedded microprocessor. Dave is also known as the driving force behind the development of the MIDI specification. He has continued to innovate, and recently unveiled his latest synth creation, the Sequential Prophet-6.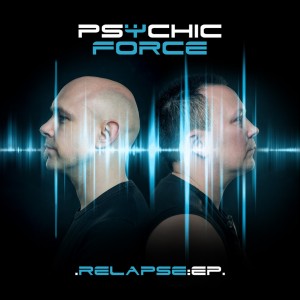 The Belgian label Alfa Matrix have announced the comeback of the old-school electro act The Psychic Force. The German duo, Michelle Christiansen and Jörg Charnowski, earned a solid reputation in the early nineties in the dark elektro scene with their debut "Body Language" (1990) followed by "Mutilation" (1992), "Gehirnwäsche / Live" (1993) and "Traces" (1994). The single marks the band's 25th anniversary and also breaks the 20 year silence the band imposed on their fans.
On this new "Relapse" EP, you can expect a mixture of icy EBM, harsh electro and catchy synth melodies. Besides two brand new songs "No Secrets Allowed" and "The Fog", The Psychic Force also serve you a revamped 2015 version of their good old classic club hit "Still Walking" next to a string of remixes by bands such as Serpents, PNE, etc..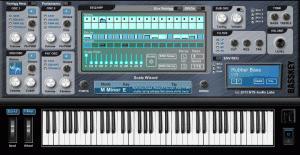 NTS Audio Labs has announced the release of Basskey, a new VST instrument and standalone application for Windows. It costs 19€.
Basskey is a virtual analogue bass synthesizer with antialiased oscillators and "huge ultraplucked non linear envelopes, specially suited to produce rich and hardly plucked basses". It features a selectable swing, a sequencer/arpeggiator, a TB-303 style sequencer and a gate sequencer.
It has an in-built MIDI filter to keep scales and keys on melody and play chords in any scale or key.
Feature highlights:
5 Oscillators in Total.
2 Antialiased Oscillators with Saw, Square, PWM Square and Triangle waveforms.
2 Antialiased Fat Oscillators with highly detunable Saw, Square and Triangle waveforms.
1 Bonus Waveform Oscillator to load any WAV sample.
Amp, Filter and Pitch Envelopes (non linear).
Amp, Filter and Pitch LFOs (Vibro).
Filter Effect (LP, HP, BP, PK).
Tone Equalizator.
Delay Effect.
Customized Pitch Bend.
Assignable Mood Wheel.
Swing.
Portamento.
Sequencer/Arpeggiator with random functions can be used to control note Pitches, Velocities or Filter Track values.
303 Style Sequencer.
Gate Sequencer.
Scale Wizard (Integrated MIDI Filtering Tool that permit to stay in harmony with your song, play chords and chords scales.
Price: €19.
Warp has announced a new release from Richard D James – AFX Orphaned Deejay Selek 2006-2008.
The EP will be Richard D James' first AFX release since the Analord series on Rephlex (2003-2005).
Available on 12", CD (both in die-cut and spot glossed sleeves), digital and streaming.