Background video description:
Finally an opportunity to tweak my new ARP ODYSSEY a bit as the MS-20 chugs out a simple bass step sequence on the SQ-1. LOVING this new ARP! My 79′ ODDY was never this easy to play. I got used to the MS-20 Mini's keys this past year, so it was no problem adjusting to the SlimKeys of the Oddy. They actually have great playability and make the package for more useable than the heavier and clunky ARP keys. My original ARP crackled on the sliders and protested under heavy use by drifting in tune religiously. I love the three filter revisions. This demo utilizes the #3 revision and is very nasaly. There is a lot going on with the drum machines as the Volca and TR-707 hiss their cymbals, the CR-78 is DYN sync'd to the TR-707 tapping out latin bongo's to the SP-1200 bass and snare. The SP-404SX is adding more cymbals and handclaps. Everything is synced to the MTC being directed by the SQ-1. ENJOY Don't forget to check out my Facebook page!!ALL SONGS ARE THE PROPERTY OF FARMYFARM/LLC/LIMITED(c)https://www.facebook.com/VintageSynth…
A demo of BIM, a 12-bit stereo delay unit available in may 2015.
The sequence is generated by a BISCUIT in Der OTO mode.
A look inside the BBC Radiophonic Workshop with Dick Mills, Brian Hodgson, Verity Lambert and the late Delia Derbyshire and how they brought composer Ron Grainer's Doctor Who theme to life using electronic music.
Taken from the special feature Masters of Sound on the Doctor Who: The Beginning Box Set DVD.
Click here to buy Doctor Who: The Beginning Box Set DVD: http://www.bbcshop.com/science-fictio…
Subscribe here for more exclusive Doctor Who clips and content
http://www.youtube.com/subscription_c…
The Brand New Doctor Who Website – http://www.doctorwho.tv
Doctor Who YouTube Channel http://www.youtube.com/user/doctorwho
Doctor Who Facebook: https://www.facebook.com/DoctorWho
Doctor Who Twitter https://twitter.com/bbcdoctorwho
This is a channel from BBC Worldwide who help fund new BBC programmes.
Roland Gaia features:
Huge sound with three virtual analog engines onboard, each with a dedicated oscillator, filter, amplifier, envelope, and LFO
Layer up to five simultaneous effects, including distortion, flanger, delay, reverb, low boost, and more
64-voice polyphony for massive sounds without note drop-out
Fun, hands-on control panel that's great for instant gratification, and for learning synthesis
Lightweight, compact body with 37 full-size keys
Runs on AC or battery power for portable convenience
D Beam, arpeggiator, and Phrase Recorder onboard
USB ports for saving user patches to USB flash drives, and for audio/MIDI connection to computers
A track made with sounds from the vintage Oberheim OB-X analog synthesizer from 1979 but now in a more modern production… Also the Yamaha CP-80 is used for piano sounds.Drum samples from Vengeance.
This is a re-upload of a previous video , now with a better audio mix.
Track is also known as Eldhjärta.
Aodyo introduced the Sylphyo – a new wind instrument MIDI controller.
Aodyo expects the Sylphyo wind instrument controller to be available around the first of next year, priced at 700-800 Euros. Details are to come at the Aodyo site.
Control any effect in Ableton Live with a wave of your hand
Get it for free at Utami.co
Make a remix on the spot with Deconstruct.  It works with live input, so you can cut up your tracks on the fly, create new rhythms, reverse your drums, screw with live vocals, repitch or detune anything and snap it right back to where it was with just a knob twist.
Deconstruct is designed to be played — both on stage or in your studio.  With eight buttons for quick remixing, you can tap out new rhythms with your controller or a mouse.  Slice and change the pitch and everything stays connected to your underlying BPM.  Add legato and when you chop up your sounds you'll find secret effects and tricks waiting to come out.
If you are using a Mac, you can send out the visualizer to your favorite VJ software and make music for people's eyes too.
Deconstruct requires Max for Live 6.1.9 or higher and Ableton Live.  Syphon support requires a Mac.
Get it exclusively at the Utami online shop  with credit card
Marcel from Modor gives a quick technical overview of the new NF-1 synthesizer in his workspace. All info and specs can also be found at Modormusic.com – Don't mind the questionable camerawork; proper demo-video's coming up soon

– MODORMUSIC.com / Exclusively distributed by TURNLAB.be
The Modor NF-1 is shipping now, priced at € 995. See the Modor Music site for details.
http://www.image-line.com/documents/n…
FL Studio 12 – http://www.image-line.com/flstudio/
Try/Download – http://demo.flstudio.com/
The fastest way from your brain to your speakers
Music by SeamlessR – https://soundcloud.com/seamlessr/seam…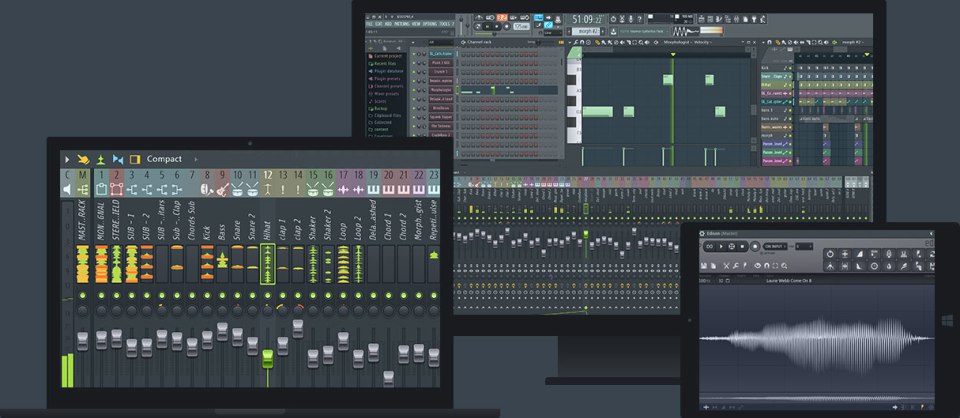 FL Studio 12 features a reworked scalable interface with support for monitors up to 8k, multi-touch support, an updated browser, new channel options and more.
Here's what's new in FL Studio 12:
Updated Editions with more value – FL Studio Fruity edition gains Automation Clips. Producer edition gains Sytrus & Maximus. Signature Bundle gains Harmless, Newtone, Gross Beat and Pitcher. Existing owners also get these great additions.
Vectorial UI – FL Studio is now 100% vectorial allowing it to be used on 4, 5 or even 8K monitors with pin-sharp fidelity.
Mixer – Completely redesigned mixer, dynamically resizable with 6 layout styles plus 3-user configurable docking panels (left, centre and right) for track management.
Multi-fader selection and adjustment. Improved mixer track grouping. Multi-touch support. 10 FX slots per track. Many new multi-track routing automated options.
Enhanced grouping and submix functions. The dedicated 'Send' channels have been replaced with general purpose send tracks and added to the overall track-pool.
Updated plugins – 3xOSC, Edison, Formula Controller, Peak Controller, Keyboard Controller gain vectorial UIs. Envelope Controller (8 articulators, Mod X/Y envelopes & vectorial UI), Send (can now send to any mixer track & vectorial UI), Hardcore (new tube distortion effect & convolution based cabinet simulation), Patcher (Plugins open outside patcher. Auto patcherizing of existing plugins & multi-touch support). Fruity Convolver new impulse library by Soundiron. Finally, the Channel Settings are now integrated into the Wrapper. ZGameEditor Visualizer – Loads all popular video formats and gains 4K+ rendering.
Piano roll – Time markers added for labelling and looping purposes. Auto-zoom can now be switched off in the General Settings. Stamp tool replaces chord tool and allows users to click in chords from a selector. Macro to find overlapping notes.
Editable ghost notes from Piano roll menu > Editable ghosts (Ctrl+Alt+V) allows direct interaction with Ghost Notes as per normal notes.
Playlist – Drop multiple stems or Audio Clips on the Playlist from any Windows file browser.
Browser – Improved layout with user configurable category tabs (name and icon). The default categories include Files, Plugins and Current Project providing key content at a glance. Improved file management with Right-click delete options for most content.
Multi-touch support – Multi-touch has been extended to Mixer functions, Channel settings and Control Surface. Swap between Windows Multi-touch and FL Studio Multi-touch modes.
Improved 32 & 64 Bit VST plugin support – The wrapper has been redesigned to improve stability and compatibility. The FL Studio Plugin scan tool now allows unlimited VST search locations and quick favoriting.
FL Studio 12 is available now in several version, starting at US $99. A demo version is also available.