MIRRORS 2014
Concrete, microphones, speakers
Infinite duration
Video documentation by Andrew Smith at SIGNAL, NYC
After learning about the existence of these curiously primitive and imposing pieces of outdated surveillance equipment, which are still standing along stretches of England's coast, artist Tim Bruniges recreated these interactive objects in a gallery setting. Earlier this year, in an exhibition called MIRRORS at Brooklyn's Signal gallery, Bruniges installed a pair of 9 by 9 foot sound mirrors that he constructed from wood and concrete with microphones embedded in their center. The sculptures faced each other to create an interactive sound experience for visitors to the cavernous gallery space.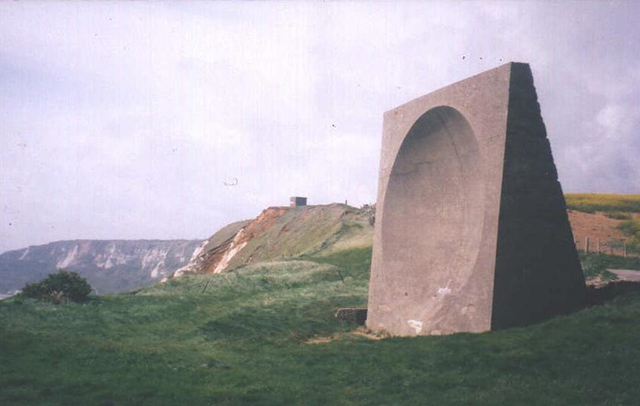 Before the invention of radar, the British military experimented with acoustic mirrors as a means of detecting approaching enemy aircrafts. Rather than displaying blips on a screen, these strategically placed parabolic monoliths simply reflected ambient noise from their concave surfaces, making it easier to discern far-off sounds, like the drone of an airplane's engine.
In preparation for scoring a stage adaptation of Kurosawa's epic film, Throne of Blood, Todd Berton has been sampling his performances on the following instruments: shakuhachi, ryuteki, hichiriki, sho, waterphone, pianoharp, et al.
This video is just a random journey through this scoring set mapped to Native Instruments Kontakt 3/4. enjoy! Also see:
opb.org/programs/artbeat/segments/view/873 and 
toddbarton.com

WOK has released MiniStepper, a free MIDI Step Sequencer Plug-in for Windows. Ministepper is designed to be easy to use.
There are 8 steps, each with velocity, gate length and mute. Several play directions, start- and end-step selectable on the fly. Sequence can be transposed by incoming MIDI notes (polyphonic). Host sync with dottet and triplet speed selection, swing, run on key press, MIDI-channels selectable for combined use, clear layout, free.
Price: Free.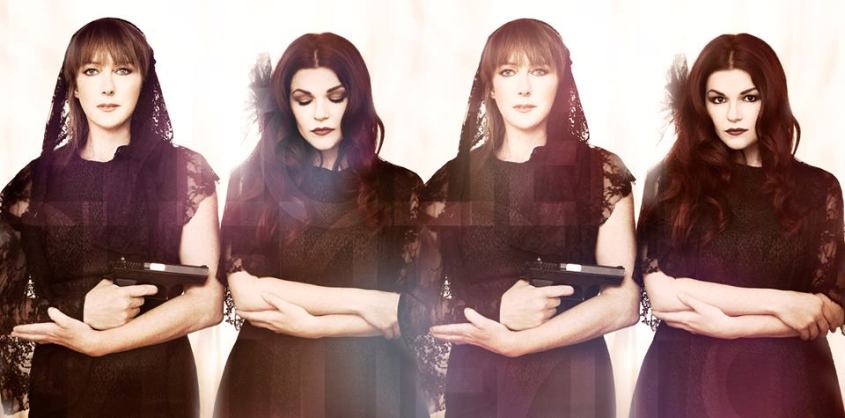 Gothenburg, Sweden, is hosting the Electronic Summer festival featuring acts like Covenant, Aesthetic Perfection, as well as the popular UK act Client, that has been part of the electro/synth pop scene since 2002. We remember watching their very first live performance back then, although at the time there were three client's on stage now they are apparently two (at least in this line up). Since the days when they were signed up with Andy Fletcher's label there has been several clients passing by in the line up, with one remaining anchor client. Stereoklang caught up with Client for a quick chat right before they were due on stage.
Client put a lot of attention to their outfits on stage, like vintage female army outfits, and we discussed the importance of this.
"Client is and always have been future pop art band", and they let us know that the music always come first, but that their style is of course a key ingredient and that they have now chosen a new look called black widows to provide a bit of a Sopranos and mystique on stage, and a spice of New York. "We dress as what feels relevant at the time, and we want to show authority".
Read the whole interview here >>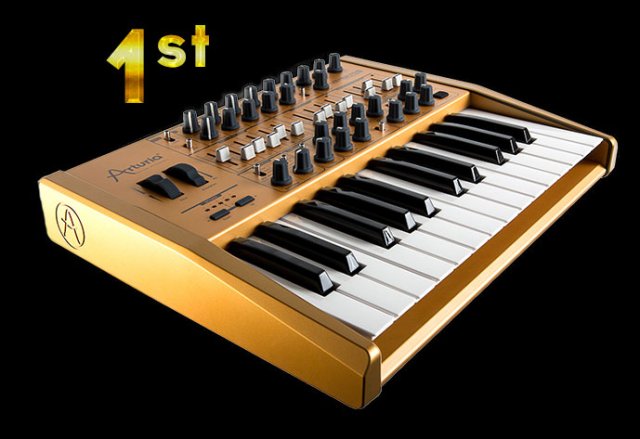 Arturia has announced a video contest to celebrate its 15th anniversary this year, with a first prize of a gold version of the MiniBrute SE.
Here's what they have to say about the contest:
Join the celebration and send us your best video describing your relation with Arturia products. Be crazy, be funny, be romantic or wild, but be CREATIVE!!!
The best movie will be shown during the 15th Anniversary Event, on October 3rd in Grenoble, France.
Prizes:
The winner will receive an exclusive and unique Gold version of the MiniBrute SE!!!
From 2nd to 5th, the prize is a regular MiniBrute!!
From 6th to 15th, the prize is a BeatStep!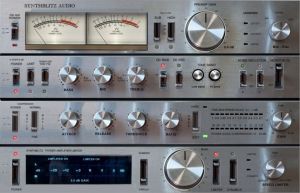 Synthblitz Audio has released VA RAXS, a vintage-looking rack, designed for mastering and remastering of sound materials.
The virtual rack consists of 4 effects and the sounds pass through them in the following order:
A preamplifier with gain control, enhanced features for sub and high, combined with a mid-side processor that can divide the incoming signal.
A crossover module 6dB / Octave, with a 'transient perfect' filter that passes both amplitude and phase unchanged across the range of interest. It has separate tone controls -/+12dB, and other features like two types of noise reduction, de-esser, dc bias, and more.
A compressor to handle small compression ratios, useful for mastering, but also able to work with large compression ratios. The compressor has "knee" control, "Make-Up" gain and a high precision vu-meter to reading the dB reduction.
A limiter designed to get a good sound quality, and fast enough to allow a good RMS output.
When set correctly, VA RAXS is designed to provide high quality sound at low cost. It can also be used for remastering old recordings of audio cassettes and other sound material. It also includes a 23-page manual.
Price: € 39.
Playing live ambient chillout / electronica soundscape / space music on Alesis A6 Andromeda analogue synth.
Created using 2 oscillators, step sequencer pattern, filter and envelope adjustments, delay, phaser, LFOs on the Alesis A6 Andromeda synthesizer.
The SparkPunk Sequencer is a musical control voltage sequencer designed to control the SparkPunk Sound Kit. With the pair, you can create ten-step musical motifs, but there are hidden opportunities in the sequencer: it can be modified and connected to external hardware in clever and interesting ways. The SparkPunk Sequencer cycles among ten steps, reading the slider and switch for each, producing corresponding analog voltages on the output pins. It offers hands-on control, with its array of knobs, sliders, and switches while seamlessly integrating with the SparkPunk Sound Generator for your creative musical enjoyment.
SparkPunk Sequencer Kit: https://www.sparkfun.com/products/12707
SparkPunk Sound Kit: https://www.sparkfun.com/products/11177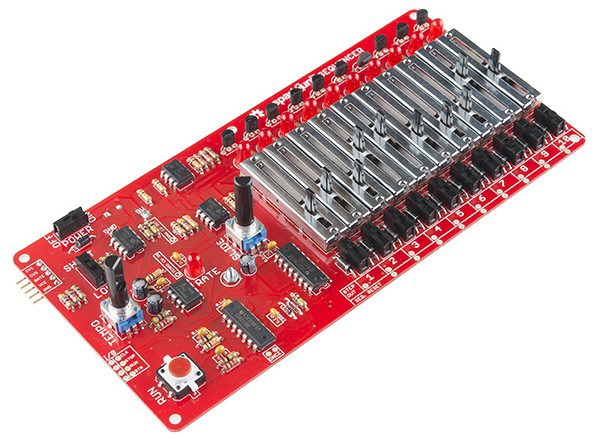 Sparkfun has published a Theory and Applications Guide for the Sequencer Kit that explains how the sequencer works and also details several useful mods. Mods include adjustable sequence length, CV out for standard analog gear, synchronizing sequencers and more.
Note: The Sparkfun Sequencer is a solderable kit with lots of parts.
The Sparkfun Sequencer Kit is available for US $59.95.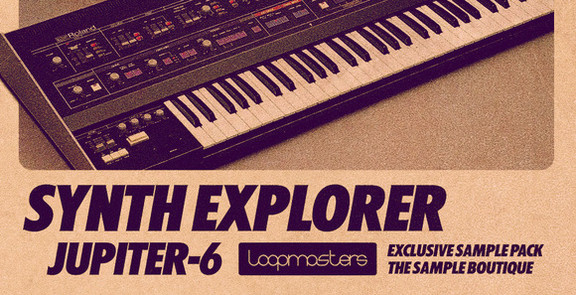 Loopmasters has launched Synth Explorer – Jupiter-6, the first title in a new series of royalty free loops and one shot samples that pay tribute to legendary synthesizers and drum machines.
First up for the Synth Explorer collection is the classic Roland Jupiter 6. First introduced to the world in 1983 the Jupiter 6 was one of the first analogue synthesisers to adopt MIDI and is considered to be a solid 12 oscillator analogue workhorse with a distinctive but fully capable palette of sounds ranging from Ambient Drones, Smooth Pads, Analog Leads to Techy Blips and Noises.

Synth Explorer – Jupiter 6 has been produced using a mint condition Roland Jupiter 6 owned by one careful, well known producer, recorded live through a TL Audio C-1 dual valve compressor and a Neve 8801 channel strip to capture the pure sonic delight of this vintage synth beauty.

This edition of Vintage Explorer sees a wealth of Loop and one shot samples aimed towards the soulful spectrums of electronic music production with a slight angle towards Italo Disco, Funk, Nu Disco and Deep House as well as more experimental down tempo genres.
Synth Explorer Jupiter-6 features
356 MB content, 24-bit quality.
Includes 41 arp loops, 24 music loops, 25 bass loops, 16 bass multi samples, 37 sfx hits, 41 chord hits, 34 synth stabs.
90 REX2 files.
114 soft sampler patches for Kontakt, HALion, EXS24, NN-XT and sfz formats.
The sample pack is available for purchase for £14.95 GBP.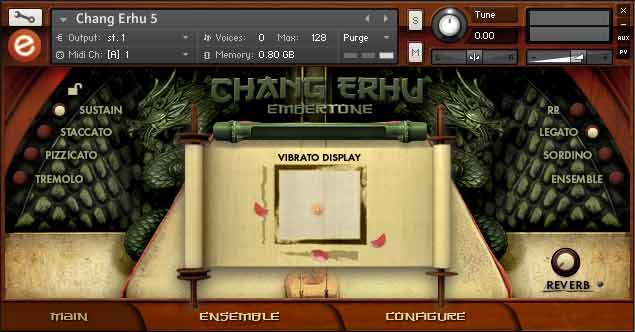 Embertone has launched Chang Erhu, a deep sampled erhu instrument for Native Instruments Kontakt.
The erhu is a two-stringed, bowed musical instrument. It may also be called a "southern fiddle", and sometimes known in the Western world as the "Chinese violin" or a "Chinese two-stringed fiddle". It is used as a solo instrument as well as in small ensembles and large orchestras. It is the most popular of the huqin family of traditional bowed string instruments used by various ethnic groups of China. A very versatile instrument, the erhu is used in both traditional and contemporary music arrangements, such as in pop, rock, jazz, etc.

Our Erhu can create profoundly expressive and beautiful music, and it's also sooooo much fun to play. Its flexibility and out-of-the-box sound is undeniable! …and we don't think there's a virtual erhu out there to match it!

Chang Erhu features
True legato programming with 2x true round robin.
Bow Change, Slurs, Portamentos.
Custom Kontakt scripting by Andreas Lemke.
Control over vibrato speed and intensity.
3200+ recorded samples.
1.6 GB installed.
Sample resolution: 44.1Khz/16-bit stereo/mono (recorded 96KHz/24-bit).
Chang Erhu is available for purchase for $80 USD (16-bit) / $85 (24-bit & 16-bit). Requires full version of Kontakt 4/5.