http://www.image-line.com/documents/n…
FL Studio 12 – http://www.image-line.com/flstudio/
Try/Download – http://demo.flstudio.com/
The fastest way from your brain to your speakers
Music by SeamlessR – https://soundcloud.com/seamlessr/seam…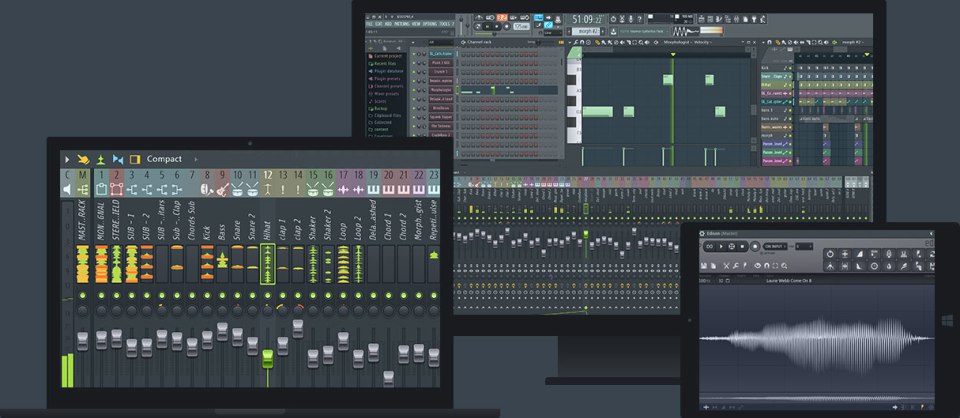 FL Studio 12 features a reworked scalable interface with support for monitors up to 8k, multi-touch support, an updated browser, new channel options and more.
Here's what's new in FL Studio 12:
Updated Editions with more value – FL Studio Fruity edition gains Automation Clips. Producer edition gains Sytrus & Maximus. Signature Bundle gains Harmless, Newtone, Gross Beat and Pitcher. Existing owners also get these great additions.
Vectorial UI – FL Studio is now 100% vectorial allowing it to be used on 4, 5 or even 8K monitors with pin-sharp fidelity.
Mixer – Completely redesigned mixer, dynamically resizable with 6 layout styles plus 3-user configurable docking panels (left, centre and right) for track management.
Multi-fader selection and adjustment. Improved mixer track grouping. Multi-touch support. 10 FX slots per track. Many new multi-track routing automated options.
Enhanced grouping and submix functions. The dedicated 'Send' channels have been replaced with general purpose send tracks and added to the overall track-pool.
Updated plugins – 3xOSC, Edison, Formula Controller, Peak Controller, Keyboard Controller gain vectorial UIs. Envelope Controller (8 articulators, Mod X/Y envelopes & vectorial UI), Send (can now send to any mixer track & vectorial UI), Hardcore (new tube distortion effect & convolution based cabinet simulation), Patcher (Plugins open outside patcher. Auto patcherizing of existing plugins & multi-touch support). Fruity Convolver new impulse library by Soundiron. Finally, the Channel Settings are now integrated into the Wrapper. ZGameEditor Visualizer – Loads all popular video formats and gains 4K+ rendering.
Piano roll – Time markers added for labelling and looping purposes. Auto-zoom can now be switched off in the General Settings. Stamp tool replaces chord tool and allows users to click in chords from a selector. Macro to find overlapping notes.
Editable ghost notes from Piano roll menu > Editable ghosts (Ctrl+Alt+V) allows direct interaction with Ghost Notes as per normal notes.
Playlist – Drop multiple stems or Audio Clips on the Playlist from any Windows file browser.
Browser – Improved layout with user configurable category tabs (name and icon). The default categories include Files, Plugins and Current Project providing key content at a glance. Improved file management with Right-click delete options for most content.
Multi-touch support – Multi-touch has been extended to Mixer functions, Channel settings and Control Surface. Swap between Windows Multi-touch and FL Studio Multi-touch modes.
Improved 32 & 64 Bit VST plugin support – The wrapper has been redesigned to improve stability and compatibility. The FL Studio Plugin scan tool now allows unlimited VST search locations and quick favoriting.
FL Studio 12 is available now in several version, starting at US $99. A demo version is also available.
Paul Kevin Wiffen talks about the unique features and sound of the Elka Synthex, explaining why he prefers it to other famous polysynths.
One more tour of the recently launched AIRA modular
The new effects modules are unique in that they are standalone, table-top and Eurorack compatible effects. The modules include distortion, crusher, delay and scatter.
This line of digital effects Euro modules can be used as audio interfaces and can even be customized via a desktop app.
We go through the voices and features of Realivox Ladies, our vocal instrument for Kontakt. For more info, please visit us at:
http://realitone.com
Realitone says that the updated Realivox Ladies is designed to be a vocal sample library, that you can play on your keyboard, that sounds smooth and real. 
Here's what's new in version 2.0:
This collection of 5 solo singers with full legato now has almost double the articulations, as well as 6 ending consonants.   This makes 25,000 samples, up from 16,000.
Singers can now also be combined to form ensembles, all in a single instance.
Also featured is a new Poyphopnic Legato mode.
AND ONE – LIVE ON TOUR 2015
24.04 Oberhausen
25.04 Magdeburg
02.05 Glauchau
03.05 Frankfurt a.M.
08.05 Hamburg
09.05 Leipzig
15.05 Potsdam
16.05 Berlin
►► Tour Tickets bei EVENTIM: www.eventim.de/and-one
►► Tickets noch günstiger bei uns: www.bodypop-shop.de
Besuche uns auch auf…
Homepage & Forum: http://www.andone.de
Facebook: http://www.facebook.com/ANDONEoffiziell
Twitter: http://twitter.com/ANDONEofficial
Shop: http://www.bodypop-shop.de
Kontakt, Management & Booking: mailto:info@andone.de
Googlish:
This video demonstrates Menno Beijer Roland JD-Xi B. This little powerhouse Roland is a complete synthesizer, focusing on the modern approach. Create your own music using grooves and make yourself at this challenging instrument.
For more information on this synthesizer, please refer to our website. https: //www.oostendorp-muziek.nl/synt …
This video was produced in-house.
The demonstrator is Menno Beijer.
https://www.oostendorp-muziek.nl/synt…
In deze video demonstreert Menno Beijer de Roland JD-Xi B. Deze kleine krachtpatser van Roland is een complete synthesizer, speciaal gericht op de moderne invalshoek. Creëer je eigen muziek door grooves te gebruiken en zelf te maken op dit uitdagende instrument.
Voor meer informatie over deze synthesizer verwijzen wij u graag naar onze website. https://www.oostendorp-muziek.nl/synt…
Deze video is geproduceerd in eigen beheer.
De demonstrateur is Menno Beijer.
—————————————-­———
Oostendorp Music is a music store in The Netherlands that sells musical instruments and equipment. It is possible to order throughout Europe from the online store. Please contact verkoop@oostendorp-muziek.nl for more information and shipping costs.
http://appstore.com/conductr || http://www.conductr.net
http://facebook.com/c0nductr || http://twitter.com/c0nductr
CONDUCTR ABLETON USER MODULES
• 2 fully customizable module types: Default and XY-4D pads.
• Each Default User Module can contain up to 8 parameter controllers from any device on any track featured in your Ableton Live set.
• 4 different control interfaces: faders, crossfaders, buttons and quantized scales.
• Default User Modules can be quickly created and edited at any time, even while playing, by browsing and selecting any of your set's parameters on the iPad or through the LEARN feature.
• RESET feature: create parameter's values memories and recover them whenever you want.
• GESTURAL MODE: automatic gesture detection to play without looking at the iPad!
DOWNLOAD CONDUCTR NOW AND TRY THE USER MODULES FOR FREE: http://appstore.com/conductr
Chiptune Remix by Fredrik Segerfalk on SidTracker 64 for iPad
http://www.sidtracker64.com
3 voices of chip bliss, and a slight reverb added. Nothing else.
https://soundcloud.com/analogsweden/t…
Graphics by Vanja Utne: http://twitter.com/CheesePirateEq2
Video and extra GFX by Moppe
SidTracker programming by Daniel Larsson
SidTracker 64 for iPad
Want to make some soulful Bleeps?
Wether you just want some creative juice for your productions, or produce entire chiptunes , we have created the perfect chiptune platform for you.The SidTracker 64.
Original song: https://www.youtube.com/watch?v=ZTidn…
David Hasselhoff – True Survivor – Jörgen Elofsson & Mitch Murder(P) 2015 Universal Music AB. © 2015 Universal Music AB.
http://www.analogsweden.com/
https://instagram.com/sidtracker64
https://twitter.com/sidtracker64
https://www.facebook.com/SidTracker64
Instructions at: http://littlebits.cc/projects/musical…
Blast away some simple tunes with Musical Water Targets! Use water to close the circuit and jam out on your computer with the Makey Makey keyboard app.
How it Works:
The Makey Makey module is grounded to one of each of the nodes in every target. Each of the three outputs on the Makey makey module is attached to each of the remaining nodes. When water hits the target, it completes the circuit between the two nodes, sending a signal through the Makey Makey module.
Set your Makey Makey up to any of the musical interfaces on Makey Makey's website, and jam away.
littleBits is the easiest way to learn and invent with electronics. Learn more at littleBits.cc
Make the mundane momentous with Makey Makey and littleBits! With the Makey Makey Bit, you can use everyday objects to trigger your Bits and control cursors on your computer's keyboard, or even control your computer with Bits. Perfect for newbies and experts doing art, engineering, and everything in-between.
Mark Verbos shows us his Eurorack synth modules at MusikMesse 2015. Full article: http://askaudiomag.com/articles/watch…