Youtube alias 'AnalogAudio1′, takes a look at the vintage Sequential Circuits Six-Trak analog synthesizer, details below:
Synthesizer demo of the analog synthesizer SCI Six-Trak from 1984. It was the first multitimbral MIDI synth on the market (it came before Oberheim Xpander). The Six-Trak has that typical SCI and DSI hardware design – great, classic look with massive wooden end cheeks.
In this movie I play some of my own sounds – on some sounds I used a digital delay (Roland DEP-5) and reverb (Lexicon MPX-500). In the intro I used the sequencer of the Six-Trak.
The Six-Trak has 1 VCO per voice (6 voice polyphonic). It also has PWM, 3 ADSRs, 24 dB VCF, noise generator, LFO with different waveforms. It has a sort of "slimmed down polymodulation": VCF modulation by VCO for dirty and metallic timbres. Unison mode for fat, monophonic sounds. Great "stack mode" allows layering of six different patches. The Six-Trak also has a little 6 track sequencer and an arpeggiator built in.
I like the Six-Trak very much. I would wish it had multiple outputs and a chorus effect.
Harold Budd: Music
Jane Maru: Visuals
Darla Records
Animated by John von Ahlen for Subterrane
iTunes http://bit.ly/plox-itunes-electricity
Amazon http://bit.ly/plox-amazon-electricity
Bandcamp http://bit.ly/plox-bandcamp-electricity
Google Play http://bit.ly/plox-googleplay-electri…
www.parralox.com
www.facebook.com/parralox
www.twitter.com/parralox
www.soundcloud.com/parralox
Written and Produced by John von Ahlen
Vocals by Roxy
Production #001
Dedicated to the Fairlight CMI
Taken from the Parralox album "Electricity"
http://www.parralox.com/electricity-2008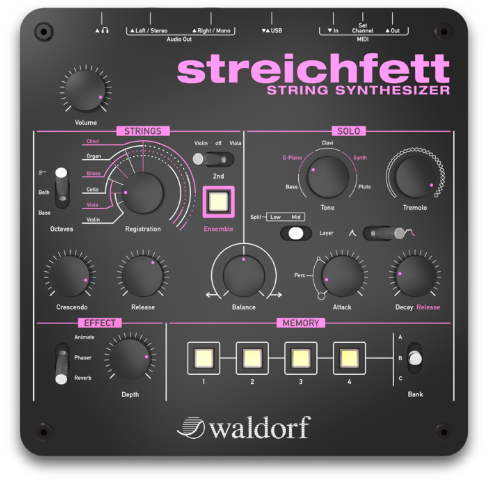 Waldorf will release a new string synth at MusikMesse but already now the full details have been revealed, read below for all the details:
Streichfett combines the best of the now extinct species of String Synthesizers of the 70s and early 80s. Its dual sound engine features a fully polyphonic strings section and a monophonic solo section, which is essential for recreating how adult movies sounded thirty years ago. The Ensemble Effect handles lubrication of the String Section, while the Effects section adds adjustable Phaser or Reverb. Alternatively, the Effect section can be used to animate the strings registration, allowing spectacular sound morphs.
The Solo Section offset presets named Bass, E-Piano or Clavi, and just like in your typical string machine, the sound has little to do with that name. Instead, these are shimmering and slightly percussive sounds that blend well with the string section.
Although the User Interface is simple and easy to comprehend, it controls a rather complex sound engine which is capable to delivers rich and creamy pads unlike any other instrument.
Twelve patches can be stored and selected in the Memory section, USB and MIDI are of course on board.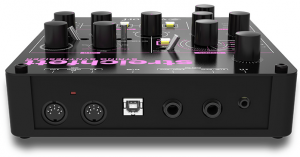 Specifications
Fully polyphonic Strings Section with Violin, Viola, Cello, Brass, Organ and Choir presets
2′nd Layer with Violin/Viola Voicing
Ensemble Effect for String Section
Typical String Envelope Generator with Crescendo and Release
Monophonic Solo Section, offering Bass, E-Piano, Clavi, Synth and Pluto sounds
Dedicated Tremolo for Solo Section
Switchable Envelope generator with variable Sustain setting and Attack/Decay (Release) function
Effect Section with Animate, Phaser or Reverb
Layer or Split for Solo Section
Dedicated balance knob for quick adjustment of layered/split sounds
Fully programmable with 3 x 4 memory locations
Controls
Volume Pot
Strings Section with organic preset select, Crescendo and Release pots
3-state Octave switch (Base/Both/8va)
3-state 2′nd voice switch
Ensemble Effect pushbutton
Solo Section with organic solo sound select pot
Tremolo pot
3 state split switch (splitpoint low/mid/layer)
2 state sustain switch
Balance pot with center detend
Effect Section with 3 state switch (Chorus/Phase/Animate)
Effect Depth pot
3 state switch for memory bank position (A, B, C)
4 pushbuttons for program number (1 to 4)
Full MIDI/USB Control
Connections
Stereo Audio out (Left/Stereo, Right/Mono)
Headphone out
USB MIDI
MIDI in/out"
ADSR Sounds say that BASSIC is a Reaktor synth made with the modern electronic producer in mind. They say that they created BASSIC with one thing in mind – Simplicity.
"Stripped of all the things that can distract or confuse when designing killer bass music instruments, BASSIC has all the basic components needed to create professional sounds in just a matter of minutes! No more spending countless hours dialling in settings across parameters that aren't even necessary. No more complex routing decisions. And no more time spent on things that only seem to derail the creative process!"
Download BASSIC here - http://adsrsounds.com/product/presets…

In this video, I show how to use my newest ensemble, Bassic, which can be bought here:
This video covers the layout and use of the Voicing controls to create huge, aggressive, bass sounds with ease.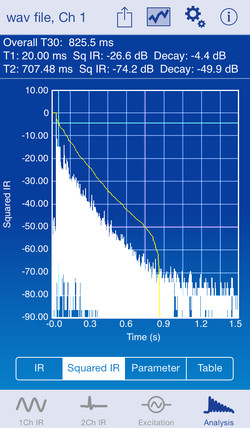 Faber Acoustical has released version 2.0 of its RoomScope room acoustics app for iOS, which now fully supports iOS 7 with a refreshed look and feel that is consistent with recent updates to SignalScope Pro and IOScope.
RoomScope turns your iPad, iPhone, or iPod touch into a room acoustics measurement and analysis tool. With RoomScope, you can measure a room impulse response and then calculate reverberation time, early decay time, clarity, and definition, as defined in the ISO 3382 standard.

RoomScope also allows you to adjust the Schroeder decay curve integration limits with the touch of your finger and plot the calculated room parameters versus whole or 1/3-octave band center frequency.
Changes in RoomScope v2.0
RoomScope's appearance has been completely revamped for iOS 7. RoomScope supports both iOS 6 and iOS 7, but looks largely the same on iOS 6 as the previous version.
Audio data handling is more efficient.
When entering a preferred sample rate, "48k" can be entered in the text box, as an alternative to typing out "48000.".
Default input sensitivities have been updated, based on measurements of the iPhone 5S and 5C microphones and headset inputs. Nominal input sensitivities have also been updated for iPad Air and iPad mini with Retina display.
Cursor info text now uses a larger font.
2Ch IR works properly when the internal excitation signal is selected for the X input and pan is set to 100%.
A bug in the HTTP file server has been fixed.
RoomScope for iOS is available to purchase for $99.99 USD.
A Tour and Demo of this amazing simulation of the classic synth from EMS, the VCS 3.
Official EMS VCS3 emulator
The VCS3 was created in 1969 by Peter Zinovieff's EMS company. The electronics were largely designed by David Cockerell and the machine's distinctive visual appearance was the work of electronic composer Tristram Cary. The VCS3 was more or less the first portable commercially available synthesizer—portable in the sense that the VCS 3 was housed entirely in a small, wooden case.
The VCS3 was quite popular among progressive rock bands and was used on recordings by The Alan Parsons Project, Jean Michel Jarre, Hawkwind, Brian Eno (with Roxy Music), King Crimson, The Who, Gong, and Pink Floyd, among many others. Well-known examples of its use are on The Who track "Won't Get Fooled Again" (as an external sound processor, in this case with Pete Townshend running the signal of a Lowrey Organ through the VCS3′s filter and low frequency oscillators) on Who's Next. Pink Floyd's "On the Run" (from The Dark Side of the Moon) made use of its oscillators, filter and noise generator, as well as the sequencer. Their song Welcome to the Machine also used the VCS3. The bassy throb at the beginning of the recording formed the foundation of the song, with the other parts being recorded in response. The VCS3 was also a staple at the BBC's Radiophonic Workshop, and was a regular (and most frightening) sound generator for the Dr Who TV series. Many fo the monsters and atmoshere;s created for the show came directly from the VCS3.
Description
The VCS3 has three oscillators (in reality, the first 2 oscillators are normal oscillators and the 3rd an LFO or Low Frequency Oscillator), a noise generator, two input amplifiers, a ring modulator, a 18dB/octave (pre-1974) or 24dB/octave (after 1974) voltage controlled low pass filter (VCF), a trapezoid envelope generator, joy-stick controller, voltage controlled spring reverb unit and 2 stereo output amplifiers. Unlike most modular synthesizer systems which use cables to link components together, the VCS3 uses a distinctive patch board matrix into which pins are inserted in order to connect its components together.
Keyboards controller
DK1 keyboard controller
Although the VCS3 is often used for generating sound effects due to lack of built-in keyboard, there were external keyboard controllers for melodic play. The DK1 in 1969 was an early velocity sensitive monophonic keyboard for VCS3 with an extra VCO and VCA. Later it was extended for duophonic play, as DK2, in 1972. Also in 1972, Synthi AKS was released, and its digital sequencer with a touch-sensitive flat keyboard, KS sequencer, and its mechanical keyboard version, DKS, were also released."
Converting a garage into a usable studio for home mastering. Is it possible ?
Shepherd shows you the 'before' look at his space and talks about room shape, soundproofing, electrics, floating floors and more.
http://productionadvice.co.uk/buildin…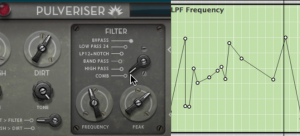 ASK Audio has a nice tutorial out focusing on automation, read the scope below and if of interest head over to their site for the full version:
With groundbreaking plug-ins coming out, like BreakTweaker and Ultraloop, that utilize automation, LFOs, pitching and effects automation for percussive, melodic and rhythmic creation, it's easy to want to blow some serious money. However, if you think about it and understand the basics of what's taking place in some of these amazing new plug-ins, it won't take you long to remember that all of those, and sometimes more options, are available in DAWs, right now!
Reason is one of those DAWs that is perfectly capable of dishing out the same slick effects and editing oddities, especially with its awesome automation lanes and Parallel Channels. In this tutorial, we're going to go through some of these features with an emphasis on building an arrangement for electronic music from a single tone, similarly to the Alligator in Reason, but on a bigger scale. Let me show you what I mean! Go ahead and set your tempo to 150, and let's get going!
Step 1 – Lay the Ground Work
Before we do anything crazy, we need some tone to build from. I'm going to use a Thor that's bumping a basic square wave oscillator. To achieve this tone, make sure to turn the Pulse Width knob to the square symbol. I would also suggest turning the Octave down, once, or twice. Working with a deeper tone will ensure some bigger overall results. >>>>>
Used: iPad Mini, Garageband, Amplitube, iRig, Ibanez Mikro, iRig Mic. Music & Lyrics by Kraftwerk Ⓟ
Cover by Alex Agrico