Something new is happening in the world of Komplete. Watch the video for a glimpse of the future.
FabFilter has released Pro-Q 2, an updated version of its equalizer effect plug-in for Windows and Mac.
Here are all the details:
Completely redesigned EQ engine

For Pro-Q 2, FabFilter has completely redesigned the internal filter engine from the ground up — not only improving the existing Zero Latency and Linear Phase processing modes, but also introducing a unique Natural Phase mode. Besides perfectly matching the magnitude response of analog EQ'ing, Natural Phase also closely matches the analog phase response, without introducing noticeable pre-ring or a long latency. Last but not least, FabFilter Pro-Q 2 is more than twice as CPU-efficient as its predecessor.

Universal filter slope support

Very steep filter slopes of up to 96 dB/octave are now available, and, uniquely, FabFilter Pro-Q 2 lets users change the slope of any filter type — not just the usual Low/High Cut filters. This makes it possible to create super-narrow bell filters, very steep or gently sloping shelves, and more. In addition to the existing Bell, Low/High Shelf, Low/High Cut, and Notch filters, Pro-Q 2 also features new Band-Pass and Tilt Shelf filter types.

More interface innovations

Furthermore, FabFilter Pro-Q 2 is boosted by an abundance of user interface innovations. Spectrum Grab enables users to directly adjust peaks in the real-time spectrum analyzer display. Pro-Q 2 offers flexible interface resizing, in addition to a Full Screen mode that makes it easier than ever to do ultra-precise adjustments. EQ Match lets users match the spectrum of another track in just a few seconds. All this power is neatly integrated into a gorgeous, uncluttered interface that lets users focus freely on music and workflow.

Original and trailblazing

Of course, Pro-Q 2 features everything that was great about the original Pro-Q — up to 24 EQ bands, innovative interface with unsurpassed workflow and multi-band selection, per-channel EQ'ing in L/R or M/S mode, real-time spectrum analyzer, intelligent solo mode, double-click text entry, stereo/mono plug-ins, Pro Tools hardware surface support — as well as all the trailblazing FabFilter bells and whistles that users have come to expect and love — perfectly fine-tuned knobs and controllers, GPU-powered graphics acceleration, interactive MIDI Learn, undo/redo and A/B switch, Smart Parameter Interpolation for smooth parameter transitions, an extensive help file with interactive help hints, sample-accurate automation, advanced optimization, and more.
New in Pro-Q 2
Different interface sizes and additional Full Screen mode.
Operates in zero latency mode, linear phase mode with adjustable latency or the unique Natural Phase mode.
Spectrum Grab: just grab and adjust a peak in the real-time spectrum analyzer right away!.
Filter shapes: Bell, Notch, High/Low Shelf, High/Low Cut, Band Pass, Tilt Shelf.
Universal filter slope support for all filter types, up to 96 dB/oct.
EQ Match feature to automatically match the spectrum of another track via the side-chain input.
Phase Invert option to change polarity.
Highly improved CPU optimization: Pro-Q 2 uses less memory and is more than twice as efficient as its predecessor!.
Optional Gain-Q interaction.
Auto Gain and Gain Scale.
Built-in spectrum analyzer with Pre-EQ, Post-EQ and SC modes, adjustable range, speed, resolution, tilt and freeze.
Optional piano roll display to quantize EQ frequencies to musical notes.
Large output level meter with peak level readout.
FabFilter Pro-Q 2 for Windows and Mac (VST/AU/RTAS/AAX/AudioSuite) is available for purchase for 149 EUR/$199 USD/£124 GBP. Bundles with FabFilter Pro-Q 2 and other FabFilter plug-ins are also available. Existing FabFilter customers can purchase or upgrade to Pro-Q 2 with a discount from their online user accounts.
Learn how IBM partnered with musician James Murphy to make music out of US Open tennis match data. Learn more at http://bit.ly/1quJJxa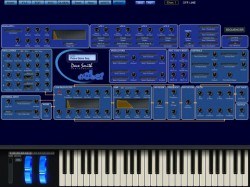 SoundTower has introduced Evolver Editor, a dedicated iPad patch editor for the Dave Smith Instruments Evolver synthesizer.
Evolver Sound Editor is an editor and sound development tool, created specifically for Dave Smith Instruments Evolver synthesizer.
Evolver Sound Editor displays all Evolver Program parameters in a single graphical interface. 
Features:
Real time editing of all Evolver parameters
Program Bank manager
Load/Save of Program Banks
Transmitting and receiving of Program Bank data
Sequencer editor
Resizable on-screen keyboard
Direct USB/MIDI connection with Apple iPad Camera Adapter
Wireless connection possible using MIDI network
Magnified editing panels
The Evolver Sound Editor is available for US $24.99 in the App Store.
IK Multimedia has introduced SampleTank 3 Free, the free version of their SampleTank sound and groove workstation for Mac and PC.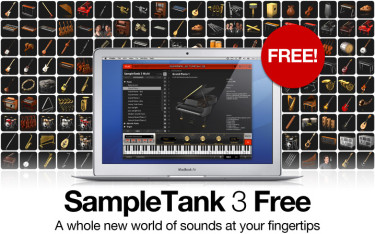 SampleTank 3 Free is essentially a fully functioning version of SampleTank 3: The only difference is that SampleTank 3 Free includes a small portion of the sounds featured in the full version.
The library is expandable; IK plans to add instruments to SampleTank 3 Free until a total of 22 instruments are available.
SampleTank 3 Free is available now as a free download, for Mac & Windows.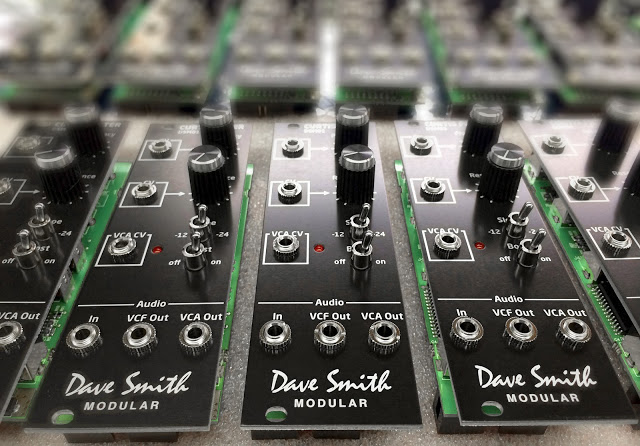 Dave Smith Instruments today began shipping the DSM01 Curtis Filter module, their first product for modular synthesizers. The module takes its name from the filter chip originally designed by the late Doug Curtis, which has been an integral part of the sound of Dave Smith's instruments from the classic Sequential Circuits Prophet-5, all the way up to recent synths such as the Evolver, Mopho, Prophet '08, and Prophet 12.

The DSM01 features a switchable 2/4-pole, resonant low-pass filter, as well as its own VCA. It is a standard 8HP wide, Eurorack-format device with interconnections made using 3.5 mm phone jacks. A carefully designed set of inputs and parameters allows voltage control of filter frequency and resonance. Filter slope is selectable between -12 dB and -24 dB. The module's VCA features two separate outputs for the filter—one pre-VCA and the other, post-VCA. A unique feature of the filter is a Boost function that introduces harmonic distortion into the signal for more aggressive coloration.

"Having the widest tonal palette possible has always been the goal for modular users," said Smith. "This product is our first—but significant—contribution to that world. We wanted to give modular users easy, affordable access to the classic Curtis filter sound, which I've always found very versatile and expressive." The Curtis sound has often been described as saturated, brash, and powerful, and has also been fundamental to such vintage instruments as the Oberheim Xpander, Rhodes Chroma and Polaris, and Elka Synthex.

"The DSM01 packs a lot of sound-shaping power into a small package. We think modular users are going to get a lot of sonic mileage out of it," said Smith.

The DSM01 Curtis Filter module is available now with a MAP of $179.
Video info below in order of apperance:
YACHT, Buh and Power Violence present the $5K music video for "Plastic Soul".
Maximo Park – Apply Some Pressure
Blue Lines 2012: Rebuilt from the original tapes, remixed and remastered.
This is a Demonstration and Overview of the "Great" Korg Prophecy. The Korg Prophecy is a fantastic sounding synthesizer with great potential. All you need is a good sound that you know well, and familiarity with this synthesizer's parameters.
Digital does analog! The Prophecy was among one of the first synthesizers to lead a revolution started in the mid-nineties by synthesizer makers to satisfy a growing segment of the market that was lusting after old-school vintage equipment in the pursuit of making electronica-style music, by providing a state-of-the-art retro synthesizer that could sound like a classic analog.
The Prophecy Solo Synthesizer was unveiled in 1995, and was a purely monophonic solo/lead synthesizer. It employed DSP synthesis first developed for the Korg OASYS synthesizer, with algorithms for producing realistic analog timbres, VPM (Variable Phase Modulation) tones similar to FM synthesis, and physically modeled brass, reed, and plucked string instruments. At your finger tips were tons of real-time control over traditional analog editing parameters like filter cutoff and resonance, envelopes and the arpeggiator. It had a pitch wheel, a mod wheel, an expressive dual action ribbon wheel, six effects processors and more!
Credits:
Superstar Spiny Synthesist – John T. Lumberjack
Hedgehog handler – Amy McFarlane
Drew Neumann (www.drewneumann.com/DN_Bio.php) took 002's arpegiator out for a trip, and ended up producing this wonderful seven and a half minute demo! In Drew's words, "This was just messing around with the 002 in real time to a Sound Devices 702T, then reassembled in 4 tracks in Digital Performer. A light dusting of FX here and there, but it's JUST 002." Enjoy.
(c) 2014 Drew Neumann /Droomusic ASCAP