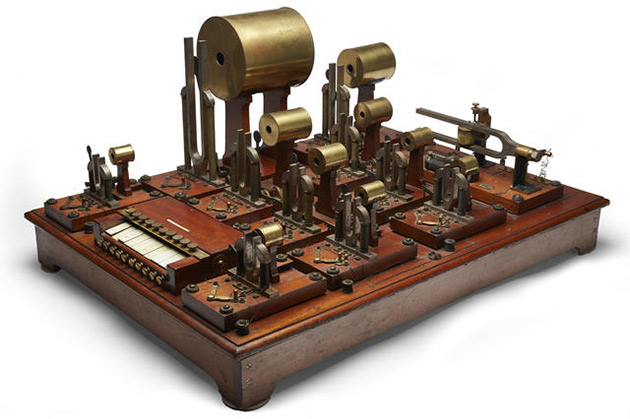 A "bargain" – if we may say so

But it sure is a beauty !!
Abstract:
When Hermann von Helmholtz designed what was essentially the world's first electric keyboard, he didn't do out of a need to lay down crunchy riffs on the shores of the Rhine. What he needed was a way to generate tones and mix timbres in a bid to better understand the musicality and substance of vowel sounds. He ultimately came up with a series of electrically activated tuning forks hooked up to brass resonators, and now you can try to own one of your every own… assuming you've got between at least $20,000 burning a hole in your pocket. This particular unit — hewn of wood and keys whittled from African ivory — wasn't made by Helmholtz himself, but it is one of the few remaining examples of such 19th century tech still in existence. To hear auction brokerBonhams tell the tale, there's just one other floating around the United States (another seems to be in safe hands at the University of Toronto). Intrigued? The Helmholtz synthesizer will go up for auction in New York come late October along with a slew of other scientific curios from back in the day.
Make Noise Mysteron is center stage (coming in around 1:15). Full patch includes Zularic Repetitor, a143-1, BD909, BD808, SD808, Basimilus Iteritas, a138b, Quad LFO, Dual Delay, Erbe Verb, STO, Mysteron, e355, submit 7, Wogglebug, Maths, DPO, Echophon, Metropolis, Rene, Dual ADSR, uVCA, and Optomix.
Popsimonova – Amnesia (Croatia, 2014) unofficial video
An exclusive track from the "Freikörperkultur"-compilation which is the third compilation from Enfant Terrible. Out on the sub-label Gooiland Elektro late August. Boy, do I love "Yellow Lamps" and "No Contact", "Amnesia" follows this line. LOVE her vocals!!!
Released by:
Gooiland Elektro
Release/catalogue number:
Gooiland 16 / ET035
zOoTiMe FB:
www.facebook.com/profile.php?id=10000821­0402406
Documentary on Tristan Perich, a visual artist and composer.
Film by: Russell Oliver
Camera: Canon C100
According to Perich, his work is inspired by the aesthetics of math, physics and code.
Perch's 1-Bit Music (2004) was the first album ever released as a microchip. 1-Bit Symphony is an electronic composition in five movements on a single microchip, enclosed in a CD case.
Advanced Filter
Sneak preview of DensityGS apeFilter, an advanced filter effect of iPad and Audiobus.
KORG DSN-12 is an all-new music creation tool for Nintendo 3DS created by DETUNE and KORG. KORG DSN-12 features 12 analog-style synthesizers, with three effects each, plus a 64-pattern sequencer, and even a 3D oscilloscope so you can watch your music take shape!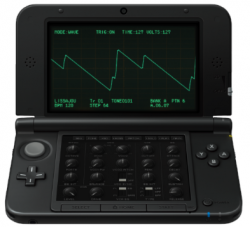 Korg DSN-12 – an 'analog-style' synth app for the Nintendo 3DS – is now available.
Korg DSN-12 provides twelve monophonic synthesizers, based on the Korg MS-10 analog synthesizer. Each can have three effects, letting you create a broad range of sounds. You can assemble sequences into patterns, and save up to 64 patterns for use. Songs can be created by freely connecting patterns together.
Music: "Oscillodriver (Play the KORG DSN-12) " composed by PAINTVOX.
*All the music including all sounds and FX processing was made with the KORG DSN-12
For more information, please visit
DETUNE: http://www.detune.co.jp/korg_dsn12.html
KORG: http://www.korg.com/us/products/synth…
KORG DSN-12 is available for download from the Nintendo eShop in North & South America and Europe.
Like/Follow us:
https://www.facebook.com/korgusa
https://www.twitter.com/korgusa
http://instagram.com/korgofficial
Live on Channel 9, May 11, 2013.

Among his eclectic array of projects, Ryuichi Sakamoto has recently made it his main concern to explore audiation, or the process of making audible, of data extracted from the environment. Daito Manabe (b.1976) is a media artist internationally acclaimed for his work, ranging from his experimental work using advanced technology to visualize data received from CERN (The European Organization for Nuclear Research), to producing visuals for the Japanese electro-pop group, Perfume.
Their first collaborative piece senses, visualizes, and makes audible electromagnetic waves, which are usually undetectable to the human senses. The piece focuses on the background role that electromagnetic waves play in technology that has become integral to modern society, manifested in mobile technology, inseparable from everyday life.
At the Moerenuma Park, visitors will find a large "High Resolution Large Display" (7.2 meters by 3.9 meters) and speakers in a brightly lit space, visualizing and making audible electromagnetic waves between 80MHz-5.2GHz that are captured in realtime by antennas set up in various places in the venue, which collect signals from cellphones, Wi-Fi, digital terrestrial broadcasting, and FM radio.
Additionally, the piece contrasts electromagnetic waves recorded at the Sapporo Ekimae-dori Underground Walkway (aka Chi-Ka-Ho) to show the notable difference time and place makes on the electromagnetic waves. As the audience changes the frequency with a turn of the dial-like interface in front of the screen, various electromagnetic waves will become visible on the screen simultaneously. Furthermore, the usage of cellphones or smartphones in the venue will alter the sound and image, reflecting the changing electromagnetism in the surrounding space.
The flow of electromagnetism is often forgotten, yet composes an indispensable infrastructure in our modern life, and the piece attempts to expose that. The installation also makes visible a kind of ecosystem, created by the active participation of audiences, that is simultaneously bound to a frequency range—a distributed territory—assigned to certain broadcasters or carriers.
At Chi-Ka-Ho, visitors will also be able to see an archived version of the video of the piece, along with one of the antennas used to capture electromagnetic data before the premiere of the installation.
A really great demo of what you can do with streichfett – way more than chorus strings.
Ever want to jam out on a midi controller with classic video game sound FX, or secretly add a few of those FX to your production? This is the Walkthrough of our massive 64 sample/ 4 bank Retro Video Game soundpack for Ableton Live. There are also an additional 2.5 banks before and after the 4 main banks of additional samples we liked, but didn't use in the core pack. This brings it to a whopping 104 total, retro 8/16/32-Bit video game samples to take you back to the 80's and 90's. Enjoy!
FREE DOWNLOAD: https://maps.djtechtools.com/mappings…