TVMarineret en TV-station på Kanal Hovedstaden – tvmarineret.dk – youtube.com/MarineretTVM – vimeo.com/tvmarineret
Synth Talk with Douglas J McCarthy & Cyrus Rex and the whole concert from Hovedbiblioteket 12 june 2013.
Demo of the Clockworks Rhythm Generator by Electro-Harmonix
http://www.ehx.com/products/clockworks
Vintage gear demo featuring the Boss DR-55
supported by UVI: http://bit.ly/retrosound-uvi
Boss DR-55 "Dr.Rhythm" analog drum machine from the year 1979
4 Instruments (BD, SD, HH, RS), Accent, Tone, 2x Trigger Out,
step by step programming,
Tweaking The Telemark – Analogue Solutions synth demo
Analogue Solutions Telemark synths – two can be MIDI chained and played as one 2 voice polysynth.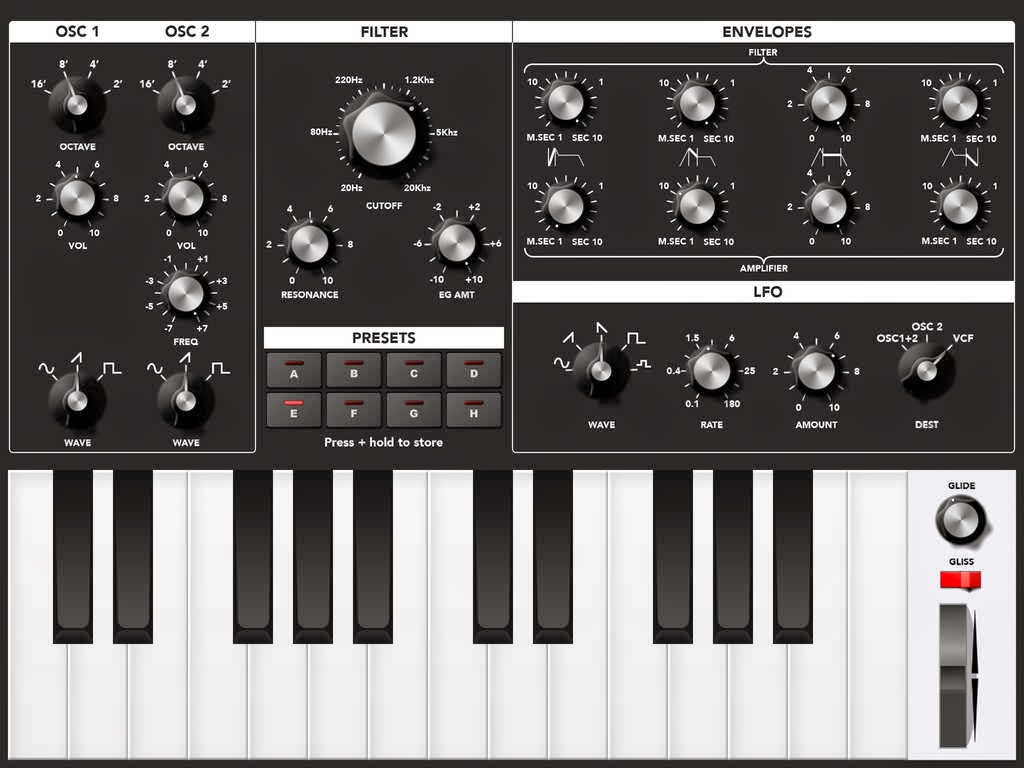 LF1 Monosynth is a new mono synth for your iPad. Here are the details …
Experience and create the classic vintage synth sounds with the LF1 Monosynth.
The LF1 Monosynth is a fully featured analogue–modelling synthesiser, featuring:
2x classic–sounding analogue style oscillators with sin, sawtooth and square waveforms and a four octave range. The frequency of the second oscillator can be adjusted by ±7 semitones.
Analogue–modelled resonant filter with invertible envelope.
Amplitude envelope.
LFO with 5 selectable sources (including Sample + Hold), assignable to pitch or filter.
Glide & Glissando controls.
Pitchbend Wheel.
8 user–preset locations.
Slick, retro-styled UI.
The LF1 is ideal for lovers of classic synths, or indeed for beginners looking to get a taste of analogue synthesis. This app is packed with vintage mojo and ready to go.

LF1 costs $2.99 on the app store:
MiMiX is a mixer app for Audiobus. With MiMiX You can take total control of mixing of Your favourite Audiobus enabled apps' outputs in the most convenient way. Just insert MiMiX into the Output Slot of Audiobus, even into multiple chains to mix the sound of the connected input or effect apps. You can even insert MiMIX into the input slot to send the mix to an other app, like a DAV to record the mix. Coming soon to the App Store! Check details at http://ttrgames.hu/mimix/
Vostok Deluxe by Analogue Solutions – teaser 1. High end analogue synth with pin matrix
www.analoguesolutions.com
From October 20th to December 31st, get the MiniBrute SE at a very special price!!!
More info:
http://www.arturia.com/products/hardw…
A sound demo video of the PPG WaveMapper For Mac & PC. The new synth will be shipping late October and don't miss out on our very special deal.