Artist: Depeche Mode
Song: Stripped (Highland Mix)
from the Stripped single release in 1986
Techno is a sound of resistance. Resistance is a struggle to survive. Survival is an essential component of living. We are here, alive, living, breathing and thinking.
"Disagree" is a statement of non conformity
"Stars" is a statement to put our lives into the context of the universal.
Create, contribute, and celebrate our music.
The belgian band The Happy Hunting Ground with " in the city " from the 12inch " The Happier Hunting Ground " 1985
Out via the Minimal Maximal label by mid July is a split vinyl/CD featuring The Happy Hunting Ground and Phantom Limb. The release was created by Dirk Ivens while all the tracks have been re-mastered by Eric van Wonterghem.
The vinyl version is out in a limited LP edition of 500 copies and includes a free cd version with all 9 tracks. You can order it right here. The Happier Hunting Ground part was originally released as a 12 inch EP on the Belgian label Anything But Records in 1985 while the Phantom Limb tracks were originally released as a 12 inchEP on the Dutch label Sublabel, a division of Torso in 1982.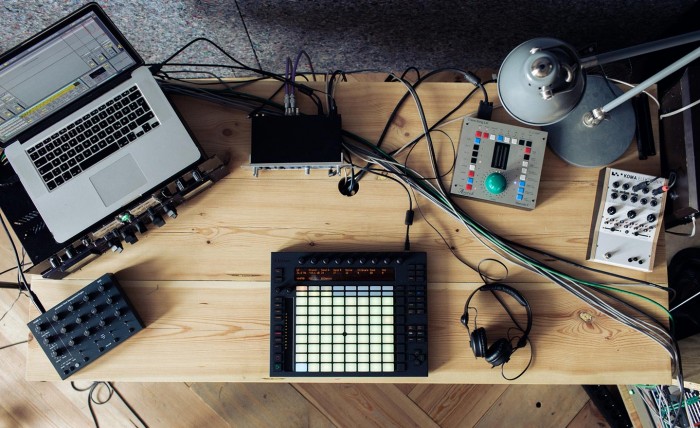 Ableton has announced the release of Live 9.2, an update to the music production software for Windows and Mac.
Live 9.2 brings refinements to Live's audio warping and introduces latency-compensated automation, a new Tuner device, and more.

For Push users this update brings the ability to use all 64 pads to play drums – and quickly flip back to 16 pads for step sequencing.

In addition, Max for Live now includes Max 7, the latest, most powerful version of Max.
Check the release notes for details on what is new. Live 9 is available for purchase starting at 79 EUR.
Ableton has also released a free 64 Pad Lab pack by Mad Zach, featuring five extensive Drum Racks tailored for use with Push's 64 Pad mode.
In a new video, Mad Zach shares his strategies for playing with the 64 pad layout, tweaking individual sounds, and some useful production tips for getting punchy drums – all on the basis of the free 64 Pad Lab Pack.
Background video information:
First touch with CLOUDS. Stunning what comes out of a simple drum pattern from ELEKTRON ANALOG RYTM processed by CLOUDS… Some modulations + filter…
& sorry there is a letter missing the credits: should be RME FIREFACE UC

A live improv performance featuring Prophet 12, Pigtronix Infinity Looper, Strymon Bigsky, and Eventide Modfactor.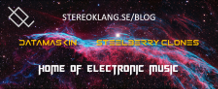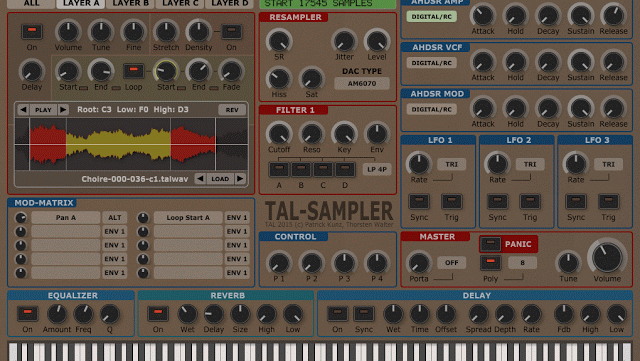 TAL-Sampler is not just a sample player. It's a full featured analog modeled synthesizer with a sampler engine as sound source, including a powerful modulation matrix and a high quality self-oscillating 24/12/6 dB low pass filter.
Don't expect a 40GB piano sample library with samples for every velocity or something similar. The idea is to bring back the fun sampling was in the good old times with small samples, fast loading times and an intuitive work-flow to create your own sample presets without getting lost in the settings.
It's possible to choose between different digital analog converters (DAC's) to get the vintage sound of different hardware samplers inside your DAW. We don't make cheap bit crushing or decimation on the output signal. We really down-sample the sample to the desired sampling frequency, then process the data depending on the chosen DAC and up-sample it to the desired pitch. Most DAC modes offer a LEVEL slider. This feature allows the user to reduce the volume of the recorded sample and decreases the sample quality. Load your favorite high quality sample and make it sound vintage and noisy. The 24dB low pass filter will like it!.."
Features
Vintage DAC modes (Emu II, AM6070, Sample Hold).
Steep 96dB low-pass reconstruction filter (Emu II and AM6070 F).
Variable sample rate.
Powerful MOD-Matrix.
Four sample layers.
Three AHDSR envelopes with vintage Digital / RC mode.
Three LFO's (Triangle, Saw, Rectangle, Random, Noise).
High Quality effects (Reverb, EQ, Delay).
Self resonating zero feedback delay filter (24/12/6 dB LP).
Wide range of audio formats supported (*.wav, *.aiff, *.aif, *.mp3, *.ogg, *.flac).
Scallable high resolution user interface.
The possibility to change font and background colour.
Fast sample and preset loading.
More than 100 presets available as download (on the right).
Overview of the features and functions of the Future Retro Mondovox polyphonic MIDI processor. Play up to 16 monophonic synthesizers polyphonically. Or play multitimbral synthesizers in new ways.
Although it's designed to play multiple monosynths polyphonically, the Mondovox can be used with any monophonic, polyphonic, multitimbral or single voice, analog, digital, virtual synthesizer or sampler…. it doesn't matter, as long as it has MIDI.
Nerver i en bunt av Schnodig
This track is 100% Moog Voyager XL presets, except the drums and percussion which are from Logic X.
'Viking-1′ is from the Ep 'Landers' and is available to purchase here :https://paullawler.bandcamp.com/album…