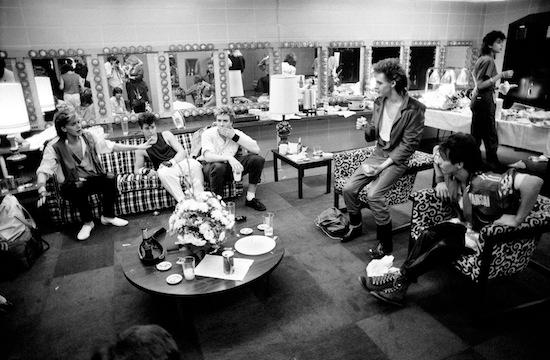 It's almost 30 years since Duran Duran embarked upon their Sing Blue Silver world tour and Durannie-mania swept America. Screaming teenagers drowned out the sound of their instruments on stage, hotel front doors were blocked by hordes of fans and the media followed every move of the fab five. Only one camera was allowed into the inner sanctum, though. Denis O'Regan travelled with the band across the US and Japan as their official photographer, ensuring they had no privacy even in their dressing rooms. Which may have got up their noses at times – Simon Le Bon tried to throw Denis out of a hotel window in Fukuoka – but ended in a lasting friendship and a wonderful photographic record of an extraordinary time.
Last week, at a pop-up exhibition space just off Carnaby Street, Le Bon, John Taylor, Nick Rhodes and Roger Taylor joined Denis O'Regan to launch Careless Memories – a limited edition book of images. It's a fascinating insight into the lives of Duran Duran – catching them backstage, in transit, on stage, gurning and twatting about like the young friends they were and also a reminder of the media frenzy around them. Photos of fans, limos and jetplanes. Permed girls in Trilby hats and JT in white shoes. So many white shoes.
The limited run of cloth-bound coffee table books will be retailing at £250 and upwards. For those of us with no room for a coffee table, the photos can be seen at the book's website.
Grab it now at http://sound-guru.com. A trailer and short demo of The Mangle, a new granular synthesizer plugin for AU on Mac and (soon) VST on Windows.
Key Features:
Animated granular display - Visualize your grain stream. Individual grains move across the waveform in real time. Amplitude, pitch and envelope are also represented.
Drag & drop modulation - Creating new modulations is easy – just drag the modulator to its target, then set the amount with in-place markers showing changes.
Resizable vector interface - The Mangle's interface is rendered dynamically as vectors – resize it with no loss in quality. Handy for live performance.
Dual sequencers - The Mangle is also great for making rhythmic patterns. A pair of sequencers can be used to modulate any parameter.
Multiband waveform display - Quickly and easily see where high, mid and low frequencies are in your audio, for clearer sound setup and tweaking.
Multi-timbral - Each instance of the plugin has 8 full 'slots' each with their own audio & parameters. Map them to any MIDI range for multi-timbral patches.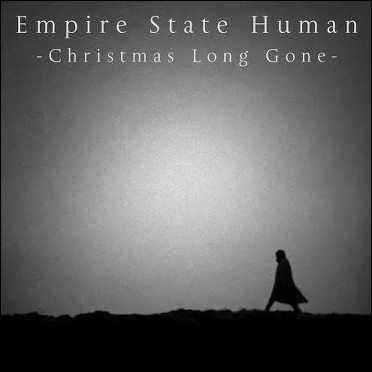 Irish synthpop duo, Empire State Human make a surprise return with a new free to download single called "Christmas Long Gone". Mastered by Martin Bowes (Attrition) at The Cage Studio and artwork by Brian O'Malley the song is a melancholic, minimal wave/synthwave ballad with sparse electronics and atmospheric vocals.
Lead singer Aidan Casserly says: "This new song came about very quickly and easily. A very enjoyable experience considering the melancholic song that it is. It's a very personal song, about the death of a family member this year. I've found great comfort in dealing with loss through my songwriting and performing. I guess that's why we've 17 releases since 2002."
"Christmas Long Gone" follows the bands July release of their most recent album "Soul of the Machine". Empire State Human are currently recording a new studio album, called "The Dark", for release in 2014.
You can download the song and artwork below.
Vector – a new way to interact with a modular synthesizer that's a bit like a theremin on steroids.
Vector is a three dimensional control interface designed for Eurorack modular system. It senses the location of a hand over its face and outputs a signal proportional to position for each axis: x (left and right), y (up and down), and z (in and out).
Vector works by generating an electrical field and sensing changes in it causes by the proximity of your hand. Think of it as a smartphone screen with an added dimension of depth four to five inches from the surface. The system uses six electrodes to form the active sensing area. The sensing electrodes are part of the circuit board which lays just behind the piece of acrylic.
This allows you to control three things at one time, like turning three knobs all at once by moving your hand through the air. You could control the amplitude of a sound with the x axis, the pitch with the y axis, and the modulation of that sound with the z axis.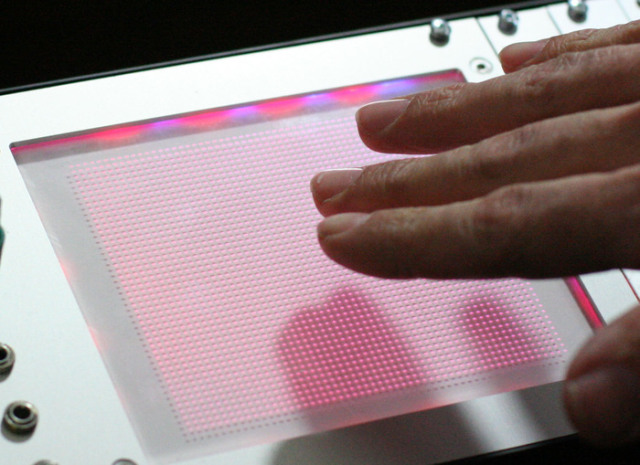 LED Feedback
To provide feedback, Vector has LEDs ringing its active sensing area. These LEDs light up according to the location of your hand.
Vector lights red for the z axis and blue for the x and y axis. As you get closer to the surface, the red LEDs get brighter. As you move closer to a location on the x-y axis, the blue LEDs in that region get brighter and those farther away get dimmer.
Gesture Recognition
Vector can also recognize a number of simple gestures. It recognizes swiping gestures, as well as circular motions over its surface. These gestures can be used as trigger outputs and for interacting with the built-in looping feature. Vector provides a menu system that uses gestures to change the system behavior.
Looping
Vector can record up to 30 seconds of position and gesture data for looping playback. Simply press the large illuminated switch to start the loop and release it to end it. The loop plays back immediately.
The loop can be retriggered with swipe gestures or by external signals from a module with trigger outputs. Vector records as long as the switch is held down, so long rhythmic sequences can be recorded by moving a hand in an out of the active area.
The loop switch can also be used as a sample and hold control. When pressed quickly, it freezes the hand position to lock in the output. The loop playback can be sped up or slowed by using circular gestures, clockwise for faster, counter-clockwise for slower. The loop recording can also be triggered externally. One pulse starts the recording and the next pulse ends it. Using external triggers to start and stop recording as well as to synchronize the playback, you can make perfectly synchronized loops.
Vector is being developed as a Kickstarter project, with the controller available to early supporters for $299
Virtual ANS is a software simulator of the unique Russian synthesizer ANS – photoelectronic microtonal/spectral musical instrument created by Russian engineer Evgeny Murzin from 1938 to 1958.
The app is cross-platform and available for iOS, Android, Windows, Linux and OSX.
More info: http://warmplace.ru/soft/ans
No external effects! Recorded with Ableton Live
It's a Bigger Badder Mopho!
Mopho SE is the newest addition to DSI's revered line of analog subtractive synthesizers. Building upon the same award winning voice architecture of the Mopho and Mopho Keyboard, the Mopho SE boasts huge sound in an ideally sized, portable, and elegantly designed package. Use it to create huge basses, creamy leads, and maniacal sequences.
The Mopho Sings!
The Mopho SE voice is composed of two analog oscillators, two sub octave generators, selectable 2- or 4-pole famed Curtis low-pass filter, three 5-stage envelope generators, four LFOs, a re-latchable arpeggiator, and a 16 x 4 step sequencer. Its voice also comes packed with 20 modulation sources and almost 50 destinations!
FM the filter to create metallic bell-like sounds and use the feedback path to add subtle or destructive harmonic content to your sound. Process external audio through the Mopho's voice and add some analog warmth to any source. Mopho SE's 100% analog signal path is powerful, monstrous, and sonically dynamic!
We took a very quick test using the Casio XW-P1 with the Burn from GSi.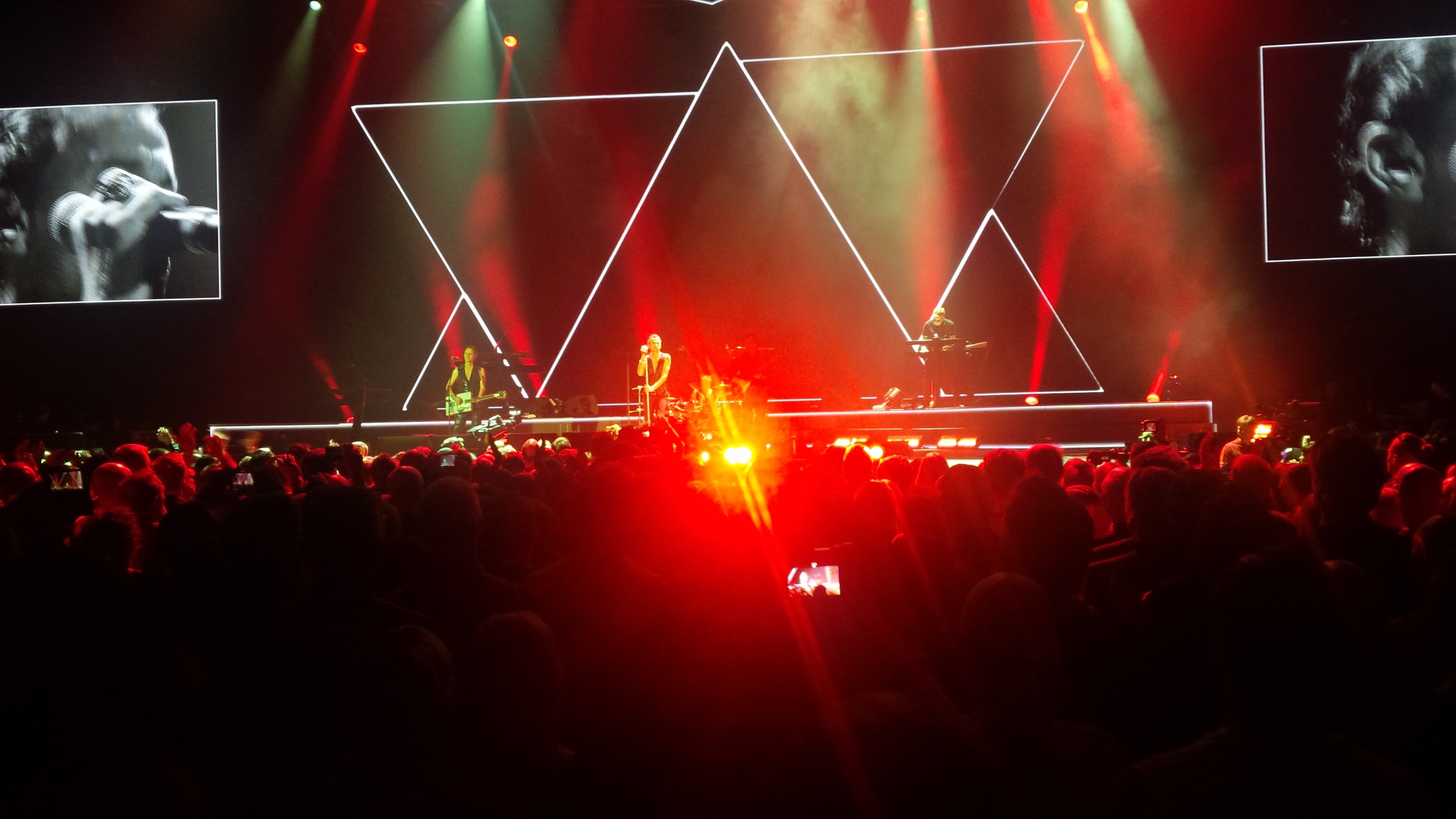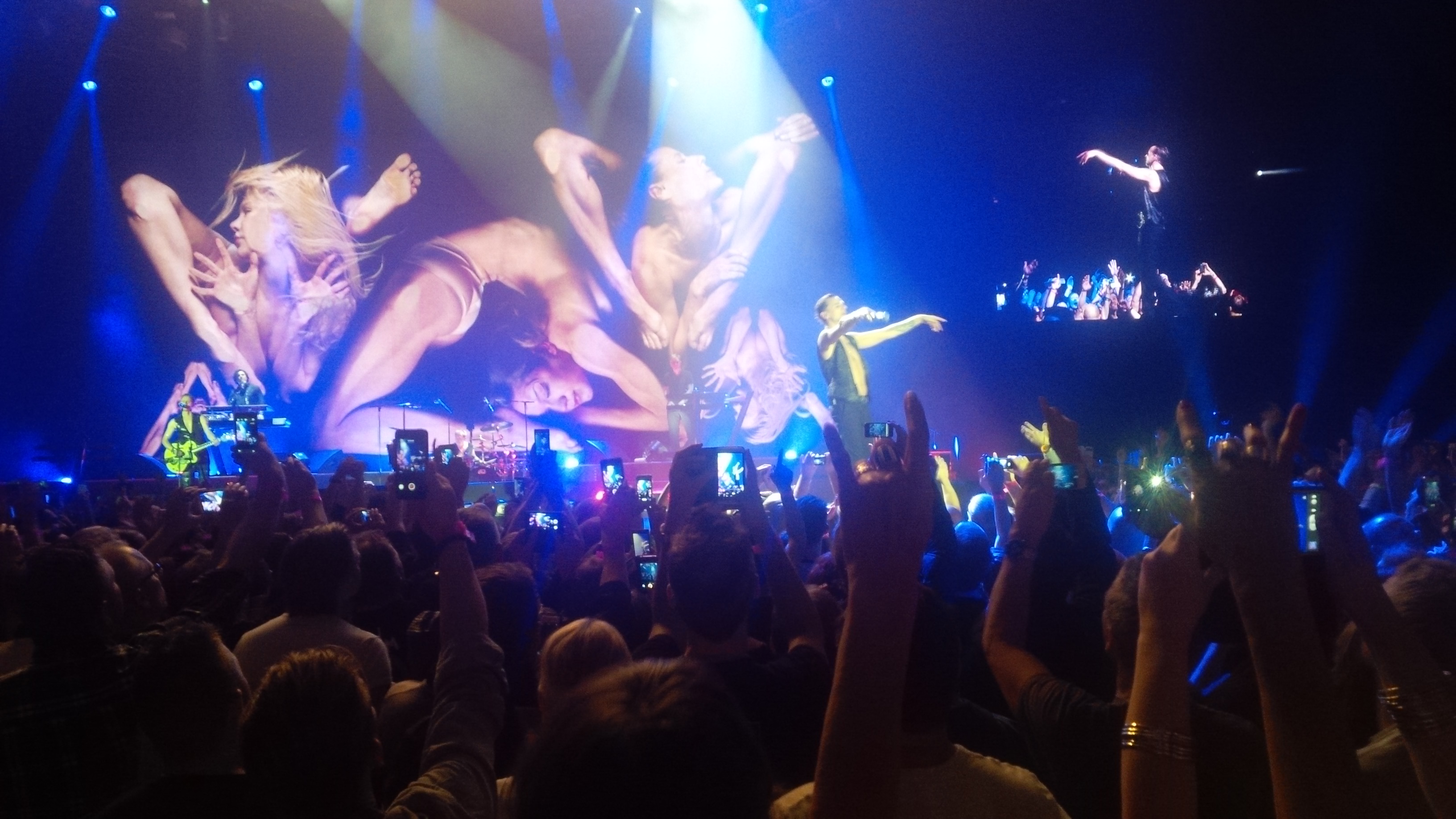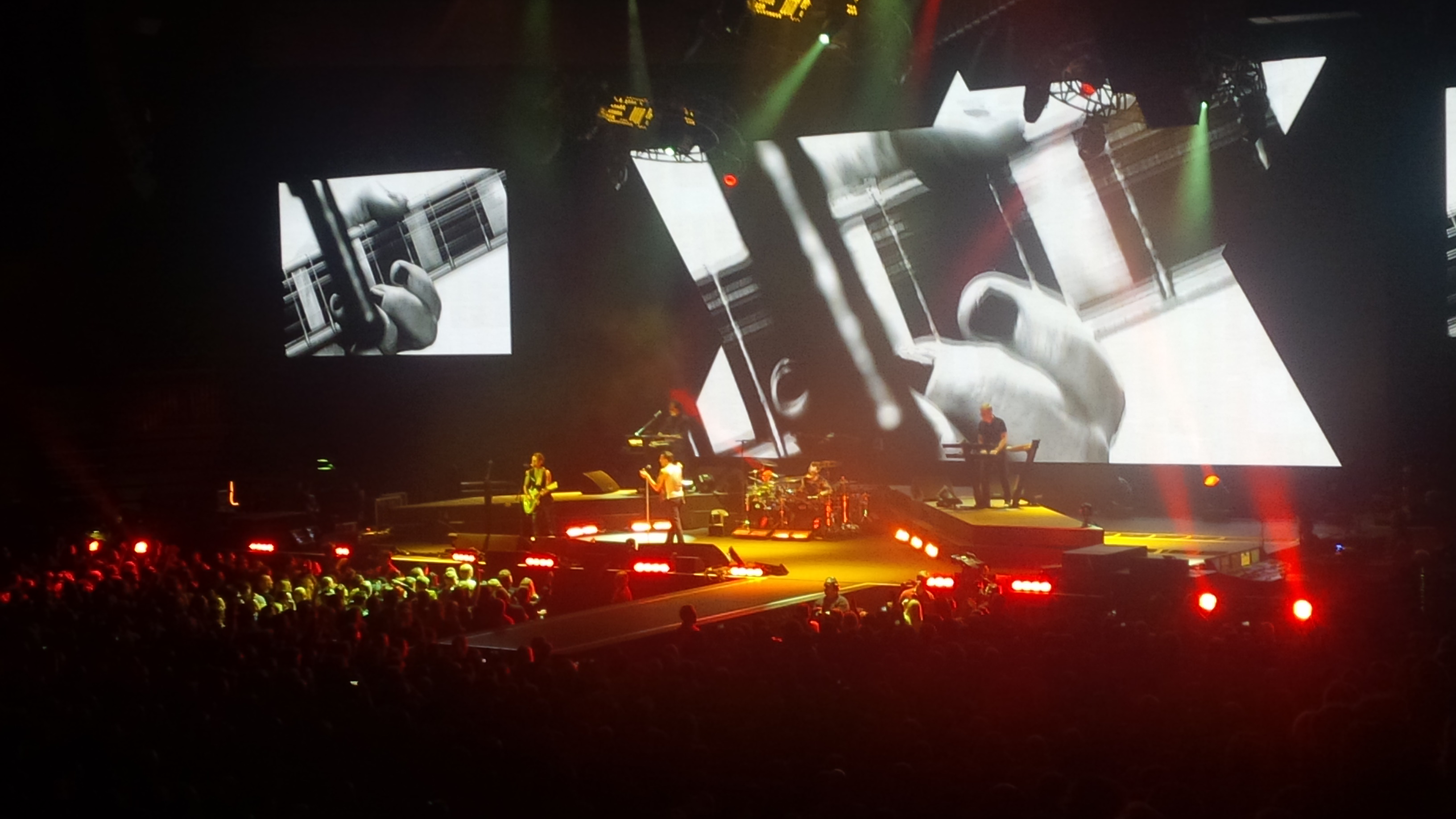 This video explains how modules are installed and removed from the Kilpatrick Format system. The unique chassis design makes rearranging modules quick and easy. You will also learn how to power a module outside the chassis for calibration purposes.