This is a demo of 15 presets from FLUX:FX, processing a simple drum loop.
Available now on the AppStore: http://bit.ly/getfluxfx
FLUX:FX is a multi-effect audio processor app for the iPad that lets you 'play' your effects. Innovative, intuitive and exciting, FLUX:FX lets you manipulate any audio signal into something entirely new, and redefines the possibilities of audio design and live performance in an app with an almost unlimited range of effect options. FLUX:FX is a truly authentic digital platform for designing your sound. Featuring more than 30 modular effects blocks, a master Performance view with 1-touch interaction, an advanced Edit view with multi-touch and full assignment possibilities, and an innovative Sequencer view to bring motion to the audio signal, this app allows the user to easily create previously unheard sounds. Fully compatible with Audiobus, Inter-App Audio and MIDI, FLUX:FX is made to connect seamlessly with existing live rigs and studio workflows. Designed and built by the collective NOIISE – incorporating the acclaimed US guitarist Adrian Belew, mobile specialists MOBGEN and audio experts Elephantcandy.
Full details on the FLUX:FX application can be found at http://flux.noii.se
Vintage synthesizer demo track featuring the Korg Polysix
supported by UVI: http://bit.ly/retrosound-uvi
all synthesizer sounds: KORG Polysix Analog Synthesizer (1982)
drums: KORG KR-55B (1982)
recording: multi-tracking without midi
fx: reverb and delay
Here is a little video showing you how the STEPPER works.
Check out our Kickstarter page for more information! https://www.kickstarter.com/projects/…
Rob Papen Soundware has announced the availability of RAW.
RAW was designed with input from producers Sebastian Hoff and Freek Vergoossen (a.k.a. DJ Promo and DJ Free-K, respectively) who proposed a synthesizer that focused more on 'distorted' sounds with an easy-to-use layout.
RAW has a different signal setup, synthesizer-wise. It has two oscillators and a filter, but what is new when compared to other RP synthesizers is that there is an EQ that can be pre- or post-distortion. After that, there is a Waveshaper and dedicated Distortion module with several types of distortion, as well as a Low-Fi control. This is new to this synthesizer, and it's part of the concept that the distortions are on the voice level, so it's not just a case of a total signal going into the distortions, but rather each voice has its own Waveshaper, Distortion, and Lo-fi.
In addition to the flexible X/Y fields found in the OSC 1 and OSC 2 sections (which will already be familiar to refined Rob Papen Predator and BLUE-II soft synth users), RAW users can effectively draw their own 'waveforms' to be used as LFO waveforms, enabling the creation of unique 'wobble' sound movements — perfect for dubstep and other EDM styles. Other effects such as Chorus, Flanger, Phaser, and Stereo Delay Rob Papen's signature high-quality Reverb — all add to the superlative sound sculpting possibilities on offer, as does the super-cool step sequencer/arpeggiator, and many more fanciful features above and beyond. But mindful of that original easy-to-use layout request, a self-explanatory.
The presets include many by DJs and producers like Deathmachine, DJ Hidden, DJ Promo, DJ Thera, D-Passion, Ophidian, Mad Dog, Rob Fabrie, N-Vitral, The Playah, The Viper, Warface, and many more.
Price: € 149 |USD $179 – There is an introduction price until the 31th of December: € 119– | USD $149.
Strong Heads – Frequency Test (Dream Of Isaac)
Test / Strong Heads — The Antwerp Anthems
Label:
Dance Ecstasy 2001
Catalog#:
DE 2011
Format:
Vinyl, 12″, 45 RPM
Country:
Germany
Released:
1992
Genre:
Electronic
Style:
Techno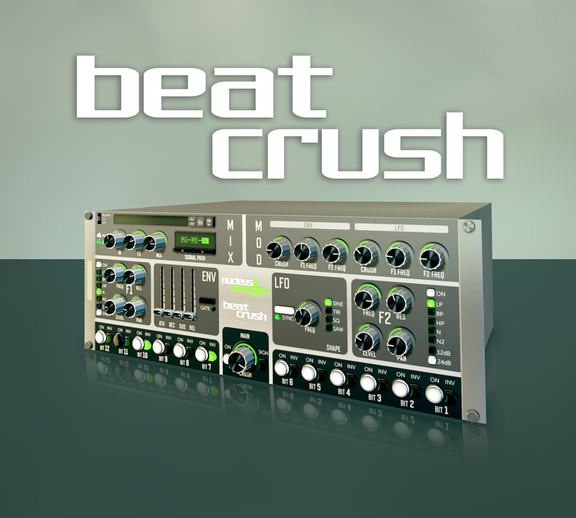 Nucleus SoundLab has announced the release of Beat Crush, a bit crusher Rack Extension for Propellerhead Reason.
Nucleus SoundLab has long been a leader in Reason ReFill market. With Beat Crush, they have finally brought their unique Reason expertise to Rack Extensions.

Nucleus SoundLab's first RE is Beat Crush – the ultimate bit crusher. By default Beat Crush adds a subtle 12-bit crunch to samples reminiscent of classic samplers. But it's also extremely flexible – users have access to each individual digital bit to create completely unique custom distortions!

Beat Crush is much more than just a lo-fi effect. Two very powerful multi-mode filters are onboard, and can be configured in a huge variety of ways courtesy of a semi-modular architecture. Using these features in combination, users will find easy access to crispy drumbeats, dirty dubstep basslines,creative vocal effects and more.
Beat Crush is available for purchase from the Propellerhead Shop for the introductory price of 39 EUR/$49 USD until January 16th, 2015 (regular 52 EUR/$65 USD)
Sample Logic has released CYCLONE RETWISTED, which they describe as the ultimate sample synth. This is what they have to say about it…
Completely re-engineered and re-imagined, CYCLONE RETWISTED is the next generation of Sample Logic's CYCLONE. Now equipped with Sample Logic's proprietary Step and FX Animator technology along with a new dual-voice additive synthesizer, CYCLONE RETWISTED is truly a one-stop shop for astounding, inspiring electronic sounds, and the ultimate sample synth solution for Kontakt. So whether you're on a tight deadline, in need of inspirational presets and production tools, or looking to dig deep and create your own twisted instruments, CYCLONE RETWISTED delivers amazing multi presets and instruments that are production ready and can be quickly customized for instant transformation.
Buy 74 is the New 24 on iTunes: http://smarturl.it/74ItN24iT
Listen to 74 Is the New 24 on Spotify: http://smarturl.it/74ItN24Sp
Buy 74 is the New 24 on Amazon: http://smarturl.it/74ItN24Am
Music video by Giorgio Moroder, Andromeda Software Development, and Jai Friedman-Lewis 74 Is the New 24. (C) 2014 Giorgio Moroder Music LCC under exclusive license to Sony Music Entertainment Sweden AB
Extraído de / From: "Frecuencias de un Rojo Devastador" (2003, Acuarela)
Compra / Buy "Frecuencias de un Rojo Devastador" CD: http://bit.ly/UF5DWk
Emak Bakia en / on Spotify: http://spo.tl/Ob0Wu
At the App Store: http://bit.ly/p84yt
Phase84 is a next generation phase distortion synthesizer. It fuses gritty digital sounds with traditional analog punch.
Phase84 is an extremely capable synthesizer and features over 110 presets, containing all sorts of basses, leads, pads, bell tones, sweeps, atmospheric sounds, pseudo-realistic tones, and more. While you don't need to know much about synthesizers to get a lot out of Phase84, experienced synth tweakers will be thrilled at the sheer variety of unique sounds that can be produced with this incredibly versatile synth.
*All synth sounds (bassline, chords, lead) were created with Phase84 with no external effects or post manipulation.
This video also features Wej — rugged performance base and wireless MIDI bridge: preorder.retronyms.com
Follow Retronyms
http://www.facebook.com/retronyms
http://twitter.com/retronyms