At the 2016 NAMM Show, held in Anaheim, CA Jan 21-24, Roland introduced the A-01 – a unique mobile MIDI controller and 8-bit synthesizer.
Here's an overview of the Roland A-01 from the NAMM Show floor.
Take control of your musical setup with the A-01 Controller and Generator. Connect your gear using standard MIDI, hook up to your computer-based DAW with USB MIDI or play music apps on tablets and smartphones via Bluetooth. You can also drive vintage synthesizers and modular synths via the CV/Gate outputs and step-sequencer. Along with the knob and ribbon controllers, the A-01 also includes an 8-bit monophonic synth engine for creating distinctive synth tones.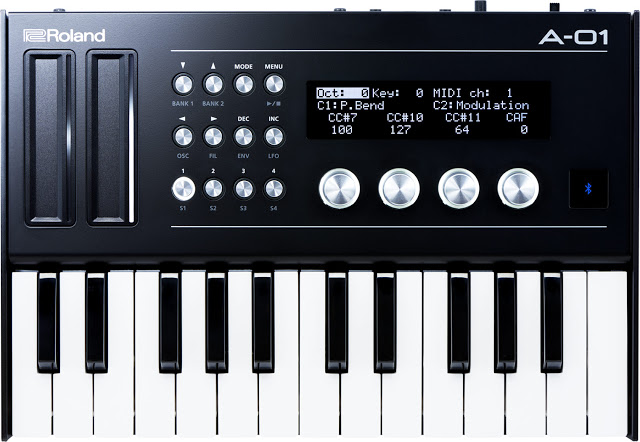 A controller is a vital part of any music production setup, but choosing the right one can be a dilemma. You want a unit with the flexibility to drive all your MIDI and CV/GATE-equipped analog gear. You need to connect to the huge range of music-making apps for tablets and smartphones. And as a modern musician moving from gig to gig, you need to be able to work on projects whenever inspiration strikes. The Roland A-01 ticks all of your boxes—whether you want to warm up backstage, control every element of an elaborate home studio setup, or create original music from scratch, this flexible controller and sound generator is your one-stop solution.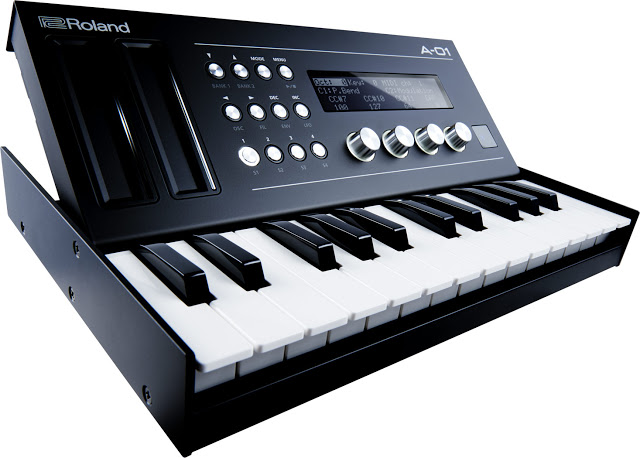 SPECIFICATIONS
Memory
Controller Mode: 16 patches (4 patches x 4 banks)
Synth Mode: 16 tones (8 tones x 2 banks)
Seq Mode: 16 patterns (8 patterns x 2banks)
Connectors
PHONES jack: Stereo miniature phone type
CV OUT jack: Stereo miniature phone type
GATE OUT jack: Stereo miniature phone type
MIDI (IN, OUT) connectors
USB port: MicroB type (MIDI)
Bluetooth
Bluetooth LE
Power Supply
Rechargeable Ni-MH battery (AA, HR6) x 4
Alkaline battery (AA, LR6) x 4
USB bus power
Current Draw
500 mA (USB bus power)
Expected battery life under continuous use:Rechargeable Ni-MH battery: Approx. 12 hours
* This can vary depending on the specifications of the batteries, capacity of the batteries, and the conditions of use.
Accessories
Owner's Manual
Leaflet "USING THE UNIT SAFELY"
Alkaline battery (AA, LR6) x 4
Options (sold separately)
Keyboard unit: K-25m
SIZE AND WEIGHT
Width300 mm
11-13/16 inchesDepth128 mm
5-1/16 inchesHeight46 mm
1-13/16 inchesWeight950 g
2 lbs 2 oz"
Have your mix mastered live at NAMM by Lurssen Mastering! Details at http://www.ikmultimedia.com/news/news…
More info at http://www.ikmultimedia.com/news/news…
What do you get when a multi-Grammy award winning mastering studio teams up with the global leader in music creation and production tools?
At NAMM 2016, Lurssen Mastering and IK Multimedia will unveil a totally unique mastering product that brings the finesse, expertise and creative insight of the award winning mastering studio and innovative technological leadership of IK to musicians, producers and engineers around the globe. Read more at http://www.ikmultimedia.com/news/news…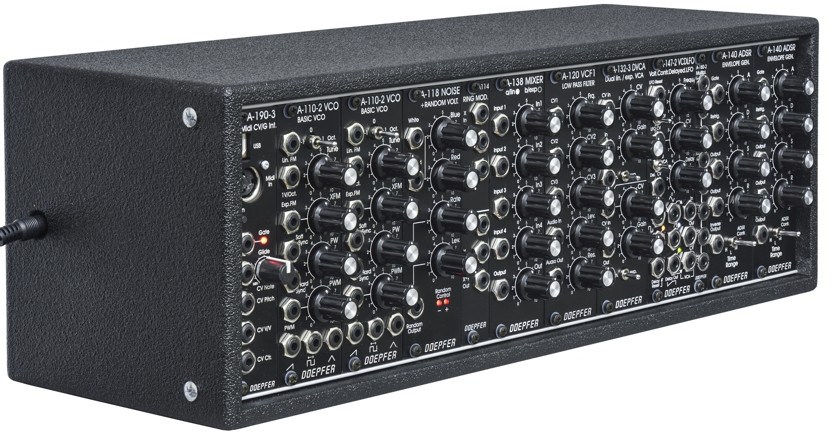 Eurorack modular creator Doepfer will be introducing 'Vintage Versions' of their A-100 modular synth line and they will also introduce several new modules.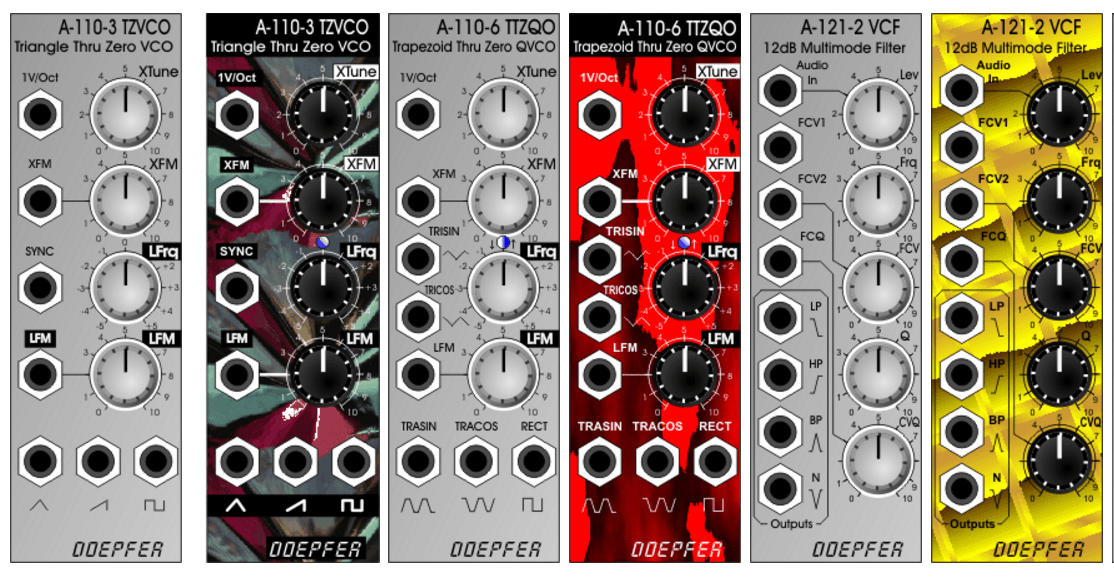 A-110-3 is a Thru Zero VCO with triangle core. The term "Thru-Zero" means that even "negative" frequencies are generated. But this a bit a misleading term as negative frequencies do not really exist. "Negative" means in this connection simply that the triangle wave will stop when the linear control voltage reaches 0V and continue with the opposite direction as the linear control voltage becomes negative and vice versa.
A-110-4 is a Trapezoid Thru Zero Quadrature VCO. The module is based on an idea by Donald Tillman from 2003 but has been revised for the use of modern electronic circuits (no OTAs/CA3280). Because of it's unique trapezoid core it's totally different compared to other VCOs. But the trapezoid core is not the only specialty: it is also a quadrature VCO and features linear thru zero frequency modulation.
Module A-121 is a voltage-controlled multi-mode filter with a cut-off slope of -12 dB / octave. Four simultaneous outputs are available, each with different characteristics: low-pass, band-pass, high-pass and notch (or band reject). The cut-off frequency determines the point at which the respective filter effects appear. The frequency can be adjusted manually, or by voltage control (Filter modulation, for instance by an LFO or ADSR). Two CV inputs are available, whose control voltages are summed. Resonance (Emphasis or Q ) can be adjusted manually, or by voltage control, right up to self-oscillation, in which case it will behave like a sine wave oscillator.
Module A-168-1 is a pulsewidth modulation generator (PWM Module). It derives a rectangle signal with adjustable pulsewidth from an external triangle, sawtooth or sine wave. The external signal can be an LFO, VCO or any other signal with falling/rising slopes (e.g. ADSR). In addition the pulsewidth can be modulated by a CV signal (e.g. LFO or ADSR). The typical application is the generation of a rectangle signal with PWM from VCOs or LFOs which do not yet have this feature (e.g. A-110-4, A-145, A-147-2, A-143-4, A-143-9).
Note: The colorful alternate faceplates are only a design study, made with a self adhesive foil printed by a color laser printer. There are no plans to offer these versions of the modules commercially. But Doepfer plans to offer the panel designs as downloadable designs that owners can print. Doepfer has also previously introduced colorful knob options.
Digital Synthesizer Keyboard. A quick demo of Yamaha's new Reface DX, based on iconic FM synths such as the ubiquitous DX7. This is one of three Yamaha keyboards in the Reface range.
Watch the Yamaha Reface keyboards in action. All 4 brand new keyboards in a Doctor Mix exclusive video, showing the actual prototypes being played live by our team.
More on the Reface keyboards: http://bit.ly/refaceUKsite
reface YC reimagines the YC Yamaha Combo organs, introduced in the late 1960s and used by Pink Floyd, Tangerine Dream and others. The YC offers all the expression of drawbars, rotary speaker, percussion and effects. It includes five retro organ sounds—ranging from tonewheel to transistor to the original Yamaha Combo organ—and 128-note polyphony.
Yamaha has introduced the new reface Mobile Mini Keyboards, portable yet powerful sounding keyboards that descend from a distinguished pedigree.
reface CS rekindles the legacy of the CS-series Control Synthesizers, introduced in 1976 and played by Vangelis, Stevie Wonder and Michael Jackson, among others. Offering 8-note polyphony, reface CS uses virtual analog synth technology and five flexible oscillator modules to create a wide variety of complex sounds from analog to digital.
NAMM 2015! Rosser Douglas from Moog music explains to me the beautiful new Model 15 modular system.
Teenage Engineering show us their latest offerings, a trio of tiny stripped-down calculator-sized sequencers — each for only $59. There's the PO-12 Rhythm drum machine, the PO-14 Sub bass synth and the PO-16 Factory lead synth. We hear what they can do.