NAMM 2015! Rosser Douglas from Moog music explains to me the beautiful new Model 15 modular system.
Teenage Engineering show us their latest offerings, a trio of tiny stripped-down calculator-sized sequencers — each for only $59. There's the PO-12 Rhythm drum machine, the PO-14 Sub bass synth and the PO-16 Factory lead synth. We hear what they can do.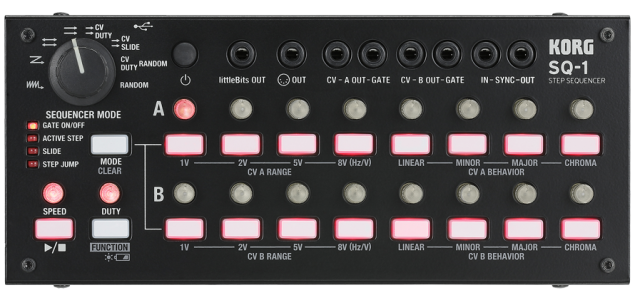 Korg has introduced the SQ-1 step sequencer, an updated take on the classic Korg SQ-10 step sequencer.
The Korg SQ-1 is a compact step sequencer with 2 x 8 steps. Its wealth of connection jacks allows it to be connected to the MS-20 and a variety of other synthesizers.
Both vintage analog synths and the latest compact synths can be controlled from the SQ-1.
Specifications:
Sequencer Mode – ALTERNATE, ORDER, PARALLEL TURN, PARALLEL ORDER, CV/DUTY, CV/SLIDE, CV/DUTY RADOM, RANDOM
Step Mode – GATE ON/OFF, ACTIVE STEP, SLIDE, STEP JUMP
Sequence Step Resolution – quarter notes, eighth notes, sixteenth notes
CV OUT Pitch – Linear, Minor, Major, Chromatic
CV OUT Voltage – 1V, 2V, 5V (Oct) 8V (Hz/V)
GATE OUT Polarity: + (positive polarity), – (negative polarity)
SYNC IN/OUT Polarity + (rise), – (fall)
Connectors

littleBits OUT jack (mini monaural phone jack)
OUT (MIDI OUT) jack (mini stereo phone jack)
CV – A OUT – GATE jack (mini monaural phone jack, CV OUT : Output Level 1V, 2V, 5V, 8[Hz/V], GATE OUT: output level 10V)
 CV – BOUT – GATE jack (mini monaural phone jack, CV OUT : Output Level 1V, 2V, 5V, 8[Hz/V], GATE OUT: Output Level 10V)
– IN – SYNC – OUT jack (mini monaural phone jack, SYNC IN: Max Input Level 20V,

SYNC OUT: Output Level 5V)
USB jack (type B, USB MIDI)
Power Supply – Two AA batteries (alkaline batteries recommended), or USB power
Battery Life – approximately 5 hours (when using alkaline batteries)
Dimension (W x D x H) – 93 x 84 x 63 mm/7.60″ x 3.31″ × 2.48″
Weight – 641 g/1.41 lbs.
Included Items – Two AA batteries for checking operation, mini plug – DIN cable
Options – Patch cable MS-CABLE-18
Pricing and availability for the Korg SQ-1 are to be announced.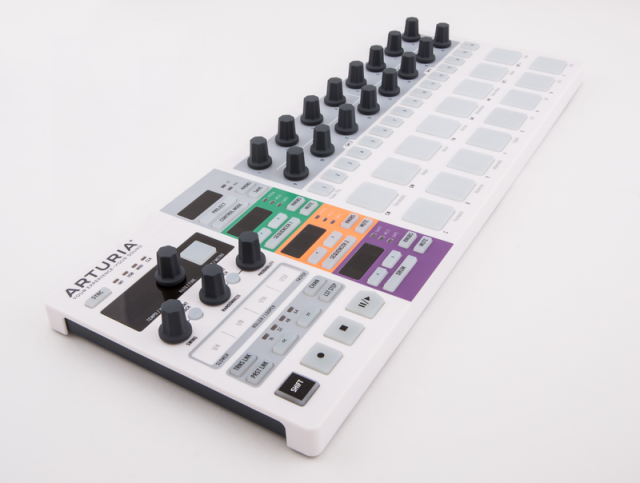 Arturia has introduced the BeatStep Pro — a flagship controller and dynamic performance step sequencer that they call 'a sequencing powerhouse'.
BeatStep Pro has been designed from the ground up to provide a hands-on hardware sequencing experience. It offers 16 touch-sensitive knobs, for entering of pitch, gate, velocity amounts, and timing shifts per step.
It includes two independent (colour-coded) monophonic step sequencers, each with dedicated displays to show the current playback position and bank length of the currently selected sequence. SEQUENCER 1 and SEQUENCER 2 have been greatly expanded with up to 64 steps per sequence, 16 sequences per project, and 16 projects, making BeatStep Pro one of the more powerful step sequencers ever made. each sequencer has its own 1V/Oct CV (Control Voltage) and (10V) GATE outputs to connect to suitably-equipped analogue synthesizers, together with a separate VELO (Velocity) output to allow for even more possibilities when working with a modular synth system setup.
An additional DRUM sequencer allows for 16 separate tracks of sequencing. Record in quantised realtime via the 16 pressure sensitive pads or use the 16 step buttons for a classic drum machine workflow. when working in SEQ1 and SEQ2 mode, the pads can control pitch transposition as well as accessing various musical scales — such as Chromatic, Major, Minor, Dorian, Mixolydian, Harm Minor, Blues, and also a User setting — while the DRUM sequencer itself also has eight DRUM GATES at its disposal (to send gate outputs from the corresponding pads for triggering external devices).
BeatStep Pro is also a controller. Switching from PROJECT to CONTROL MODE means users can trigger clips in their favourite DAW (Digital Audio Workstation), play drum sounds from an external module, or adjust parameters in their favourite plug-in. Possibilities are (almost) endless, limited only by (lack of) imagination.
Beatstep Pro also offers performance effects, including a realtime ROLLER/LOOPER touch strip; PROBABILITY, RANDOMNESS, and SWING settings.
Features:
2 monophonic step sequencers

Up to 64 steps per sequence
Note, velocity and gate time settings per step
Note tie

16-track drum sequencer (one track per pad)

MIDI controller mode
Fully customizable for knobs, step buttons and velocity and pressure sensitive pads
Send MIDI CC, note data, program changes

16 Projects, each with 16×2 sequences, 16 drum sequences and a controller map.
Performance controls
Randomizer with Amount and Probability settings
Real-time looper/roller touch strip
Independent swing amount per sequence
Touch sensitive knobs
Tap Tempo
Connectivity

CV/GATE outputs (1 volt per octave CV, 10 volt gates)
8 drum gate outputs
Clock sync with multiple standards
MIDI In/Out with supplied MIDI adaptors
USB class compliant

Kensington lock
BeatStep Pro will be shipping in Spring 2015 and available for €249.00 EUR/$299.00 USD. See the Arturia site for details.
Sequential is back! 100% analog signal path with discrete voltage controlled oscillators, filters, and amplifiers. More info at www.sequential.com
Vintage with a Modern Twist
The Prophet-6 is Dave Smith's tribute to the poly synth that started it all—the Sequential Prophet-5. But it's not simply a reissue of a classic. Rather, as Dave puts it, "It's the result of our effort to build the most awesome-sounding, modern analog poly synth possible." The Prophet-6 takes the best qualities of the original Prophet-5—true voltage-controlled oscillators, filters, and amplifiers—and adds enhancements such as studio-quality effects, a polyphonic sequencer, an arpeggiator, and more. The result is pure, unadulterated analog tone with the stability and reliability of a state-of-the-art modern synth.
Classic Tone, Classic Vibe
Central to the warm, punchy sound of the Prophet-6 are its two newly-designed, discrete voltage-controlled oscillators (plus sub-oscillator) per voice. Continuously variable waveshapes provide the tonal palette with triangle, sawtooth, and variable-width pulse waves. There are two discrete filters per voice—a four-pole, resonant, low-pass inspired by the original Prophet-5 filter, and a two-pole, resonant, high-pass filter. Voltage-controlled amplifiers complete the all-analog signal path.
Dual Effects
The dual effects section provides studio-quality reverbs, delays (standard and BBD), chorus and phase shifter. While the effects themselves are digital, with 24-bit, 48 kHz resolution, a true bypass maintains a full analog signal path. There's also an independent stereo distortion effect, which is 100% analog.
Poly Mod and Poly Step Sequencing
Also present from its classic predecessor is a Poly Mod section, with enhancements. True to the original, modulation sources are filter envelope and oscillator 2 (both with bi-polar control). Destinations include oscillator 1 frequency, oscillator 1 shape, oscillator 1 pulse width, low-pass filter cutoff, and high-pass filter cutoff. Another welcome reprise is Unison mode, which features configurable voice count (1-6 voices) and key modes. The polyphonic step sequencer allows up to 64 steps and up to 6 notes per step. You can create sequences polyphonically, with rests and sync to an external MIDI clock. The full-featured arpeggiator can be synced to external MIDI clock as well.
Easy to Program
The knob-per-function front panel offers instant access to virtually all Prophet-6 functions. Included are 500 permanent factory programs in 10 banks of 100 programs. In addition to these, you can create and save up to 500 user programs of your own. Toggling off the Preset button enables live panel mode, in which the sound of the Prophet-6 switches to the current settings of its knobs and switches. In this state, what you see is what you hear.
Easy to Play
All of this awe-inspiring sound is packed into a four octave, semi-weighted keyboard with velocity and channel aftertouch that's an ideal combination portability and power for the project studio or the gigging musician.
Here's a presentation and demo of the Sequential Prophet 6 by Dave Smith himself at the NAMM Show 2015.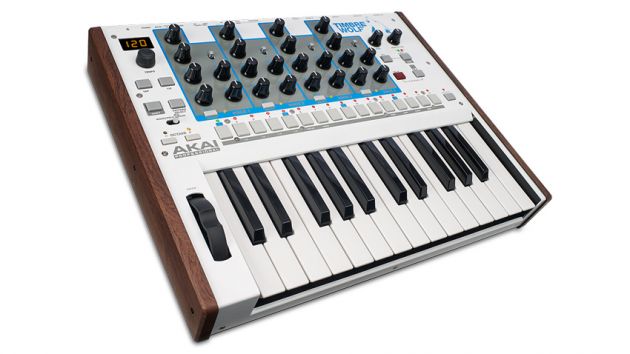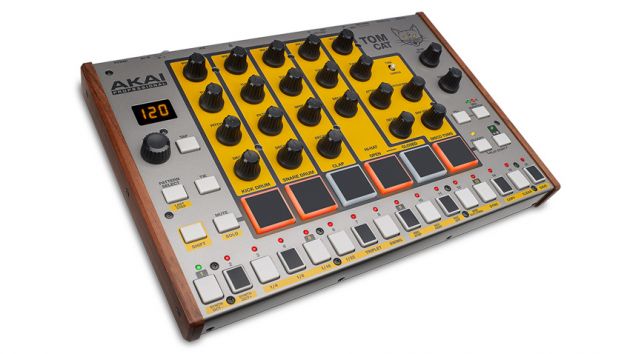 The Timbre Wolf looks particularly bold: a 4-voice polyphonic synth that's set to retail for £300. It can be used as four monosynths, in 4-voice unison mode or as a 4-voice polysynth. Each voice has its own 32-step sequencer, and there's a full-size 25-note keyboard.
Tom Cat, meanwhile, offers kick, snare, hi-hat and clap sounds and chromatically-tunable disco toms. You can adjust the tuning, amplitude envelope and volume of each voice independently.
There are also six pads and a 32-step sequencer, along with swing, pattern select and tempo controls. It's said that you can 'dirty up' your beats using the 'Maul' circuitry. Tom Cat will sell for £150
Sweet

Here's a presentation of Tom Oberheim's Two Voice Pro synthesizer at the NAMM Show 2015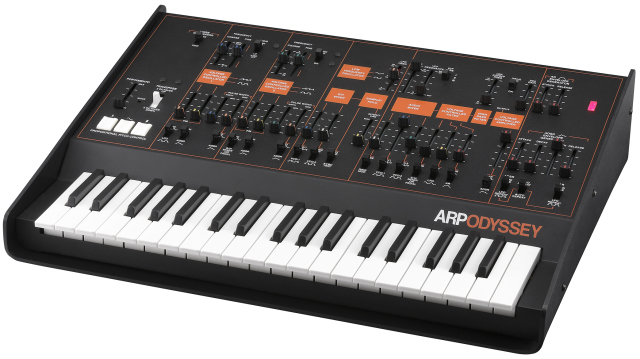 Originally produced in 1972, the ARP Odyssey was updated with several improvements throughout its history and was manufactured until 1981, due to economic hardships and the rise of cheap polyphonic digital keyboards.
The new Korg Odyssey has a compact body, highly operable sliders, and a 37 note slim keyboard. In addition, a new 'DRIVE' switch is provided and connectors include MIDI and headphone output as well as Patch cables have been added.
According to the company, "Korg has brought back the ARP Odyssey for today, while preserving the basic design of the original".
The New ARP Odyssey
"Together the engineers at Korg and Arp were able to nail the sound and feel of the original. Under the advisory assistance of David Friend, the co-founder of ARP Instruments, every detail was adjusted to replicate the original unit's distinctive synthesis," says James Sajeva, Brand Manager for Korg products. "Every aspect has been carefully considered to stay true to the quality of the original, down to the sophisticated semi-hard case."
Korg has completely reproduced the original circuitry for artists looking to recreate classic sounds and explore new ones. The ARP Odyssey has been downsized to 86% of the original. Carefully selected parts are used in the familiar slider section, providing an operating feel that's even smoother than the original.
Product Specifications:
Keyboard: 37-note (Slimkey, No velocity sensitivity, No aftertouch)
Maximum Polyphony: 2 voices for duophonic; normally monophonic
Controllers: Transpose Positions: 2 octaves down, normal, 2 octave up
Proportional Pitch Control: b (Pitch down) Pad: about -2 / 3 octave – (Modulation) Pad
# (Pitch-up) Pad: about +2 / 3 octave
Noise Generator: Noise Spectrum Types (white and pink)
Portamento: Maximum Speed: about 0.01 msec./oct
Minimum Speed: about 1.5 sec./oct
VCO (Voltage Controlled Oscillator): Waveforms: Sawtooth, Square, Pluse (Dynamic Pluse)
Frequency Range: VCO-1 in low freq. mode, 0.2 Hz – 20 Hz: VCO-1 and VCO-2 (audio range) about 20 Hz – 20 kHz
Warm Up Drift: 1/30 semitone from turn on max
Pulse Width: 50 % – 5 %
Pulse Width Modulation: ADSR, +45 %; LFO, +15 %
Voltage Controlled Response: 1 V/oct
Maximum Frequency Shifts: LFO sin wave, +1/2 oct.; LFO square wave, +1.5 oct.; ADSR, +9 oct.; S/H, +2 oct.
* VCO-1 is low note priority, VCO-2 is high note priority.
VCF (Voltage Controlled Filter): Types: Low pass (I: 12 dB/oct., II III: 24 dB/oct.)
Frequency Range: 16 Hz – 16 kHz
Maximum Usable Q: 30
Resonance: 1/2 – self oscillate
Voltage Controlled Response: C3 key (left edge): 0 V, C6 key (right edge) 3 V
VCA (Voltage Controlled Amplifier): Dynamic Range: 80 dB
Ring Modulator:
Type: Digital
Input Signal: VCO-1, VCO-2 (square wave)
Sample & Hold:
Command Sources: Keyboard or LFO trigger
Sampled Signals: VCO-1 sawtooth wave and square wave, VCO-2 square wave and pink noise
ADSR Envelope Generator:
Attack Time: 5 msec. – 5 sec.
Decay Time: 10 msec. – 8 sec.
Sustain Level: 0 – 100 % or Peak
Release Time: 15 msec. – 10 sec.
AR Envelope Generator:
Attack Time: 5 msec. – 5 sec.
Release Time: 10 msec. – 8 sec.
Control Input Jacks:
Pedal: ?6.3 mm monaural phone jack
Portamento Foot Switch: ?6.3 mm monaural phone jack
Audio Output Jacks:

LOW:
Connector: ?6.3 mm monaural phone jack
Maximum Output Level: -20 dBu@ 10 k? load
Output Impedance: 10 k?
HIGH:
Connector: XLR connector
Maximum Output Level: +4 dBu@ 1 k? load
Output Impedance: 330 ?

Headphones Jack:
Connector: ?6.3 mm stereo phone jack
Maximum Output Level: 50 mW + 50 mW@ 33 ? load
Output Impedance: 10 ?
* Controllable by volume knob.
External Audio Input (Ext Audio Input) Jack:
Connector: ?6.3 mm monaural phone jack
Maximum Input Level: -10 dBu
Input Impedance: 22 k?
MIDI Connector:
IN
USB Connector:
Type B
CV IN/OUT Jacks:
Keyboard CV (IN/OUT): 1 V/oct.
Connector: ?3.5 mm monaural phone jack
GATE IN/OUT Jacks:
GATE IN: +3 V (minimum)
GATE OUT: +10 V, key down; 0 V all keys up
Connector: ?3.5 mm monaural phone jack
TRIG IN/OUT Jacks:
TRIG IN: +3 V pulse min., 10 ?sec. Duration minimum
TRIG OUT: +10 V pulse on key depression, 10 ?sec. Duration
Connector: ?3.5 mm monaural phone jack
Power Supply: AC adapter jack (DC 9 V)
Power Consumption: 6.5 W
Dimensions (W x D x H):  502 x 380 x 120 mm / 19.76″ x 14.96″ x 4.72″
Weight: 5 kg / 11.02 lbs
Accessories:
AC adapter, phone cable, mini-phone cable, owner's manual, dedicated semi-hard case
Options:
VP-10 Volume Pedal, PS-1/PS-3 Pedal Switch
Pricing and Availability.
The new Korg ARP Odyssey has an MSRP $1400. Availability is TBA.
NAMM 2015: Roland\'s New JD-XA – Big Daddy Of JD-Xi Now this looks interesting too