Jennifer Hruska from inMusic shows us how the new Akai Advance controller keyboard works and its smart way for controlling software plug-ins.
http://appstore.com/conductr || http://www.conductr.net
http://facebook.com/c0nductr || http://twitter.com/c0nductr
CONDUCTR ABLETON USER MODULES
• 2 fully customizable module types: Default and XY-4D pads.
• Each Default User Module can contain up to 8 parameter controllers from any device on any track featured in your Ableton Live set.
• 4 different control interfaces: faders, crossfaders, buttons and quantized scales.
• Default User Modules can be quickly created and edited at any time, even while playing, by browsing and selecting any of your set's parameters on the iPad or through the LEARN feature.
• RESET feature: create parameter's values memories and recover them whenever you want.
• GESTURAL MODE: automatic gesture detection to play without looking at the iPad!
DOWNLOAD CONDUCTR NOW AND TRY THE USER MODULES FOR FREE: http://appstore.com/conductr
Native Instruments has announced Traktor Kontrol D2, the next-generation pro deck controller for Traktor Pro 2.
Designed for creative DJ performance that takes the DJ's focus away from the laptop, TRAKTOR KONTROL D2 offers groundbreaking touch-and-see workflow in a compact format optimized for easy set-up with club equipment. TRAKTOR KONTROL D2 will join TRAKTOR KONTROL S8 as one of the first DJ hardware controllers to support Stems* – an upcoming, open audio format that allows multi-channel mixing with individual musical parts. Robust, lightweight, and compact, the D2 is the ideal performance deck for the touring DJ.

TRAKTOR KONTROL D2 creates a multisensory DJ experience thanks to its touch-and-see technology. Tracks appear on a full-color display as vector waveforms while several key views and pop-up panels are revealed when a corresponding control is touched. The Browse Knob for example, triggers the Browse View for track selection directly from the controller. Performance Panels appear over track waveforms to view and modify BPM, key, filter, or effect values when activated by touch-sensitve knobs. And an LED-guided touch strip provides motion-sensitive pitch bending, track seeking, vinyl scratch emulation, and keeps track of phase in dark environments.

TRAKTOR KONTROL D2 naturally delivers enhanced TRAKTOR deck functions that empower pro DJs to develop their own trademark sound. Samples and loops are easily accessible for mixing with the four dedicated Deck faders when using a Remix Deck. Eight color-coded pads can trigger sounds, juggle cue points while in Hotcue Mode, or rearrange a playing track on the fly in Freeze Mode. Similar to Remix Deck usage, the D2's touch-sensitive performance knobs and faders will instantly correspond to a loaded Stem file's different 'stem' parts.

Designed to minimize bulk and setup time, TRAKTOR KONTROL D2 is highly transportable for DJs on the go. The lightweight, yet robust build features four foldable rubber-padded feet that extend to raise the unit to industry-standard height, or incline it for contoured comfort. Though one D2 alone can navigate through two TRAKTOR decks, two USB ports found on the rear panel allow a second D2 to be daisy-chained to one computer USB port for a two-unit setup. Connections are further simplified with an included power supply splitter cable that allows two units to be powered using one power supply unit.

Fueling the technology behind TRAKTOR KONTROL D2 is the included TRAKTOR PRO 2 software. An innovation in and of itself, TRAKTOR PRO is the award winning DJ software used by countless professionals. Four software decks, over 30 studio-grade effects, and powerful advanced features for creative looping and cueing have provided DJs all over the world with inspiring and customizable DJ possibilities.

TRAKTOR KONTROL D2 will be fully compatible with Stems on public release of the format in summer 2015.
Traktor Kontrol D2 will be available for $499 USD/499 EUR/£429 GBP on May 4th, 2015. Preorder is also available.
Using Geo Synthesizer iOS app by Wizdom Music though Silent Way Voice Controller Plug-In to control pitch and gate of my eurorack modular analog synth.
The KeyLab 88 is a professional-grade 88-note MIDI keyboard controller designed with the working musician in mind. Featuring a new hammer-action keybed from Fatar and deep integration with our award winning Analog Lab software, the KeyLab 88 is unique with its robust, solid metal construction and classic wooden side panels.
More info: http://www.arturia.com/products/hybri…
KeyLab 88, the largest in the KeyLab series, comes with Arturia's Analog Lab, a software synthesizer solution with over 6,000 presets derived from Arturia's range of Analog Classics. These include the TAE (True Analog Emulation) synthesis-powered Mini V (Minimoog monosynth emulation), Wurlitzer V (virtually bringing back to life the well-known 'Wurly' electric piano), among others.
The first 3,000 units shipped come with two virtual instruments: Grand Piano Model D from fellow French developer UVI, and Pianoteq 5 Stage, a physical modelling-based virtual instrument that provides acoustic and electric piano recreations as well as chromatic instruments.
The keyboard also acts as a controller which is compatible with any third-party software or hardware. Customizable MIDI assignments are accessible via the LED screen or the included MIDI Control Center software.
KeyLab 88 also sports a music stand, and a rubberized, attachable shelf extension to create a work surface for holding a laptop, tablet, or another small synth.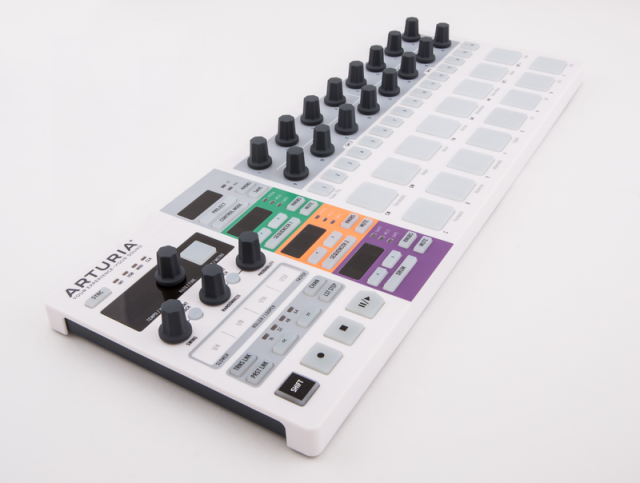 Arturia has introduced the BeatStep Pro — a flagship controller and dynamic performance step sequencer that they call 'a sequencing powerhouse'.
BeatStep Pro has been designed from the ground up to provide a hands-on hardware sequencing experience. It offers 16 touch-sensitive knobs, for entering of pitch, gate, velocity amounts, and timing shifts per step.
It includes two independent (colour-coded) monophonic step sequencers, each with dedicated displays to show the current playback position and bank length of the currently selected sequence. SEQUENCER 1 and SEQUENCER 2 have been greatly expanded with up to 64 steps per sequence, 16 sequences per project, and 16 projects, making BeatStep Pro one of the more powerful step sequencers ever made. each sequencer has its own 1V/Oct CV (Control Voltage) and (10V) GATE outputs to connect to suitably-equipped analogue synthesizers, together with a separate VELO (Velocity) output to allow for even more possibilities when working with a modular synth system setup.
An additional DRUM sequencer allows for 16 separate tracks of sequencing. Record in quantised realtime via the 16 pressure sensitive pads or use the 16 step buttons for a classic drum machine workflow. when working in SEQ1 and SEQ2 mode, the pads can control pitch transposition as well as accessing various musical scales — such as Chromatic, Major, Minor, Dorian, Mixolydian, Harm Minor, Blues, and also a User setting — while the DRUM sequencer itself also has eight DRUM GATES at its disposal (to send gate outputs from the corresponding pads for triggering external devices).
BeatStep Pro is also a controller. Switching from PROJECT to CONTROL MODE means users can trigger clips in their favourite DAW (Digital Audio Workstation), play drum sounds from an external module, or adjust parameters in their favourite plug-in. Possibilities are (almost) endless, limited only by (lack of) imagination.
Beatstep Pro also offers performance effects, including a realtime ROLLER/LOOPER touch strip; PROBABILITY, RANDOMNESS, and SWING settings.
Features:
2 monophonic step sequencers

Up to 64 steps per sequence
Note, velocity and gate time settings per step
Note tie

16-track drum sequencer (one track per pad)

MIDI controller mode
Fully customizable for knobs, step buttons and velocity and pressure sensitive pads
Send MIDI CC, note data, program changes

16 Projects, each with 16×2 sequences, 16 drum sequences and a controller map.
Performance controls
Randomizer with Amount and Probability settings
Real-time looper/roller touch strip
Independent swing amount per sequence
Touch sensitive knobs
Tap Tempo
Connectivity

CV/GATE outputs (1 volt per octave CV, 10 volt gates)
8 drum gate outputs
Clock sync with multiple standards
MIDI In/Out with supplied MIDI adaptors
USB class compliant

Kensington lock
BeatStep Pro will be shipping in Spring 2015 and available for €249.00 EUR/$299.00 USD. See the Arturia site for details.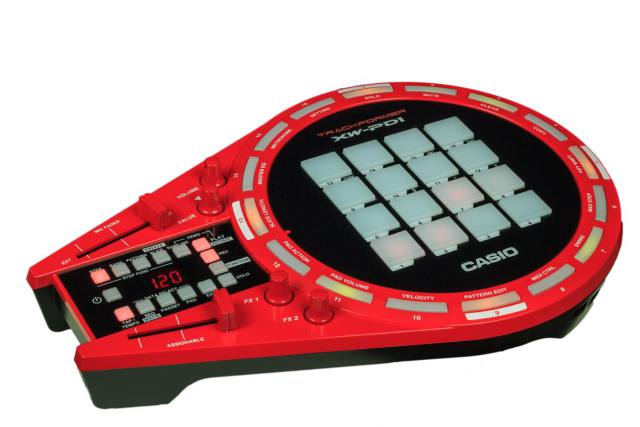 Casio has introduced two new Trackformer DJ products, the XW-DJ1 DJ Controller and XW-PD1 Groove Center. 
XW–PD1 Groove Center
The XW-PD1 Groove Center, above, is equipped with the sound engine from Casio's XW series of synthesizers The XW-PD1 design includes 16 velocity-sensitive pads and 4 knobs for fast real-time music production.
The XW-PD1 features an outer ring containing 16 buttons, which let you visualize the current rhythm pattern at a glance. Users can create rhythms and phrases with the pads as well as apply DSP effects such as roll, filter, bit crusher, break, and pitch shifter.
The XW-PD1 includes drum sounds for a variety of electronic styles, including Hip Hop, Trap, and House. It also features a synthesizer engine, a variety of effects and can sample sounds.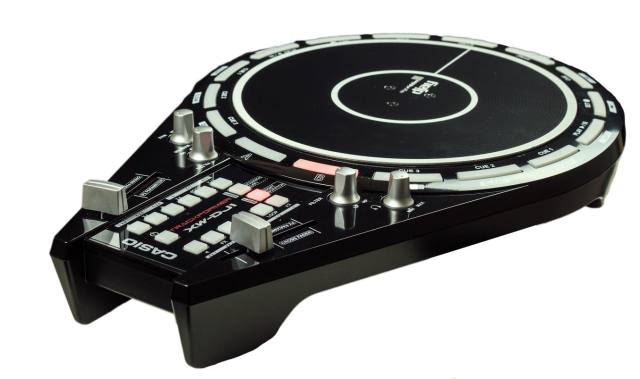 XW–DJ1 DJ Controller
Casio's XW-DJ1 DJ Controller, above, features a 7-inch platter that provides the feel of an analog turntable, filter controls and cross fader. The XW-DJ1 is compatible with Algoriddim's djay2 apps.
The XW-DJ1 integration with djay2 provides direct controls for cue points, tempo sync, effects and looping. Additionally, the XW-DJ1 is portable because it is battery-powered and offers a built-in-speaker.
The two Trackformer controllers can also be used in tandem. The audio output of the XW-DJ1 can be connected to the audio input of the XW-PD1. This lets users do remix performances, using the unique capabilities of each product.
Pricing and Availability
The XW-DJ1 DJ Controller will be available, beginning January 2015, for an MSRP of $299.00.
The XW-PD1 Groove Center will be available beginning March 2015 for an MSRP of $399.00.
Gaz Williams takes a look at the new Ableton Live controller which comes with a software bundle that actually is more expensive to buy than the APC!
The APC Mini concentrates the essential features of the APC40 mkII into a compact design. It offers an expanded 8×8 multicolor clip-launching grid, 8 channel faders, and a diminutive but tough chassis for hands-on control over Ableton Live with a small footprint.
The APC Mini is also USB-powered and supports plug-and-play.
The Akai APC Mini has a street price of about US $100.
GSi introduces the new DMC-122 Dual Midi Console.
This powerful and innovative Midi controller combines the layout of a classic two manual drawbar organ with the functions and the look of a modern keyboard offering total programmability and unprecedented ease of use.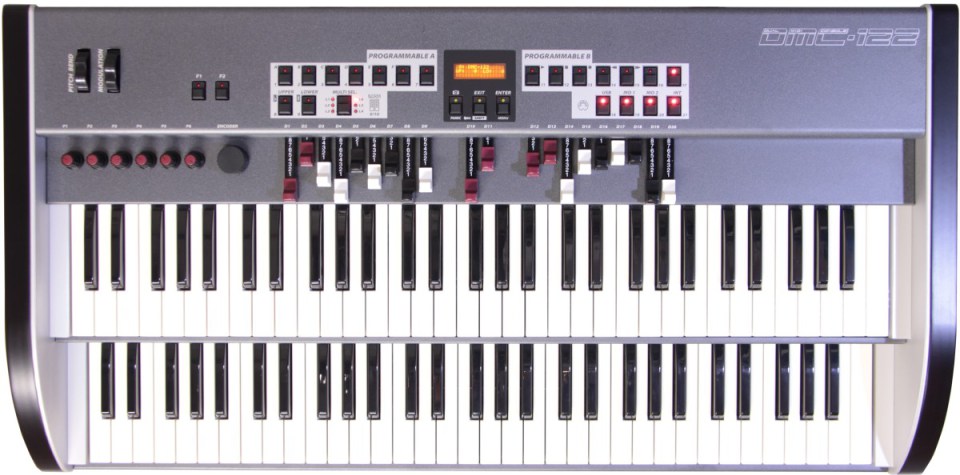 Features:
20 Drawbars, 6 Potentiometers.
1 Encoder, 22 buttons.
1 multiple button.
Pitch bender and modulation wheel.
Two 61-key "waterfall" keybeds with Channel aftertouch.
4 individual MIDI outputs.
1 USB-MIDI connection.
2 inputs for continuous pedals.
Assignable sustain pedal input.
Power for your USB device.
Expansion slot lets you upgrade to stand-alone keyboard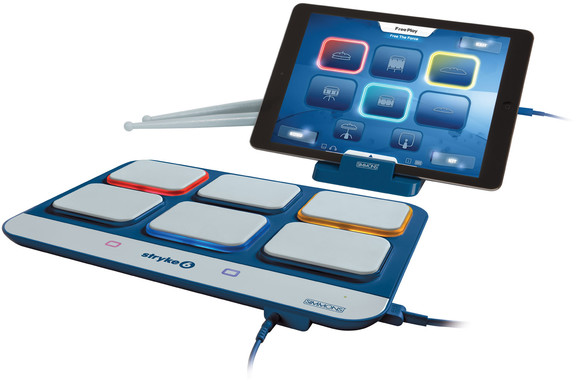 Simmons has announced the release of the new Stryke6 drum controller.
The new Stryke6 is the first ever iPad® controller that delivers a full drum kit playing experience without the kit. Combining Simmons' expertise in electronic drum kits with their unrivaled ergonomic design, the Stryke6 is the only product of its kind that works in concert with your iPad to deliver a real tactile playing experience in a compact, tabletop design.

Equipped with six velocity-sensitive pads plus two foot pedals for kick and hi-hat control, the laptop-sized Stryke6 is perfect for on-the-go playing, portable practice, and other times when a full kit is not a viable option.

Using the free Simmons Stryke Drums app, the Stryke6 easily connects to an iPad for an immediate, out of the box playing experience, including a wide range of sounds. Or connect via USB to any computer to trigger a variety of DAW applications and sample programs, including Garage Band, EZ Drummer, Logic, Ableton Live, and more.

For drummers and percussionists, Stryke6 is an ideal portable setup for small acoustic gigs, or as a compact practice kit for small spaces or mobile music making. For small project studios and songwriting setups, it makes a great tactile instrument for tracking drums into a DAW or sequencing program.
Stryke6 features
Versatile, first-ever iPad-based drum controller.
Can also be used with any USB/MIDI computer.
Ultra-small footprint with 6 velocity-sensitive drum pads.
Access to a wide range of sounds.
Kick and hi-hat pedals provide a real drum playing experience.
Works with most MIDI applications.
Free and fun, downloadable Stryke Drums iPad app (from the Apple App Store).
Learn to play drums in an engaging, interactive environment using app-based tutorials and the color-coded pads.
Includes drum sticks and connections for Lighting and 30pin iPads and USB.
Stryke6 is available for purchase for $129.99 USD.