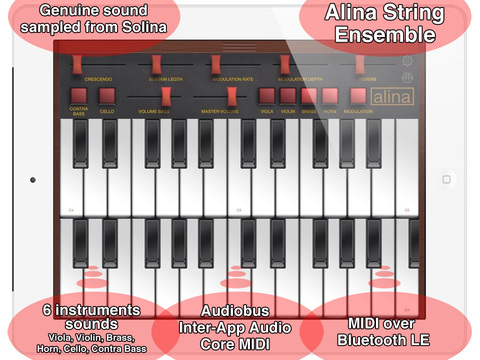 Alina String Ensemble is a musical keyboard application for iPhone/iPad/iPod touch that simulates the Solina String Ensemble. The sound is in reference to Solina String Ensemble (Serial number "SERIES 22, No.0093158") manufactured by N.V. EMINENT BODEGRAVEN HOLLAND in the 70's. You are sure to be surprised at the real sound generated from this App.
Features:
– Pre-loaded with 6 instruments including Viola, Violin, Brass, Horn, Cello, Contra Bass
– 49key, 4-octave Keyboards with scrollable
– iOS7/8 compatible
– Optimized appearance on iPhone 6/6 Plus
– Core MIDI and MIDI over Bluetooth LE compatible
– Supports Audiobus and Inter-App Audio (requires iOS 7 or later)
– Scrollable Keyboard & dual Keyboards(Only iPad)
– BASS tone(Cello, Contra Bass) is assigned on lowest 20 keys
– Built-in Reverb that simulates a spring reverb
– Vibrato that can adjust the rate and depth
Special thanks: Jun Kawabata courtesy of AIRPLANE LABEL & Studio Peach Blue Peach"
Yamaha today officially introduced its Reface line of mini keyboards
Key features of all the keyboards in the Reface line include:
built-in speakers
37 keys with HQ-Mini action, derived from Yamaha's flagship Motif XF
battery-powered portability
USB & MIDI connectivity
Yamaha Reface Capture – an iOS patch librarian app
SoundMondo – a web MIDI patch librarian and social patch sharing site
The Reface keyboard line was inspired by the form factor of the Yamaha CS-01, a mini synth that featured a built-in speaker. The new keyboards use a similar form factor, but have sound engines designed to recall four different Yamaha keyboard lines.
The fourth in the Yamaha ReFace Range, the CP focusses on electro-mechanical piano sounds with a whole bunch of creative real-time fx
NASHVILLE (July 9, 2015)—Yamaha today introduced the new reface Mobile Mini Keyboards, portable yet powerful sounding keyboards that descend from a distinguished pedigree.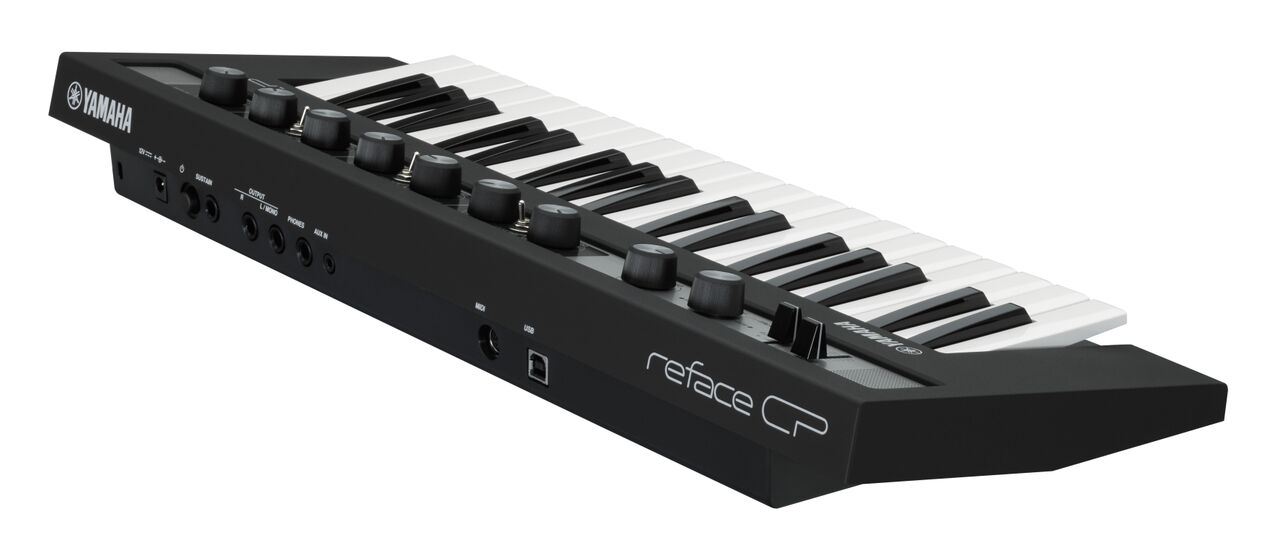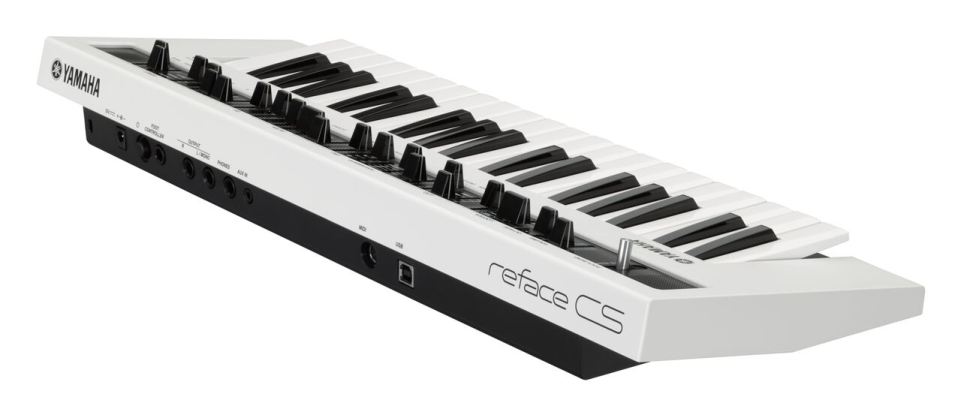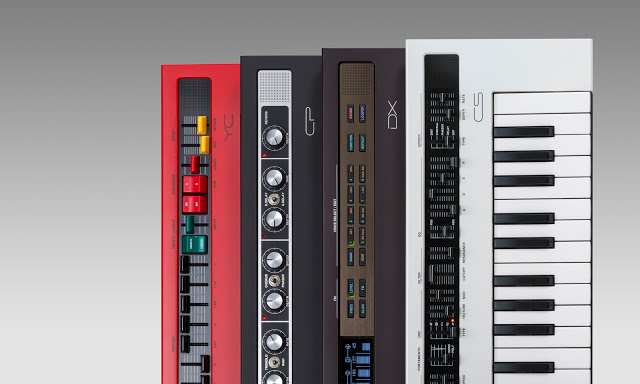 Why should guitarists have all the fun playing outdoors or anytime inspiration strikes? Even for beginners, these boards are fun to play because there are no deep, complicated control panels to learn: turning knobs and sliding faders brings an instant change in sound and players are able to create their own tones for a fun, tactile experience.
Building on Yamaha's 40-year heritage of creating some of the most heralded and renowned electronic keyboards in music history, reface reimagines the interface of four classic Yamaha instruments – some of which are difficult to find in the vintage market and weigh too much to carry around. The new series offers thick, booming sound, built-in speakers, 37 keys with professional-grade HQ-Mini action (derived from the flagship Motif XF professional synthesizer) and battery-powered portability for making music on the go. But more than mere travel companions, these versatile keyboards connect with external speakers, smartphones, tablets, MIDI devices and computers for use on stage and in the studio.
reface DX draws its inspiration from the iconic DX7, which debuted in 1983 and became the first commercially successful electronic keyboard used extensively by a multitude of bands throughout the decade and beyond, including Toto ("Africa"), the Doobie Brothers ("What a Fool Believes") and the theme from "Beverly Hills Cop" (Axel F"). With the press of a button, the reface DX changes from retro-80s tones to cutting-edge modern sounds perfect for EDM. A new Multi-Touch Control interface makes it easy to customize your sound with the powerful FM (frequency modulation) synthesis engine. The instrument includes 8-note polyphony, 32 Voice Memories and a backlit display.
reface YC reimagines the YC Yamaha Combo organs, introduced in the late 1960s and used by Pink Floyd, Tangerine Dream and others. The YC offers all the expression of drawbars, rotary speaker, percussion and effects. It includes five retro organ sounds—ranging from tonewheel to transistor to the original Yamaha Combo organ—and 128-note polyphony.
reface CP redesigns the Combo Piano, launched in 1975 and ubiquitous on stages during that era. The sound enhanced the work of Keane, U2, Genesis, Billy Joel and more. The CP model features six electric piano sounds including tine, reed, clav, toy and CP80 plus direct control of six different 1970s-style effects built into its retro-chic design. It also includes a sustain pedal input with a half-damper response and 128-note polyphony.
reface CS rekindles the legacy of the CS-series Control Synthesizers, introduced in 1976 and played by Vangelis, Stevie Wonder and Michael Jackson, among others. Offering 8-note polyphony, reface CS uses virtual analog synth technology and five flexible oscillator modules to create a wide variety of complex sounds from analog to digital.
reface features a 'one to one' control scheme, meaning the panel controls perfectly match the tone generator for direct sound creation and musical inspiration.
'reface offers high-quality touch, tone, interface and superior design at an affordable price,' said Nate Tschetter, marketing manager, Music Production, Yamaha Corporation of America. 'These inspiring, horizon-expanding instruments are fun to play and let keyboard players take their music anywher
Pre-order on Indiegogo at https://www.indiegogo.com/projects/ke…
Keys is a keyboard designed for the novice and configurable for a pro. Learn your favorite songs in minutes through LED lit keys and create beautiful music without any previous experience. Plug into any device or computer and launch the app. It's that simple.
Keys is a USB keyboard controller, designed to be modular, so it can be used as a beginning controller or scaled up for more advanced purposes.
Features:
Keys is fully USB-MIDI compliant. Use Keys with hundreds of music applications including Garageband, Ableton, ProTools, Logic and Cubase. Create music your way using your favorite tools.
Each of the 24 keys are equipped with LED lights that can each illuminate 192 different colors.
Weighted keys allow you to modify the sound output based on pressure and resistance for "piano like" expressions.
Keys is equipped with gesture recognition technology so you can control various parameters by just waving your hand above the keyboard.
You can magnetically link Keys devices together to create a larger keyboard or to other modules like Knobs and Pads to create custom music surfaces.
The KeyLab 88 is a professional-grade 88-note MIDI keyboard controller designed with the working musician in mind. Featuring a new hammer-action keybed from Fatar and deep integration with our award winning Analog Lab software, the KeyLab 88 is unique with its robust, solid metal construction and classic wooden side panels.
More info: http://www.arturia.com/products/hybri…
KeyLab 88, the largest in the KeyLab series, comes with Arturia's Analog Lab, a software synthesizer solution with over 6,000 presets derived from Arturia's range of Analog Classics. These include the TAE (True Analog Emulation) synthesis-powered Mini V (Minimoog monosynth emulation), Wurlitzer V (virtually bringing back to life the well-known 'Wurly' electric piano), among others.
The first 3,000 units shipped come with two virtual instruments: Grand Piano Model D from fellow French developer UVI, and Pianoteq 5 Stage, a physical modelling-based virtual instrument that provides acoustic and electric piano recreations as well as chromatic instruments.
The keyboard also acts as a controller which is compatible with any third-party software or hardware. Customizable MIDI assignments are accessible via the LED screen or the included MIDI Control Center software.
KeyLab 88 also sports a music stand, and a rubberized, attachable shelf extension to create a work surface for holding a laptop, tablet, or another small synth.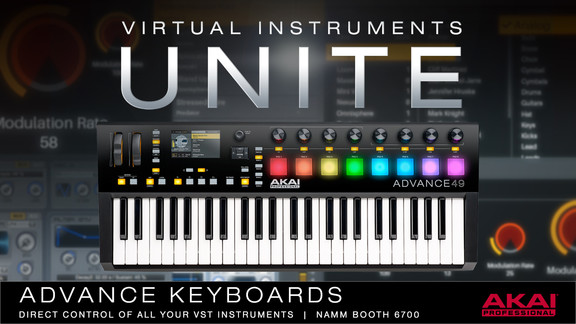 Akai Professional has announced the introduction of its Advance Keyboard Series. Available in 25-, 49-, and 61-key sizes, the Advance 25, Advance 49, and Advance 61 provide unprecedented playability and advanced manipulation of any virtual instrument via an interactive, full-colour display complemented by performance friendly hardware controls.
Designed to fuse the power of software instruments with the live playability of a keyboard workstation, the Advance Keyboard series transforms computer-based plugins into an entirely hands-on playing experience. The keyboard surface features an integrated highresolution full-colour 4.3-inch display, providing real-time control and feedback of any and all virtual instrument parameters. The screen instantly adapts itself to the selected plugin's controls, delivering immediate 1:1 access to the instrument and various editable functions. Better yet, the Advance Keyboard series works with any VSTi virtual instrument. Using the Advance Keyboard's custom designed Virtual Instrument Player (VIP) software application, your entire VSTi library can be controlled in one application. VIP can operate as a plugin inside any major digital audio workstation (DAW) or as a stand-alone application on both Mac and Windows operating systems.
Dedicated physical controls are thoughtfully included, with Akai Professional's hallmark RGB backlit, velocity- and pressure-sensitive pads integrated into each keyboard surface. Rubberised pitch and modulation wheels deliver player-preferred note manipulation with highly musical action. Large, continuously-variable endless knobs invite frequent use, letting the user make parameter adjustments with granular or dramatic effect. A custom semiweighted, velocity-sensitive keybed—another Akai Professional specialty—supports aftertouch, making it an elite keyboard for seasoned live performers and studio producers alike.
"The Advance Keyboard series represents a giant leap forward for keyboard players," says Dan Gill, Product Manager for Akai Professional. "Until now, software-based instruments leaned heavily on computer interaction, which caused creative and logistical bottlenecks, especially during live performances. We're combining the processing power of your computer, the flexibility of your virtual instrument collection, and the hands-on immediacy of a traditional keyboard workstation. The result is a powerful and inspiring user experience."
Included with each Advance Keyboard is the Virtual Instrument Player (VIP) application. VIP gives Advance Keyboard users access any virtual instrument in their collection with or without a DAW—a powerful way to play virtual instruments live or integrate them into a recording session. VIP software users can also create setlists that provide on-demand access to usercurated instruments for stage performance and studio work. With a single button press on an Advance Keyboard, the player can adapt to song changes as the live performance progresses—without ever reaching for the computer. Performers of all types will welcome VIP's facilities for hyper-fast instrument and patch browsing, key zone splitting, layering of up to 8 instruments per VIP instance, expansive custom mapping capabilities, and support for any VSTi plugin. Advance Keyboard users may run as many instances of the Virtual Instrument Player as their computer allows. VIP runs as a VSTi, AU, RTAS or AAX plugin, allowing you access to VSTi's in virtually any DAW, such as Pro Tool, Logic Pro X and Ableton Live.
Gill continues, "Keyboard players have been straddling two worlds for the better part of the decade. A standalone keyboard workstation was only as current as the sounds inside of it, and similarly, virtual instruments were only as good as the best controllers. The Advance Keyboard series delivers uninhibited access to any virtual instrument in your library without losing focus of the instrument in front of you."
Each Advance Keyboard ships with a 16GB download of over 10,000 sounds from industryleading developers at AIR Music Technology, SONiVOX, and Prime Loops. Purchased separately, this comprehensive collection of nine plugins is valued at over $1,000.00 USD and provides Advance Keyboard owners with an instant palette of contemporary and coveted sounds for live performance and studio production.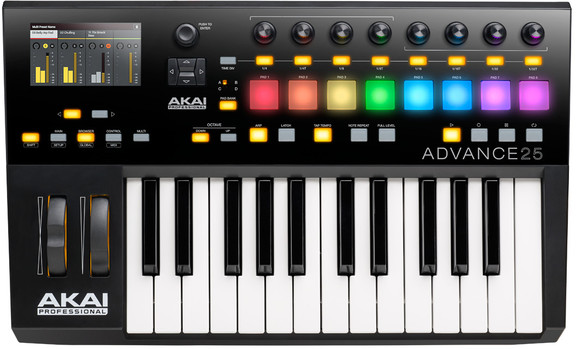 Advance Keyboard Series features
Keyboards for advanced virtual instrument performance.
Integrated 4.3-inch high-resolution full-colour screen with dedicated interface buttons.
Screen provides 1:1, real-time feedback of plugin parameters.
Available in 25-, 49-, and 61- key sizes.
Includes Virtual Instrument Player software for unprecedented virtual instrument preset management, control mapping and multi patch creation.
Premium, semi-weighted velocity-sensitive keybed with aftertouch.
8 large, endless and continuously variable control knobs.
8 velocity- and pressure-sensitive MPC-style pads with RGB illumination.
Dedicated pad bank, transport control, octave, and performance buttons.
Note repeat, time-division, pattern arpeggiator, and tap-tempo buttons.
Rubberised Pitch and Modulation wheels.
Expression pedal and footswitch inputs.
USB and 5-pin MIDI Input/Output for use with any MIDI capable software or hardware.
Also functions as a standalone controller.
Includes a 16GB download with more than 10,000 sounds from leading virtual instrument designers including AIR Music Technology, SONiVOX and Prime Loops.
Virtual Instrument Player Software features
Plays virtually every VSTi compatible plugin.
Operates as a standalone virtual instrument player for your computer.
Also operates as a plugin within any AU, VST, or AAX compatible DAW.
Organises your plugin collection with intuitive browsing by plugin, artist collection instrument type, timbre, and more.
Access, edit, and mix up to 8 virtual instruments at one time.
Setlist feature lets live performers switch between patches from any plugin instantly from the keyboard.
Extensive key zone splitting, custom mapping, and instrument mixing options.
Pre-mapped to hundreds of industry-leading virtual instruments.
Unlimited instances of VIP may be run in a DAW.
Advance 25, Advance 49, and Advance 61 will be available in early 2015 with an MSRP of £299.99 GBP, £389.99 GBP, and £469.99 GBP, respectively.
GSi introduces the new DMC-122 Dual Midi Console.
This powerful and innovative Midi controller combines the layout of a classic two manual drawbar organ with the functions and the look of a modern keyboard offering total programmability and unprecedented ease of use.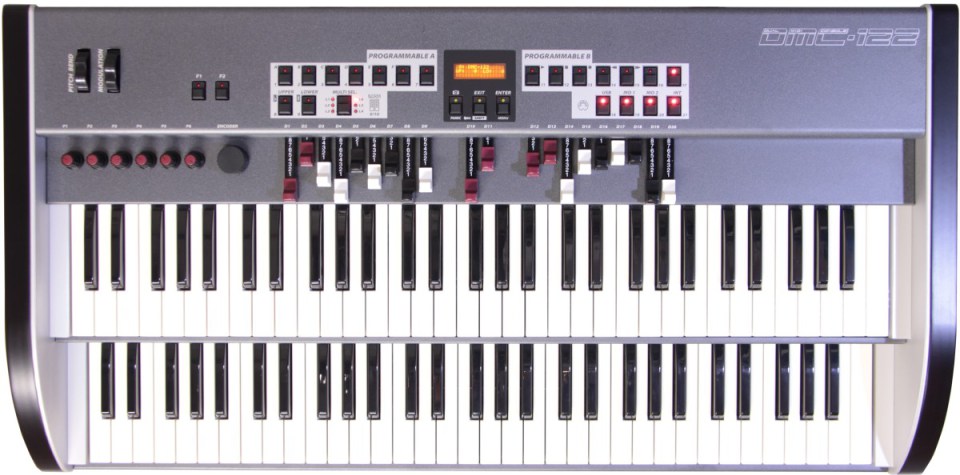 Features:
20 Drawbars, 6 Potentiometers.
1 Encoder, 22 buttons.
1 multiple button.
Pitch bender and modulation wheel.
Two 61-key "waterfall" keybeds with Channel aftertouch.
4 individual MIDI outputs.
1 USB-MIDI connection.
2 inputs for continuous pedals.
Assignable sustain pedal input.
Power for your USB device.
Expansion slot lets you upgrade to stand-alone keyboard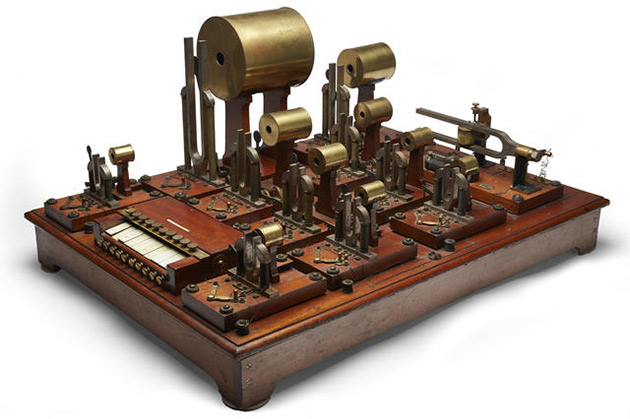 A "bargain" – if we may say so 😀
But it sure is a beauty !!
Abstract:
When Hermann von Helmholtz designed what was essentially the world's first electric keyboard, he didn't do out of a need to lay down crunchy riffs on the shores of the Rhine. What he needed was a way to generate tones and mix timbres in a bid to better understand the musicality and substance of vowel sounds. He ultimately came up with a series of electrically activated tuning forks hooked up to brass resonators, and now you can try to own one of your every own… assuming you've got between at least $20,000 burning a hole in your pocket. This particular unit — hewn of wood and keys whittled from African ivory — wasn't made by Helmholtz himself, but it is one of the few remaining examples of such 19th century tech still in existence. To hear auction brokerBonhams tell the tale, there's just one other floating around the United States (another seems to be in safe hands at the University of Toronto). Intrigued? The Helmholtz synthesizer will go up for auction in New York come late October along with a slew of other scientific curios from back in the day.


Casio America has introduced two inexpensive digital sampling keyboards, the CTK-2090, and the LK-175V. They will be sold exclusively at Target.
According to Casio, build on the legacy of the SK-1, an inexpensive 8-bit sampler from nearly 30 years ago, that offered the ability to synthesize sounds from waveforms, envelopes, vibrato, portamento, rhythms, and sampling.
Both keyboards have two sampling modes: short and full.
Short Sampling Mode allows users to create up to five sounds 0.4 seconds in length.
Full Sampling Mode allows users to create one two-second sound. With a built-in sampling microphone, users can also sample their voice and other ambient sounds to create a variety of sampled tones and effects for later use.
Both the CTK-2090 and LK-175V are outfitted with Casio's Step-up Lesson System, which lets beginners learn 152 built-in songs, phase-by-phase, at their own individual pace. With the LK-175V, users can practice with the help of the lighted 61-Key Piano Style Touch-Response keyboard.
Additional features include a 92mm X 40mm LCD display, 150 built-in rhythms, 400 built-in tones, 110 built-in songs, USB port, and more. Each model also comes with a music stand, song book and X stand.
The CTK-2090 for $169.99 and the LK-175V for $199.99 will be sold at Target locations nationwide, beginning in September.
Vintage gear demo featuring the Oberheim Xk
Oberheim Xk keyboard controller from the year 1986
The OB-Xk is a midi keyboard controller with a complex arpeggiator, chord memory functions and a lot more
used synth: Oberheim Matrix-1000 analog synthesizer module

The Oberheim OB-Xk is a MIDI keyboard controller from the mid-eighties. Originally designed to control the Matrix and Xpander modules, it uses MIDI and works fine as a controller for any MIDI gear. It's got 61 keys that respond to velocity and aftertouch, two OB-style Pitch/Mod controllers, and one assignable continuous control slider. From the front panel you can directly access the first 100 single patches and/or 100 multi patches of your MIDI module. Any additional patches must be selected by another MIDI controller.
Other features include the ability to transpose up or down by up to 2 octaves or by half steps. The keyboard can be split into 3 zones. There are basic Hold and Chord memory functions and an Arpeggiator section with pretty decent features (it can use internal or external clock). The OB-Xk can also send a sequencer Song Select, Start and Stop commands. It's built with Oberheim's classic & vintage look: solid black metal case with wood end-cheeks. Definitely a unique controller to have around, although severely limited by today's standards.
Arturia has announced the release of VOX Continental V, a vintage keyboard recreation, bringing back the classic sound of the famous VOX Continental 300.
As a high-end software recreation of the Sixties-vintage VOX Continental 300 transistor-based combo organ, VOX Continental-V is the latest addition to Arturia's acclaimed Analog Classics lineup where it sits alongside an authentic recreation of another archetypal Sixties staple, Wurlitzer-V (based on the classic 'Wurly' electric piano). Introduced in 1962, the VOX Continental — or 'Connie' as affectionately it became known — was originally designed to address the needs of touring musicians, but became musically much-loved in its own right. As such, it prominently featured on many hit records of the time, including The Animals' classic 'House Of The Rising Sun' in 1964 and, a little later, 'Light My Fire' by The Doors. Onstage, The Beatles performed a memorably frenzied version of 'Help!' B-side 'I'm Down' during their August 1965 performance at New York's Shea Stadium with John Lennon playing a VOX Continental using his elbows at times!

Despite being phased out of production in the early-Seventies, the VOX Continental has stood the test of time, too, playing a pivotal part in generating many of the distinctive keyboard sounds supporting later musical genres, including almost everything ever recorded by British Ska revivalists Madness, as well as New Wavers like Elvis Costello and The Attractions and American counterparts Tom Petty and The Heartbreakers. However, VOX organs have become increasingly difficult to acquire due to the high prices that they can command, compounded by the limited supply of working units. Today, VOX Continental-V gives contemporary, computer-based musicians instant access to those same hit-making sounds of yesteryear, and much more besides — and all without breaking the bank!
VOX Continental V features
Physical Modeling of the VOX Continental 300.
Added models of the ultra rare Jennings J70.
Extended mode allows for more controls and more sound possibilities.
Includes classic stompbox-type modeled effects.
Modeled Guitar Tube Amp and Rotary Speaker outputs for vintage live sound.
Extensive MIDI mapping of pedals, effects and sound engine parameters.
Modeled amplifiers: Fender Deluxe Reverb Blackface, Fender Twin Reverb Blackface, Fender Bassman, Marshall Plexi, Leslie Speaker.
Modeled microphones: Shure SM57, Sennheiser MD 421, Neumann U 87.
Convolution reverb with custom classic spring reverbs.
The Vox Continental V is available for Windows and Mac (VST/AU/AAX/Standalone) for $99 USD/99 EUR (download) / $129 USD/119 EUR (boxed).