Ambient musician and composer, Robert Rich, is well-known for creating immersive soundscapes that transport the listener to another place. While studying in Stanford's Center for Computer Research in Music and Acoustics during the 1980s, Robert would perform nine hour "Sleep Concerts" – influencing the REM sleep cycle of the audience with auditory stimulus.
During a visit to the Moog Music factory in Asheville, NC, Robert engaged in an atmospheric session with the Moog Modular System 55. Controlling the massive hand-wired synthesizer, Robert orchestrates a sonic continuum that evokes the perpetual organic motion of the natural world.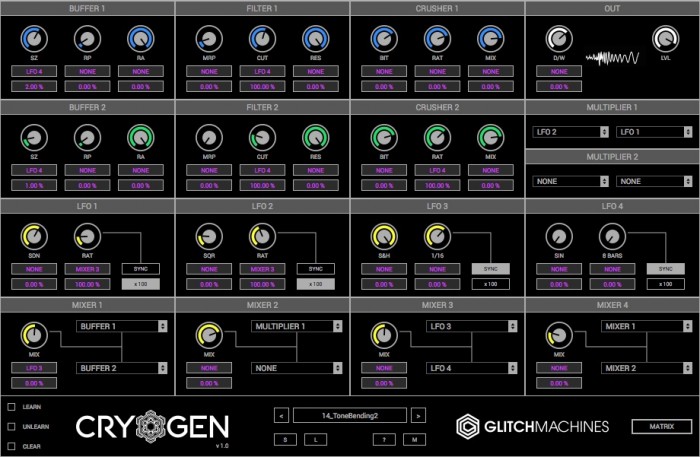 Glitchmachines has announced the release of Cryogen, a modular buffer effects processor designed to generate robotic artifacts and abstract musical malfunctions.
Cryogen features dual buffer effects, dual multimode filters with morphable modes and dual bit crusher effects. With the advent of its extremely flexible architecture and modulation options, Cryogen is capable of generating everything from subtle glitches to stunning signal mutations, making it an exciting tool for electronic musicians and sound designers alike.

Cryogen features a fully modular drag & drop modulation matrix which makes it possible to bend the signal path to your will. This versatile matrix adds a fresh dimension of possibilities to the plugin when used in conjunction with its four signal mixers and two mod multipliers, all of which are capable of combining audio and modulation signals. Cryogen comes loaded with 140 factory presets from sound designers Ivo Ivanov, Thomas Hennebert, Nicholas Yochum, Daed and Alex Retsis.
Cryogen features
Dual Buffer Effects.
Dual Bit Crusher Effects.
Dual Multi-Mode Filters with Mode Morph Control.
Modular Architecture with Drag & Drop Modulation Matrix.
4 LFOs with X100 Rate Option, Host Sync and Variable Shapes.
4 Signal Mixers and 2 Modulation Multipliers.
140 Factory Presets from our top sound designers.
Cross-platform compatibility (PC/Mac – VST/AU 32bit & 64bit).
Cryogen for Windows and Mac is available for purchase for $39 USD.
We start with a sketch based on fundamental principles and then resample/sync to our DAW, Ableton Live. Then conclusion happens around a recap of all of the core concepts of Subtractive/Modular synthesis.
Enjoy!
One more tour of the recently launched AIRA modular
The new effects modules are unique in that they are standalone, table-top and Eurorack compatible effects. The modules include distortion, crusher, delay and scatter.
This line of digital effects Euro modules can be used as audio interfaces and can even be customized via a desktop app.
Clavia's first and most compact modular synthesizer + the state of the art multi FX unit of the same era ENSONIQ DP/PRO excelling in its reverb algorithms.
Pre-order on Indiegogo at https://www.indiegogo.com/projects/ke…
Keys is a keyboard designed for the novice and configurable for a pro. Learn your favorite songs in minutes through LED lit keys and create beautiful music without any previous experience. Plug into any device or computer and launch the app. It's that simple.
Keys is a USB keyboard controller, designed to be modular, so it can be used as a beginning controller or scaled up for more advanced purposes.
Features:
Keys is fully USB-MIDI compliant. Use Keys with hundreds of music applications including Garageband, Ableton, ProTools, Logic and Cubase. Create music your way using your favorite tools.
Each of the 24 keys are equipped with LED lights that can each illuminate 192 different colors.
Weighted keys allow you to modify the sound output based on pressure and resistance for "piano like" expressions.
Keys is equipped with gesture recognition technology so you can control various parameters by just waving your hand above the keyboard.
You can magnetically link Keys devices together to create a larger keyboard or to other modules like Knobs and Pads to create custom music surfaces.
Quick demonstration of how to create a simple polyrhythm pattern using a Moon Modular 569 step sequencer (and other similarly capable step sequencers too)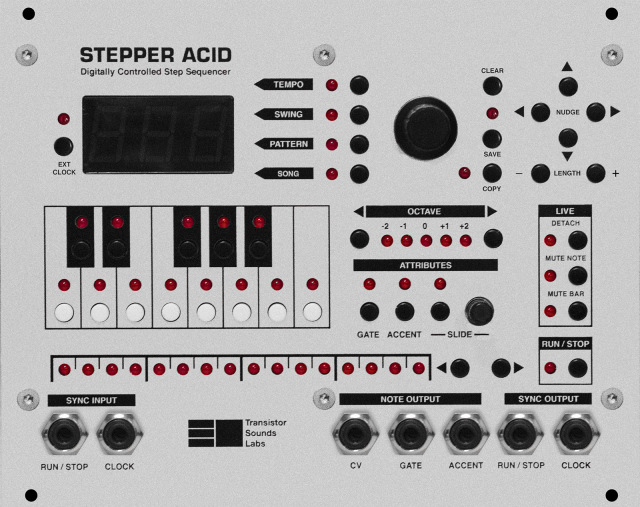 Nina Richards & Zoë Blade of Transistor Sounds Labs have introduced Stepper Acid– a digitally-controlled 16-step sequencer for Eurorack modular synthesizers.
They say it is "Designed by and for musicians, Stepper Acid was born out of our need for a modern step-sequencer."
Features:
16-step sequencer, with adjustable pattern length
Adjustable analogue slide
Song mode for pattern chaining
Stores up to 40 patterns
Detach mode for playing one pattern while entering another
0-5V range CV (5 octaves)
Gate and accent output. 5V or 12V selectable
Variable swing function
Dual microcontroller design
Adjustable clock sync input and output. Includes: 24PPQN (Sync24), 48PPQN, 96PPQN and 4PPQN (one note per pulse
Stepper Acid is available for £295.00. See the Transistor Sounds Lab site for details.
A guide to the various features of Stepper Acid.
We were making some demos of Stepper Acid's features, and Nina got carried away making a track. Enjoy!
We teased the upcoming release a couple of days ago and here it is – somewhat faster than we thought the new TeraSynth, details below:
Explore new sound spaces with Tera Synth that go beyond the emulation of synthesizer legends. Use the power of analog and digital synthesis combined with new modules for physical modelling. Wireless patching of modules combined with an intelligible modulation routing simplifies the development of new synthesizer designs from scratch. Distortion effect, Delay/Chorus/Phaser and Reverb effects give your sounds the final polishing. Tera Synth gives your music an individual character with its unique fat sound. The well-designed algorithms and the economical modular structure provides you with a comparatively high voice yield. Precise timing with the unique built-in Arpeggiator let you feel the rhythm.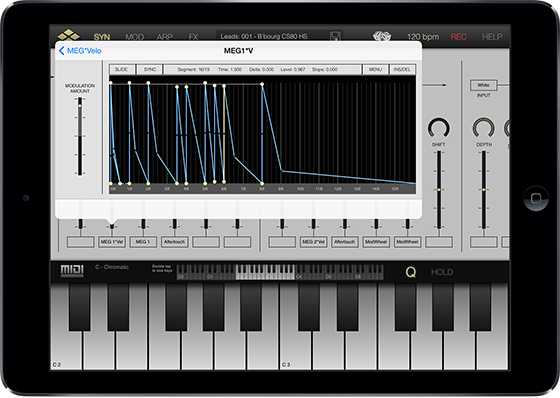 Tera Synth supports Audiobus and Inter-App-Audio for integration with other Music Apps.

Modular Analog Synthesis
• Modular synthesizer with free connections between modules.
• 25 Sound Modules
• 4 Low frequency oscillators
• 4 Standard ADSR Envelope generators.
• 4 Multi Segment Envelopes with tempo sync.
• 64 time/level segments per envelope
• Monophonic or polyphonic with 16 voices.
• More than 920 factory presets, unlimited user presets can be shared.

FX
• Chorus with four delay lines.
• 8 pole Analog Phaser.
• Distortion effect with Tube/Tape emulation
• Stereo Echo/Delay effect.
• Hi end reverberation unit.

Live
• Play melodies live with the onscreen keyboard. Drag fingers for slides and vibrato.
• Optionally use CoreMIDI* compatible hardware keyboard.
• Dozens of scales selectable
• Variable Keyboard layout for scale optimized playing

Full featured programmable Arpeggiator
• Uses programmable sequences with up to 32 steps.
• Can trigger single notes and chords.
• Unique randomizer generates Arpeggios with 100% usability.
• 32 Arpeggios included, unlimited useer arpeggios possible.
• For each step you can program tie, accent, transposition and note order

Global
• Audiobus compatible (Input slot).
• Inter App Audio
• Audio pasteboard. Copy audio recordings to Clipboard for use with other Apps
• Exchange user presets with File Sharing in iTunes.
• Support for virtual MIDI input connections.
• MIDI learn functionality.
• Publish loops and recordings online with the SoundCloud audio platform.
Music Thing Modular has announced a new module – Mikrophonie.
Mikrophonie is a very simple contact mic module. There is a small piezo disk mounted behind the 4hp panel, or you can plug in an external mic (they're easy to make).
The panel is PCB with no soldermask. The raw PCB fibreglass has a rough texture – rubbing it with a finger or a plectrum creates quite a wide range of sounds. The back of the panel is plated and grounded for shielding.
The mic will also pick up all the physical sounds in your modular – patching, cables rustling, switches, fingers on knobs – without picking up airborne sounds i.e. the sound your modular is making. At very high sound levels will pick up vibrations from the speaker output and start to feedback.