Clavia's first and most compact modular synthesizer + the state of the art multi FX unit of the same era ENSONIQ DP/PRO excelling in its reverb algorithms.
Pre-order on Indiegogo at https://www.indiegogo.com/projects/ke…
Keys is a keyboard designed for the novice and configurable for a pro. Learn your favorite songs in minutes through LED lit keys and create beautiful music without any previous experience. Plug into any device or computer and launch the app. It's that simple.
Keys is a USB keyboard controller, designed to be modular, so it can be used as a beginning controller or scaled up for more advanced purposes.
Features:
Keys is fully USB-MIDI compliant. Use Keys with hundreds of music applications including Garageband, Ableton, ProTools, Logic and Cubase. Create music your way using your favorite tools.
Each of the 24 keys are equipped with LED lights that can each illuminate 192 different colors.
Weighted keys allow you to modify the sound output based on pressure and resistance for "piano like" expressions.
Keys is equipped with gesture recognition technology so you can control various parameters by just waving your hand above the keyboard.
You can magnetically link Keys devices together to create a larger keyboard or to other modules like Knobs and Pads to create custom music surfaces.
Quick demonstration of how to create a simple polyrhythm pattern using a Moon Modular 569 step sequencer (and other similarly capable step sequencers too)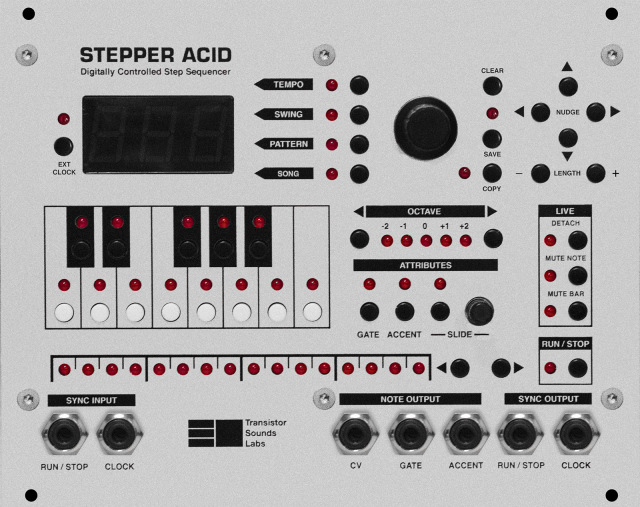 Nina Richards & Zoë Blade of Transistor Sounds Labs have introduced Stepper Acid– a digitally-controlled 16-step sequencer for Eurorack modular synthesizers.
They say it is "Designed by and for musicians, Stepper Acid was born out of our need for a modern step-sequencer."
Features:
16-step sequencer, with adjustable pattern length
Adjustable analogue slide
Song mode for pattern chaining
Stores up to 40 patterns
Detach mode for playing one pattern while entering another
0-5V range CV (5 octaves)
Gate and accent output. 5V or 12V selectable
Variable swing function
Dual microcontroller design
Adjustable clock sync input and output. Includes: 24PPQN (Sync24), 48PPQN, 96PPQN and 4PPQN (one note per pulse
Stepper Acid is available for £295.00. See the Transistor Sounds Lab site for details.
A guide to the various features of Stepper Acid.
We were making some demos of Stepper Acid's features, and Nina got carried away making a track. Enjoy!
We teased the upcoming release a couple of days ago and here it is – somewhat faster than we thought the new TeraSynth, details below:
Explore new sound spaces with Tera Synth that go beyond the emulation of synthesizer legends. Use the power of analog and digital synthesis combined with new modules for physical modelling. Wireless patching of modules combined with an intelligible modulation routing simplifies the development of new synthesizer designs from scratch. Distortion effect, Delay/Chorus/Phaser and Reverb effects give your sounds the final polishing. Tera Synth gives your music an individual character with its unique fat sound. The well-designed algorithms and the economical modular structure provides you with a comparatively high voice yield. Precise timing with the unique built-in Arpeggiator let you feel the rhythm.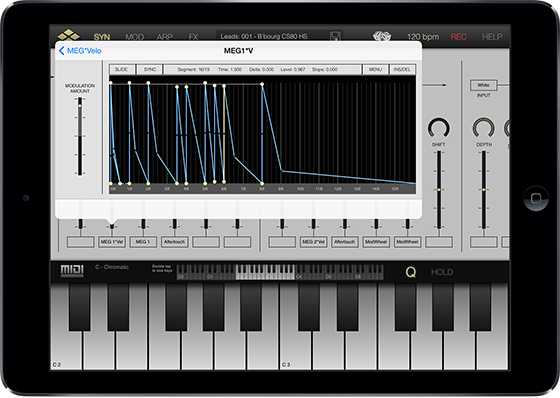 Tera Synth supports Audiobus and Inter-App-Audio for integration with other Music Apps.

Modular Analog Synthesis
• Modular synthesizer with free connections between modules.
• 25 Sound Modules
• 4 Low frequency oscillators
• 4 Standard ADSR Envelope generators.
• 4 Multi Segment Envelopes with tempo sync.
• 64 time/level segments per envelope
• Monophonic or polyphonic with 16 voices.
• More than 920 factory presets, unlimited user presets can be shared.

FX
• Chorus with four delay lines.
• 8 pole Analog Phaser.
• Distortion effect with Tube/Tape emulation
• Stereo Echo/Delay effect.
• Hi end reverberation unit.

Live
• Play melodies live with the onscreen keyboard. Drag fingers for slides and vibrato.
• Optionally use CoreMIDI* compatible hardware keyboard.
• Dozens of scales selectable
• Variable Keyboard layout for scale optimized playing

Full featured programmable Arpeggiator
• Uses programmable sequences with up to 32 steps.
• Can trigger single notes and chords.
• Unique randomizer generates Arpeggios with 100% usability.
• 32 Arpeggios included, unlimited useer arpeggios possible.
• For each step you can program tie, accent, transposition and note order

Global
• Audiobus compatible (Input slot).
• Inter App Audio
• Audio pasteboard. Copy audio recordings to Clipboard for use with other Apps
• Exchange user presets with File Sharing in iTunes.
• Support for virtual MIDI input connections.
• MIDI learn functionality.
• Publish loops and recordings online with the SoundCloud audio platform.
Music Thing Modular has announced a new module – Mikrophonie.
Mikrophonie is a very simple contact mic module. There is a small piezo disk mounted behind the 4hp panel, or you can plug in an external mic (they're easy to make).
The panel is PCB with no soldermask. The raw PCB fibreglass has a rough texture – rubbing it with a finger or a plectrum creates quite a wide range of sounds. The back of the panel is plated and grounded for shielding.
The mic will also pick up all the physical sounds in your modular – patching, cables rustling, switches, fingers on knobs – without picking up airborne sounds i.e. the sound your modular is making. At very high sound levels will pick up vibrations from the speaker output and start to feedback.
Melodic drone development with generative percussion from the hidden hand of Noatikl for iOS.
Modular, Minibrute, BC-9, Nord Drum2 and Eventide stomp boxes. Direct recording.
Background video description from 'alternatingbitmusic': I think its cool how a monosynth can spit out such an array of sounds at once. I started a sound that had a percussive element to it and I thought I'd share with you all. Everything you hear is live from the FutureRetro XS, with CV in from a sequencer for voltage & gate only. The final output has a touch of delay for flavor. Enjoy.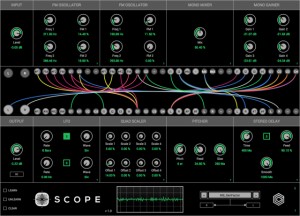 Glitchmachines has released Scope, a modular sound generator and effects processing plugin, for Mac & Windows, that is geared toward experimental sound design and electronic music production.
Scope's open-ended graphical patching system and diverse set of modules let you create a custom audio processing environment, capable of a very broad range of effects.
Features:
Fully patchable modular sound generator and signal processor
Sample library with 1500+ modular SFX in 24bit/96khz .wav
26 Modules ranging from Oscillators & Delays to LFOs & Mixers
Freely configurable module slots and signal flow
Tactile graphical patching system with virtual patch cables
Real-time animated audio analyzers and visualizers
160 patches from 8 cutting-edge sound designers and artists
Cross-platform compatibility (PC/Mac – VST/AU 32bit & 64bit)
This is Overview video going over the SCOPE plugin and included modular synthesizer sample library.
This is a basic tutorial video showing how to set up a couple of basic patches in Scope.
We worked with 6 of the best module manufacturers to put together the Eurorack system used to generate all the content. Our goal was to create a functional counterpart to Scope; something you can't easily achieve with a computer that interacts well with the plugin and gives you a new palette of sounds to work with right out of the box.

Focused on the darker side of modular synthesis, sound designer Ivo Ivanov created a collection of compelling effects that are equally distinctive and indicative of the depth of Eurorack's prodigious sonic landscape.
This video is showing behind the scenes footage from the making of the modular synthesizer sample library included with Scope.
This video is showing behind the scenes footage from the making of the modular synthesizer sample library included with Scope.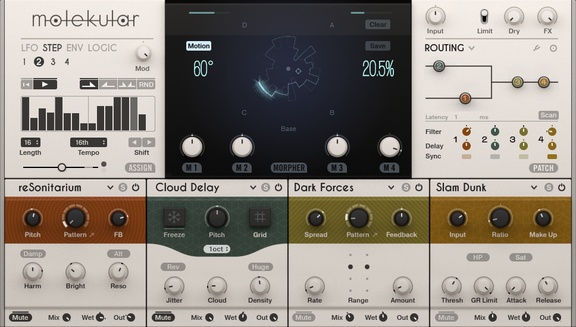 Native Instruments has released Molekular, a modular multi-effects system for the flagship synthesis studio REAKTOR 5 or the free REAKTOR 5 PLAYER.
MOLEKULAR features slots for up to four effect modules and near-limitless routing options for unique effect arrangements. Modules include a pitch and resonator section for transforming percussive sounds into melodic arpeggios. Delay, stutter, and glitch modules allow users to create new rhythmic structures or turn any incoming signal into washed-out soundscapes. Eight modulation effects offer incredible sonic versatility for augmenting tone – from classic modulation effects like flanger and chorus to yet-unheard effects such as a purposefully broken pitch shifter to create unusual new textures. Six dynamic and distortion effects include a 16-stage wave folder and a DSP that tracks a signal's pitch to control a variable waveform oscillator. MOLEKULAR also comes with essential 'bread and butter' effects for additional sonic adjustments and finetuning.

MOLEKULAR features 16 modulation sources, which can be routed to any parameter within the effects system. Modulators include four customizable LFOs and four step sequencers for emphasizing any part of the meter with rhythms from simple eighth notes to odd metric subdivisions. What's more, MOLEKULAR includes analog modular-inspired trigger sequencers – each with a dedicated envelope and an envelope follower to set accents or add bursts of effects to any production. A logic module adds an irregular, organic feel to the structure of sound sources with any degree of precision or chaos. Frequency-based parameters can be quantized to custom scales and it's even possible to route one modulator into another producing unusual, constantly evolving modulation structures.

By using the Morphing Field, it is possible to drastically twist the results via the interactive display. Producers can assign a starting point, define four master mutations and easily morph between them in real time – a new and near-limitless approach to performing with effects. The morpher can also be controlled by any of the modulation sources. Though highly advanced technology works under the hood, MOLEKULAR is straightforward to use, and also comes with a multitude of presets of highly inventive effects ready to use as creative starting points.
Molekular is available for $149 USD / 149 EUR / £129 GBP.