Music Thing Modular has announced a new module – Mikrophonie.
Mikrophonie is a very simple contact mic module. There is a small piezo disk mounted behind the 4hp panel, or you can plug in an external mic (they're easy to make).
The panel is PCB with no soldermask. The raw PCB fibreglass has a rough texture – rubbing it with a finger or a plectrum creates quite a wide range of sounds. The back of the panel is plated and grounded for shielding.
The mic will also pick up all the physical sounds in your modular – patching, cables rustling, switches, fingers on knobs – without picking up airborne sounds i.e. the sound your modular is making. At very high sound levels will pick up vibrations from the speaker output and start to feedback.
The laser drum microphone measures the physical vibration of the drum head directly. We use this to run the sidechain of a standard gate to achieve excellent bleed suppression and reduced false triggering. This allows the microphones to stay off until the drum is physically hit, giving a tighter, more controlled drum sound.
…but most importantly, we did it with lasers.
Noise-gate diagram by Iain Fergusson. Licensed under the Creative
Commons Attribution 3.0 Unported license. (via Wikipedia)
My ever so persistent US DJ friend AfroDJMac delivers yet another inspiring Live pack
"Here's a free Ableton Live Instrument rack made from the sound of a rubber band plucked and recorded with a contact microphone. Special thanks to Theo, my cat, for helping out."
Full Post and Download: http://bit.ly/freesynth65
Homemade Contact Mic: http://getlofi.com/shop
Visit my site for more stuff like this, including Live Instrument downloads, tutorials and music! http://www.afrodjmac.com
Cloud Audio Recorder allows you to record the sound of musical instruments
to your iOS devices via the built-in microphone.
Available in App Store: http://itunes.com/app/cloudaudiorecorder
The Black Box Microphone Preamp was designed and built by Black Box Analog Design – established in 2009 by studio owners and audio engineers Eric Racy and Robert Wainscott. This tube pre has reportedly been "designed from the ground up, using the best parts and ignoring all of the standard ideas of how a preamp 'should work'. The result is an incredibly versatile piece of gear that not only sounds amazing but shatters the idea of what a preamp can do."

The all-tube Black Box mic pre (introductory price $1,995)
This tweak-friendly all-tube design features continuously variable triode and pentode stages, which puts the tonal character of the preamp in the user's hands.
According to the product announcement:
"The Black Box enables users to uniquely shape their sound by implementing unconventional methods and such features as an entirely analog audio path, custom, hand wound Cinemag input and output transformers, hand soldered point-to-point wiring, independently controlled Pentode and Triode tube stages (as well as independent Pentode / Triode "Tone Boost" switches), 350v linear power supply and the ability to shape the frequency response without the use of an EQ.
For a complete list of specifications, click here.
Said Wainscott: "I approached the design of the Black Box Microphone Preamp in the same manner I would set up for a mix session. I mixed a single tube with everything plugged into a 'patchbay' and all the values that shape how the tube works were fluid. Everything from plate voltage to blocking capacitors could be changed in real time, which afforded me the room to perfect the Mic Pre's design, resulting in the unit we have today."
The Black Box Mic Pre (MSRP $2,500) is now available through Vintage King Audio at an introductory MAP price of $1,995.
For more information, visit www.blackboxanalog.com.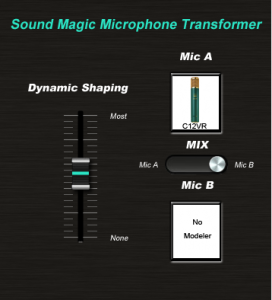 Sound Magic has released version 1.1 of Microphone Transformer, an effect unit which simulates several acclaimed microphones' sound.
From Neumann M149 to U87, AKG C12VR to C414. Microphone Transformer gives you more choices on sound. By using Sound Magic Award Winning Modeling Technology, Microphone Transformer not only simulates the frequency response of different microphones, but also their dynamic response with high-end amps. What is more, Sound Magic provides a special feature which you could choose to mix two different types of microphone together by moving a simple slider. Microphone Transformer is best used when you want a different style of sound in your mix.
Changes in Microphone Transformer v1.1
Fixes Automation names.
Fixes possible swap between left and right channel.
Improved Mixing Behavior.
Fixes slider range on GUI.
Many minor changes.
Microphone Transformer for Windows (VST/Supreme Pianos add-on) is available to purchase for 19.90 EUR. Existing Sound Magic customers pay 15 EUR.
Video from SOS:
Studio Condenser Microphone, Cardioid Polar Pattern
Well then this might be of assitance:
Don't know which mic to choose? If you need help determining which microphone is right for the task at hand, check out myMicSound, a free Web application by Ear Machine that simplifies the sometimes difficult chore of using your ears to decide which microphone to purchase.
The myMicSound application learns your preference by analyzing ratings of example microphones; it then returns a list that ranks microphones by the probability that you will like their sounds.
About the free Web application, Andrew Sabin, Ear Machine owner and psychoacoustics researcher, comments, "MyMicSound is the first step toward a fundamental change in how people decide to purchase audio equipment." He continues, "Currently, people make these decisions by receiving recommendations from friends, or by conducting a clumsily-organized listening comparison. MyMicSound offers users a simple format to use their own ears to conduct a free, controlled, and comprehensive listening test."
To get started, you can either submit your own recording, or use one from myMicSound's collection. How does it work? MyMicSound removes the sound of the microphone used to make that recording, and then simulates the sound of new microphones. According to Ear Machine, myMicSound carefully considers factors influencing the sound of the microphone, such as the proximity to the sound source, the polar pattern, and whether filters are active or not.
MyMicSound is the first sound-based recommendation engine in the audio equipment market, Ear Machine says. Its software algorithm is said to rely on state-of-the-art knowledge in both auditory perception and computer science. Similar algorithms, such as the one used by Pandora, are widely used in music recommendation.
For more information or to try myMicSound for yourself, visit Ear Machine's Web site at ear-machine.com.
Not sure if you ned one, but in case you do need to sound like T-Pain here you go
T-Pain talks to the Los Angeles Times about his new I Am T-Pain Mic at the Consumer Electronics Show in Las Vegas. The microphone is a follow up to the I Am T-Pain iPhone and iPod Touch app.
Another "i – something" has been added to the world of music and iOS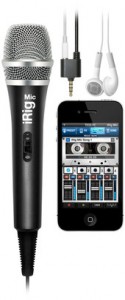 IK Multimedia has announced the iRig Mic, the first quality condenser handheld microphone for the iPhone®, iPod touch® and iPad®.
iRig Mic is ideal for the singer, vocalist and songwriter on the move, but also perfect for recording speeches, instruments, performances or any other sound sources in the studio, on stage or in the field. Musicians will be able to record and accurately reproduce acoustic instruments, amplified instruments or even band performances and concerts. Non-musicians will have an indispensable tool for recording high quality podcasts, speeches, lessons, interviews, video soundtracks or any other source that can be recorded on the go with their mobile device.
iRig Mic features
Ideal for all vocal applications from singing to speech.
Great for all types of sound recording or processing in music or any other audio application.
Quality condenser-electret unidirectional capsule.
Dual mini-jack connector allows real-time monitoring on headphones, speakers, mixers and PAs.
Rugged, durable metal housing.
Easy to set-up for any sound source.
Can be handheld or placed on a standard mic stand.
Compatible with any iPhone, iPod touch (with mic input) and iPad.
iRig Mic includes apps for singers, songwriters, and speakers, and can also be used with any other app that uses the microphone input of the iPhone, iPod Touch or iPad for audio input.
iRig Mic will be shipping in the first quarter of 2011 for $59.99 USD /€49.99 EUR (excluding taxes). Pre-orders are available from the IK Multimedia online store.
More information: IK Multimedia / iRig Mic