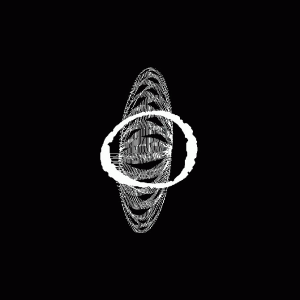 Flintpope has announced the release of Quintet 64, a new free Ableton Pack for Push that uses a Modern Classical palette.
Inspired by Steve Reich's SEXTET I've made a 64-pad rack with two vibraphones (one hit and one bowed), a marimba, a piano and a voice/organ hybrid. The main instruments have two octaves each to inspire some riffing and there is NO percussion.

In this zip are two racks: one version of the rack is in A major and the other in the admittedly unrelated A harmonic minor because it was a simple rewrite.
The samples are all rendered in SIMPLER so this pack works for Live 9 Intro (v. 9.2) and up. These racks are optimised for PUSH but will work on any midi keyboard.
The pack is a free download from Flintpope.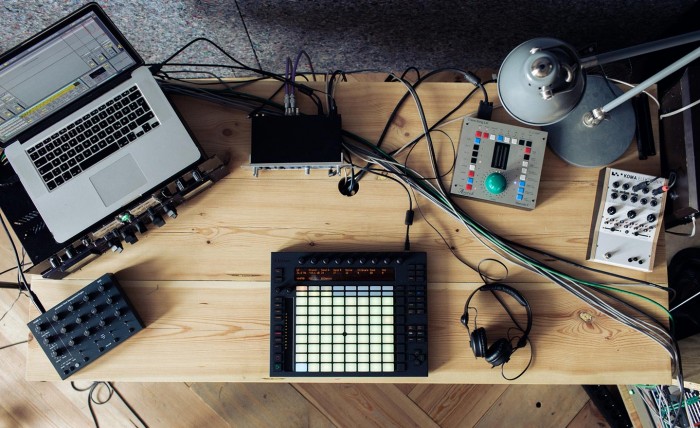 Ableton has announced the release of Live 9.2, an update to the music production software for Windows and Mac.
Live 9.2 brings refinements to Live's audio warping and introduces latency-compensated automation, a new Tuner device, and more.

For Push users this update brings the ability to use all 64 pads to play drums – and quickly flip back to 16 pads for step sequencing.

In addition, Max for Live now includes Max 7, the latest, most powerful version of Max.
Check the release notes for details on what is new. Live 9 is available for purchase starting at 79 EUR.
Ableton has also released a free 64 Pad Lab pack by Mad Zach, featuring five extensive Drum Racks tailored for use with Push's 64 Pad mode.
In a new video, Mad Zach shares his strategies for playing with the 64 pad layout, tweaking individual sounds, and some useful production tips for getting punchy drums – all on the basis of the free 64 Pad Lab Pack.
Sample Magic has released Ableton Bass Instruments, a collection of bass instruments for Ableton Live.
Using Ableton's powerful Analog and Operator synths alongside custom-built FX chains, Ableton Bass Instruments serves up 10 intuitive and versatile bass instruments modelled on the most iconic bass sounds in electronic music.
From the distinctive acid of the TR-303 to the bouncing subs of the TR-808 to the complex Moog Voyager and Korg MS-20 and beyond, this diverse pack offers instant pan-genre bass sounds that can be jammed, tweaked and automated in almost endless permutations for total bassline satisfaction.
The pack is available for purchase for £14.90 GBP. Requires Ableton Live 9.
We start with a sketch based on fundamental principles and then resample/sync to our DAW, Ableton Live. Then conclusion happens around a recap of all of the core concepts of Subtractive/Modular synthesis.
Enjoy!
OSCiLLOT v. 1.0.2: new Modules walk through.
Max For Cats has released an update to OSCiLLOT – its modular system for Ableton Live.
OSCiLLOT offers more than 100 modules – including oscillators, processors, filters, mixers, modulators, amplifiers, shapers, sequencers, utilities and more. These comprise the basic building blocks of many electronic instruments and effects.
http://www.ableton.com/en/packs/oscil…
Max for Cats crafts Software Instruments, Effects, MIDI devices, Sound Design and Samples for Ableton Live.
1.0.2.:Changelog:
NEW MODULES:
RED Osc
RED Filter
Leslie
Wavefolder
VoiceMorpher
Pitch2Trigger
Ratchet
IMPROVEMENTS:
CV to MIDI Send: Now supports CC data and has 8 routing busses
Looper: Has a new Trigger input to toggle recording
BUGFIXES:
LPGate: 'ping' function would not work correctly
Random Value: min/max values would not be correctly restored
Random Value: would sometimes not output values
Redux: Overload LED could spill into Live's Undo history
Editor: Could save faulty data after restoring a patch from Live's crash recovery
Meet the Ableton Developers!
We're always looking to highlight the amazing things people do with Live and Push – we love hearing from musicians, producers, and technologists from around the world. But there's also a group of talented people right in our midst who make all this creative activity possible in the first place, and yet they're almost never in the spotlight; our team of developers.
We made a short film to show – instead of just describe – what it's like to work as a developer at Ableton. Here's your chance to meet the people who make the tools you use, see how their work is evolving, and find out what inspires them.
Learn more about working at Ableton: https://www.ableton.com/about/
The Mixer. Reimagined as an instrument.
Armed with only a few sustained sounds from Ableton Live and a TR-8, KiNK shows how the MX-1 takes electronic music performance to the next level. The latest in Roland's AIRA line, the MX-1 Mix Performer is a mixer that plays like an instrument. It brings spontaneous, hands-on control to live electronic music performance. With per-channel step based FX and playable Master FX, the MX-1 brings together your synths, drum machines, DAW tracks and more.
In this video, KiNK is streaming a handful of sustained sounds from Ableton Live directly to the MX-1. A TR-8 is connected with a single cable via AIRA Link. The MX-1 is controlling transport and master tempo of the entire setup. You'll see how KiNK uses the per-channel Beat FX to add rhythm to the sustained loops from Ableton Live and then incorporates the TR-8 in perfect sync. Using the MX-1's "External Mode" KiNK is even able to apply Ableton Live's own internal FX processing to the TR-8 hardware.
Finally, there's a mixer that's meant to be played.
Learn more about the MX-1 Mix Performer at http://www.roland.com/products/mx-1/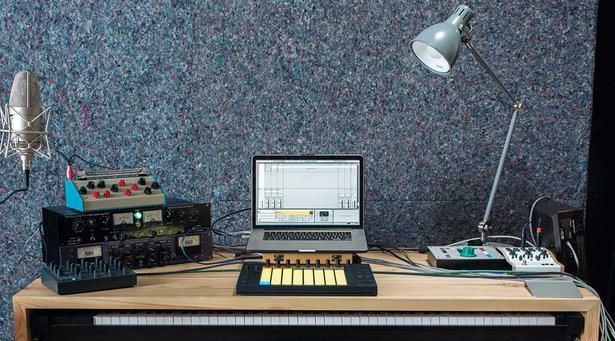 Ableton has announced that Live 9.2 is now available for beta testing.
Ableton Live 9.2 is a free update brings a number of significant improvements and additions to both Live and Push. It is available now for download as a public beta version.
Here's what's new in Live 9.2:
Improved warping
Live 9.2 introduces several refinements to Live's audio warping engine. The Complex and Complex Pro modes now feature punchier transients, even at extreme settings. We've also improved Auto-Warp and downbeat detection to better recognize when audio has a fixed tempo (as is often the case with electronic music) and warp it accurately.
Latency compensation
Live 9.2 also introduces a number of latency-related improvements. Sets that contain Max for Live devices or third-party plug-ins now have lower latency. And automation is now fully latency compensated.
Tuner included
Along with further under-the-hood improvements, Live 9.2 also comes with a new Tuner device – sure to come in handy for guitarists or anyone else who uses hardware instruments.
64 pads for Push users
For users of Push, the Live 9.2 update introduces the ability to use all 64 pads to play drums and quickly flip back to 16 pads for step sequencing.
Further Push refinements
The Live 9.2 update also brings improved aftertouch implementation to Push's pads and the addition of aftertouch to many of Live's core library sounds. In addition, Push's touchstrip can now be used for modulation wheel control as well for pitch bend.
Tried to take my Moog Synth Jams to the Next level.
"Sound Edited with Ableton. I used two tracks for each sound to make it phatter."
Follow him on Instagram for more jams and gear:http://instagram.com/taylor__wall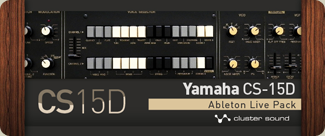 Cluster Sound has released CS15D, a multi-sample Live Pack based on the vintage Yamaha CS-15D.
CS15D is an extensive multi-sample Live Pack reproducing the sound of the vintage Yamaha CS-15D, a great sounding monophonic analog synthesizer released in 1979.
Details:
THE SOURCE The CS-15D is a monophonic analog synth with loads of character, one of the most solid and warm single-VCO machine ever. The synth features 29 preset voices divided in two mixable channels, plus a manual section comprising a variable pulse-saw oscillator, a PW modulator, a noise generator and a 12db filter with a dedicated ADSR envelope.
BRILLIANT SOUNDS Despite referred to an array of realistic instrument names (Tuba, Oboe, Horn, Harpsi, Xilophone..) the 29 presets give a variety of synthetic sounds ranging from fat basses to solid percussive organs and warm brass strings. These sounds can be altered by the Brilliance slider which acts in several interesting ways depending on the selected preset.
THE PACK CS15D is based on 74 multi-sample recordings reproducing all the presets with different brilliance amounts, several variations of the VCF envelope and various manual oscillator settings (including a tuned noise). The Live Pack features 90 Instrument Racks with useful macro controls, including special Mixed Racks for easy drag 'n drop customization.
CS15D is available for 24.00 € at the Cluster Sound site.