Wash is a Max Audio Effect that uses comb filters to create a reverb style effect. The aim of the device is to create dense washes of sound (akin to a watercolour wash).
You can read more about Wash here:
http://sirenaudio.co.uk/blogs/sirenau…
Parameters:
del fb (delay feedback) : determines the amount of feedback, with higher values producing longer sustains.
del time (delay time): changes the length of time of the delay.
mod freq (modulation frequency): controls the frequency of the sine wave modulation oscillator.
mod depth (modulation depth): changes the depth or amount of the modulation.
jitter var (jitter variation): This modulation stage uses low pass filtered white noise, and the variation sets the cutoff frequency of the lowpass filter, with higher values producing more erratic variation.
jitter depth: This parameter controls how much jitter is added to the delay time.
low cut: attenuates low frequencies from the effect
damping : attenuates high frequencies from the effect.
dry wet : fades between the dry and effected audio signals.
ef. gain (effect gain): scales the gain of the effect. This parameter is useful when the effect has high feedback settings as the volume can build up quickly.
clear button : In between the final two parameters is a button that will clear audio from the delays.
Note that changing the delay time, jitter, and modulation parameters will affect the pitch of the effected audio.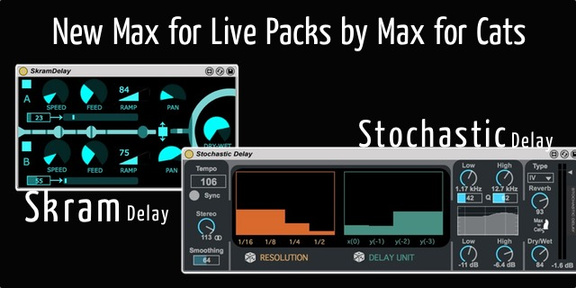 Sonic Bloom has released Skram Delay and Stochastic Delay, two new Max for Live delay devices by Max for Cats.
Skram Delay lets you dial-in various flavours of delay randomness which makes it perfect for 'instant glitch' sounds. From subtle changes such as slap-back or cardboard echoes to complete sonic chaos. A dual channel delay with modulated delay times, each channel can have completely independent settings or be linked.

The unique interface, which is pre-mapped and ready to use with Push or any other MIDI control surface, makes the Skram Delay not only sonically but also visually stand out.

The Stochastic Delay offers two independent, stochastically driven delay engines with two post-EQ filters, freely adjustable or synced tempo as well as built-in reverb.

The process can be adjusted either via mouse movements in the Resolution and Delay units or via the 'dice' buttons for a random injection. The Stochastic Delay comes pre-mapped and ready to use with Push or any other MIDI control surface.
Skram Delay and Stochastic Delay are available for purchase for 10 EUR/$14 USD each, or as a bundle for 18 EUR/$25 USD.
more info:
http://www.ableton.com/en/packs/time-…
Ableton has released Time and Timbre, a Max for Live percussion instrument and 'time engine' that they say is the result of three years of development by the duo Skinnerbox.
The pack consists of five individual drum synthesis modules (Timbre) and a polymetric sequencer (Time), as well as a built-in mastering plug-in (Master Blaster).
About Time & Timbre
The first of Time & Timbre's sections is a six­ voice polyrhythmic and polymetric sequencer called – you guessed it – 'Time'.
Taking the drum sequencer concept a few steps further, Time not only lets you make and chain together patterns, add accents and rolls to individual steps, but also define sequence length and beat divisions freely and independently for each of its six channels.
Another unique feature of Time is the ability to apply swing to any notes in a pattern (not just 4ths, 8ths, 16ths), thus providing highly unusual and interesting varieties of 'feel' for your rhythms. Time also includes four internal LFOs that can modulate anything within the device (or even any parameter in Live) and can be synced to follow the swing.
The second section, Timbre, consists of five drum synthesis modules capable of producing a broad spectrum of sounds. Timbre gives you direct control over key parameters of each drum voice including envelope, tonality and noise (a fundamental element of percussive synthesis). All this allows you to craft a broad range of drum sounds that can be as classic or as unconventional as you like.
Going even further, each drum voice can be randomized and have its parameters modulated by internal LFO, letting you infuse your patterns with any degree of subtle sound variation or controlled chaos.
Time & Timbre comes with a set of tools that present an alternative to preset browsing. For instance, the panel labelled Morph Master Mike lets you save two sound snapshots and morph between them
Push Integration
Time & Timbre is also integrated with Push, letting you take its= creative potential into the hands-­on realm of hardware.
Note: This pack requires Max version 6.1.9 and Live version 9.1.6.
Pricing and Availability
Time and Timbre is available now. It normally retails for US $69, but is currently 20% off during Ableton's Holiday Sale, for $55.
Xmonsta has introduced Pull, a new touchscreen device editor for Ableton Live 9.
Built in Max For Live and based on the Lemur iPad app, Pull is a designed to be a fast and efficient workflow tool for sound designers, producers and mixing/mastering engineers.
Pull allows you to edit full-screen versions of every Ableton Live device (over 60 Lemur templates) directly from your iPad. It follows any device that is currently selected and displays a large, multi-touch template on the iPad for editing.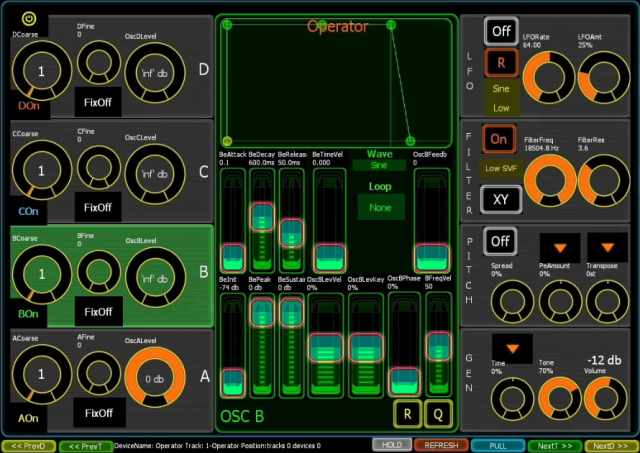 HERE – http://www.xmonsta.com/new-releases/p…
After a full year of development, we're excited to release a new iPad Touchscreen Device Editor for Ableton – called PULL.
In a nutshell, this software allows you to edit fullscreen versions of every ableton device from your iPad . It follows any device that is currently selected and displays a very large, multi-touch template on the iPad for editing.
We noticed that while there are some great controllers for Ableton, most of these lack intuitiveness when editing devices (only allowing you to edit the 8 banks of parameters at a time, using generic knobs).
PULL is set to change this, providing much larger, full screen, multi-touch versions that are designed to look just like Ableton devices.
The software uses a combination of Ableton, Max for live and the Lemur iPad app to achieve this.
The Grassi Box is a MIDI-to-relay piece of hardware (built by Dan Wilson of Circitfied) based on an Arduino teensy and some accompanying software tools built in Max. The idea is to be able to control a variety of my ciat-lonbarde instruments from a computer.
In this video the audio from the guitar is being analyzed (in real-time) to find the nearest preset/combination/permutation from a set of 6884 pre-analyzed presets.
Filmed by Angela Guyton
For more information visit:
rodrigoconstanzo.com/grassi-box
angelaguyton.com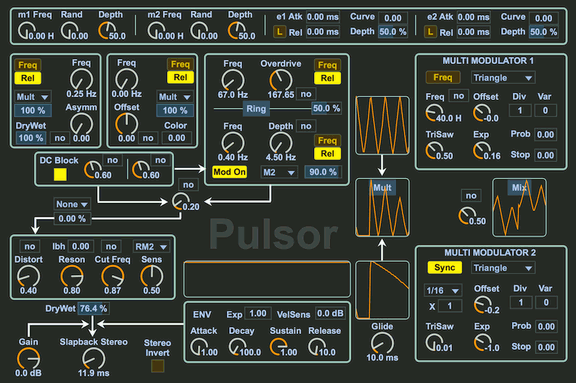 Amazing Noises has released Pulsor, a virtual synthesizer instrument for Max for Live.
It is essentially a monophonic synth that produces glitching/pulsing sounds and complex rhythmic soundscapes thanks to its odd circuitry.
It can also create evolving lead synth sounds, monophonic bass timbres and many other unexpected noises.
Pulsor is available for purchase for the introductory price of 15 EUR until July 20th, 2014 (regular 20 EUR).

Shoogle Studios has announced Shoogler, a free Max for Live filter device.
To celebrate the launch of our new Max for Live course we're giving away this incredible multimode filter device! Featuring:

2 Independent Filter Units
Low Pass, High Pass, Band Pass, Band Stop and Peak filter types
4x standard LFO's and 1x combo to modulate cutoff, Q and gain
Full Push compatibility!
The Shoogler device is a free download (requires Facebook like).
Shoogler is an incredibly powerful dual-multimode filter with extensive modulation possibilities. It was developed by Shoogle Studios M4L guru Robert Goldie to demonstrate the type of effect you will be able to build after completing our new Max for Live: Introducer course.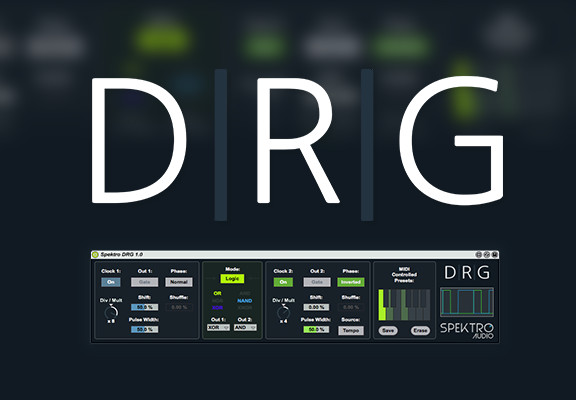 Spektro Audio has released DRG – Dual Rhythm Generator, a Max for Live device capable of generating clocks and rhythms that can be used with analog synthesizers and drum machines via control voltage.
By using a combination of two clock generators and an optional boolean logic operator, DRG can generate anything from simple clock divisions to complex rhythms.
DRG is great for clocking analog sequencers, triggering envelopes, sequencing drum modules and etc.
DRG can be used in different situations. The workflow was thought out to work great both in the studio and in live concerts. Everything on the front panel, from the simple layout to the LEDs colors, was design to give you instant feedback of whats going on. Features such as the MIDI Controlled Presets let's you add variation to your track and change the settings using either MIDI clips or any MIDI controller.
DRG requires an audio interface with DC-Coupled outputs or an Expert Sleepers ES-3 / ES-4 / ES-40 module.
DRG is available for purchase for $9.99 USD.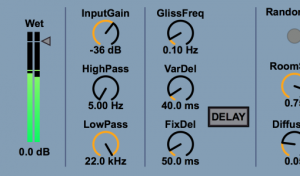 Amazing Noises has released GliderVerb, a free Max for Live device.
GliderVerb is a "reverberator with glissandos" simulating a room gradually changing its shape. It is an expanded version of an algorithm created by James McCartney for his Supercollider 2 programming language.
The original algorithm had no user-variable parameters: this device adds a series of parameters to create a wide palette of effects; from evolving reverberations to granular disintegration to smooth resonances.
GliderVerb is available to download at no charge. Requires Live 9 and Max for Live.
Dark Synth by Amazing Noises is an innovative new Max for Live synthesizer that marries the vast possibilities of additive synthesis with a super-intuitive interface. As a great starting point for immersive sound-shaping, Dark Synth will introduce you to new horizons in sound design.
Learn more and get Dark Synth athttps://www.ableton.com/en/packs/dark…