Xmonsta has introduced Pull, a new touchscreen device editor for Ableton Live 9.
Built in Max For Live and based on the Lemur iPad app, Pull is a designed to be a fast and efficient workflow tool for sound designers, producers and mixing/mastering engineers.
Pull allows you to edit full-screen versions of every Ableton Live device (over 60 Lemur templates) directly from your iPad. It follows any device that is currently selected and displays a large, multi-touch template on the iPad for editing.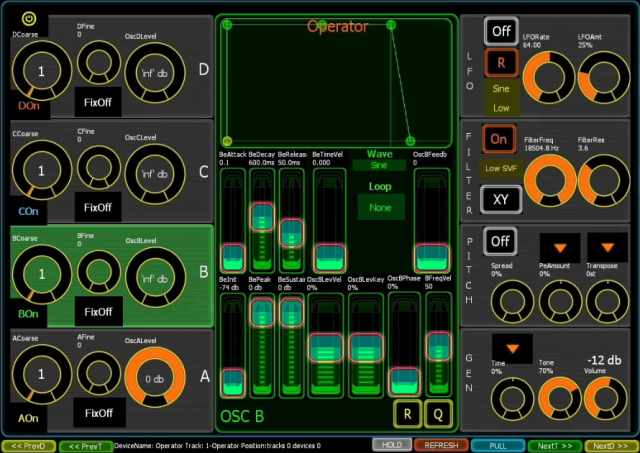 HERE – http://www.xmonsta.com/new-releases/p…
After a full year of development, we're excited to release a new iPad Touchscreen Device Editor for Ableton – called PULL.
In a nutshell, this software allows you to edit fullscreen versions of every ableton device from your iPad . It follows any device that is currently selected and displays a very large, multi-touch template on the iPad for editing.
We noticed that while there are some great controllers for Ableton, most of these lack intuitiveness when editing devices (only allowing you to edit the 8 banks of parameters at a time, using generic knobs).
PULL is set to change this, providing much larger, full screen, multi-touch versions that are designed to look just like Ableton devices.
The software uses a combination of Ableton, Max for live and the Lemur iPad app to achieve this.
The Grassi Box is a MIDI-to-relay piece of hardware (built by Dan Wilson of Circitfied) based on an Arduino teensy and some accompanying software tools built in Max. The idea is to be able to control a variety of my ciat-lonbarde instruments from a computer.
In this video the audio from the guitar is being analyzed (in real-time) to find the nearest preset/combination/permutation from a set of 6884 pre-analyzed presets.
Filmed by Angela Guyton
For more information visit:
rodrigoconstanzo.com/grassi-box
angelaguyton.com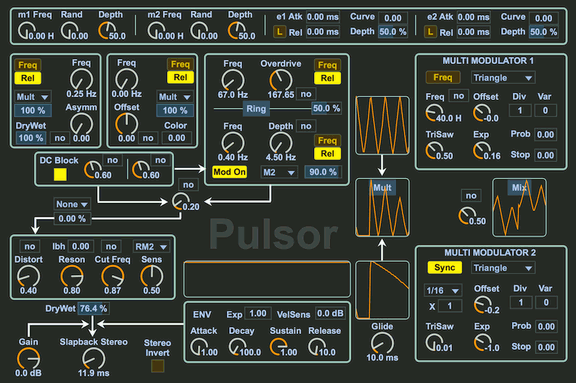 Amazing Noises has released Pulsor, a virtual synthesizer instrument for Max for Live.
It is essentially a monophonic synth that produces glitching/pulsing sounds and complex rhythmic soundscapes thanks to its odd circuitry.
It can also create evolving lead synth sounds, monophonic bass timbres and many other unexpected noises.
Pulsor is available for purchase for the introductory price of 15 EUR until July 20th, 2014 (regular 20 EUR).

Shoogle Studios has announced Shoogler, a free Max for Live filter device.
To celebrate the launch of our new Max for Live course we're giving away this incredible multimode filter device! Featuring:

2 Independent Filter Units
Low Pass, High Pass, Band Pass, Band Stop and Peak filter types
4x standard LFO's and 1x combo to modulate cutoff, Q and gain
Full Push compatibility!
The Shoogler device is a free download (requires Facebook like).
Shoogler is an incredibly powerful dual-multimode filter with extensive modulation possibilities. It was developed by Shoogle Studios M4L guru Robert Goldie to demonstrate the type of effect you will be able to build after completing our new Max for Live: Introducer course.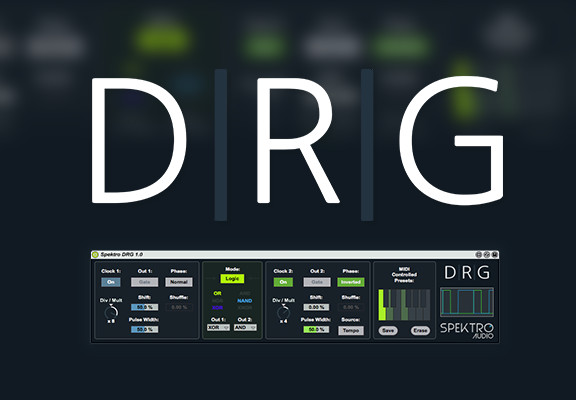 Spektro Audio has released DRG – Dual Rhythm Generator, a Max for Live device capable of generating clocks and rhythms that can be used with analog synthesizers and drum machines via control voltage.
By using a combination of two clock generators and an optional boolean logic operator, DRG can generate anything from simple clock divisions to complex rhythms.
DRG is great for clocking analog sequencers, triggering envelopes, sequencing drum modules and etc.
DRG can be used in different situations. The workflow was thought out to work great both in the studio and in live concerts. Everything on the front panel, from the simple layout to the LEDs colors, was design to give you instant feedback of whats going on. Features such as the MIDI Controlled Presets let's you add variation to your track and change the settings using either MIDI clips or any MIDI controller.
DRG requires an audio interface with DC-Coupled outputs or an Expert Sleepers ES-3 / ES-4 / ES-40 module.
DRG is available for purchase for $9.99 USD.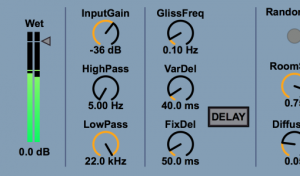 Amazing Noises has released GliderVerb, a free Max for Live device.
GliderVerb is a "reverberator with glissandos" simulating a room gradually changing its shape. It is an expanded version of an algorithm created by James McCartney for his Supercollider 2 programming language.
The original algorithm had no user-variable parameters: this device adds a series of parameters to create a wide palette of effects; from evolving reverberations to granular disintegration to smooth resonances.
GliderVerb is available to download at no charge. Requires Live 9 and Max for Live.
Dark Synth by Amazing Noises is an innovative new Max for Live synthesizer that marries the vast possibilities of additive synthesis with a super-intuitive interface. As a great starting point for immersive sound-shaping, Dark Synth will introduce you to new horizons in sound design.
Learn more and get Dark Synth athttps://www.ableton.com/en/packs/dark…
FM percussion patch on the Tinysizer. Using Waveshaping + linear FM (Frequency Modulation). No filtering. Pattern made with Max for Live mono-sequencer (Ableton 9) controlled with nanoKontrol2

Spektro Komplex is a MaxforLive monophonic synthesizer designed to create complex and unique sounds. Like the Buchla 261e module, Komplex uses two oscillators to produce FM sounds. What really makes this synth stand out is it's habilities to morph the waveform of the first oscillator (carrier) and use a different waveform for the second oscillator (modulator).
The frequency of the second oscillator (modulator) is calculated based on the operation:
Oscillator 1 Frequency (operation) Ratio = Oscillator 2 Frequency
For example: If the frequency of the first oscillator is 220Hz, the operation is set to multiplication, and the ratio is set to 2, the frequency of the second oscillator will be 440Hz. A variable offset can also be added to the resulting frequency.
3 different effects that can be used to further manipulate the sound:
– Shape: fold, wrap or clip the signal.
– Overdrive
– Spread: creates a stereo-widening effect by delaying the right channel.
You can use Spektro Komplex to create anything from classic FM bass to metallic percussion sounds. It's also a great tool for sound designer who want to create complex synthetic sounds."
You can find it here: http://www.spektroaudio.com/komplex
Livid started some experiments with Max For Live step sequencers and the Livid Base. These are extremely rudimentary, but because they can be accessed with Device control, they are very powerful and easy to work with. Control of these step sequencers is as simple as pointing the controller to the device using the Base Remote Script for Ableton Live 9 in Device mode. One you navigate to a module, it acts as a "super device" handing off the pads and sliders to the Max for Live patch. While these little toys won't be a "final" product, we'll have something for you to play with soon!