Get this cool new exciter by Fine Cut Bodies for free at http://finecutbodies.com
Fine Cut Bodies has released La Petite Excite – a free exciter plugin that they say 'can lead you into a brighter future.'
The video demonstrates how to use La Petite Excite. You can also reference the manual, included in the download.
Specifications:
OS – Windows XP or newer / OSX Leopard (10.5) or higher
Host – 32bit or 64bit
Format – VST2.4 / VST3 / AU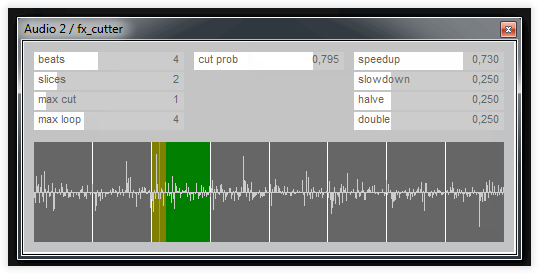 Tor-Helge Skei has released fx_cutter, a free loop slicer/buffer FSU effect plug-in for Windows.
Audio is continually recorded into a buffer (length is 'beats', each slice subdivided into 'slices'), and randomly ('cut prob'), a few slices will be selected ('max cut'), and subdivided ('max loop'), and then this small bit is looped for the duration of the outer selection, the longer bit (the 'max cut' part).. and each time this loop wraps around, it can possibly halve ('slowdown') or double ('speedup') its playback speed, or halve ('halve') or double (yes, 'double') the size of the looped bit..

it is pretty uncontrollable and unrepeatable with all the probibilities, so i usually run a track several times through this, and cut out the good parts..
The plug-in is available for download for Windows (VST).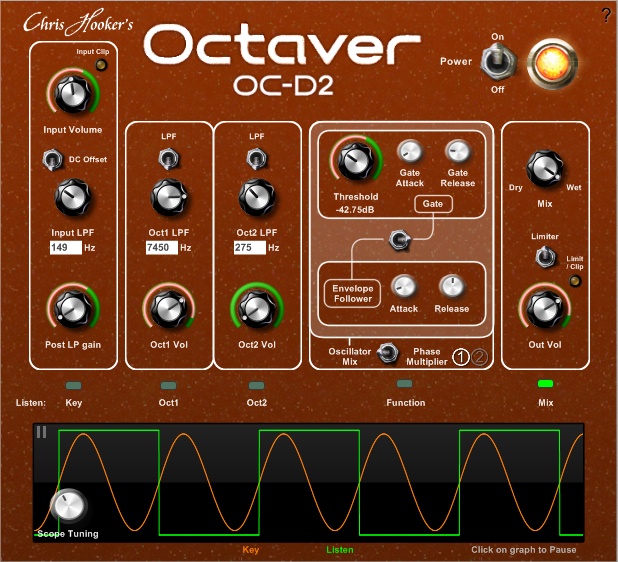 Christopher Hooker has released Octaver OC-D2, a free octave divider effect plug-in for Windows.
OC-D2 is an octave divider plug-in that generates signals one and two octaves below the original. It's based on the popular Boss OC-2 pedal, but with many more features and customizability far beyond what other octavers offer (both pedal and plug-in types).
Octaver OC-D2 features
Control the tracking accuracy.
Control the oscillator tone.
Control the dynamic envelope.
View the waveforms.
Tap the audio at any stage.
OC-D2 is available for download for Windows (32-bit VST).

Bitsonic has released Violent Delay, a free VST Plug-in for Windows. Violent delay is a simple ping-pong delay plugin where a user can change the delay with chorus, filter and phaser:
Original: Lower or add to the volume of the input.
Wet/dry: Change the volume with this option.
Feedback: Change the lenght of the feedback.
Mid-side: At 0 state it functions as a delay mono, at maximum it functions as a ping-pong delay.
Time: This option changes the feedback of the delay. If you want the feedback in sync with the speed this function should be at 0.
Reverse: The delay turns around.
Smooth: Makes the sounds of the delay more blunt. It's like an attack-value changer.
Filter: Filtering the delay – Cut the unnecessary deep or low sounds from the effect.
Filter low pass: Filters the high sounds, leaves the low ones as they are. The resonance value is changeable.
High pass: Filters low sounds. The resonance function that goes with the 2 filters can change the tune of the filters.
Lfo: Automatized filter. It only works if the filter and filter on/off is on.
Phaser speed: Changes the speed of the phase shift.
Phaser gain: Changes the intensity of phase shift.
Phaser wet/dry: Regulates the mix of the raw delay and the phaser sign.
Chorus wet/dry: Regulates the mixing of the original and the mixed sign.
Chorus rate: Adjusts the pitch's measure's difference.
Chorus depth: Regulates the volume of the sound given by the value of the rate.
Chorus delay: Changes the time of the altered sound.
Price: Free.
Puremagnetik has released Frequencizer, which they describe as an effect that brings the vintage sound sculpting capabilities of the Moog 914 and Doepfer A-128 fixed filterbanks right to your desktop.
A spokesperson told us, "With 12 fixed band filters, LP / HP controls and even a 'vintage' mode, this filterbank adds a unique sonic dimension to Ableton Live. Frequencizer even goes beyond the hardware it emulates to include a realtime spectroscope. Shape your sounds into something completely new or get instantly inspired with this no-nonsense Max for Live audio effect."
System Requirements
Ableton Live 9.1 or higher with Max for Live 6.1.9 or higher
Pricing and Availability:
Frequencizer  is free through the end of March 2015. It will cost $15 thereafter.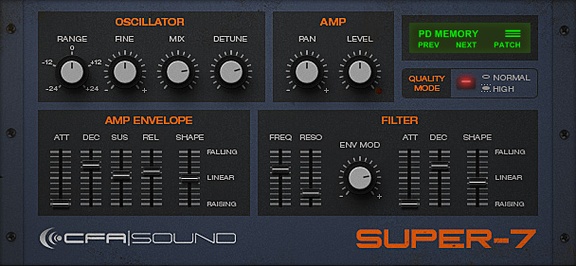 CFA-Sound is celebrating its 7th anniversary with the release of SUPER-7, a free supersaw synthesizer plug-in for Windows.
Everyone who produces electronic music knows the infamous Supersaw of the Roland JP8000/8080, and even it`s a relatively old synthesizer this specific waveform or better sayed oscillator mode is still heavy in use and wanted. Also for myself, but more in terms of discovering how it works and how to emulate it.

During the last year, i worked on a small emulation of it as little side project for fun & learning primary, and well here it is, the final result. Surely in some specific areas not 100% like original but very close based on the comparision to the real one and the specs. All packed into a slim synthesizer shell with an easy-to-use interface, decent on CPU usage and most of all – it`s for free.
SUPER-7 features
Polyphonic virtual-analog modelled synthesizer.
32 voices polyphony.
One emulated supersaw oscillator.
4-pole lowpass filter.
Shape-able envelopes.
20 presets included.
The plug-in is available to download for Windows (VST).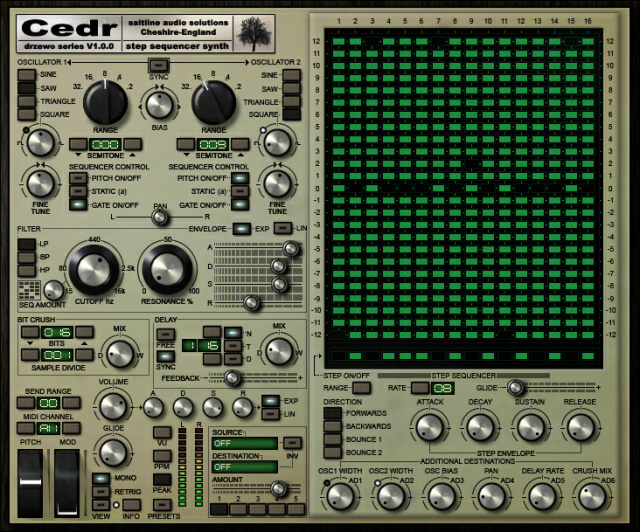 Saltline has released Drzewo Cedr – a free 2 oscillator subtractive synthesizer for Windows. with a 16-step pitch sequencer. Cedr was created with chip tunes in mind.
Features:
The sequencer can also be fed to several other of the synthesizer's controls.
The pitch sequencer can be turned on or off for each oscillator allowing for greater flexibility in sound creation
Bit crush and delay effects also add to the degraded yesteryear quality of Cedr.
Other controls include a step sequencer 'step envelope' giving the user the ability to create a range of sounds from choppy arps to strange pads and textures.
5 modulation slots also allow midi control routing, such as, key follow, velocity and aftertouch.
Ever want to jam out on a midi controller with classic video game sound FX, or secretly add a few of those FX to your production? This is the Walkthrough of our massive 64 sample/ 4 bank Retro Video Game soundpack for Ableton Live. There are also an additional 2.5 banks before and after the 4 main banks of additional samples we liked, but didn't use in the core pack. This brings it to a whopping 104 total, retro 8/16/32-Bit video game samples to take you back to the 80's and 90's. Enjoy!
FREE DOWNLOAD: https://maps.djtechtools.com/mappings…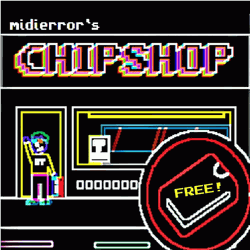 Midi Error has announced Chipshop, a free sample pack featuring 844 samples.
A free sample pack crammed with over 800 individual samples and 70+ Loops. All recorded direct from C64, AtariSt and Nintendo Gameboy.

We are the music makers.
Chipshop features
Gameboy (Nanoloop, LSDJ): 91 bass, synth, lead, perc and sfx hits and 117 sampeld drum hits.
SID (Cynthcart, Retroskoi): 61 bass, lead and sfx hits.
YM2149 (Various): 36 bass hits, 48 custom fx, 124 drum hits, 145 multi-samples (5 instruments over 5 octaves), 29 white noise hits, 29 sampled hits, 110 sfx hits, 54 synth hits.
70 loops: 22 full loops and 48 drum/synth loops.
844 samples in total.
The pack is a free download at Midi Error's SoundCloud page.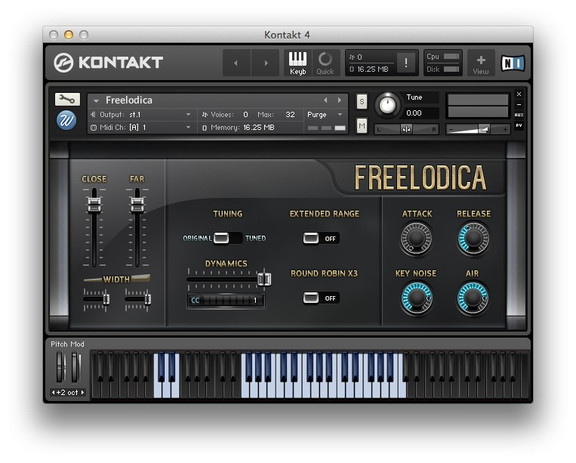 Wavesfactory has announced the release of Freelodica, a free sampled 32 keys Hohner Melodica for Native Instruments Kontakt.
2 microphone positions with stereo width controls. Envelope, key-noise and air volume control. 3x optional round robin and extended range. Original tuning and perfect tuned samples. Dynamics controlled by any CC. Breath noises included for more realism.

We also modeled the imperfect behaviour of the instrument so there is no either sonic or playable difference between The Freelodica and the real thing.
Freelodica features
Stereo WAV files, 44.1KHz 24bit.
3x optional round robin.
120Mb downloaded.
2 microphone positions with stereo controls.
Original tuning and digitally tuned versions.
Envelope, key noise and breath controls.
Dynamics controlled by any CC.
Real behaviour modelled.
The download is available for free exclusively at Wavesfactory.com. Requires Kontakt full version 4.2.4 or higher.