Experimental movie and soundtrack.
Video was edited with Kdenlive on Debian jessie GNU/Linux.
Soundtrack was programmed with KORG DSN-12 on Nintendo 3DSLL and recorded with ZOOM Q4.
Just a really short tutorial to show the portamento feature of Rhythm Core Alpha 2, the amazing music creation system for the Nintendo DSi and 3DS portable game consoles.
Portamento is when the pitch glides between notes. To use portamento, make sure it is turned on for the current sound from the Load and Modify Sound menu (go there by clicking on the sound name on the block screen). Then draw your two notes. Finally, take the tail of the earlier note and drag it over one beat so it overlaps (in time) the 2nd note. The pitch will glide between note 1 and note 2 when they are played.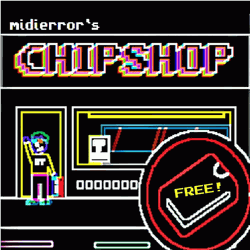 Midi Error has announced Chipshop, a free sample pack featuring 844 samples.
A free sample pack crammed with over 800 individual samples and 70+ Loops. All recorded direct from C64, AtariSt and Nintendo Gameboy.

We are the music makers.
Chipshop features
Gameboy (Nanoloop, LSDJ): 91 bass, synth, lead, perc and sfx hits and 117 sampeld drum hits.
SID (Cynthcart, Retroskoi): 61 bass, lead and sfx hits.
YM2149 (Various): 36 bass hits, 48 custom fx, 124 drum hits, 145 multi-samples (5 instruments over 5 octaves), 29 white noise hits, 29 sampled hits, 110 sfx hits, 54 synth hits.
70 loops: 22 full loops and 48 drum/synth loops.
844 samples in total.
The pack is a free download at Midi Error's SoundCloud page.
The Beatles Day Tripper
arranged by YMO
KORG DS-10 cover
Nintendo 8-bit version of "Home Computer" by Kraftwerk. Everything except the vocals are recorded with the Midines, in one shot.
The synthetic speech is made with SayIt by AnalogX:
Background video info (Googlish):
The purchase …
http://www.nintendo.co.jp/3ds/eshop/j …
http://www.detune.co.jp/korg_dsn12_jp …
Nintendo 3DS download software analog synthesizer KORG DSN-12. For those of you "I bought, but if I do …" and "? Can be any play on earth", series video Sano electromagnetic Inc. DETUNE is a producer director to convey the fun, the first times are.
KORG DSN-12 series for the first time
https://www.youtube.com/playlist?list …
ご購入は…
http://www.nintendo.co.jp/3ds/eshop/j…
http://www.detune.co.jp/korg_dsn12_jp…
ニンテンドー3DSダウンロード用アナログシンセサイザーソフトKORG DSN-12。「買ってみたけどどうしたらいいのか・・・」「いったいどんな遊び方が­できるの?」という方のために、プロデューサーディレクターである株式会社DETUN­Eの佐野電磁がその楽しさをお伝えするシリーズ動画、第1回です。
はじめての KORG DSN-12 シリーズ
https://www.youtube.com/playlist?list…
Shadowgate Ending musical theme on a modified Minimoog Model D with OSC sync, env. re-trigger and VCO3 Reset.

Polyphony was made with a VST called Notelogic
Life Force Stage 1 musical theme on a modified Minimoog Model D with OSC sync, env. re-trigger and VCO3 Reset.

If you have any questions, leave me a message
Double Dragon – Stage 1 – Nintendo Musical Theme – Roland Jupiter 4
This is 'R3D electronics' cover of Da Funk by Daft Punk. It was made using LSDJ for Game Boy.
Enjoy!
This system allows for Nintendo gameplay audio to be played through an acoustic player piano and robotically controlled percussive instruments. The piano and percussion play live during actual gameplay, mirroring the sounds that would normally be created electronically. All audio, including music and sound effects, is translated in realtime so that it is produced by the instrument most closely resembling the characteristics of the original electronic sound.
Playlist:
0:00 – Mario
0:53 – Mario 2
2:59 – Mario 3
4:06 – Zelda
6:02 – Mario 2 (End Theme)
For those interested in the technical details, both the piano and the percussion use solenoids to drive their player mechanisms. The piano uses Yamaha's Disklavier system to strike keys, and the percussion uses a custom solution to strike the drum sticks. Both the piano and percussion are each controlled by Raspberry Pis which have custom software to control each instrument. The software is responsible for translating the gameplay audio to instructions which ultimately define which solenoid should be actuated. In full disclosure, there is normally a half-second audio delay that was removed in editing, but it's still very playable live. The piano is controlled through the Disklavier's MIDI interface, while the percussion's solenoids are directly controlled through the Pi's GPIO interface.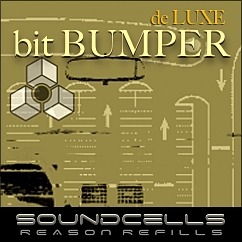 "bitBUMPER deluxe v3" – the ultimate 4 and 8 bit Pandora Box filled with hundreds of low bit surprises.
This ReFill is your best friend when you´re looking for inspiring new sounds with a character and a bite. To catch this character some amazing sources were sampled: RozzBox One v2, QuadraSID, the old grey Gameboy from 1989 with "Nanoloop 1" and "Littlesounddj", the Gameboy Advance SP from 2003 with "Nanoloop 2" and the Nintendo DS Lite from 2006 with "DS Electroplankton" and "Korg DS-10".
Version 3 adds new rex loops, 20 new combinator & 25 NNXT patches, as also lots of new samples …
bitBUMPER deluxe v3 Contents:
• 382 combinator patches.
• 185 NNXT patches, 138 rex loops, 650 unique samples.
• 12 demo tracks in Reason format included.
Offering price per unit is 27,90 ,- EUR (normal price is 39,90 ,- EUR)