Mutable Instruments Ambika + Genome MIDI Sequencer
This is a cover for TRON: Legacy Derezzed by Daft Punk. Using the iPad as a MIDI sequencer for MI Ambika.
In this video you can see a very nice aspect of the Ambika: it can act as 6 monosynths at the same time, recording each synth voice with a different MIDI channel, which is what I did for this video. As you can see, you're able to tweak several parameters from different section within the same page (Performance Page).
I'm tweaking the following parameters:
First row – osc1 para / osc2 para / osc2 pitch / bitcrush amount
Second row – filter cutoff / filter resonance / 2 others not used
I hope you enjoy it!
Before anyone asks… this is a 6x SMR4 Ambika.
Cover of Daft Punk's theme "Around the world", performed and recorded entirely on iPad using Caustic 3 app.
Original video and audio here: https://www.youtube.com/watch?v=s9Msz…
The instruments used were: two beatboxes for the drums and claps (default preset "Drums", slightly tweaked), four subsynths (bass, vibes, synth and noise effect), one vocoder, one kssynth and one fmsynth for guitars. Some effects and lots of automation.
I included the music video as background of the audio for reference and to show the precise timing. Sorry for the bad quality of the image.
(c) 2014 Talicopow
Billboard's Kerri Mason got to chat with disco legend Giorgio Moroder about last years world-wide smash album from the robotic, helmet wearing French duo.
The track Giorgio by Moroder features on Random Access Memories. Its a collage of the results of a 2 and a half hour chat Moroder had with them that was edited down to a 9.30 pop edit!
"I spoke for about two and a half hours and they said, 'That's it,'"  Moroder recalls. When he asked what they'd do with it, they answered, "We cannot tell you."
Watch Joe Hanley, the creator of Syntorial, walk you step-by-step through the programming of the the synth lead from Daft Punk's "Derezzed".
Download preset, MIDI file, and synth at www.syntorial.com/tutorials.php#tut4
This is 'R3D electronics' cover of Da Funk by Daft Punk. It was made using LSDJ for Game Boy.
Enjoy!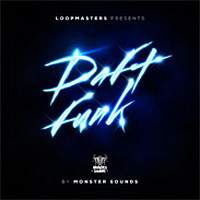 Monster Sounds has launched Daft Funk, a sample pack featuring lovingly crafted riffs, loops, beats and multi's all busting with the distinctive bumping swagger that we all know and love as the grooving soulful sound of French electronica.
Some of the most iconic dance music of the last 20 years has come from the shores of France leading the filter electro sound, basing the tracks around a straight four to the floor groove with a heavy disco funk soul influence, but bringing a contemporary electronic sound into the mix with house production techniques and sounds.

Many of these popular releases have relied on sampling the main groove from records to capture the live feel and vibes from the original 70s and 80s classic records' which is a risky business and can lead to long legal battles if the sample is not cleared – with Daft Funk you can avoid these hassles and get straight to the funk!

We have thrown down a huge set of grooves, from beats to bass lines, keys and funky guitar licks that Niles himself would be proud of. Mixing the full grooves together then give you the chance to filter and mash them up as if you were sampling from a record which is the key to capturing the sound of sampling records, as the way your filters react to the full loops is much more authentic if all the instruments are playing together. To give you full flexibility we have given many of the grooves split down in to individual parts also to allow you to build your own grooves.
Daft Funk is available to purchase for £29.95 GBP. Individual parts are sold separately.
Armed with only a JamStik, an iPad, a handful of apps, and a microphone – you can create some amazing music.
Check out http://www.jamstik.com for more info, or goto http://igg.me/at/JamStik/x/2880027 before July 9 to preorder via Indiegogo.
In "Get Lucky" we use:
Audiobus – http://audiob.us
Loopy HD – http://loopyapp.com
Animoog – http://www.moogmusic.com/products/app…
Sunrizer – http://beepstreet.com/sunrizer
Peter Vogel CMI – http://petervogelinstruments.com.au/ios/
Sampletank – http://www.ikmultimedia.com/products/…
iVoxel – http://www.virsyn.net/mobileapp/index…
@JamStik
http://www.facebook.com/JamStik
"Get Lucky" by Daft Punk on iTunes – https://itunes.apple.com/us/album/get…
Free mp3 : https://soundcloud.com/pvnova/evoluti…
ENGLISH SUBTITLES available for the speech at the end!
Projet de clip participatif – plus de détails ici : http://pvnova.over-blog.com/article-e…
This is a keyboard cover of Tron Legacy's original soundtrack by Daft Punk. Everything was played and recorded with the Moog Little Phatty Stage II.
"The SYNTHWAY address is for my brazilian blog… only in portuguese. :)The first part was a bit difficult to sync with the video, but I guess you can imagine that! I played the thing 2 times in a row while recording the MIDI file (with a little bit of quantize to keep the thing like an arpeggio).The knob tweaking part is showing a nice feature of the Little Phatty, named Pot Map. I'm changing 3 parameters of the filter in realtime… the modulation knob (not seen) is for the EG Amount, oscillator knob for resonance and the filter knob for cutoff.Third part, playing the melody while changing the OSC2 pitch, to get that nice OSC Sync effect. Nothing really special… added a very smooth delay in that lead, from EHX Deluxe Memory Boy.Fourth part, playing the melody in a different way, while using the modulation wheel for controlling filter cutoff, getting that nice wah-wah sound. This part is using the internal LP arpeggio for playing the high-pitched pattern. A little touch of delay in both synth lines.Didn't record it in video, but the deep bass and drum sounds were made with the LP. Everything was recorded thru Scarlett 2i2 in Logic Pro 9.I hope you enjoy!"
Background video description:
And finally, there's my version of the End Titles of Tron Legacy remade completely in a Nintendo DSi with Korg DS-10+ software. The audio was just recorded in DAW without post processing or effects adding.
Sorry for the mistakes while I'm playing, those keys are very tiny ahahaha.
Thanks for watching!!!