Chiptune Remix by Fredrik Segerfalk on SidTracker 64 for iPad
http://www.sidtracker64.com
3 voices of chip bliss, and a slight reverb added. Nothing else.
https://soundcloud.com/analogsweden/t…
Graphics by Vanja Utne: http://twitter.com/CheesePirateEq2
Video and extra GFX by Moppe
SidTracker programming by Daniel Larsson
SidTracker 64 for iPad
Want to make some soulful Bleeps?
Wether you just want some creative juice for your productions, or produce entire chiptunes , we have created the perfect chiptune platform for you.The SidTracker 64.
Original song: https://www.youtube.com/watch?v=ZTidn…
David Hasselhoff – True Survivor – Jörgen Elofsson & Mitch Murder(P) 2015 Universal Music AB. © 2015 Universal Music AB.
http://www.analogsweden.com/
https://instagram.com/sidtracker64
https://twitter.com/sidtracker64
https://www.facebook.com/SidTracker64
Mr. Soulsby himself shows the new features for the Atmegatron.
The Atmegatron Complete is a revolutionary new synthesizer that takes classic 80s Chiptune sounds and adds powerful new features.
Musicians will love it because it is quick and easy to create and manipulate amazing sounds. The Atmegatron can do everything from bright square wave leads, to dirty basses, to wild sci-fi effects.
Programmers will love it because it is built on the Arduino platform and the software is open source. This allows programmers to change or add new features and upload them to the Atmegatron.
Play
8-bit monophonic MIDI synthesizer
Unique Wavetable PWM Synthesis audio engine.
Quick and intuitive controls, no complex menu systems
Stylish white aluminium case with walnut side panels
Many features controllable by MIDI:
mod & pitch wheels, filters, portamento and more
16 preset sounds that can be overwritten with your own patches
Program
Huge selection of waveforms and filters
Upload your own waveforms using the included Atmegatron Librarian software
LFO and 2 envelopes
Powerful synthesis features that takes Chiptune beyond 80s computer sounds
Advanced arpeggiator sequencer
Unique 'wave crusher' effect
Analogue bass boost for warm bass sounds
And even more!
SunVox is a small, fast and powerful modular synthesizer with pattern-based sequencer (tracker). It is a tool for those people who like to compose music wherever they are, whenever they wish. On any device. SunVox is available for Windows, Mac OS X, Linux, Maemo, Meego, Raspberry Pi, Windows Mobile (WindowsCE), PalmOS, iOS and Android.
http://warmplace.ru/soft/sunvox
An update on the progress on the NESIZER. A lot of stuff has been done since the last two demos:
– Circuit boards have been designed and built
– MIDI support has been added (currently just note on/off, pitch bend and sysex for sending samples)
– User interface for editing patches
– Battery backed SRAM memory for storing samples, patches and sequences (eventually)
– ADSR envelopes for square and noise channels
– Three LFOs (sine, square, ramp up, ramp down, triangle)
– Detuning
– Transposing
– Pitch envelope modulation
For more technical information, take a look at https://github.com/Jaffe-/NESizer2
AudioThing has released miniBit, a 8-bit/chiptune synthesizer.
miniBit is a 8-bit/chiptune style synthesizer that emulates the sound of 80s game consoles and retrocomputers.
It features a main oscillator with 12 waveforms paired with a sub oscillator (a square wave pitched one octave below). The waveforms are not bandlimited and will produce aliasing. Furthermore, using the built-in bitcrusher, is it possible to create even more noisy and retro sounds.
Details:
12 Waveforms.
Sub Oscillator.
Poly and Mono mode with Glide.
2-poles Low Pass Filter.
Delay and BitCrusher effects.
LFO with multiple destinations.
30 Presets.
Preset randomizer.
Formats: VST, AU, and AAX (32/64-bit).
Platforms: OS X, Windows.
Price: €20 / $24.50. miniBit is available for the introductory price of €16 / $19.60 until January 15th, 2015.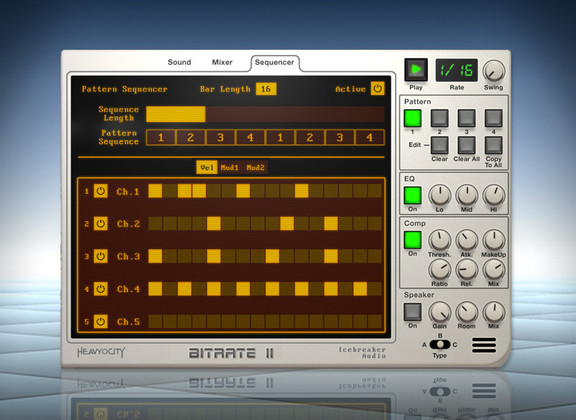 Heavyocity has partnered with Icebreaker Audio to release BitRate II, a major update to the BitRate semi-modular 8-bit drum machine for Reaktor.
BitRate II uses multiple methods of retro digital synthesis and sampling to produce charismatic and nostalgic drum sounds. The included sound engines cover chipsounds, FM synthesis, lofi sampling, and glitchy circuit bending.

On top of these unique sound engines, BitRate II also offers a 5-track mixer and a master fx section that includes an analogue modelled EQ, bus compressor, and speaker simulator for added lo-fi effect.

The drums can be triggered via MIDI or from the internal sequencer. The sequencer provides two modulation sequences per drum, which can be routed to virtually any combination of sound parameters in any amount.

BitRate II also comes bundled with the MonoBoy instrument, a melodic counterpart for BitRate II. MonoBoy uses similar sound engines, but in an interface more suited to melodic playing.

The BitRate II Bundle ships with a total of 140 preset snapshots including a variety of sounds from kits and beats to synths and samples.
BitRate II features
5 drum slots into which you can load any one of 4 sound engines.
4 lo-fi digital sound engines: Chip, FM, Sampler, Glitch.
The ability to sample from the audio input into a custom-built sample engine.
A built-in sequencer with 2 modulation sequences per drum.
Per-track sequence length, allowing for complex poly-rhythms.
EQ, Compressor, and Speaker Simulator master effects.
MonoBoy features
3 sound generator modes, including a unique DM sampler.
Easy-to-use arpeggiator and Voice Controls
2 Modulation sequences.
A master FX section that includes the one-of-a-kind Bit Delay effect.
The BitRate II & MonoBoy bundle is available for purchase for an introductory price of $29 USD for the first two weeks (regular $49 USD). During this period, original BitRate owners can buy BitRate II for $19 USD.
Nintendo 8-bit version of "Home Computer" by Kraftwerk. Everything except the vocals are recorded with the Midines, in one shot.
The synthetic speech is made with SayIt by AnalogX:
The Automaphone is a robotic synth that scans a4 pictures and turns them into songs, each song is different but the Automaphone has a unique glitchy 8 bit sound at its heart.
More info here: http://grandtippler.wix.com/rarebeast…
The Automaphone is a robotic synth that scans a4 pictures and turns them into songs.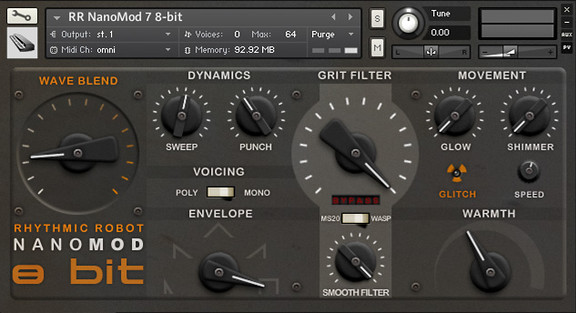 Rhythmic Robot has launched NanoMod 8-bit, a free instrument library for Native Instruments Kontakt.
NanoMod 8-bit is a simple but versatile Kontakt synthesiser based on vintage 8-bit polysynths, featuring an "intelligent" interface that allows the user to adjust multiple parameters with single controls. It is offered as part of the KVR Developers' Challenge 2014.

NanoMod 8-bit brings the simplicity of Rhythmic Robot's NanoMod interface to bear on the crusty, gritty, aliased sounds of classic 8-bit synthesisers of the early to mid 80s. Using source waves taken from vintage Ensoniq hardware and a front-end incorporating convolved Wasp and MS20 filters, this NanoMod is aimed squarely at big, powerful polysynth sounds – everything from warm and evolving pads to screaming leads.
The library is a free download, released as an entry to the KVR Developer Challenge 2014.
This is an edited version of my original 8-bit Matrix trimmed for time and with some changes to sound effects that were bugging me.
If you're curious, you can see the original at
https://www.youtube.com/watch?v=c61q2…