Arcano Systems has introduced the Obscura – an inexpensive minimal chiptunes MIDI synth.
Obscura is an Arduino-compatible 8-bit synthesizer that allows you to create NES, C64, and Amiga-style chiptune music by simply connecting a MIDI device.
No programming is required. This monophonic MIDI synth comes programmed with software that includes 16 preset patches.
Patch 0: 12.5% duty-cycle pulse waveform
Patch 1: 25% duty-cycle pulse waveform
Patch 2: 50% duty-cycle pulse waveform
Patch 3: sawtooth waveform
Patch 4: 8-bit sine waveform
Patch 5: 4-bit triangle waveform
Patch 6: 8-bit triangle waveform
Patch 7: arpeggiated octaves (25% duty-cycle pulse)
Patch 8: arpeggiated octaves (50% duty-cycle pulse)
Patch 9: arpeggiated octaves (8-bit sine)
Patch A: arpeggiated octaves (8-bit triangle)
Patch b: vibrato (12.5% duty-cycle pulse)
Patch C: vibrato (25% duty-cycle pulse)
Patch d: vibrato (50% duty-cycle pulse)
Patch E: vibrato (8-bit sine)
Patch F: vibrato (4-bit triangle)
Users with programming experience will be able create their own custom software for Obscura using the Arduino IDE. (Obscura is based on the Arduino Leonardo platform.) Arduino pins 5, 8, 9, 10, 12, and 13 are broken out for hardware hacking and experimentation.
The Obscura is being developed as a Kickstarter project. The synth is available to project backers starting at US $95.
https://www.kickstarter.com/projects/…
This is demo music created with the Arcano MIDI NES Chiptune Synthesizer. The device is an ATmega328-microcontroller-based MIDI synth designed to emulate the classic chiptune sound of the Nintendo Entertainment System's APU (audio processing unit.) If you are interested in the synth, please refer to the Kickstarter campaign page. The Kickstarter campaign rewards include both a fully assembled and tested version and a kit version for those who prefer to build it themselves. I created the music track myself, and I am not very musically talented. I'm interested to hear the music that more talented musicians will create with this synth, which is why I'm sharing the device through Kickstarter.
New Monophonic Synth from Klevgränd produktion. Coming April 29!
enkl.klevgrand.se
An update on the progress on the NESIZER. A lot of stuff has been done since the last two demos:
– Circuit boards have been designed and built
– MIDI support has been added (currently just note on/off, pitch bend and sysex for sending samples)
– User interface for editing patches
– Battery backed SRAM memory for storing samples, patches and sequences (eventually)
– ADSR envelopes for square and noise channels
– Three LFOs (sine, square, ramp up, ramp down, triangle)
– Detuning
– Transposing
– Pitch envelope modulation
For more technical information, take a look at https://github.com/Jaffe-/NESizer2
Video demo of Grendel RA-9 Grenadier. An 8-bar phrase is traded back and forth between the synthesizers to show a variety of tones and filterbank modulations. Sequenced by CV-Gate with Vermona MIDI-CV converter.
http://rarewaves.net/products/grendel…
The Grendel RA-9 Grenadier is a 1-oscillator analog monosynth with CV-Gate control. It has a semi-modular design in a tabletop enclosure with 1/4? audio output.
The Grenadier can be played stand-alone by using its keypad with 4 independently tuneable keys, or you can activate its onboard sequencer for rhythm loops and tone sequences. Patch in a 1v/oct MIDI-CV converter (not included) and the Grenadier can play sequences from a MIDI workstation or computer.
The Grenadier's palette of analog tones comes from its triple bandpass filter bank with syncable modulation. Its voice is designed for electronic basslines and melodic sequences, as well as slow drones, electro percussion loops, bass drums and more.
The filter bank can also become a tone source by setting it to self-oscillate with warm low frequency overdrive.
The Grenadier's VCO offers square and triangle waveform. Its pitch can be modulated by the envelope generator for bass drops and other tuned analog percussion effects. The VCO waveform is synced to gate, for better bass output with staccato sequences.
The decay envelope generator offers a wide range of decay times up to 60 seconds. The contour of the envelope can be reversed with the bipolar Envelope Depth knob, putting it solidly in the electro funk zone. The Grenadier's LFO covers a wide range of 0.05 Hz (that's once cycle every 20 seconds) up to 60 Hz, and can be reset by gate events for tempo-sync effects.
The patch bay allows semi-modular control and multiplies the creative options when patching to itself, another Grenadier, MIDI-CV converters, and modular systems.** Fourteen patch points are provided including CV and gate in and out, clock in and out, LFO rate CV, and external audio input. It accepts Eurorack-type 1/8" (3.5mm) mono phone plugs.
The Grendel Grenadier has a straightforward knob-per-function layout. Each switch on the front panel has a red status LED. The case is built of laser-cut steel with durable powder coat and silkscreened graphics.
Pricing and release date for the Grendel RA-9 Grenadier are to be announced, but Rare Waves says it is coming 'spring 2015′.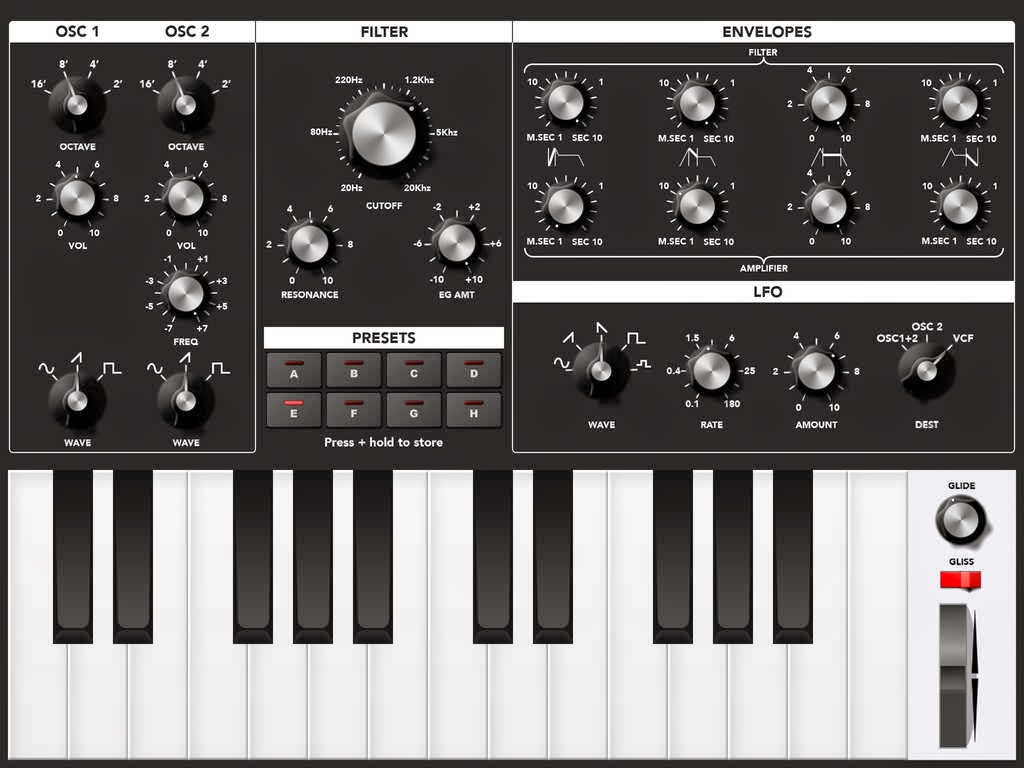 LF1 Monosynth is a new mono synth for your iPad. Here are the details …
Experience and create the classic vintage synth sounds with the LF1 Monosynth.
The LF1 Monosynth is a fully featured analogue–modelling synthesiser, featuring:
2x classic–sounding analogue style oscillators with sin, sawtooth and square waveforms and a four octave range. The frequency of the second oscillator can be adjusted by ±7 semitones.
Analogue–modelled resonant filter with invertible envelope.
Amplitude envelope.
LFO with 5 selectable sources (including Sample + Hold), assignable to pitch or filter.
Glide & Glissando controls.
Pitchbend Wheel.
8 user–preset locations.
Slick, retro-styled UI.
The LF1 is ideal for lovers of classic synths, or indeed for beginners looking to get a taste of analogue synthesis. This app is packed with vintage mojo and ready to go.

LF1 costs $2.99 on the app store:
The Automaphone is a robotic synth that scans a4 pictures and turns them into songs, each song is different but the Automaphone has a unique glitchy 8 bit sound at its heart.
More info here: http://grandtippler.wix.com/rarebeast…
The Automaphone is a robotic synth that scans a4 pictures and turns them into songs.
FREE Kick Drum VSTi synthesizer…NO SAMPLES just synthesis.
Download for free with no limitations athttp://hintonandfairchild.co.uk/bigro…

BIGROOMKIXSYNTH is a VSTi specifically created for making Kick Drums and Bass Drums. Unlike the competition, this is a true Synth, it uses no samples only 100% synthesis to achieve a thick meaty UMPH to your track with ultimate control to the sound.
he sound is split into 4 sections, SUB, BODY, TRANSIENT and HAT/NOISE with lots of controls to fine-tune each characteristic of the layer. It has a compressor an EQ boost and a Key Select…you can even change the background colour…… Below you can get more details on the controls.
The Synth is FREE to use and share providing you do not try and sell it yourself.
Mitosynth is a unique new app, equipped with a hybrid additive-wavetable synth engine and a sampler. This app gets deep, with layers of modulation, but does so in an easy to use interface. All of this makes for big sounds and a fun time exploring them!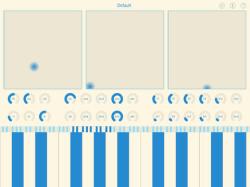 Mod Phon Ltd has introduced Voxen – a new voice synthesizer for iPad. Voxen is a voice synthesizer. It's designed not for realistic text-to-speech vocal effects, but for creating synthesized 'singing voices'.
Voxen is *not* a text-to-speech system. You cannot provide it with lyrics and expect it to sing them. Voxen is a synthesizer that acoustically simulates a glottis and vocal tract, allowing you to manually control the sound. It synthesizes sounds, not words.
Because a human voice is more complex than nearly any other musical instrument, a synthesizer of human voices is also very complex. To control one can require the real-time manipulation and coordination of dozens of separate parameters.
If you are looking for something that creates a musical performance from a piece of sheet music and some lyrics on a scrap of paper, hire a good vocalist. On the other hand, if you are looking some new and different sounds, use Voxen.
Features:
Eight note polyphony
Keyboard range of more than ten octaves
Three X-Y touchpads
Twenty-eight vertical linear knobs
Choice of dark or light background colour
Eight choices of foreground colour
Save and load user-defined patches
Technical Background
Voxen is a polyphonic formant synthesizer. There are three banks of knobs which control, respectively, the voice, the voice envelope and the formants. The six voice knobs control provide a modified Klatt 1989 voicing source.
The ten voice envelope knobs control master amplitude and ADSR envelope for the voicing source and for a separate aspiration source. The remaining twelve knobs control the centre frequencies and bandwidths of the first four formants and the centre values and differences (spread) for a nasal formant/antiformant pair.
Each of the three X-Y touchpads controls a pair of parameters, f1 & f2, b1 & b2 and vibrato rate & vibrato depth.
Spectral tilt (or voice brightness) is controlled by the height you are touching the keys.
The overall aim of the user interface is to make it simple to control the many parameters in a live setting.
Voxen is available now for US $7.99 in the App Store.