Mitosynth is a unique new app, equipped with a hybrid additive-wavetable synth engine and a sampler. This app gets deep, with layers of modulation, but does so in an easy to use interface. All of this makes for big sounds and a fun time exploring them!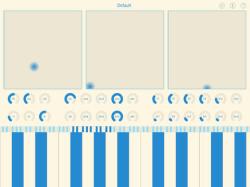 Mod Phon Ltd has introduced Voxen – a new voice synthesizer for iPad. Voxen is a voice synthesizer. It's designed not for realistic text-to-speech vocal effects, but for creating synthesized 'singing voices'.
Voxen is *not* a text-to-speech system. You cannot provide it with lyrics and expect it to sing them. Voxen is a synthesizer that acoustically simulates a glottis and vocal tract, allowing you to manually control the sound. It synthesizes sounds, not words.
Because a human voice is more complex than nearly any other musical instrument, a synthesizer of human voices is also very complex. To control one can require the real-time manipulation and coordination of dozens of separate parameters.
If you are looking for something that creates a musical performance from a piece of sheet music and some lyrics on a scrap of paper, hire a good vocalist. On the other hand, if you are looking some new and different sounds, use Voxen.
Features:
Eight note polyphony
Keyboard range of more than ten octaves
Three X-Y touchpads
Twenty-eight vertical linear knobs
Choice of dark or light background colour
Eight choices of foreground colour
Save and load user-defined patches
Technical Background
Voxen is a polyphonic formant synthesizer. There are three banks of knobs which control, respectively, the voice, the voice envelope and the formants. The six voice knobs control provide a modified Klatt 1989 voicing source.
The ten voice envelope knobs control master amplitude and ADSR envelope for the voicing source and for a separate aspiration source. The remaining twelve knobs control the centre frequencies and bandwidths of the first four formants and the centre values and differences (spread) for a nasal formant/antiformant pair.
Each of the three X-Y touchpads controls a pair of parameters, f1 & f2, b1 & b2 and vibrato rate & vibrato depth.
Spectral tilt (or voice brightness) is controlled by the height you are touching the keys.
The overall aim of the user interface is to make it simple to control the many parameters in a live setting.
Voxen is available now for US $7.99 in the App Store.
An overview of all the features on my "Teensy Synth".
You can find the materials to make this synthesizer in the Arduino Projects section of www.brianpeters.net
Hear this synthesizer in action with 4 other chip-based synthesizers:
https://www.youtube.com/watch?v=D0git…
https://www.youtube.com/watch?v=ZfXdt…
Checking out the brand new Atmegatron synthesizers from Soulsby. It's a crazy little desktop synth with tons of waveforms, 15 filter types, the ability to upload your own waveforms, and even change or hack the OS to turn it into a totally different synthesizer! It has a very different front panel so we go through the layout as well as the sounds and I even show you a few of the unreleased OS versions as well as the official Atcyclatron OS which turns it into a wavetable cyclling synth!
Get the synth here: http://soulsbysynths.com/atmegatron-c…
Read the full review here: http://soundsandgear.com/soulsby-atme…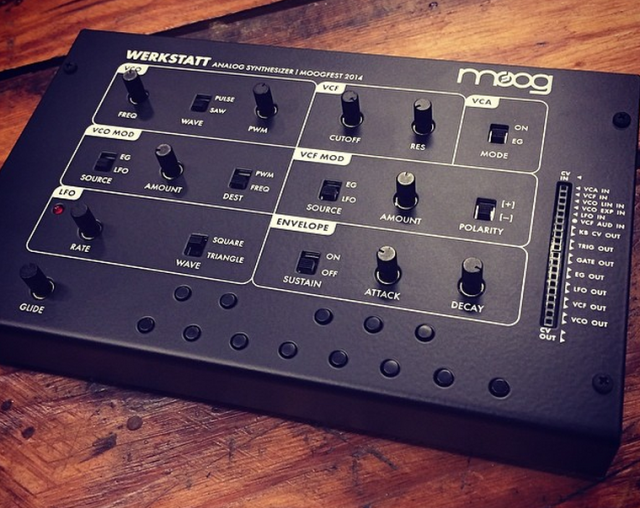 Moogfest has released this sneak preview image of the new Moog Werkstatt Analog Synthesizer, with a couple of interesting features:
Along the right-hand side, there is a break-out patch-bay, allowing modular patching of the Werkstatt; and
Along the bottom, there's a button-style keyboard.
"Werkstatt" means "workshop" in German, so the DIY function is probable. The architecture is a single-oscillator monosynth, switchable between saw waves and PWM. Both the filter and oscillator mod can be set to either an independent LFO or the envelope. Attack / Decay / sustain switch controls the envelope. The most interesting feature is the analog patch bay along the right-hand side of the unit, implemented as a simple header strip. This should suggest semi-modular capabilities by patching with jumper wires. A prototype shot shows those jumpers in action and a 1/4″ jack plug for audio coming out the back.
Background video description from 'alternatingbitmusic': I think its cool how a monosynth can spit out such an array of sounds at once. I started a sound that had a percussive element to it and I thought I'd share with you all. Everything you hear is live from the FutureRetro XS, with CV in from a sequencer for voltage & gate only. The final output has a touch of delay for flavor. Enjoy.
Humanoid Sound Systems lets us know that the Enzyme Player VST/AU synth plugin contains the complete synthesis engine from their Enzyme synth, which has won awards for its innovative design and sound, and has all the essentials for music creation (access to all of the parameters, and the saving of presets is available with the full version).
They say that the synth uses a unique combination of wavetable and physical modeling synthesis to create rich, dynamic musical timbres. Hybrid Scanned / FM synthesis is also on offer for even more sonic possibilities.
Alba Ecstasy has released a new patch library for Sunrizer, 69 Trance Presets:
69 patches for Sunrizer synthesizer for iPad (iPhone) TRANCE style: plucks, leads, vibrating pads. 100% royalty free!
Store link: http://www.albaecstasy.ro/sunrizer-pr…
ADSR Sounds say that BASSIC is a Reaktor synth made with the modern electronic producer in mind. They say that they created BASSIC with one thing in mind – Simplicity.
"Stripped of all the things that can distract or confuse when designing killer bass music instruments, BASSIC has all the basic components needed to create professional sounds in just a matter of minutes! No more spending countless hours dialling in settings across parameters that aren't even necessary. No more complex routing decisions. And no more time spent on things that only seem to derail the creative process!"
Download BASSIC here - http://adsrsounds.com/product/presets…

In this video, I show how to use my newest ensemble, Bassic, which can be bought here:
This video covers the layout and use of the Voicing controls to create huge, aggressive, bass sounds with ease.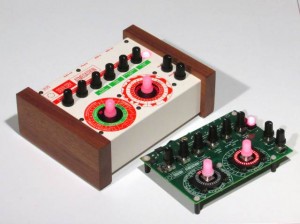 Soulsby Synthesizers has released the Atmegatron – a new 8-bit monosynth. It's the debut product from Soulsby Synthesizers.
The Atmegatron combines the sounds of 1980s home computers with the flexibility and power of a modern synthesizer.
The Atmegatron is built on the open source Arduino platform. This means that the synthesis engine can be completely changed by uploading software to the synth. One minute it's a monosynth, the next it's a drum machine. Soulsby Synths plans to relese new and completely free software versions over the coming months.
Features:
32 waveforms
15 digital filter types
2 ADSR envelopes
1 LFO with 16 waveforms
an arpeggiator with 15 patterns and
loads of fx including phaser, distortion and the unique Wavecrusher.
16 preset sounds and unlimited preset expandability via the Atmegatron Librarian software available for Mac or PC.
The Atmegatron is available in two versions:
Atmegatron Complete – £255 ex VAT & delivery.
Atmegatron Synthesizer
Power Supply
Printed 32 page colour manual
Quick reference guide
The Atmegatron Complete is housed in a beautiful white aluminium chassis with real walnut side panels.
Atmegatron PCB – £127 ex VAT & delivery.
Atmegatron Synthesizer PCB
Power Supply
Quick reference guide
The Atmegatron PCB comes with nylon pillars to keep the PCB raised from its resting surface. The PCB is perfect for programmers and hackers, but is not suitable for outside of the home due to its fragility.