FREE Kick Drum VSTi synthesizer…NO SAMPLES just synthesis.
Download for free with no limitations athttp://hintonandfairchild.co.uk/bigro…

BIGROOMKIXSYNTH is a VSTi specifically created for making Kick Drums and Bass Drums. Unlike the competition, this is a true Synth, it uses no samples only 100% synthesis to achieve a thick meaty UMPH to your track with ultimate control to the sound.
he sound is split into 4 sections, SUB, BODY, TRANSIENT and HAT/NOISE with lots of controls to fine-tune each characteristic of the layer. It has a compressor an EQ boost and a Key Select…you can even change the background colour…… Below you can get more details on the controls.
The Synth is FREE to use and share providing you do not try and sell it yourself.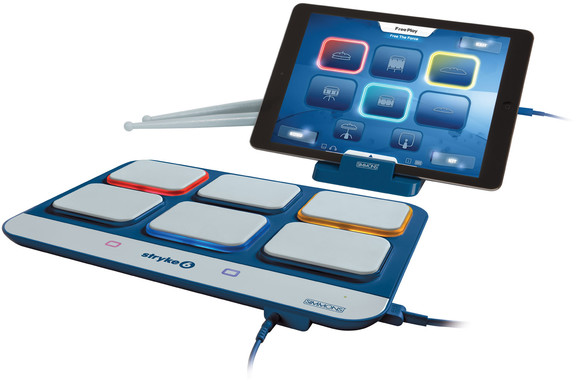 Simmons has announced the release of the new Stryke6 drum controller.
The new Stryke6 is the first ever iPad® controller that delivers a full drum kit playing experience without the kit. Combining Simmons' expertise in electronic drum kits with their unrivaled ergonomic design, the Stryke6 is the only product of its kind that works in concert with your iPad to deliver a real tactile playing experience in a compact, tabletop design.

Equipped with six velocity-sensitive pads plus two foot pedals for kick and hi-hat control, the laptop-sized Stryke6 is perfect for on-the-go playing, portable practice, and other times when a full kit is not a viable option.

Using the free Simmons Stryke Drums app, the Stryke6 easily connects to an iPad for an immediate, out of the box playing experience, including a wide range of sounds. Or connect via USB to any computer to trigger a variety of DAW applications and sample programs, including Garage Band, EZ Drummer, Logic, Ableton Live, and more.

For drummers and percussionists, Stryke6 is an ideal portable setup for small acoustic gigs, or as a compact practice kit for small spaces or mobile music making. For small project studios and songwriting setups, it makes a great tactile instrument for tracking drums into a DAW or sequencing program.
Stryke6 features
Versatile, first-ever iPad-based drum controller.
Can also be used with any USB/MIDI computer.
Ultra-small footprint with 6 velocity-sensitive drum pads.
Access to a wide range of sounds.
Kick and hi-hat pedals provide a real drum playing experience.
Works with most MIDI applications.
Free and fun, downloadable Stryke Drums iPad app (from the Apple App Store).
Learn to play drums in an engaging, interactive environment using app-based tutorials and the color-coded pads.
Includes drum sticks and connections for Lighting and 30pin iPads and USB.
Stryke6 is available for purchase for $129.99 USD.
MFB-522 drumcomputer sound demo
No processing , recorded thru mackie 820i into ableton @ 100bpm
http://acidoo.com
Bassdrum + Snare/RS separate out
Instruments stereo out
Alesis New Drum Modules Sample Updated DM-4 and Pads add sample playback
The DM Pro Expandable 20 Bit Drum Module is the most advanced electronic drum and percussion device available today. It surpasses the capabilities of what you expect in a drum module by offering features like 64 voice polyphony, a massive drum and percussion library that includes over 1,000 sounds, and open-ended expandability that lets you bring in new sounds whenever you need them. For composers who need a dedicated MIDI module for drums, or drummers looking for the professional solution for triggered electronic drum performances, the DM Pro represents the most powerful tool for creative inspiration. Designed to accommodate nearly any musical style, the DM Pro offers 1,024 different kick, snare, tom, cymbal, hi-hat, percussion and special effect samples. You can create and store up to 32 virtual drumkits, and each kit can contain up to 64 different drum sounds so the right drum is always available when you need it.
The DM Pro has 16 fast trigger inputs for drummers using electronic pads or triggered acoustic drums, and provides six independent audio outputs so that processing of levels and effects for discrete sounds is easier than on any other Alesis drum device. Plus, the DM Pro's customizable onboard multieffects use the same processing engine as our top-of-the-line multieffects device, the Q20. Its expansion slot lets you pull in new sounds anytime you need them. Since the PCMCIA-format cards store up to 8MB of memory, you can simultaneously access a massive collection of 24MB of sounds. Plus, the DM Pro is compatible with Alesis' Sound Bridge sample management software, so you can burn your own sounds and samples to a card for customized sounds. Also, the DM Pro's stereo audio inputs on RCA connectors allow external audio sources, like CD Players or tape decks, to be routed through an audio system so drummers can practice along with recorded music.
Fantastic and very versatile drum machine from developer Alexander Smith.
https://itunes.apple.com/app/id698024…
STIX is a powerful 16 channel (8×2 voices) sampling synthesizer and sequencer.
Check out Audio and Video demos + download the user manual from our webstite now:
http://twisted-electrons.com/apps/stix/
Each kit features no less than 200 parameters that are controllable in real-time via touch or MIDI.
STIX is also a 8 channel 16 step drum sequencer with recording functionality. The sequencer's 8 patterns can be chained into songs in Track Mode.
Up to 100 Preset Kits can be stored and the 8 drum modules can be performed on the pads throughout the app's modes.
STIX also features Audiobus compatibility!
Background video description:
One of the best versatile analog drum expanders currently made. Awsome KICKS, jazzy SNARES, weird dubby FX, the beast electronic CLPAS I ever has and the right mixture of CAMBALS
5 channel analog synthesizer with bassdrum, snare and 3 toms. Each channel features a unalterable factory sound and a variable user sound. It came at the same time with the SDS 7 as its cheaper alternative.
The SDS 8 comes with the same analog filters of its predecessor, the SDS 5. Every knob on the metal chassis is easliy accessable. If you are looking for the classic analog Simmons sound with access to all the nice filters forgoing luxury like user banks, midi or modularity, this is the right machine for you.
Specials: sequencer input, single outputs, stereo out
Background video description:
In fact this is a Simmons SDS-8 module that has two voices not workin (Hi Tom, Mid Tom) and this still knocking out every other synth drum I know that is in production!!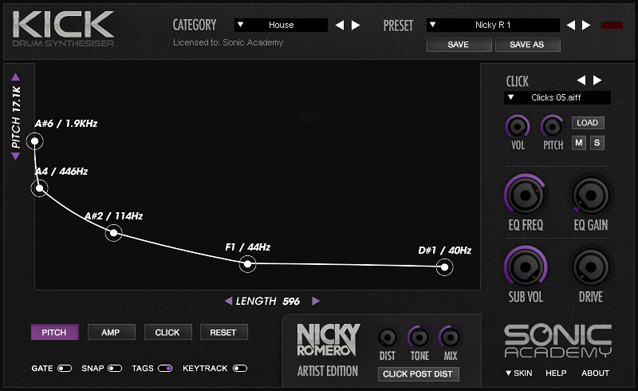 Nicky Romero introduces KICK Synth which has been developed together with Sonic Academy. KICK is a Kick drum synthesiser allowing you to quickly and precisely create kick drums and tune them to your tracks. It combines a synthesised sub oscillator and sampled clicks to create a wide variety of kick drums, percussive and even bass sounds. With Pitch, Amp and Click envelope editors, drive, pitch control and the Nicky Romero designed distortion section
With 175 factory presets and 40 exclusive Nicky Romero presets you can access that special Protocol sound right out of the box. In addition kick comes bundled with 32 Nicky Romero clicks lifted straight from his productions. The user can also load their favourite clicks, kicks, and even fx to create truly unique personal sounding kicks.
Time lapse build of the Sonic-Potions LXR digital drum synthesizer and some messing around with it for the first time. All sounds come from the LXR and the Shruthi-1. The Shruthi is slaved to the LXR and is just playing the equivalent midi notes as the drum sounds. The LXR is being run through a hardwire RV-7 pedal (seen directly north of the LXR). I am sure that this is only scratching the surface of the LXR's capabilities.
BFD3 is the third generation of FXpansion's flagship software acoustic drum studio: new levels of realism and ground-breaking features in an intuitive redesigned engine, here's what they have to say about it:
With stunning new kits with mix-ready presets and modelling technology for tom resonance and cymbal swells, BFD3's audio engine delivers uncompromising detail while using lossless compression for efficiency. The revamped interface has a new mixer and sound browser for the easiest BFD experience yet.
BFD3's kits were recorded at two world-class studios with varied recording chains and room ambience making a huge amount of sounds possible. The library includes expressive articulations, a brushed kit and processed drum presets for fast custom kit-building. BFD3 also contains a powerful built-in environment for pattern creation and editing, complete with a range of performances by legendary drummers for effortless production of drum tracks indistinguishable from the real thing.
Availability & Pricing
BFD3 is available on a USB 2.0 flash drive or as a download product from the FXpansion web shop as well as through our international dealer partners.
Pricing is USD $349.00, EUR €269.00, GBP £229.00.
BFD3 Upgrade is available for all registered BFD2 owners for USD $199.00, EUR €155.00, GBP £129.00 for the USB flash drive version and USD $149, EUR €115, GBP £99 for the download version.
All prices are inclusive of VAT where applicable.