echo | collective has released ORION, a drum library and step sequencer built for Native Instruments Kontakt.
In addition to the sequencer, ORION contains over 800 unlocked one shot percussion sounds. These are arranged into 18 future-retro inspired drum kits created from custom-sampled and processed classic analog synths and drum machines, DSP-manipulated acoustic recordings, and a kit built entirely from processed vinyl pops and clicks. This includes three artist signature kits created by producers Vital, Phrakture, and Timecop 1983.
The ORION instrument is designed to allow fast, easy, and intuitive sequencing of the drum library using a unique dual-view sequencer: Step View mimics the sequencing style of classic drum machines focusing on one drum sound at a time, while Grid View shows the entire pattern, inspired by modern software and grid-controller hardware.
A user can delve deeper with the advanced step modulation sequencer for per-note control of every parameter of every sound on every beat. Sequenceable send effects include programmable reverb and delay.
A user can also add grit and glue to the beat with the insert effect module, delivering tape saturation, compression and a selection of custom tape hiss and vinyl noise floor recordings.
Specs:
24-bit 44k unlocked wav files.
17 unique drum kits.
60+ Kontakt fully programmed unlocked .nki files.
.nki files require full version of NI Kontakt 5.5 or higher.
Price: $30 [Limited introductory price].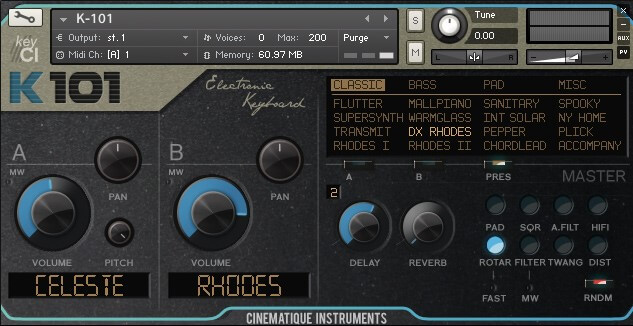 Cinematique Instruments has announced the release of K 101, a "charming electronic keyboard" instrument for Native Instruments Kontakt.
The Instrument
The K 101 is a lucky bag. Its main sound source are the vintage Casio CZ–101 keyboard, supplemented by a few sounds captured from a Casio PT-10. All the sounds are incredibly warm and charming. You can lose yourself just playing along the analog sounds, being inspired by its distinct character which is both warm and raw.

The Content
K 101´s instrument design is based on 2 simultaneous sound slots, each can be feeded with one of 47 sound sources and has a separate volume and pan knob. Beside that, the first slot provides an additional -12 to 12 semitones pitch knob.

We captured 47 individualy designed sounds of the original keyboards. We recorded the whole keyrange in minor thirds, looped the sounds, processed them if needed and extended the key range to C0-C6. In order to shape the final sound, K 101 provides plenty of sound options:

3 EQ´s called "FILTER", "A.FLT" and "HIFI"
rotary- , twang- and distortion-fx
reverb and delay
2 different volume envelopes, called "PAD" and "SQR"

K 101 provides 55 presets which are covering a range of pianos, basses, pads, organs and fx-sounds. To preserve your own presets simply save the patch under a different name on your harddrive. A very special option is the "RNDM" function, which sets fx parameters, sound selections, volumes and panning by random. This is pure fun and amazing to see what comes out in the end.
The library is available for purchase for 32 EUR / $34 USD. Requires Kontakt 4.22 or higher, full version.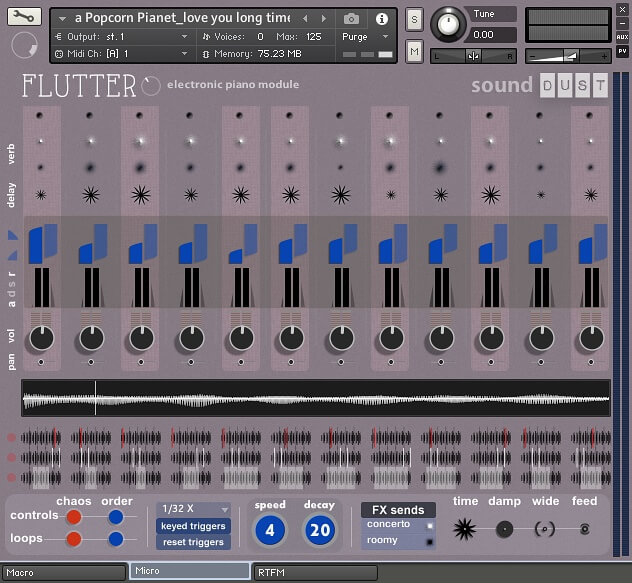 Sound Dust has launched Flutter EP, an electric piano instrument library for Native Instruments Kontakt.
Flutter EP is an electronic piano like you'e never heard before.

She is packed to the brim with specially devised samples made from a variety of slutty analogue hardware synths and keyboards. All sample sets morph and loop through various transitions for a mind boggling selection of unique but Wurly-ish, Rhodes-y, organ-esque, DX like electric piano type sounds….but of course there is a twist.

Think Radiohead, Jon Hopkins, Nils Frahm, Ólafur Arnalds or maybe Steve Reich in a fist fight with Trent Reznor.
Flutter EP features
1.2GB (compressed) 24bit stereo samples.
120 presets created from 12 imagined electric piano and organ multisample sets.
Sample sets made from cunning variations of Hohner Pianet T, Moog Voyager, Nord Modular, Nord Wave, Soulsby Atmegatron, Waldort Wave XTand DSi Pro2 all recorded through a stereo pair of Warm Audio Tone Beast preamps.
Macro page -for quick access to master controls of volume envelope, filter, effect sends and tube/transistor distortion..
Macro page -instant shape presets for volume envelope and filters.
Micro page -individual control on a per note basis of volume envelope, pan, low and highpass filters and effects sends.
Micro page -individual control on a per note basis of sample start, loop position and loop length.
Micro page -individual per note trigger settings for BPM synced note repeats.
Micro page -chaos and order controls for instant parameter randomisation.
Flutter control – modwheel hard wired to unique 'flutter' effect -wiggle it and you'll soon find out what it does.
20 custom reverb convolution impulses.
RTFM tab -so you can't lose the manual.
Flutter EP for Kontakt 5.5.1 or above (full version) is available for purchase for £35 GBP. Until November 30th, 2015, a 20% discount is available with coupon code PSEUDCASE at checkout.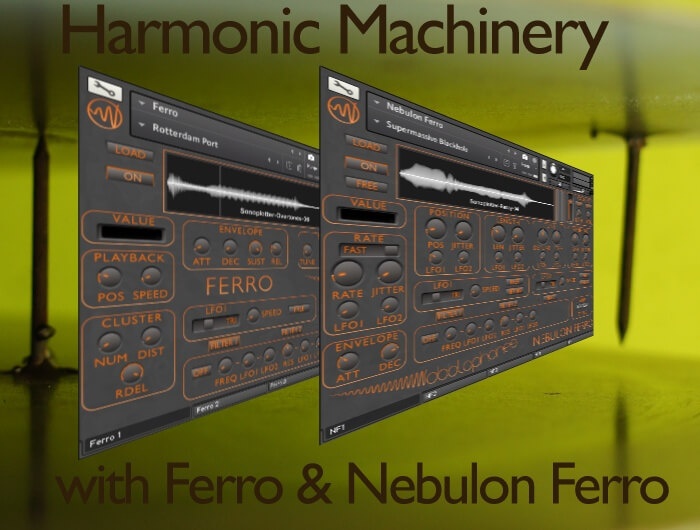 Wobblophones has introduced Harmonic Machinery, a new instrument library for Native Instruments Kontakt.
Harmonic Machinery is built around samples of 3 unique hand-crafted instruments: Ferrophone, Sonoplotter and Blue Triangle. This metallic sound library contains two virtual instruments: Ferro and Nebulon Ferro, a match made in heaven.

They both have powerful personalities that stand strong on their own, but their sounds can easily be welded together to form intricate sound design structures.
So rub your ears and get ready to be inspired by the musical and sonic potential of Harmonic Machinery.
Harmonic Machinery is available at an introductory discount of 15% until December 6th, 2015 (regular $43 USD / 39 EUR / £27 GBP).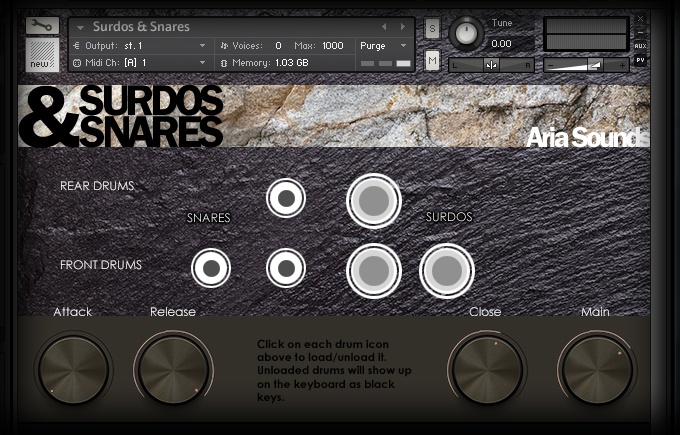 Aria Sounds has released Surdos & Snares, an authentic sounding, flexible and controllable drum sample library for Native Instruments Kontakt.
ARIA Sounds are proud to present "Surdos & Snares", a percussion ensemble consisting of three snares and three surdo drums, all placed in the displayed formation, and reproduced faithfully, so you can play these drums, and they will sound in these positions.

We have absolutely pushed the variation and authenticity to the limit with this library. There are 127 dynamic layers per hit/technique/key in these drums, which provides even more benefits than the obvious lack of repetition, or the dreaded "machine-gun effect".
Surdos & Snares features
127 velocity layers for ultimate realism.
Ensemble of 6 individually playable drums.
Faithful 3D sound/reproduction of ech drum's position in the hall.
Variety of techniques per drum, including soft mallets, sticks, rims, hands, different brushes.
Close and main mic positions.
Over 6GB of samples.
Surdos & Snares for Kontakt 4 and 5 (full version) is available at a 50% discount for a limited time (regular £39.99 GBP).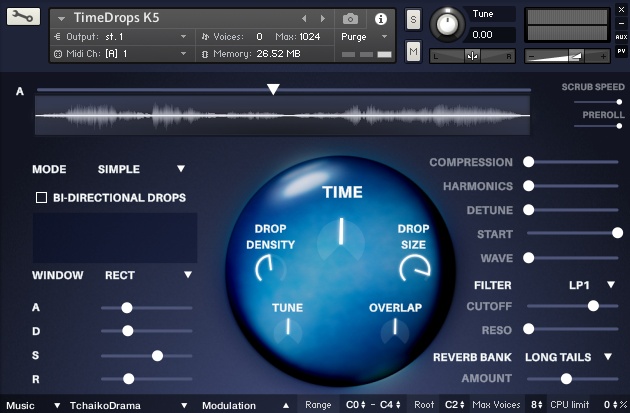 Fluffy Audio has released TimeDrops, a granular time manipulation tool for Kontakt 5, featuring sample import and an extensive of sound sources and presets.
TimeDrops implements an advanced time granular engine which allows to freeze the time of any sample, creating pads and soundscapes out of any kind of material.

It also features a custom scripted ADSR, time synced LFO and an advanced mapping system for creating complex organic textures and many different playing modes to reinterpret the material of the sample in lots of different ways.

The idea of this instrument is to take something beautiful and transform into something else with the proper tools keeping the maximum sound quality possible. For this reason, despite its apparent simplicity, it implements many under the hood adjustments like per-grain custom windows, anti-phasing techniques and synchronized time/rate/densities between the grains. Granular synthesis is actually awesome when you can't actually distinguish between the single grains and the whole result appears like a new designed sound.

For this reason, the library will feature a very simple way to import your own samples, and you can create your personal library of TimeDropped sounds!
TimeDrops features
Advanced time freezing engine with sample importing.
988 MB sample library.
94 ready to use soundsources.
91 NKI presets.
Custom ADSR, LFO and CC controls.
Easy sample importing.
Custom FX engine.
Multiple grain windows.
Custom remappable CCs.
TimeDrops is available for the introductory price of 50 EUR / $54 USD until October 1st, 2015 (regular 65 EUR / $69 USD). Requires full version of Kontakt 5.4 or higher.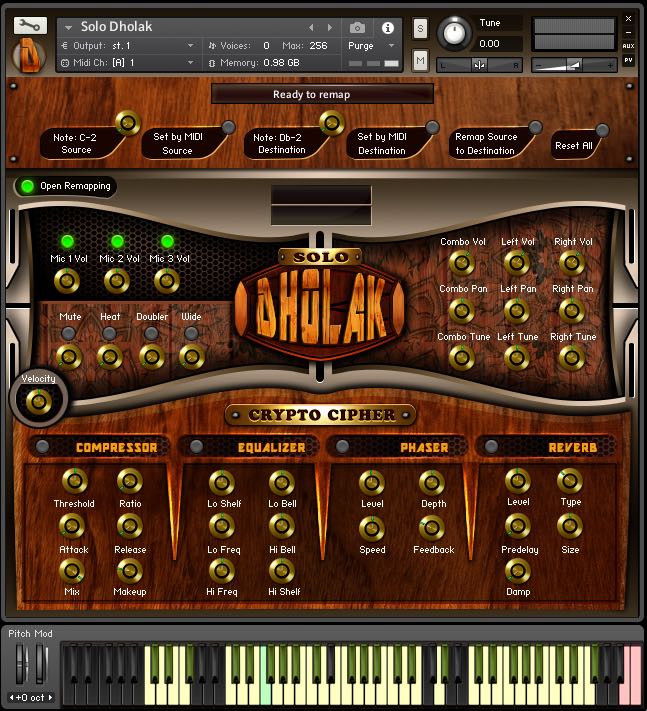 Crypto Cipher has released Solo Dholak, an instrument library for Native Instruments Kontakt.
This is the first and most advance playable "Solo Dholak" sampled instrument released till now with over 12,900 samples recorded with high quality equipments. Sampled Dholak was a always a great need of producers working in film industry and keeping their requirement in mind we started working on the concept and finally developed playable dholak instrument with the modern sound design capabilities.

You have fine control over each sound as well each side of dholak drum. Solo Dholak is recorded with Sontronics apollo (a Blumlein X/Y stereo ribbon microphone), Royer 122, Lewitt mics and bodied mic. Mic mix settings can controlled via mic mixer given on UI.
Solo Dholak is available for purchase for $79 USD. Requires full version of Kontakt.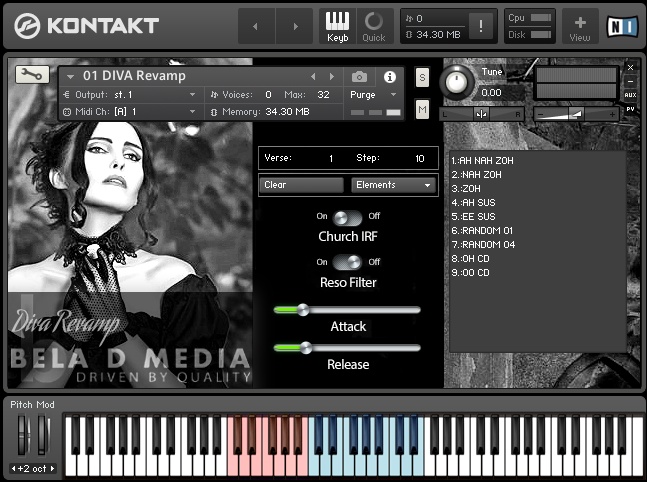 Bela D Media has announced release of Diva Revamp 2015, a female vocal library for Native Instruments Kontakt.
DIVA Classical Female Soloist was created in 2003 and is the very first product every produced by Bela D Media. Since that time, DIVA has sold world-wide and is used by many top composers for film, television and videos games. In the States, often one would be hard-pressed to not to hear DIVA in use on many popular television stations – even to this day. We are extremely proud of this and always consider it to be an honor when a composer (professional or other wise) finds a place for our work in their arsenal of digital tools.

Welcome you to DIVA REVAMP 2015. Once again we have trimmed the digital fat and employed our Vocal Tools style scripting features and GUI to complete this special version. Features include, sample offset polyphonic legato, creation and storage of custom vocal verses, attack and release control per vocal step and real-time playback sequencing.
The library is available for purchase for $150 USD. Users of the Diva Bundle and/or the original Diva Revamp (full version) will received a crossgrade offer. Requires Kontakt 4/5 full version.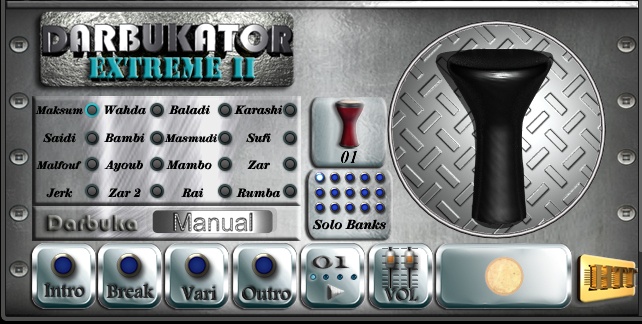 Human Touch Technology has released Darbukator Extreme II, a percussion instrument for Native Instruments Kontakt.
Darbukator Extreme II is a classic arranger for playing oriental Percussion styles with some unique features

Manual / automatic improvisation.
Loops time lock (legato mode)
Random Breaks
Multi Doffs and Doholla for each style (group instruments)

Darbukator Extreme II can be used alone or with other percussion modules. The improvisation generator can add the live feel to any ethic percussion track. All styles and improvisations based on live loops, not single shots.

We sampled the playing technics and improvisation from top percussionists in the Middle East, we got tons of ideas, some of the loops are 8 bars long variations, the possibilities are endless.
Darbukator Extreme II is available for purchase for $89 USD ex. VAT. Requires Kontakt v5.3 or higher, full version.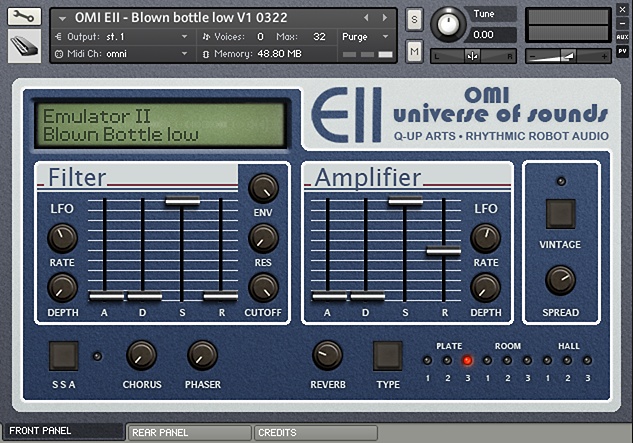 Rhythmic Robot has announced the release of Emulator II OMI Universe of Sounds: Vol 1, an instrument library for Native Instruments Kontakt featuring classic sampled sounds that defined a generation.
Back in the 80s, the sampler that took the studio world by storm was the Emulator II. Far more affordable than a Synclavier or a Fairlight, its crunchy 8-bit samples and clever companding output convertors made for an awesomely in-your-face sound that punched its way through countless hit mixes. Artists like Pink Floyd, Peter Gabriel, Tears for Fears, Thomas Dolby, Philip Glass, Eurythmics, Pet Shop Boys, Vangelis and dozens more put the EII's signature sound to work on their tracks. It's not overstating it to say it helped define the sound of a generation of music.

'I'm a fan of this Rhythmic Robot outfit. Using their instruments is like discovering a lost tribe in the digital jungle… pure, but slightly uncivilized.' – Stephen Hague, producer (Peter Gabriel, Erasure, Pet Shop Boys, Robbie Williams, Melanie C, New Order, etc.)

Key to the EII's success was a phenomenal aftermarket library of professionally-recorded samples. The factory library itself was excellent, but the soundset that really expanded the possibilities of the instrument was OMI's Universe of Sounds – a mammoth swathe of patches covering keys, basses, strings, orchestral, synths, ethnic, drums, percussion, brass… everything you needed to bring your track to life. When we first approached the idea of sampling an EII, it was this library we wanted to sample.

Now, in collaboration with and with the blessing of Doug Morton – the guy who actually recorded those OMI samples back in the 80s, and who remains their copyright owner – we bring you the OMI Universe of Sounds, in all its glory. We've sampled every note of every patch (over 31,700 samples in all!) out of a reconditioned Emulator II, to preserve the exact sound of the EII's D-to-A convertors and sample interpolation process. We've meticulously preserved original looping behaviour, velocity layers and sample switching. In short, what you hear when you play this instrument is the sound of an EII in its heyday.
Emulator II OMI Universe of Sounds: Vol 1 features
31,700 individual samples.
33Gb original 24-bit.
21Gb uncompressed 16-bit.
11.33Gb compressed .ncw format.
541 individual instruments, including 14 Bass, 18 Bells & Chimes, 52 Brass, 51 Drums, 59 Ethnic & Folk, 8 FX, 36 Guitar, 38 Piano & Keys, 77 Orchestral, 41 Percussion, 61 Strings, 76 Synth, 12 Vocal.
Additional Kontakt Multis taking the EII's sounds in exciting new directions.
The sample library is available for purchase for the introductory price of £85 GBP + VAT through July 31st, 2015 (regular £99 GBP).