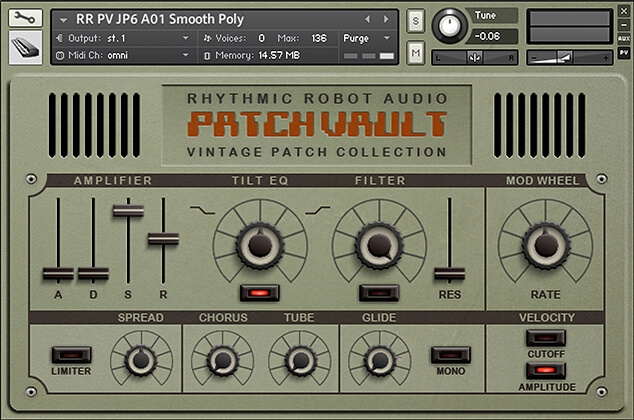 Rhythmic Robot has announced the release of a free taster of its upcoming PatchVault range of vintage synthesiser patches for Native Instruments Kontakt.
PatchVault is an ever-growing collection of patches from the most coveted synths of the past. Taking original, authentic sounds from ancient hardware and wrapping them in a simple but powerful interface, PatchVault makes grabbing that sound a breeze.

The interface is geared towards hands-on, immediate tweakability. It features a neat little Tilt EQ, a powerful 4-pole filter, and can map MIDI velocity to both amplifier and filter cutoff, giving you playable expression that was uncommon on most of the original hardware. There's Chorus and Tube Saturation to enhance the sound, plus a Limiter to tame over-enthusiastic analogue waves. All the modern additions can be easily switched off, though, if all you want is the original factory patch in its raw state.

This is a freebie taster so you can get a feel for yourself of how PatchVault patches might work in your mix. It's the very first factory sound of Roland's über-cool Jupiter 6 synth, so this is most likely the very first sound you'd have heard if you bought a J6 back in the day. If you like this, keep an eye out for the entire Jupiter 6 soundset, which will be coming very soon!
The PatchVault taster is a free download for Kontakt v4.2.3 or higher (full version).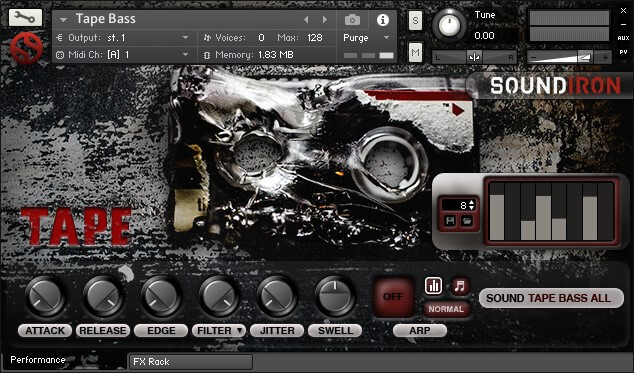 Soundiron has announced the release of Tape, a Kontakt library that explores sonic degradation and recombination, featuring hundreds of uniquely-styled percussive strikes, stingers, multi-samples and FX that will burn right through your mix.
Each sound has been hand-crafted by sonic artist Spencer Nunamaker (designer of Drip & Crystal), shaped from acoustic recordings captured through destroyed cassette and microcassette tapes, all mangled into a distinctive collection of instant sonic goodness for your electronic and hybrid percussion needs. Tape is perfect for minimalist, EDM, IDM, dubstep, chillwave, glitch, post rock, soundtrack, downtempo, dub and ambient music. It's also fantastic for sci-fi sound design and creating user interface SFX for games and apps.

All of the sounds are designed for complete cohesion, so that any sound can blend or be sequenced with any other sound in the library. You can tweak your sounds with tons of real-time parameters and automate every detail with flexible control features, like attack, release, transient offset, dynamic swelling, filter type selection, resonant filter sweep and a robust Arpeggiator system that provides a full range of easy and inspiring arpeggiator options.

There's also a complete multi-FX rack, including convolution reverb with dozens of unique spaces, such as cathedrals, churches, halls, bunkers, garages, tunnels, chambers, rooms and plenty of otherworldly FX impulses to fully explore and endless variety of strange and unexpected sonic manipulations. You'll also find several distortion, amp and speaker types, phaser, flanger, lots of filters, delay, compressor and more.

The flexible user interface is designed for the full retail version of Kontakt 5.5 and later, but all of the samples are unlocked 24bit/48kHz wavs that you can use in any standard wav-compatible program or plugin you like.
Tape features
8 powerful Kontakt .nki instrument presets.
754 Samples.
412 MB Installed.
24-bit, 48 kHz Stereo PCM Wav Format.
Unique percussion kits and category banks.
Tonal Pads, Leads, Atmospheres and Mechanical SFX.
Multi-FX Rack and reverb with 70 room, hall and FX impulses.
Tape is on sale for $24.99 USD until January 1st, 2015 (regular $39 USD). Requires full version of Kontakt 5.5 or later.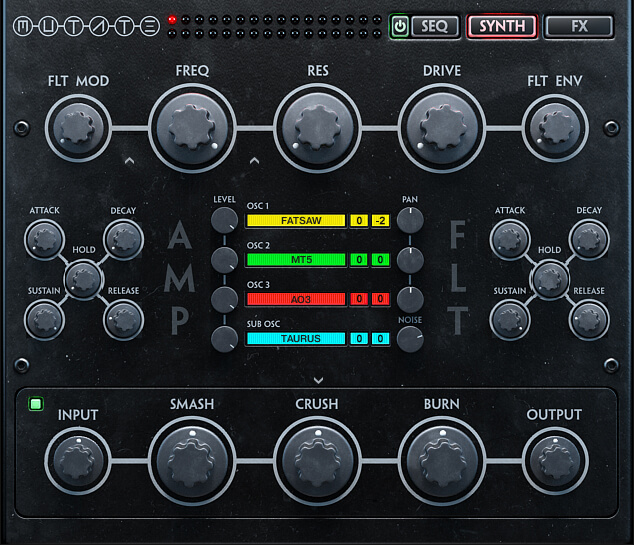 Wave Alchemy has announced the release of Mutate, a virtual hybrid synthesizer instrument for Native Instruments Kontakt 5.
Twist, mangle and transform unique multi-sampled waveforms to create powerful abstract Dubstep bass, twisted Techno sequences, morphing growls, Mainroom EDM bass / leads, cone-melting subs, lush chords, warm analogue bass and everything in-between…

Mutate is powered by a 3.7GB core library of unique raw waveforms and pre-designed preset multi-samples, synthesized from the ground up, and recorded directly from a huge hybrid analogue / digital Eurorack modular synth system.
Mutate features
3.7GB core waveform library consisting of 9,035 multi-sampled 24-bit WAV samples. Heavily scripted Kontakt 5 instrument and intuitive graphical interface (requires full version of Kontakt 5.2.1, or above).
'Designed Presets' instrument featuring 142 creatively synthesized, cutting-edge multi-sampled patches recorded and designed with a high-end Eurorack modular synth set-up.
'Raw Waveforms' instrument featuring 4 programmable oscillators (+ 1 noise osc), each with 46 selectable 'waveforms' – designed individually using a mixture of analogue and digital oscillators from the Eurorack modular.
151 'Designed Presets Instrument' presets.
20 'Raw Waveforms Instrument' presets.
Multiple filter types, custom on-board effects and impulse responses, extensive modulation routings and 3 LFOs .
Sequence pitch, volume, note length, sample start point, filter cut-off, filter resonance, filter LFO depth, Filter LFO rate, stereo spread, distortion levels, reverb send and delay sends individually, PER STEP!
Switchable mono, legato and polyphonic keyboard modes. Unison and stereo width effects.
Saturation and bit-crusher effects
Mutate is available for purchase for £49.95 GBP.
echo | collective has released ORION, a drum library and step sequencer built for Native Instruments Kontakt.
In addition to the sequencer, ORION contains over 800 unlocked one shot percussion sounds. These are arranged into 18 future-retro inspired drum kits created from custom-sampled and processed classic analog synths and drum machines, DSP-manipulated acoustic recordings, and a kit built entirely from processed vinyl pops and clicks. This includes three artist signature kits created by producers Vital, Phrakture, and Timecop 1983.
The ORION instrument is designed to allow fast, easy, and intuitive sequencing of the drum library using a unique dual-view sequencer: Step View mimics the sequencing style of classic drum machines focusing on one drum sound at a time, while Grid View shows the entire pattern, inspired by modern software and grid-controller hardware.
A user can delve deeper with the advanced step modulation sequencer for per-note control of every parameter of every sound on every beat. Sequenceable send effects include programmable reverb and delay.
A user can also add grit and glue to the beat with the insert effect module, delivering tape saturation, compression and a selection of custom tape hiss and vinyl noise floor recordings.
Specs:
24-bit 44k unlocked wav files.
17 unique drum kits.
60+ Kontakt fully programmed unlocked .nki files.
.nki files require full version of NI Kontakt 5.5 or higher.
Price: $30 [Limited introductory price].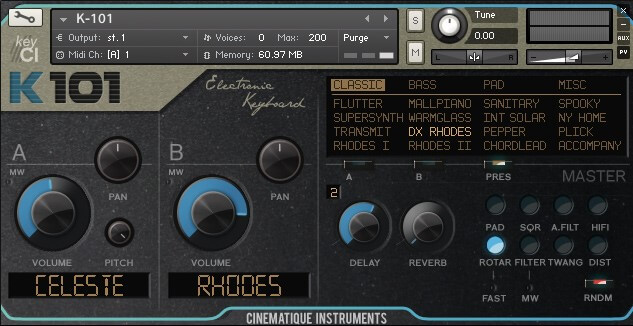 Cinematique Instruments has announced the release of K 101, a "charming electronic keyboard" instrument for Native Instruments Kontakt.
The Instrument
The K 101 is a lucky bag. Its main sound source are the vintage Casio CZ–101 keyboard, supplemented by a few sounds captured from a Casio PT-10. All the sounds are incredibly warm and charming. You can lose yourself just playing along the analog sounds, being inspired by its distinct character which is both warm and raw.

The Content
K 101´s instrument design is based on 2 simultaneous sound slots, each can be feeded with one of 47 sound sources and has a separate volume and pan knob. Beside that, the first slot provides an additional -12 to 12 semitones pitch knob.

We captured 47 individualy designed sounds of the original keyboards. We recorded the whole keyrange in minor thirds, looped the sounds, processed them if needed and extended the key range to C0-C6. In order to shape the final sound, K 101 provides plenty of sound options:

3 EQ´s called "FILTER", "A.FLT" and "HIFI"
rotary- , twang- and distortion-fx
reverb and delay
2 different volume envelopes, called "PAD" and "SQR"

K 101 provides 55 presets which are covering a range of pianos, basses, pads, organs and fx-sounds. To preserve your own presets simply save the patch under a different name on your harddrive. A very special option is the "RNDM" function, which sets fx parameters, sound selections, volumes and panning by random. This is pure fun and amazing to see what comes out in the end.
The library is available for purchase for 32 EUR / $34 USD. Requires Kontakt 4.22 or higher, full version.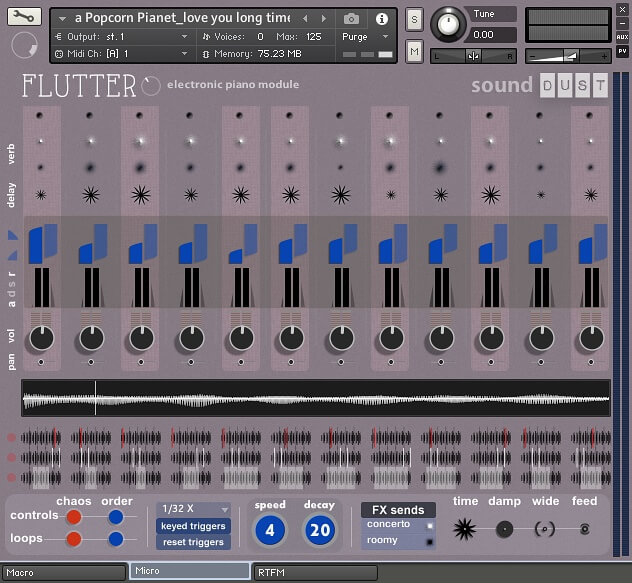 Sound Dust has launched Flutter EP, an electric piano instrument library for Native Instruments Kontakt.
Flutter EP is an electronic piano like you'e never heard before.

She is packed to the brim with specially devised samples made from a variety of slutty analogue hardware synths and keyboards. All sample sets morph and loop through various transitions for a mind boggling selection of unique but Wurly-ish, Rhodes-y, organ-esque, DX like electric piano type sounds….but of course there is a twist.

Think Radiohead, Jon Hopkins, Nils Frahm, Ólafur Arnalds or maybe Steve Reich in a fist fight with Trent Reznor.
Flutter EP features
1.2GB (compressed) 24bit stereo samples.
120 presets created from 12 imagined electric piano and organ multisample sets.
Sample sets made from cunning variations of Hohner Pianet T, Moog Voyager, Nord Modular, Nord Wave, Soulsby Atmegatron, Waldort Wave XTand DSi Pro2 all recorded through a stereo pair of Warm Audio Tone Beast preamps.
Macro page -for quick access to master controls of volume envelope, filter, effect sends and tube/transistor distortion..
Macro page -instant shape presets for volume envelope and filters.
Micro page -individual control on a per note basis of volume envelope, pan, low and highpass filters and effects sends.
Micro page -individual control on a per note basis of sample start, loop position and loop length.
Micro page -individual per note trigger settings for BPM synced note repeats.
Micro page -chaos and order controls for instant parameter randomisation.
Flutter control – modwheel hard wired to unique 'flutter' effect -wiggle it and you'll soon find out what it does.
20 custom reverb convolution impulses.
RTFM tab -so you can't lose the manual.
Flutter EP for Kontakt 5.5.1 or above (full version) is available for purchase for £35 GBP. Until November 30th, 2015, a 20% discount is available with coupon code PSEUDCASE at checkout.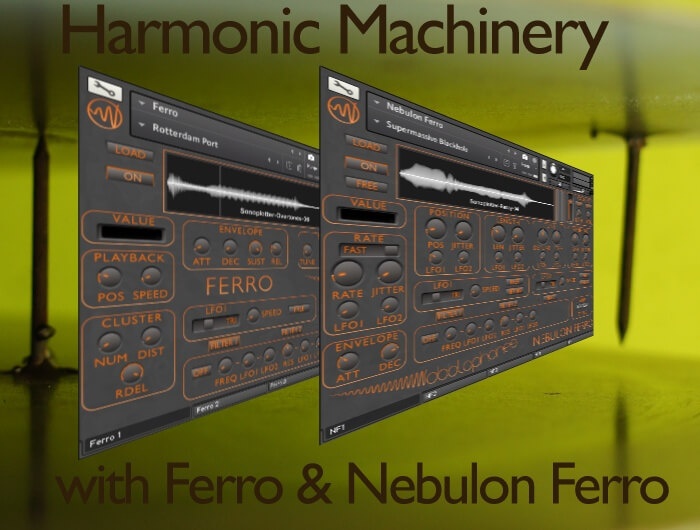 Wobblophones has introduced Harmonic Machinery, a new instrument library for Native Instruments Kontakt.
Harmonic Machinery is built around samples of 3 unique hand-crafted instruments: Ferrophone, Sonoplotter and Blue Triangle. This metallic sound library contains two virtual instruments: Ferro and Nebulon Ferro, a match made in heaven.

They both have powerful personalities that stand strong on their own, but their sounds can easily be welded together to form intricate sound design structures.
So rub your ears and get ready to be inspired by the musical and sonic potential of Harmonic Machinery.
Harmonic Machinery is available at an introductory discount of 15% until December 6th, 2015 (regular $43 USD / 39 EUR / £27 GBP).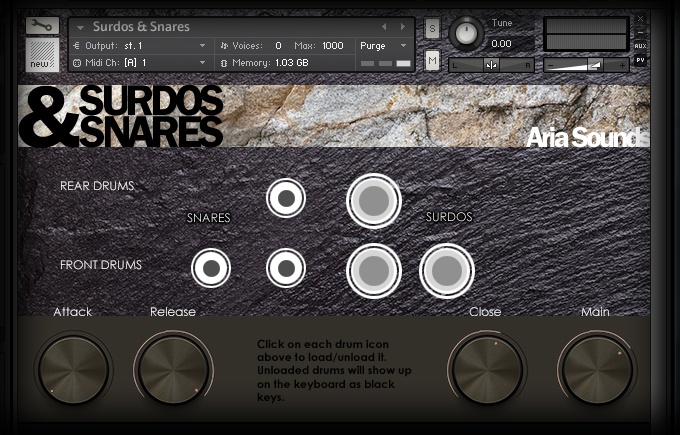 Aria Sounds has released Surdos & Snares, an authentic sounding, flexible and controllable drum sample library for Native Instruments Kontakt.
ARIA Sounds are proud to present "Surdos & Snares", a percussion ensemble consisting of three snares and three surdo drums, all placed in the displayed formation, and reproduced faithfully, so you can play these drums, and they will sound in these positions.

We have absolutely pushed the variation and authenticity to the limit with this library. There are 127 dynamic layers per hit/technique/key in these drums, which provides even more benefits than the obvious lack of repetition, or the dreaded "machine-gun effect".
Surdos & Snares features
127 velocity layers for ultimate realism.
Ensemble of 6 individually playable drums.
Faithful 3D sound/reproduction of ech drum's position in the hall.
Variety of techniques per drum, including soft mallets, sticks, rims, hands, different brushes.
Close and main mic positions.
Over 6GB of samples.
Surdos & Snares for Kontakt 4 and 5 (full version) is available at a 50% discount for a limited time (regular £39.99 GBP).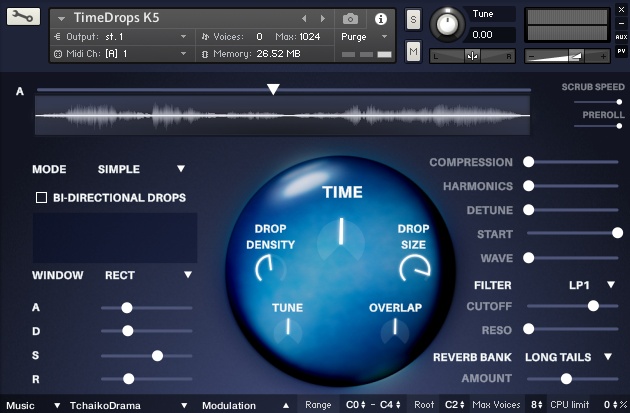 Fluffy Audio has released TimeDrops, a granular time manipulation tool for Kontakt 5, featuring sample import and an extensive of sound sources and presets.
TimeDrops implements an advanced time granular engine which allows to freeze the time of any sample, creating pads and soundscapes out of any kind of material.

It also features a custom scripted ADSR, time synced LFO and an advanced mapping system for creating complex organic textures and many different playing modes to reinterpret the material of the sample in lots of different ways.

The idea of this instrument is to take something beautiful and transform into something else with the proper tools keeping the maximum sound quality possible. For this reason, despite its apparent simplicity, it implements many under the hood adjustments like per-grain custom windows, anti-phasing techniques and synchronized time/rate/densities between the grains. Granular synthesis is actually awesome when you can't actually distinguish between the single grains and the whole result appears like a new designed sound.

For this reason, the library will feature a very simple way to import your own samples, and you can create your personal library of TimeDropped sounds!
TimeDrops features
Advanced time freezing engine with sample importing.
988 MB sample library.
94 ready to use soundsources.
91 NKI presets.
Custom ADSR, LFO and CC controls.
Easy sample importing.
Custom FX engine.
Multiple grain windows.
Custom remappable CCs.
TimeDrops is available for the introductory price of 50 EUR / $54 USD until October 1st, 2015 (regular 65 EUR / $69 USD). Requires full version of Kontakt 5.4 or higher.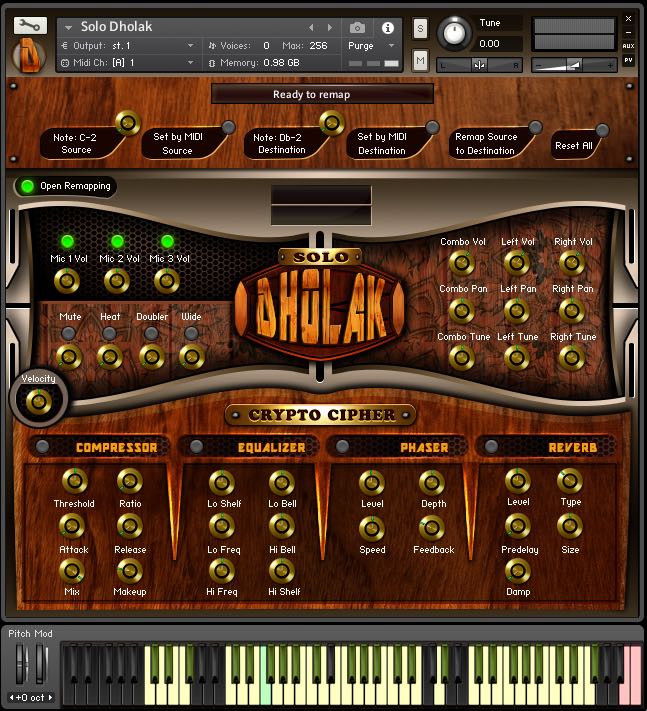 Crypto Cipher has released Solo Dholak, an instrument library for Native Instruments Kontakt.
This is the first and most advance playable "Solo Dholak" sampled instrument released till now with over 12,900 samples recorded with high quality equipments. Sampled Dholak was a always a great need of producers working in film industry and keeping their requirement in mind we started working on the concept and finally developed playable dholak instrument with the modern sound design capabilities.

You have fine control over each sound as well each side of dholak drum. Solo Dholak is recorded with Sontronics apollo (a Blumlein X/Y stereo ribbon microphone), Royer 122, Lewitt mics and bodied mic. Mic mix settings can controlled via mic mixer given on UI.
Solo Dholak is available for purchase for $79 USD. Requires full version of Kontakt.