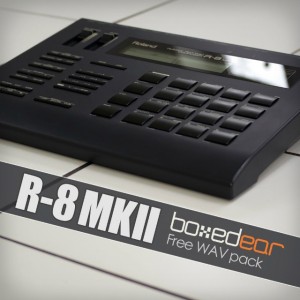 Boxed Ear has announced the release of R-8 MkII, a free sample pack made with the classic Roland R-8 MkII drum machine.
A spokesperson said, "You can hear the Roland R-8 on early 90s tracks by Aphex Twin and Autechre and it helped to define the IDM genre during that time. It's characterised by a clean sound with plenty of bottom end and is still a favourite in many studios today. The original R-8 focussed on acoustic sounds, but the popularity of the SN-R8-04 Electronic and SN-R8-10 Dance sound cards, which contained TR-808, TR-909 and CR-78 samples, prompted Roland to release the MkII which had most of those sounds already built in. Whilst the sounds don't sound exactly like a real 909/808/78, they do have a power and usability all of their own.
This isn't an exhaustive sampling of the R-8, but instead we chose to focus on the electronic sounds that made this drum machine popular with artists such as Aphex Twin and Autechre. And to add a bit more charm, we sampled it though our favourite UA 1176 compressor."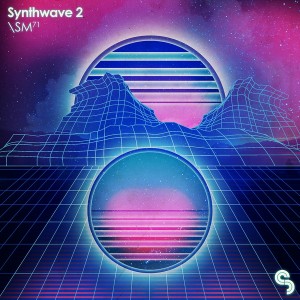 Sample Magic has launched its new Synthwave 2 sample pack.
Retro rhythms and analogue nostalgia abounds in Synthwave 2: 1.4GB of drum machine grooves, epic arpeggios, interstellar synths, lush pads and emotive chords fusing Tron-style synthetics and 80s pop sensibilities to define the sound of the decade.

After the runaway success of Synthwave it was only a matter of time before we got the guys to reboot their vintage machines for another exploration of all things 80s. Packed once again with hundreds of classic beats and catchy melodies – all processed through retro outboard for an authentic 80s vibe – the collection effortless merges synth pop, retro electro and new wave influences.
Synthwave 2 features
1,080 Wav files (24-bit).
705 Apple Loops.
705 Rex2 files.
224 MIDI files.
5 custom drum kits for Maschine 2, NN-XT, EXS24, Battery 4 and Ableton Drum Rack.
8 sampler patches for NN-XT, EXS24, Kontakt and Ableton Drum Rack.
The sample pack is available for £34.90 GBP, with parts also available as Click & Mix packs.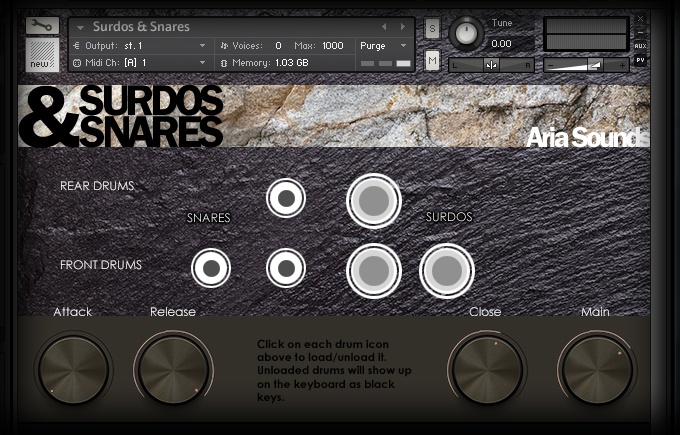 Aria Sounds has released Surdos & Snares, an authentic sounding, flexible and controllable drum sample library for Native Instruments Kontakt.
ARIA Sounds are proud to present "Surdos & Snares", a percussion ensemble consisting of three snares and three surdo drums, all placed in the displayed formation, and reproduced faithfully, so you can play these drums, and they will sound in these positions.

We have absolutely pushed the variation and authenticity to the limit with this library. There are 127 dynamic layers per hit/technique/key in these drums, which provides even more benefits than the obvious lack of repetition, or the dreaded "machine-gun effect".
Surdos & Snares features
127 velocity layers for ultimate realism.
Ensemble of 6 individually playable drums.
Faithful 3D sound/reproduction of ech drum's position in the hall.
Variety of techniques per drum, including soft mallets, sticks, rims, hands, different brushes.
Close and main mic positions.
Over 6GB of samples.
Surdos & Snares for Kontakt 4 and 5 (full version) is available at a 50% discount for a limited time (regular £39.99 GBP).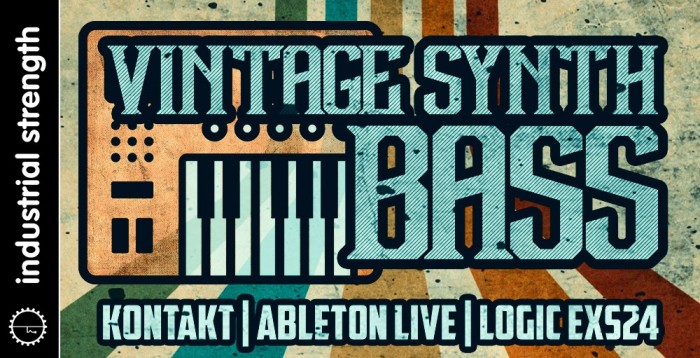 Industrial Strength Samples has released Vintage Synth Bass, a collection of bass sounds records from synthesizers like the Arp 2600, Juno 60, and Korg MS20.
Industrial Strength Samples is back with another dynamite production pack. We went in the studio and sampled some of our favorite Bass sounds from our vast synth collection. So get ready,

Our design team went on a mission to create a serious collection of classic bass sounds used in electronic music over the last few decades. Knowing that these rare synths are out of reach to many people due to cost and availability, this pack can be an essential tool for anyone looking to capture the real vintage analog bass sounds used in classic traxx.

This serious studio weapon delivers 20 bass instruments meticulously recorded in 24 bit Wav audio, each sound has been tweaked and key grouped for ease of use while using our bass sounds. We also tossed in the Midi files from the demo so you can easily use the baselines in the demo with no fuss.
The sample pack is available from Loopmasters for £12.95 GBP.
Ford features Detroit techno pioneer Kevin Saunderson in this new promo, which follows Saunderson as he samples sounds at a Ford Assembly Plant.
From the sounds of the Detroit streets to the sounds of a Ford Assembly Plant, follow techno pioneer Kevin Saunderson as he searches for inspiration for the next groove to use in his iconic music.
The Ford Today channel is the hottest news and stories regarding Ford Motor Company. Get updates on the most current news stories or be wildly entertained with the latest about Ford and Ford vehicles.
Subscribe to the Ford Today YouTube channel: https://www.youtube.com/user/fordtoday
Follow Ford on Social:
• Facebook: https://www.facebook.com/ford
• Twitter: https://twitter.com/ford
• Instagram: http://www.instagram.com/ford
• Tumblr: http://gofurther.tumblr.com
• Ford Social: http://social.ford.com/
Ford Motor Company, a global automotive industry leader based in Dearborn, Michigan, manufactures or distributes automobiles across six continents. With about 175,000 employees and 65 plants worldwide, the company's automotive brands include Ford and Lincoln. The company provides financial services through Ford Motor Credit Company. For more information regarding Ford and its products worldwide, please visit http://corporate.ford.com.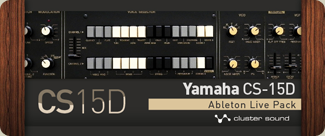 Cluster Sound has released CS15D, a multi-sample Live Pack based on the vintage Yamaha CS-15D.
CS15D is an extensive multi-sample Live Pack reproducing the sound of the vintage Yamaha CS-15D, a great sounding monophonic analog synthesizer released in 1979.
Details:
THE SOURCE The CS-15D is a monophonic analog synth with loads of character, one of the most solid and warm single-VCO machine ever. The synth features 29 preset voices divided in two mixable channels, plus a manual section comprising a variable pulse-saw oscillator, a PW modulator, a noise generator and a 12db filter with a dedicated ADSR envelope.
BRILLIANT SOUNDS Despite referred to an array of realistic instrument names (Tuba, Oboe, Horn, Harpsi, Xilophone..) the 29 presets give a variety of synthetic sounds ranging from fat basses to solid percussive organs and warm brass strings. These sounds can be altered by the Brilliance slider which acts in several interesting ways depending on the selected preset.
THE PACK CS15D is based on 74 multi-sample recordings reproducing all the presets with different brilliance amounts, several variations of the VCF envelope and various manual oscillator settings (including a tuned noise). The Live Pack features 90 Instrument Racks with useful macro controls, including special Mixed Racks for easy drag 'n drop customization.
CS15D is available for 24.00 € at the Cluster Sound site.
Buy BOCS Kontakt Synth Here!
http://www.sampleism.com/audiowarpc/a…
BOCS (Boards Of Canada Synthesis) is a Kontakt sample pack consisting of ten pads inspired by the electronic duo Boards of Canada. It's refreshingly different compared to previous efforts from various sample packs and vst synths.
The reason why?
These sounds have been created via the methods used by the group themselves. Vintage analog synths, 4-tracks, valve amps even VHS recorders were used to create a sample bank more authentic than anything we've heard before.
These sounds have a dirty, dusty, and dream like quality just like that elusive Boards of Canada sound. Weighing in at just under 1 gig you can be guaranteed a truly professional sound to use for your next stunning track.
BOCS Volume 1 Sample pack requires the fully working version of Kontakt 5 to work. The purchased download consists of 10 Kontakt NKI files.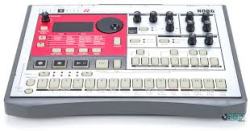 Legowelt has released a free sample library, featuring the 90's-tastic virtual analog sounds of the Korg ER-1 drum machine.
The free sample library includes 150 .wav samples made with the Korg ER-1, including 'Earthshaking Bass drums, crispy snares, audacious claps, sizzling hi hats, warbly FX + lots more!'
"When I was in Japan last month I made a samplepack from my Korg ER1 drumsynthesizer in my hotelroom
The Korg ER1 is a "digital virtual analogue" drumsynthesizer from 1999. This is basically a drum machine with a special synthesizer to make your own drums ounds.
It has a XOX style sequencer and the classic cool late 90s Korg pweieieieieuuuu delay effect."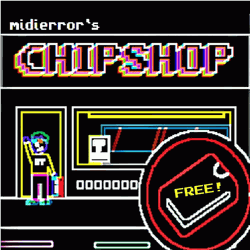 Midi Error has announced Chipshop, a free sample pack featuring 844 samples.
A free sample pack crammed with over 800 individual samples and 70+ Loops. All recorded direct from C64, AtariSt and Nintendo Gameboy.

We are the music makers.
Chipshop features
Gameboy (Nanoloop, LSDJ): 91 bass, synth, lead, perc and sfx hits and 117 sampeld drum hits.
SID (Cynthcart, Retroskoi): 61 bass, lead and sfx hits.
YM2149 (Various): 36 bass hits, 48 custom fx, 124 drum hits, 145 multi-samples (5 instruments over 5 octaves), 29 white noise hits, 29 sampled hits, 110 sfx hits, 54 synth hits.
70 loops: 22 full loops and 48 drum/synth loops.
844 samples in total.
The pack is a free download at Midi Error's SoundCloud page.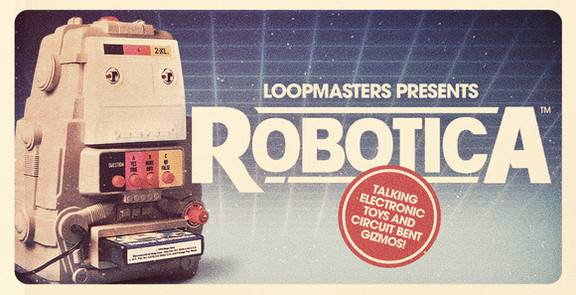 Loopmasters has launched Robotica, a sample pack featuring a collection of twisted and abused electronic talking toys by extreme samplist MIDI Error.
Mr Error is back to his old tricks tormenting innocent inanimate objects, this time armed with a PZ2 insulated screwdriver and a wet finger he has managed to coax strange garbled electronic noises and words from a collection of dusty electronic toys and games for your listening pleasure.

Every sound in this collection has come from genuinely abused toys mic-ed and hardwired to a chain of devastating audio effects including Bitcrushers, Watkins Tape Delay, Mooger Fooger Pedals and then plumbed into a vintage Reel to Reel tape machine for some warm Analog saturation.

During the last moments of their inevitable death and whilst under heavy interrogation these battery operated kid's companions spat out their entire vocal range and then some, luckily our sample hero was there to capture it all to tape.
The sample pack is available for purchase for £19.95 GBP.