Christopher L Anderson has introduced AnaddrSynth, a sound synthesis tool comprised of three configurable oscillators, hi/lo/moving filters, a wah-wah effect, an echo/delay effect, and configurable attack-decay-sustain-release and modulation modules.
The video shows a brief demonstration of the sawtooth and square oscillators in oscillator banks 1 and 2. Some harmonization and filter control is shown, as well.
Background video description:
Learn how to make modern synthesizer music! Check out my channel and subscribe: http://www.youtube.com/subscription_c…
Electronic music is everywhere nowadays, so why not join the fun and maybe you'll become the next synthesizer superstar! The 2014 School of Synthesis will show you how! Yeehaaaw!
'UncertainMusicCorps' explores the synthesis capabilities of the Nord Drum 2.
First serious session with Nord Drum 2. Using Vermona fourMulator quad LFO to trigger 4 channels with Stoichea picking up the remaining 2. Using S/H waveforms from the Vermona via attenuators (matrix mixer) for timbral variation on the Nord Drum.
Bent melodic drone comes courtesy of Braids with rhythmic wavetable modulation.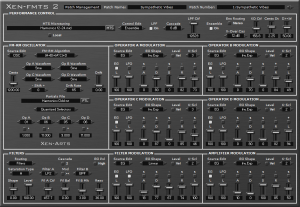 Xen-Arts has released Xen-FMTS 2, a 4-Operator FM Synthesis with a specialized set of features for computer musicians interested in exploring the expressive possibilities of making music with alternative intonation systems. It includes 115 patches, 55 microtunings and 56 partials files.
Microtuning:
Internally loads and externally receives both MTS (MIDI Tuning Standard) Bulk Dump and Single Note Microtuning Files.
Operator ratios can easily be set to values that are coincident with the microtuning being used, thereby producing intonation related sidebands in the timbre of the instrument.
Microtonal pitch-bend ranges may be configured in cents, harmonics and superparticular ratios.
Arbitrary microtonal pitch shifting makes it possible to easily pitch transpose the oscillators in both octave and non-octave increments.
FM-RM Oscillator:
4 Operator FM Synthesis with Ring-Modulation.
57 Operator Algorithms.
11 different Operator Waveforms.
Analog Pitch Drift Emulator.
Transposition by cents offsets.
Partials text files may be used to quantize the frequency ratios of the operators to user specified values.
Velocity-to-Harmonics Modulation enables oscillators to dynamically sound harmonics of the fundamental pitch.
Modulators:
Seven dedicated hybrid modulators for Operators A, B, C, D, Filters, Amplifier and Pitch.
Each modulator includes an ADSR style envelope generator, and an LFO which can be switched to run at audio-rate.
Each ADSR Envelope Generator features Per-Stage Keyboard Tracking.
LFOs can either be synchronized to the host DAW tempo or set in Hertz. They include 24 Waveforms, a Slewer and can be switched to run at audio-rate.
Filter Section:
Pre-Filter Saturation Stage with 20 Saturation Types.
Two Independent Filters with Six Filter Types: LP4, LP2, HPF, BPF, BRF, APF.
One and Two Stage Filter Cascade.
Performance Control:
Full controller MIDI Pitch Microtuning with MTS (MIDI Tuning Standard).
MTS Support for both Single Note and Bulk Dump.
Loads MTS Microtuning Format Files Internally and Receives MTS Externally.
Local (Per-Patch) and Global Microtuning (Static Microtuning for All Patches).
Microtunings can be loaded from any directory on hard drives or storage devices connected to the PC.
12 Note Polyphonic.
Monophonic Legato Mode.
Monophonic Portamento.
Microtonal Pitch Bend.
Vibrato.
Effects include Chorus, Lowpass Filter Cascade (Warm Filter) with 6 dB to 48 dB per-octave filters and Stereo Ensemble.
Price: Free.
SECRETS provides a clear, no-nonsense guide to making any sound on any synthesizer. Starting with the fundamentals of sound creation, it progresses through such advanced topics as programming FM synths like the DX-7. Valuable insights are offered into stage and studio performance techniques which are applied to a variety of makes and models so that you will derive benefit from this video no matter what kind of equipment you have. A 130-page manual is included, making this a complete course on electronic keyboards.
Steve DiFuria is the narrator and featured performer on this video. He is a highly respected consultant in synthesizer design and a Keyboard columnist who has programmed for Frank Zappa, Stevie Wonder, and Lee Ritenour.
DCI Music Video, Inc. 1985.
FAIR USE NOTICE: This Video may contain copyrighted (©) material the use of which has not always been specifically authorized by the copyright owner. Such material is made available to advance understanding of ecological, political, human rights, economic, democracy, scientific, moral, ethical, and social justice issues, etc. It is believed that this constitutes a 'fair use' of any such copyrighted material as provided for in section 107 of the US Copyright Law. In accordance with Title 17 U.S.C. Section 107, this material is distributed without profit to those who have expressed a prior general interest in receiving similar information for research and educational purposes.
www.facebook.com/theprimeministeroffunk
Theometrica (first prototype)
99-Prepared Needles, Distance RangeFinder, Sound generation software.
Oscar Palou & Alexander Müller-Rakow.
Exposed in ImageTransfer; Universität der Künste, November 2013, Berlin.
Inspired by acupuncture, this sculptural instrument is designed to control sound elements in real time by fixing specific pins into a spinning disk. 99 prepared needles, a distance rangefinder and Max/MSP sound generation software work together to let you use the pins to create geometric shapes that are translated into sound.
This short video shows the difference between normal synthesis and expression control using AeroMIDI, our 3D MIDI controller.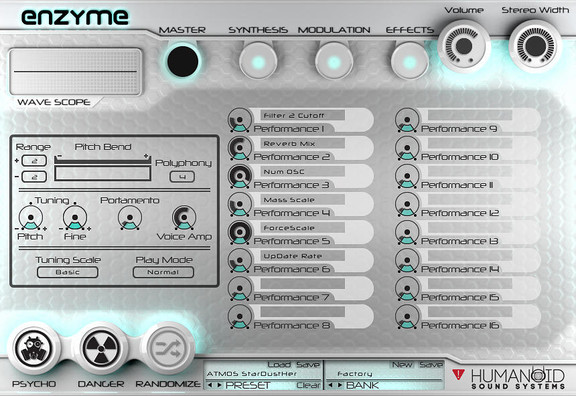 Humanoid Sound Systems has released a public beta of Enzyme, a "scanned synthesis" instrument for Windows and Mac.
Enzyme incorporates all the popular features of our Scanned Synth Pro, but takes its scanning synthesis in several new directions simultaneously.

Sample import is now available so you can resynthesise existing sounds with automatic pitch detection and click-free looping, while Hybrid Scanned/FM synthesis is also on offer for even more sonic possibilities.
Enzyme features
Next generation Scanned Synthesis Engine with Sample import function & Hybrid Scanned/FM synthesis options.
Multiple scanner options for fatter 'Unison Mode', brighter 'Harmonic', or imported 'Explorer Mode' with imported samples.
New Effects Rack, allowing practically unlimited layering of effects such as analog modelled filters, reverb, chorus, flanger, and destortion.
Automatable performance controls, allowing control of important parameters from a single location and multiple parameters to be controlled using a single control.
Alternative tunings.
VST 2.4, Audio Units (AAX Support coming soon).
Support for both 32 and 64 bit architectures under both Windows and OS X.
As with SSP, each Enzyme voice includes a complex Scanning Oscillator with hammer, wave, mass and connection matrix controls, a 7-mode resonant filter, three ADSR envelopes and two LFOs, and a separate Multi-Effects section featuring reverb, tempo-synced echo, chorus, flanger and 7-mode resonant filter.
Enzyme for Windows and Mac (VST/AU) is available to purchase for $49.99 USD. Note: This is still officially a beta version of Enzyme but it is totally safe to run on your computer.
Parsec Spectral Synthesizer — the futuristic sound of additive synthesis for the Reason Rack. With two independent sound engines, up to 1024 oscillators per voice, a wide range of sound sculpting tools, built-in effects and free modulation routing
Parsec is Available in the Propellerhead Shop:
http://shop.propellerheads.se/product…
Download the song file from this video here:
http://www.propellerheads.se/stuff/Pa…
Additive Synthesis is an entirely different type of synthesizer technology than most of us use in our music. Historically speaking, that's because Additive Synthesis has been hard to understand and a heavy burden on computers to keep up with the hundreds of oscillators needed to make complex sounds.
Well we've fixed that. Parsec is our latest Rack Extension instrument for Reason and it brings a completely new and musical approach to Additive Synthesis.
In this Micro Tutorial, you'll learn all about how Additive Synthesis works and how you can experiment with Parsec to bring new sounds to your music.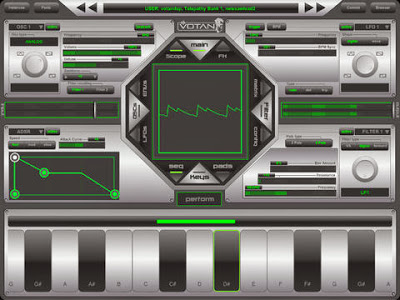 Similar to Audulus iCloud Patch Sync, Votan Telephathy allows you to share sounds between iOS and Audio Unit counterparts.  You can also share patches with friends.
"Votan Telepathy is a groundbreaking multi-purpose synthesis engine harnessing cutting edge technologies with traditional sound sculpting techniques. The power beneath Votan Telepathy is based in its cloud and communication platform where you can create sounds and instantly share with friends and colleagues.
The Votan Telepathy synthesis engine is also available as an 32/64 bit Audio Unit plugin with the iOS app acting as an ultra low latency touch controller for multiple instances of the synth in your favourite DAW. You can create new sounds on your iPad, that magically appear in the Audio Unit to be used in a professional DAW environment.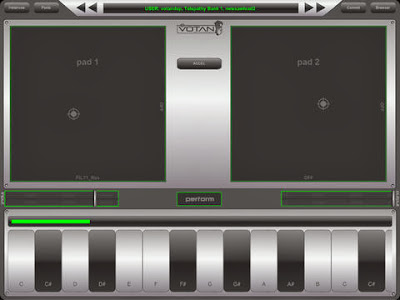 **Votan Telepathy Synthesis Engine**
*Oscillators:
4 x Free Range Oscillators with Band-limited alias free Virtual Analogue waveforms. Free-range means they can be unlocked from key frequencies, and then used intelligently as audio rate modulators for FM and Ring Modulation. You can also morph between the different wave-shapes (Sine, Triangle, Sawtooth, Square).
*Filters:
4 x Multi-filters with traditional Virtual Analog(Moog Ladder, MS20, TB303 emulations), Digital IIR and Formant Phase filters, 2/4 Pole with standard filter types Low Pass, High Pass, Band Reject, and Band Pass.
In depth internal filter routing between the filters, with Parallel, Series and Stereo Split.
*LFOs:
4 x LFO's with transitional and morphing wave shapes.
*Envelopes:
4 x Envelopes, standard ADSR, Filter and 2 x assignable envelopes.
*Modulation:
6 x Modulation Matrix Slots for extensive modulations
*FX:
4 x FX Slots with Delay, Distortion, Chorus, Flange, 4 Band EQ, Decimator, and Glitch algorithms.
*Performance Control:
4 x XY Pads, with direct assignment of ALL parameters for in-depth performance control. You can trigger notes directly from the Pads.
User assignable Keyboard with key selector(select the keys you need to play, not the rest)
*Binaural Beat Generator:
Votan Telepathy has been built with binaural synthesis in mind. You can assign each oscillator to play through Left or Right channels to create binaural beats with extended synthesis capabilities. The system can create all brain frequencies from 0.01hz up to megahertz. Get experimenting with the invisible frequencies of the mind.
*Votan Telepathy Audio Unit:
Votan Telepathy is also available an 32/64 bit AudioUnit and is a direct mirror of the iOS app and fully compatible with all presets. Your preset library is synced over all devices and apps.
Imagine the power of being able to create new soundscapes on your iDevice, then they magically appear in the DAW work session. Tweak sounds on the fly, then polish them into your productions.
*Votan Connect:
The iOS app of course can also act as a touch controller for the audio unit offering almost zero latency control of multiple instances of the audio unit plugin. Totally integrated synthesis and control like never seen before.
*Votan Cloud:
The Votan Cloud is a powerful integrated Preset Management System. Users can create soundscapes and store them in their own device or in the Votan Cloud. In the Votan Cloud patches can be instantly shared with other users. The VotanDSP team will be in constant creation of new sounds so they will be instantly available for all users of the system. You can chose to make your preset library public or private.
iPad 4+ recommended for iOS synthesis.
iPad 2+ for controlling the Audio Unit.
For more information visit www.VotanDSP.com