Reversing the typical analysis/synthesis order to show off some alternative uses of fine band vocoding.
This overview is an exploration into the versatility of the Braids' wavetable synthesis using heavy modulation. The Timbre, Color, FM, Trigger inputs are being fed intense modulation. If you want to hear specific waveforms, they are all timestamped on Youtube in About/Show More. All the waveforms are timestamped on the YouTube page. The basic waveforms can be heard below in Equinoxoz Music Solutions' video. This overview does not cover the universal paramaters like Bits, Rate, Trig, META, etc… You can find additional information in the Braids Manual.
More information: http://trashaudio.com/?p=9333
Waveforms:
CSAW
/\/|-_-_ 0:21
/|/|-_-_ 0:45
SYNC 1:01
FOLD 1:15
_|_|_|_|_ 1:35
RING 1:54
/|/|/|/| 2:16
/|/|_|_|_ 2:36
TOY* 3:05
ZLPF 3:20, ZPKF 3:42, ZHPF 4:01
VOSM 4:11
VOWL, 4:29 VFOF 4:57
FM 5:15, FBFM 5:37, WTFM 5:50
BELL 6:09
PLUK 6:19
BOWD 6:40
BLOW 7:09, FLUTE 7:29
WTBL 7:49
WMAP 8:02
NOIS 8:18
TWNQ 8:32
CLKN 8:41
CLOU 8:51, PRTC 8:59
QPSK 9:18
Creator of the PPG and Wavetable synthesis, Wolfgang Palm, gives an editing tutorial for WaveMapper users.
PPG WaveMapper is the second next-generation iOS based synth from Wolfgang Palm, who in 2012 released the PPG WaveGenerator to critical acclaim from both press and public.
In final development the PPG WaveMapper offers iPad users a second synthesiser to compliment the already loved PPG WaveGenerator from Wolfgang Palm. PPG WaveMapper allows the user the opportunity to create limitless sounds from this unique and powerful new technology.
PPG WaveMapper features the Sound Map, which maps the various sounds in a way to easily access and experiment with them, more importantly the PPG WaveMapper features a new synthesis system which maps the waveforms of a sound into a new kind of wavetable which preserves the sound characteristics better than classic Wavetable synthesis and at the same time allows for the manipulations which make WT synthesis so unique.
The Mapping window is the visualisation of a pool of programs on which "modules" float. Those modules represent certain parameters of the synthesiser engine and each module can be placed on one of 32 programs. The moment an item is placed on map then the parameters of that module will take on the settings of those parameters in the underlying program on the Mapping window.
People who do not posses synth-programming skills can use this mapping technology as a starting point to create complex sounds. For example a user can drag a string sound source onto a drum envelope, or a guitar sound onto a string envelope – the concept is simple, yet incredibly powerful.
Power users can delve deep into the back end of any sound using a full set of professional features;
▪ New Sound map concept – create new sounds playful and experimental
▪ 3 types of synthesis – the optimal type for kind of each sounds
Classic wavetables – for the typical PPG sounds
Time compressed samples – more authentic sounds, allowing analysis of user samples
Pure samples – classic sample playback
▪ Analyzer – convert your own samples into the new format or into wavetables
▪ 3 oscillators capable for totally independent sound sources
▪ 90 sound resources – a huge sound palette, from real instruments to abstract wavetables
▪ 4 parameter editor pages – comfortable and detailed access to all the parameters
▪ 3 Noise generators, for audio and modulations
▪ Ringmodulator
▪ Classic 24 dB Lowpass Filter, combined with an overdrive simulation.
▪ Dual amplifier, for versatile control of 2 audio signals as well as panning.
▪ 13 Envelopes, for independent control of pitch, waveform, filter and noise
▪ Gain and panning
▪ 4 LFOs – with 5 waveforms
▪ Delay/Reverb effect
▪ Arpeggiator
▪ Schematic touch keyboard – Build your own keyboard, with the keys
you prefer for your music.
▪ Powerful sound browser – sorting by category, bank management
▪ Virtual and Hard-MIDI in/out – sending/receiving keys and controllers.
▪ Audiobus support.
▪ 10 min audio recording and Audio copy.
True or not – if you want to contribute to this project, the details can be found below:
GO HERE, NOW: http://www.kickstarter.com/projects/3…
Donate and contribute to an amazing development in synthesis that is going to change everything.
Be a part of history!
Stop reading this! Go contribute! Hurry! Only hours left!
LFO, a new film that explores the dark side of synthesis and sound design.
Info:
https://www.facebook.com/filmenLFO
http://www.imdb.com/title/tt2660332/
LFO is a Swedish dark comedy/drama/Sci-Fi about a man who realizes that he can hypnotise with sound. He starts experimenting on his neighbors, where the abuse of power takes over and, eventually, severe consequences for mankind are at stake.
www.pingpongfilm.com
With support from: Film i Skåne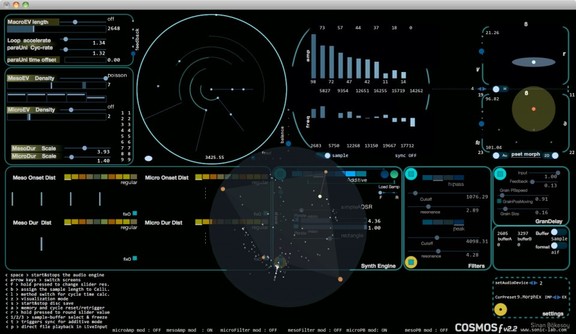 sonicLAB has announced version 2.2 of Cosmosƒ, a real-time dynamic stochastic synthesis engine.
newest update: Cosmosƒ V2.2 offers a powerful and unique preset morphing mechanism. With 2D / 3D control interface + homogeneous and heterogeneous micro waveform handling, it "rethinks" for you what you know as "morphing"…

A sonic morphing process defines a metaphor of exploring the sonic shape and timbral evolution on intermediate levels. Cosmosƒ V2.2 gives the possibility to manipulate its composants responsable for its bottom-up sonic construction within necessary correspondance, precision and smoothness.

Changes in Cosmosƒ v2.2

2D / 3D preset morphing mechanism. Up to 4 different preset parameter space can be morphed by traveling inside a 3D sphere by adjusting the polar coordinates within a unique interface design.
Stochastic morphing with distribution range for altering the morphing position, speed and interpolation control.
Built-in mathematical functions to automatically and precisely move the morphing pointer in the space.
Precise audio rate parameter update with the possibility of reaching amazing morphing speeds (44100times a second!)
turns Cosmosƒ into a super oscillator by accumulating up to 4 different presets in heterogeneous micro event mixing mode prior to the morphing phase.

Cosmosƒ for Windows and Mac is available to purchase for 89 EUR.
This tutorial looks at using the Sine Bank Module in Reaktor to build basic waves such as Saw, Sqr, and Tri. We also talk about using the very powerful "Iteration" module to calculate all the partials as fast as possible, and briefly discuss the idea of Anti-Aliased Oscillators.
When you have the ability to control multiple resonances, you can create "formants." Formants are the acoustic resonances of the human voice. Marc creates a patch which uses multiple resonances to generate a human-voice-sounding sound.
Inspired by Leon Theremin's incredible device, Maurice Martenot set about creating a device of his own. His Ondes Martenot became an important stepping stone in the development of synthesizers, as well as an inspiring musical instrument for composers. Marc describes the history and effect of the creation of this device.
Many more new videos from the Moogfoundation can be found on their channel >>
The Vo-96 Acoustic Synth is the newest innovation from Paul Vo, the inventor of The Moog Guitar. It opens a new method of musical expression called Acoustic Synthesis. Will Rayan and Vincent Crow of The Electric Jazz Project try it out for the first time. Learn more at www.voinventions.com
The Moog Foundation has really been busy over night – uploading some 20+ videos, below you will find a snapshot on what you can explore on their Youtube channel
This is the introductory video for the Bob Moog Foundation/macProVideo series "The Foundation of Synthesis." In it, Marc Doty sets the stage for the intent of these videos, which is an integrative instruction which not only describes synthesizer function and operation, but also gives a historical foundation for the functionalities and their implementation.
Pulse Width Modulation is a pleasing aural effect generated by the voltage-controlled adjustment of the width of a square wave. In this Foundation of Synthesis video, Marc demonstrates this function on several classic synthesizers. The video includes an oscilloscope, which shows you exactly what is happening when the width of the square wave output of the oscillator is changed!
In this part of the 3rd Tutorial of the Foundation of Synthesis, Marc outlines the history of the filter from its origin in the telephone to its application in electronic devices in order to give a firm understanding of how the filter came to be an important part of modern synthesizers. The filter is a function which removes harmonics from a sound. Since harmonics define the timbre of the sound, this is a fast and easy way to create new timbres.
Control voltage is the concept synthesis had waited for for 60 years. This technology united the synthesizer into a single device as well as allowed that device to become fully controllable and automated. Control voltage was a revolution in synthesis. In this video, Marc gives a short history to this amazing development.