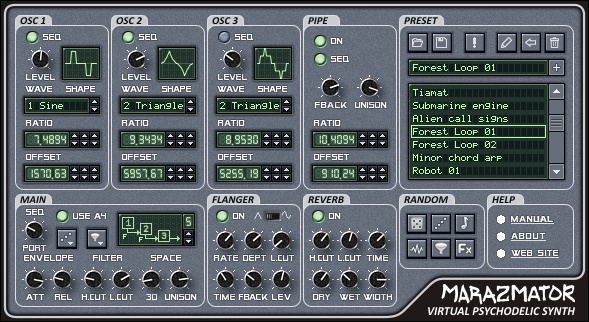 Vasily Makarov has released Marazmator, a free synthesizer instrument for Windows
The VSTi plug-in "Marazmator" will please you with unusual space sounding.

I very much hope that by means of this plug-in you will be able to bring new sound forms which will surprise listeners to this world, will make your music more various and more interesting!
The plugin is available as a free download for Windows (32-bit VST).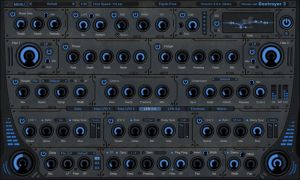 rf Music has released Destroyer 3, a Multi-FX VST plug-in for Windows.
Destroyer 3 is a collection of effects gathered in a single plugin with a designed to be easy to use interface and flexible signal routing. In addition to the effects, there are also LFOs, step LFOs and envelops that can be used to modulate some of the main parameters of the plugin and create movements and morphing sounds.
Features:
Noise gate / Expander.
Over drive.
Distortion.
Lo-Fi: Sample and bit rate reduction.
Cabinet simulator.
2 Filters.
Parametric EQ.
Phaser.
Flanger.
Chorus.
3 Delay units.
Reverb.
Stereo control.
Trance gate.
6 LFOs.
2 Step LFOs.
3 Envelopes.
Price: $69.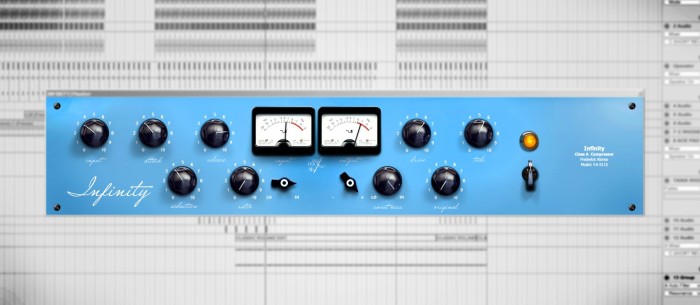 Frederick Alonso has announced the release of Infinity, a free analog style mastering compressor and tube saturation effect plugin for Windows.
This free plugin is based on a concept for a hardware device which has been patented in 2014. Apparently, the developer is planning to build a hardware version of this mastering compressor which was inspired by classic analogue devices such as the Pultec EQ and Thermionic Culture stereo compressor.

The software version is currently available only as a 32-bit VST plugin for Windows, however a Mac OS X version is expected to be released in the future.
Infinity features
Subtle low end warmer.
0 to 100% pure incoming audio + added Infinity dynamics.
Brightness and width in mid and high frequencies.
Subs will sound subtle, full and more focused.
Kicks feel more alive, while the track becomes more open.
You can add tube saturation (Lundahl transformer based).
Audio gets auto limited to -0.02dB when you go over 0dB.
A/B comparison (On/Off switch or toggle switch).
Infinity is available as a free download. Donations are appreciated.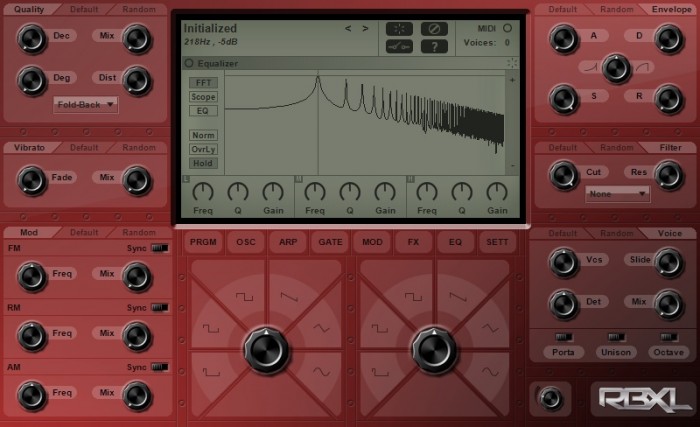 Sound-Base Audio has announced the release of RBXL, a synthesizer instrument for Windows.
RBXL is a full-size, dual oscillator subtractive hybrid VST plug-in combined with FM, RM, and AM. This synth also has built-in effects, an EQ, and an arpeggiator. RBXL is the bigger brother of Retro Boy and was made for retro quality sounds.
RBXL features
Dual seven shape oscillators: 12.5% Pulse, 25% Pulse, 50% Pulse, Saw, Triangle, Sine, Noise.
1 to 64 note polyphony with portamento and slide.
16 step arpeggiator with adjustable oct/semi/fine tuning, gate, and velocity.
16 step mono gate.
LFO, sequence, and envelope modulation for 20+ parameters.
Low usage reverb, delay, chorus, stereo, and phaser effects.
Built in parametric EQ and FFT/scope analysis.
Multi slope lowpass, highpass, bandpass, and band reject filters.
Frequency, ring, and amplitude modulation with frequency syncing.
Unison mode with detune and octave spread.
User settings and personalization features.
RBXL is available for purchase for $59 USD.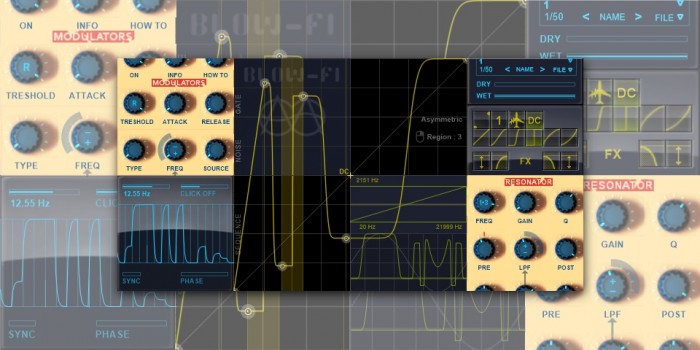 Outofmind has released Blow-fi, a shaper distortion effect plug-in for Windows.
Blow-fi is designed to change an audio signal into a different result that fits into genres like industrial, noise, dark ambient, or hard electro, and experimental. Methods of use can be from screamer, noise gate, bit crusher, filter, loudness maximizer to noise generation, re-looping, changing synths waves and others.
Blow-fi features
Symmetric / Asymmetric shaper mode.
Up to 20 editable points and 19 areas with six shapes per one area on transmission curve with cubic interpolation.
Editable frequency range at distortion input, with modulated lowpass filter on output.
Envelope follower, noise and sequence modulators.
Modulated PRE and POST gain.
Graphic display of the FX behavior on example sine wave.
Optional DC offset filter in asymmetric mode.
Blow-fi for Windows (VST) is available for purchase for 24 EUR.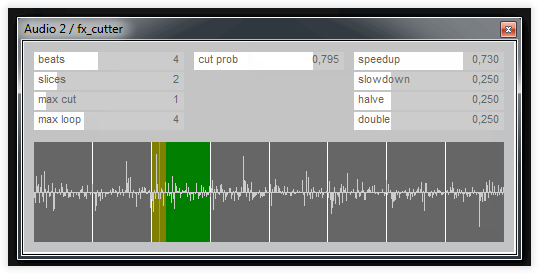 Tor-Helge Skei has released fx_cutter, a free loop slicer/buffer FSU effect plug-in for Windows.
Audio is continually recorded into a buffer (length is 'beats', each slice subdivided into 'slices'), and randomly ('cut prob'), a few slices will be selected ('max cut'), and subdivided ('max loop'), and then this small bit is looped for the duration of the outer selection, the longer bit (the 'max cut' part).. and each time this loop wraps around, it can possibly halve ('slowdown') or double ('speedup') its playback speed, or halve ('halve') or double (yes, 'double') the size of the looped bit..

it is pretty uncontrollable and unrepeatable with all the probibilities, so i usually run a track several times through this, and cut out the good parts..
The plug-in is available for download for Windows (VST).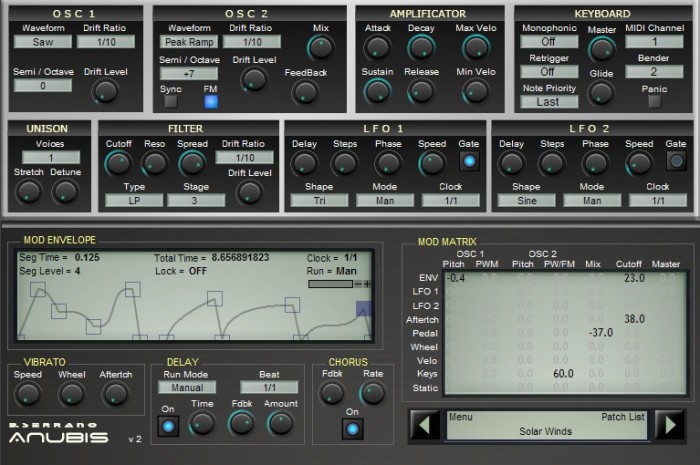 B. Serrano has released version 2 of Anubis, a free synthesizer instrument for Windows.
Anubis 2 features
32 voices polyphonic.
Unison up to 8 voices.
Same waveform as Dionysos.
3 layers multimode filter.
Drifting effect.
Full MDI learn implementation.
Envelope & LFO Host syncable.
…. and more.
The plug-in is available to download for Windows (VST).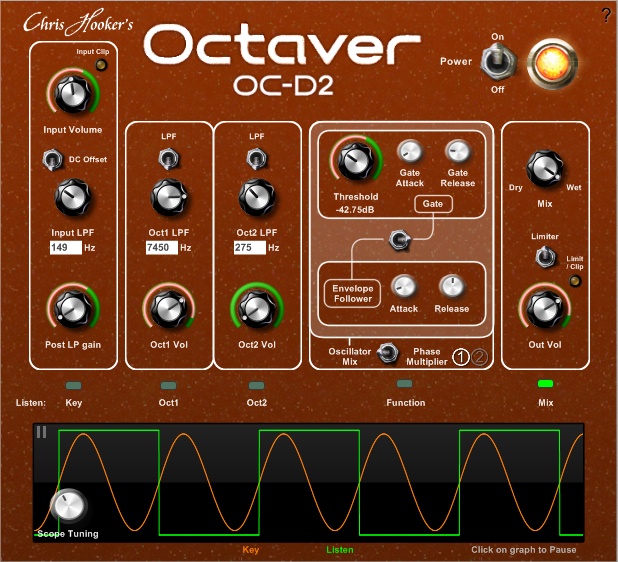 Christopher Hooker has released Octaver OC-D2, a free octave divider effect plug-in for Windows.
OC-D2 is an octave divider plug-in that generates signals one and two octaves below the original. It's based on the popular Boss OC-2 pedal, but with many more features and customizability far beyond what other octavers offer (both pedal and plug-in types).
Octaver OC-D2 features
Control the tracking accuracy.
Control the oscillator tone.
Control the dynamic envelope.
View the waveforms.
Tap the audio at any stage.
OC-D2 is available for download for Windows (32-bit VST).

Bitsonic has released Violent Delay, a free VST Plug-in for Windows. Violent delay is a simple ping-pong delay plugin where a user can change the delay with chorus, filter and phaser:
Original: Lower or add to the volume of the input.
Wet/dry: Change the volume with this option.
Feedback: Change the lenght of the feedback.
Mid-side: At 0 state it functions as a delay mono, at maximum it functions as a ping-pong delay.
Time: This option changes the feedback of the delay. If you want the feedback in sync with the speed this function should be at 0.
Reverse: The delay turns around.
Smooth: Makes the sounds of the delay more blunt. It's like an attack-value changer.
Filter: Filtering the delay – Cut the unnecessary deep or low sounds from the effect.
Filter low pass: Filters the high sounds, leaves the low ones as they are. The resonance value is changeable.
High pass: Filters low sounds. The resonance function that goes with the 2 filters can change the tune of the filters.
Lfo: Automatized filter. It only works if the filter and filter on/off is on.
Phaser speed: Changes the speed of the phase shift.
Phaser gain: Changes the intensity of phase shift.
Phaser wet/dry: Regulates the mix of the raw delay and the phaser sign.
Chorus wet/dry: Regulates the mixing of the original and the mixed sign.
Chorus rate: Adjusts the pitch's measure's difference.
Chorus depth: Regulates the volume of the sound given by the value of the rate.
Chorus delay: Changes the time of the altered sound.
Price: Free.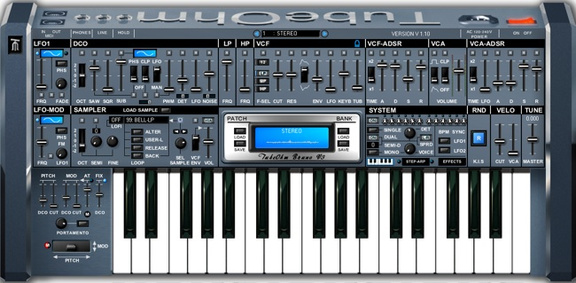 TubeOhm has announced the release of Super Bruno-III, a synthesizer instrument plug-in for Windows.
Bruno III is the update of Bruno-RP, now with a sampler, a new sequencer and a new ARP. The GUI and the DSP have been completely revised. Bruno III comes with 2 sound banks (2×128 new sounds).
Super Bruno-III features
Sampling.
Stepper.
Arp.
Random functions for sound design.
Multi mode filter.
Comp filter, stereo delay, chorus.
Micro tuning.
256 sounds.
External MIDI out to control other Synths with the stepper/ARP.
Easy to use interface.
The plug-in is available for Windows (VST) for 49 EUR. Owners of Bruno-RP can upgrade for 29 EUR.