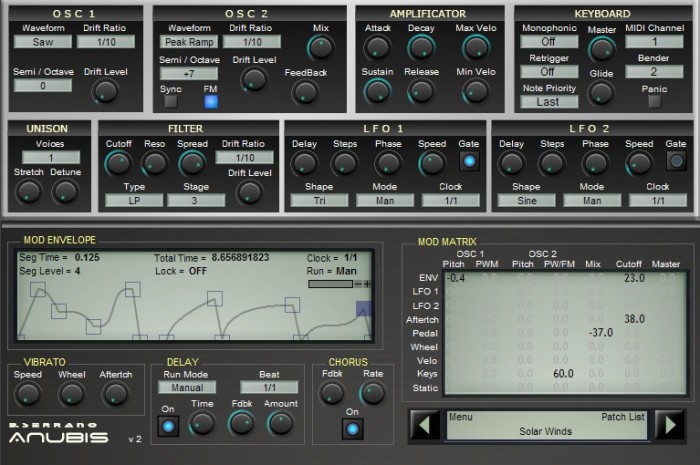 B. Serrano has released version 2 of Anubis, a free synthesizer instrument for Windows.
Anubis 2 features
32 voices polyphonic.
Unison up to 8 voices.
Same waveform as Dionysos.
3 layers multimode filter.
Drifting effect.
Full MDI learn implementation.
Envelope & LFO Host syncable.
…. and more.
The plug-in is available to download for Windows (VST).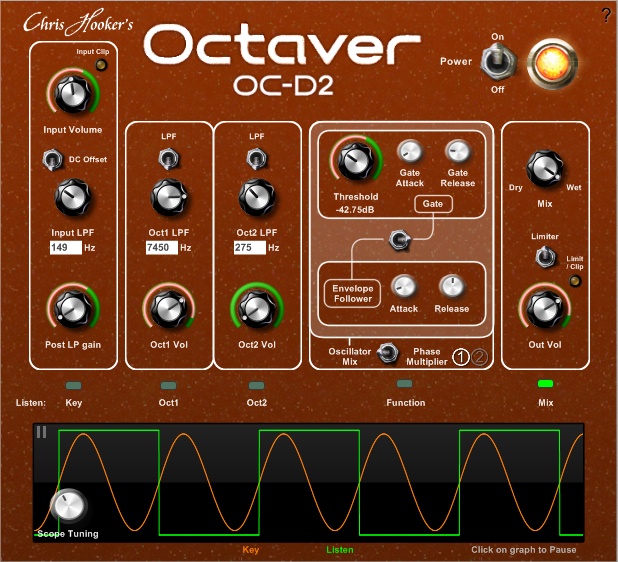 Christopher Hooker has released Octaver OC-D2, a free octave divider effect plug-in for Windows.
OC-D2 is an octave divider plug-in that generates signals one and two octaves below the original. It's based on the popular Boss OC-2 pedal, but with many more features and customizability far beyond what other octavers offer (both pedal and plug-in types).
Octaver OC-D2 features
Control the tracking accuracy.
Control the oscillator tone.
Control the dynamic envelope.
View the waveforms.
Tap the audio at any stage.
OC-D2 is available for download for Windows (32-bit VST).

Bitsonic has released Violent Delay, a free VST Plug-in for Windows. Violent delay is a simple ping-pong delay plugin where a user can change the delay with chorus, filter and phaser:
Original: Lower or add to the volume of the input.
Wet/dry: Change the volume with this option.
Feedback: Change the lenght of the feedback.
Mid-side: At 0 state it functions as a delay mono, at maximum it functions as a ping-pong delay.
Time: This option changes the feedback of the delay. If you want the feedback in sync with the speed this function should be at 0.
Reverse: The delay turns around.
Smooth: Makes the sounds of the delay more blunt. It's like an attack-value changer.
Filter: Filtering the delay – Cut the unnecessary deep or low sounds from the effect.
Filter low pass: Filters the high sounds, leaves the low ones as they are. The resonance value is changeable.
High pass: Filters low sounds. The resonance function that goes with the 2 filters can change the tune of the filters.
Lfo: Automatized filter. It only works if the filter and filter on/off is on.
Phaser speed: Changes the speed of the phase shift.
Phaser gain: Changes the intensity of phase shift.
Phaser wet/dry: Regulates the mix of the raw delay and the phaser sign.
Chorus wet/dry: Regulates the mixing of the original and the mixed sign.
Chorus rate: Adjusts the pitch's measure's difference.
Chorus depth: Regulates the volume of the sound given by the value of the rate.
Chorus delay: Changes the time of the altered sound.
Price: Free.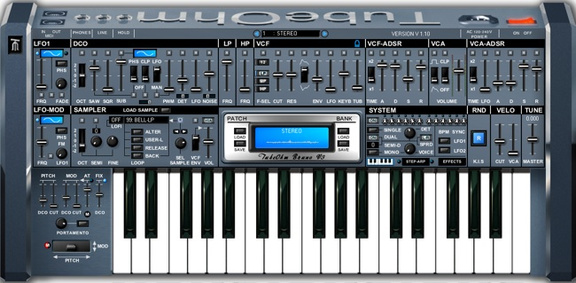 TubeOhm has announced the release of Super Bruno-III, a synthesizer instrument plug-in for Windows.
Bruno III is the update of Bruno-RP, now with a sampler, a new sequencer and a new ARP. The GUI and the DSP have been completely revised. Bruno III comes with 2 sound banks (2×128 new sounds).
Super Bruno-III features
Sampling.
Stepper.
Arp.
Random functions for sound design.
Multi mode filter.
Comp filter, stereo delay, chorus.
Micro tuning.
256 sounds.
External MIDI out to control other Synths with the stepper/ARP.
Easy to use interface.
The plug-in is available for Windows (VST) for 49 EUR. Owners of Bruno-RP can upgrade for 29 EUR.
beatassist.eu says that Mantra Evo is a high capable synthesizer, combining FM and Phase Dist synthesis, all in one. Here's what they have to say about it…
Mantra Evo is based on an FM synth and a Phase Dist synth. Both of these synths are gifted with a morphing system that will morph the basic waves into some more complex ones. Each of these synths are also gifted with 5 envelopes (amp, pitch, filter, modulation and morphing). The modulation of these synths is based on FM modulation system using kbd and depth.
On the filter envelope you can tweak just cutoff, resonance or both. Each of these synths are gifted of an LFO with two targets, dedicated filter, free speed knob, sync option and waveform choice. There is a Chorus for each synth too, making your sounds phater.
The effects you can use for Mantra are Octave Stepper, Distortion, Reverb, EQ, Stereo Delay and Trancegate.
Each of the synths can be individually connected to any of these effects leaving the other off.
Mono Mode can be used with a high gliding range.
Mantra Evo runs on Windows XP/Vista/Win7/Win8 32-bits and 64-bits when bridged.

WOK has released MiniStepper, a free MIDI Step Sequencer Plug-in for Windows. Ministepper is designed to be easy to use.
There are 8 steps, each with velocity, gate length and mute. Several play directions, start- and end-step selectable on the fly. Sequence can be transposed by incoming MIDI notes (polyphonic). Host sync with dottet and triplet speed selection, swing, run on key press, MIDI-channels selectable for combined use, clear layout, free.
Price: Free.
easy#toolz has released Mormox Imitate, a free synthesizer instrument plug-in for Windows.
Its an "Emulation" of a very new Hardware-synth from Greece, called "Murmux Initate"
And it has a very "simple" Structure at Original: 2 Oscillators with Subosc, 2 waves (Saw and Pulse)
Lowpass-Filter, simple LFO, 2 Envelopes (one AD, one ADSR)… thats all

My "Emu" has some extra Features, indeed, i have tried to receive the brilliantly easy structure.
Mormox Imitate is available to download for Windows (VST) as freeware as part of the KVR Developer Challenge 2014.

Acrobatics has released Mate, a free synthesizer instrument for Windows.
Mate is a hands-on, simple desktop musicians friend, inspired by synthesizers of the seventies and eighties.

It produces original synth tones and reproduces strings, pianos, basses, organs and bells patches with ease, but it can also explore wild and spacey atmos using its flexible modulation options and smart programming.
Mate features
32-bit ultra-optimized code, zero latency, samplerate independent engine.
All sample rates supported.
Each control is fully recordable and automatable in host.
Most knobs & switches receive external MIDI control changes.
Mate for Windows (VST) is available to download from KVR Audio as part of the Developer Challenge 2014.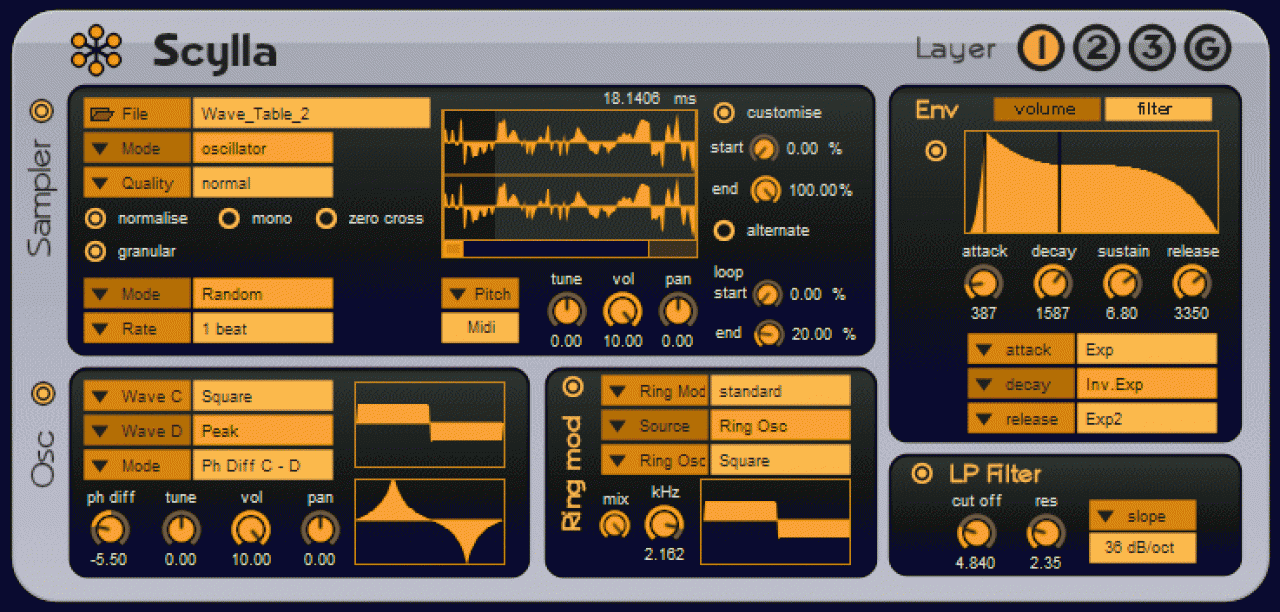 De La Mancha has released Scylla – a 32 bit Windows VST instrument – as a free download.
Scylla is capable of sample playback, combined with subtractive synthesis, to produce a wide variety of sonic possibilities, ranging from lush pads, soundscapes and effects, leads and bass.
Scylla includes three different types of oscillators that can be modified to a wide variety of styles and three built-in samplers that can accommodate .wav audio samples, which can be played back in grain table, waveform, sample or single hit format. All the audio can be modified and modulated through LFO, volume and filter envelopes, Ring-Modulation, and Unison.
Scylla has a tabbed interface with a different tab for each of the 3 layers and a Global tab for effects and LFOs. Each Layer is identical except each has a different type of oscillator, with a Cross-modulation osc, a Morphing osc and a Spectral osc
Features:
Three layers of programmable audio sources
Each layer consists of:

Sample player capable of loading full-length samples and custom waveforms
Oscillator (Dual-OSC with cross-modulation, Morphing OSC, Spectral OSC)

Each sampler features:

Playback: Oscillate, Play-Once, Loop-Release
Basic audio playback features (normalize, stereo to mono, zero-crossing)
Customizable Loop points
Granular and Wavetable playback
Loads any WAV format sample from your own library

96MB of sample content, including waveforms, samples and loops
128 presets by brian botkiller
All audio sources have independent tune, volume, and pan
Ring-Modulation per layer
Variable stage Filter per Layer
Adjustable Amp and Filter Envelopes per layer (Envelope contours can be changed)
Layer Assignable Granulator engine
2 layer assignable LFO effects for modulating ring-mod, cutoff (filter), and phase of one LF
Adjustable Global Amp Envelope
Mix level of each audio source can be adjusted
Mix level of each layer can be adjusted
Master Volume
Each audio source, envelope, ring-mod and filter can be switched off to save CPU
Midi CC support
Scylla is free to download.
The Asus VivoTab Note 8 is an affordable Windows 8 tablet with a Wacom digitizer screen. The VivoTab Note 8 is also a very nice musical sketchpad because it can run just about any Windows software within it's 2 gigs of memory limitation. All in all, it's a great tablet for creative work on the go.
Created with MAGIX Video deluxe 2013