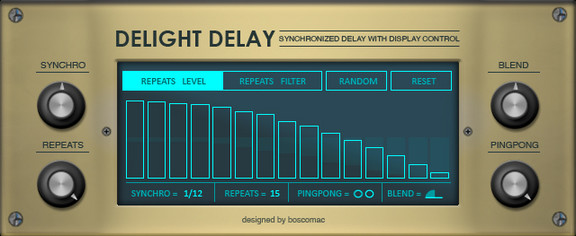 Boscomac has announced the release of Delight Delay, a free delay effect ensemble for Native Instruments Reaktor.
DELIGHT DELAY is a pattern-based delay controlled by a sequencer.

A central display allows you to set the level and filtering rehearsals and so draw a pattern. You can set the number of repetitions (1 to 15) determine the tempo (1/4 to 1/32), adjust the stereo (mono or pingpong) and adjust the blend.

Very easy to use, this delay grooves with guitars, runs with synths, installs synchronized vibes and many other things …
The ensemble is a free download for Reaktor (requires full version). Donations are appreciated.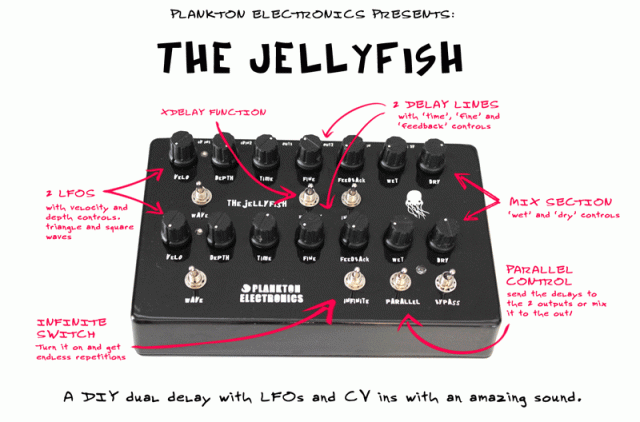 Plankton Electronics has introduced The Jellyfish – a DIY double delay, with modulation options capable of a wide variety of sounds, from simple delay lines to crazy modulated stereo sounds.
Features:
Analog passive filters
CV inputs
Two LFOs
Infinite feedback switch
Xdelay function
Dry/Wet controls
Pseudo-stereo (1 in-2 outs) or mono mixed sound
The Jellyfish is available as a kit for 120 Euro (the case is additional).  Schematics and other documentation are provided on their site – right here >>
Create vinyl record scratches and learn about Ableton's various Delay Plug in's modes.
Download the AfroDJMac Vinyl Scratcher Rack for free @ http://bit.ly/freesynth91
Demo of the new AUFX DUB from Kymatica, tested this with the Yamaha DD65 kit and the Korg Wavedrum Global running through the iPad via a Behringer UCA222. Then into Audiobus and into Cubasis. The recorded reggae drum pattern that plays about half way through was programmed with DM1 then treated with the other AUFX SPACE reverb app, and had some compression from Cubasis added..
AUFX:Dub. A highly tweakable stereo delay audio effect, suitable for everything from clean digital delays to filthy dub echoes and broken cassette tapes. It features tape simulation (noise and warble), filters in the delay loop for typical dub sound, stereo detune, ping-pong delay, and more
All AUFX apps have the following features:
High quality 32-bit DSP engine.
Process hardware input/output or other apps through Audiobus (input/filter/output slots supported).
Ready for the future inter-app audio standard.
Fully MIDI controllable, including Virtual MIDI.
Built-in look-ahead limiter to avoid clipping.
Background Audio.
Save and load user presets.
Comes with several bundled presets.
Record the result directly in app.
Email recordings or export to AudioShare audio document manager app.
Access user presets and recordings through iTunes File Sharing.
In this video, take a trip back to the origins of 'delay' as an effect and the technologies that led us to where we are today.
This is just the introduction to the tutorial.
Check out the full tutorial here: http://www.groove3.com/str/Delay-Explained.html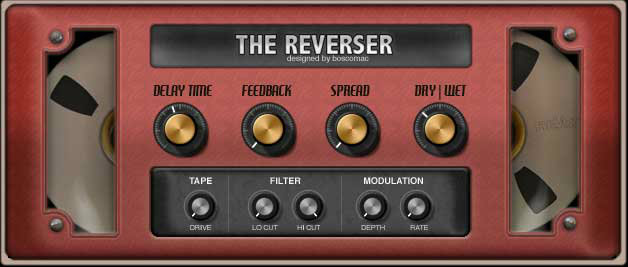 Boscomac tells us that The Reverser is a delay that reverses the sound.
A spokesperson had this to say, "Originally, we recorded a sound and then we returned the tape to play it backwards, it was pretty perilous. Today, we are far from the mechanics, but the principle remains the same except that the sound is processed in real time. Here you can set the delay time of the signal which will be read backwards, the feedback, stereo offset (spread) and mix the processed signal. In terms of Vintage, you can saturate the tape, cut of frequencies and modulate the sound reversed."
Full version of Reaktor 5.8 needed.
The KOMA BD101 is a complex (short) Analog Delay & Amplitude Modulation unit that can be used for filtering and treating audio signals; the very short delay time closes every "standard" application, but opens a whole landscape of sonic crushing and underclocking distortion. Pretty Wild. The IR sensor is very sensible to strong lights for shooting; so, on this video, its sensibility is not so strong than in the real life.
KOMA BD101 amplitude modulating Doepfer Dark Energy; Dark Time retriggers synth eg and BD101 is AMing signal for a rhythmic interaction; short delay and underclocking of BBD as usual.
The short BBD into BD101 is modulated with LFO triangle/square wave out from Doepfer Dark Energy. A lot of harmonics and – when underclocking takes act – a lot of severe audio changes. Not a standard delay, but a complex sound sculpting machine.
Background video description:
Just for fun the Pittsburgh Analog Delay in feedback (see my previous video) through the RS-390 Echo
Background video description:
I seem to have acquired a lot of eurorack delays. So I thought, let's make some demos. These are however a lot of work. I also note I have a lot of dust on my modular! But anyway: here is the first: a demo of the Analogue Systems RS-390 echo (digital delay). I got bored with filming the synth itself, so I added a few shots of the vegetable patch on my balcony … Probably next demo will be the Pittsburgh Analog Delay. But don't hold you breath, this may take a while.
Any suggestions for other patches to try are welcome.
Echo Pad for iPad/iPhone (universal) coming soon!
http://www.holdernessmedia.com/home/ios-applications/music/echo-pad
Echo Pad is a realtime Echo effect processor featuring a unique delay + sound on sound looper controlled by a multi-touch XY interface on your iPad, iPhone and iPod touch device.
Use the built in mic on your headphones, plug in a guitar, microphone, synth, drum machine, iOS device, or whatever you want using an audio interface such as the Apogee Jam or MIC, or one of the many other compatible iOS and USB audio interfaces. (Verified up to date list of compatible audio interfaces below.)
Echo Pad was born out of love for tape echoes, sound on sound loopers and noisy, dirty analog delay pedals. Echo Pad excels at hands on warping delay tones and controlled feedback, and is not afraid to get loud.
Great for both live performance and sound design, Echo Pad was designed to have fun with the ability to sculpt a wide range of delay tones from subtle rhythms to heavy, dubbed out ambient swirls, to aggressive feedback explosions.