Korg has introduced the SDD-3000 Pedal, a new delay pedal, based on the classic 80′s SDD-3000.
The SDD-3000 PEDAL packs all of the SDD-3000?s functionality into a convenient pedal unit. Featuring a pre-amp with ample headroom, a filter circuit that modifies the feedback sound, and modulation waveforms that allow a diverse array of delay effects, it covers all of the SDD-3000′s important elements.
In addition to specifications that will satisfy SDD-3000 users, it provides many new functions such as eight delay types, long delay times up to 4,000 milliseconds, selectable modulation waveforms, stereo input/output, and MIDI compatibility. The user interface has also been updated for dramatically improved ease of use.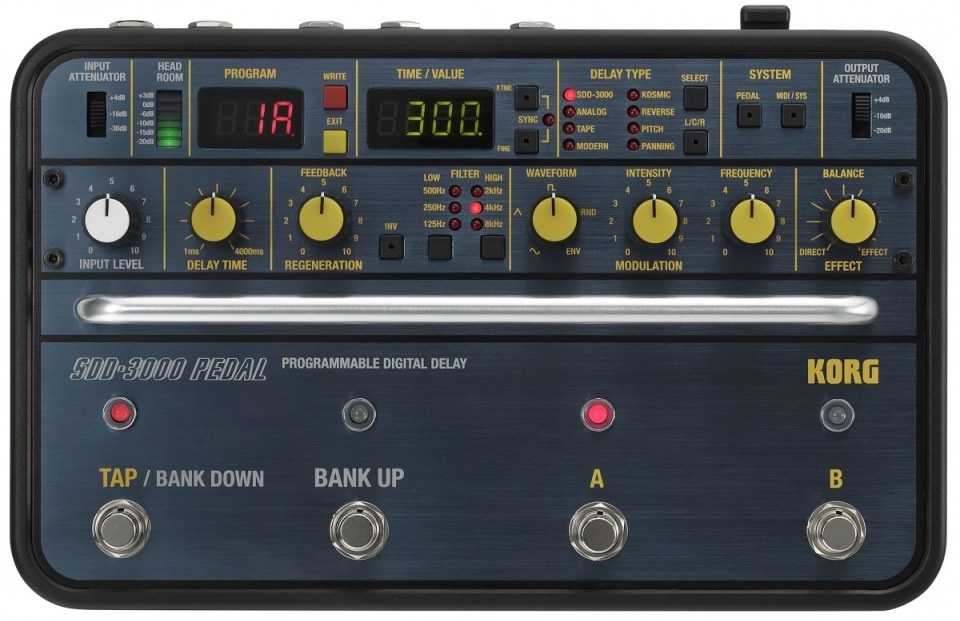 Features:
All features of the SDD-3000 digital delay, packed into a pedal unit.
Eight distinct delay types including SDD-3000, Analog, Tape, Modern, Kosmic, Reverse, Pitch and Panning.
The preamp that defined the sound of the SDD-3000 is faithfully reproduced.
Selectable filters that alter the sound of the delay repeats.
Choose from five types of modulation waveforms that modulate the delay time. You can also create waveforms that interpolate between two types, and make fine adjustments to the waveform.
Use flanging, chorus, vibrato, doubling, and Doppler effects.
A wide range of delay times is available, from 1 millisecond to long delays with a maximum of 4,000 milliseconds.
Sync mode lets you specify the delay time in terms of 11 different note values ranging from whole notes to 32nd notes.
A total of 80 programs (40 banks x 2 channels) can be saved.
LCR function lets you create multi-tap delay effects.
MIDI connectors are provided, allowing you to trigger program changes from an external device, or to transmit program data as a bulk dump to and from other units.
Seamless bypass and program changes allow you to retain the reverberant sound when switching sounds.
Reliable true bypass design.
An optional expression pedal can be used to control multiple effect parameters simultaneously.
The SDD-3000 Pedal is available now, with a street price of around US $400. See the Korg site for more info.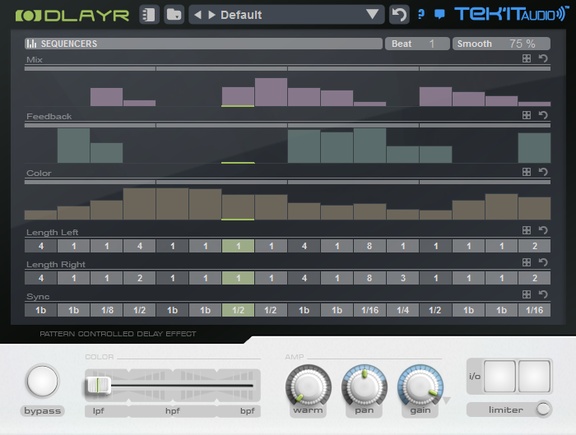 Tek'it Audio has announced the release of DlayR, a pattern controlled delay effect plug-in.
DlayR can be used to create delay, stutter and filter effects sync on the beat of your track. Control six parameters on 16 step sequencers, feedback, color, mix, delay length R/L and time.

Mix 3 filter types to color your effect, use the tube saturation and the soft limiter to give it more character.
DlayR features
16 steps pattern controlled delay.
6 sequence-able parameters, Mix, Feedback, Color, Length L/R and Sync division.
Sync on the beat of your DAW with selectable speed.
3 mixable filter types to color your effect, low-pass, high-pass and band-pass.
Amp tube saturation and soft limiter.
Panoramic and output gain controls.
Randomize and Undo on each sequencer.
Full MIDI automation support.
Easy MIDI learn on all parameters.
Integrated Preset manager, rename, copy, save, load…
90 Factory presets.
Up to 128 user presets per bank.
Easy installer.
The plug-in is available for Windows (VST) for 29 EUR / $39 USD.
Trent from Moog Music walks us through the 500 Series Analog Delay with full MIDI plug-in control for integrating with your digital audio workstation.
No external effects! Recorded with Ableton Live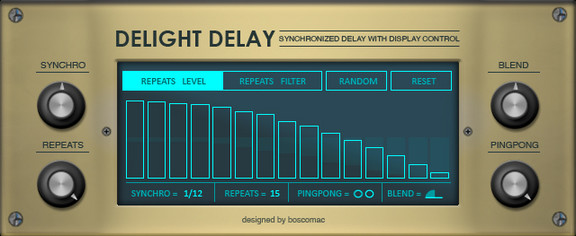 Boscomac has announced the release of Delight Delay, a free delay effect ensemble for Native Instruments Reaktor.
DELIGHT DELAY is a pattern-based delay controlled by a sequencer.

A central display allows you to set the level and filtering rehearsals and so draw a pattern. You can set the number of repetitions (1 to 15) determine the tempo (1/4 to 1/32), adjust the stereo (mono or pingpong) and adjust the blend.

Very easy to use, this delay grooves with guitars, runs with synths, installs synchronized vibes and many other things …
The ensemble is a free download for Reaktor (requires full version). Donations are appreciated.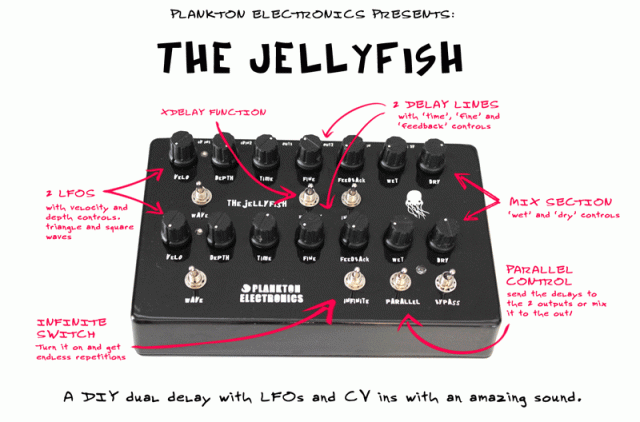 Plankton Electronics has introduced The Jellyfish – a DIY double delay, with modulation options capable of a wide variety of sounds, from simple delay lines to crazy modulated stereo sounds.
Features:
Analog passive filters
CV inputs
Two LFOs
Infinite feedback switch
Xdelay function
Dry/Wet controls
Pseudo-stereo (1 in-2 outs) or mono mixed sound
The Jellyfish is available as a kit for 120 Euro (the case is additional).  Schematics and other documentation are provided on their site – right here >>
Create vinyl record scratches and learn about Ableton's various Delay Plug in's modes.
Download the AfroDJMac Vinyl Scratcher Rack for free @ http://bit.ly/freesynth91
Demo of the new AUFX DUB from Kymatica, tested this with the Yamaha DD65 kit and the Korg Wavedrum Global running through the iPad via a Behringer UCA222. Then into Audiobus and into Cubasis. The recorded reggae drum pattern that plays about half way through was programmed with DM1 then treated with the other AUFX SPACE reverb app, and had some compression from Cubasis added..
AUFX:Dub. A highly tweakable stereo delay audio effect, suitable for everything from clean digital delays to filthy dub echoes and broken cassette tapes. It features tape simulation (noise and warble), filters in the delay loop for typical dub sound, stereo detune, ping-pong delay, and more
All AUFX apps have the following features:
High quality 32-bit DSP engine.
Process hardware input/output or other apps through Audiobus (input/filter/output slots supported).
Ready for the future inter-app audio standard.
Fully MIDI controllable, including Virtual MIDI.
Built-in look-ahead limiter to avoid clipping.
Background Audio.
Save and load user presets.
Comes with several bundled presets.
Record the result directly in app.
Email recordings or export to AudioShare audio document manager app.
Access user presets and recordings through iTunes File Sharing.
In this video, take a trip back to the origins of 'delay' as an effect and the technologies that led us to where we are today.
This is just the introduction to the tutorial.
Check out the full tutorial here: http://www.groove3.com/str/Delay-Explained.html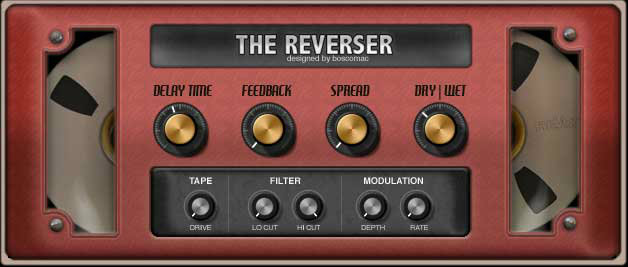 Boscomac tells us that The Reverser is a delay that reverses the sound.
A spokesperson had this to say, "Originally, we recorded a sound and then we returned the tape to play it backwards, it was pretty perilous. Today, we are far from the mechanics, but the principle remains the same except that the sound is processed in real time. Here you can set the delay time of the signal which will be read backwards, the feedback, stereo offset (spread) and mix the processed signal. In terms of Vintage, you can saturate the tape, cut of frequencies and modulate the sound reversed."
Full version of Reaktor 5.8 needed.