Live session in Arjen Schat's living room with Elektron Analog Four, Moog Slim Phatty + CP-251 and Waldorf Blofeld.
Elektron Analog Four and Octatrack
As reported on yesterday Moog is bringing Animoog to BlackBerry 10, here's a video run through:
Next up on our BlackBerry Live 2013 stage is Moog. they're bringing a high-quality synthesizer app to BlackBerry 10 geared towards professional and avid amateur musicians alike. The vast majority of the music jargon was well over my head, so let's let the official app feature list do the talking.
Anisotropic Synth Engine (ASE) – An exciting new Moog technology that allows the user to move dynamically through an X/Y space of unique timbres to create an expressive and constantly evolving soundscape.
Timbre page – Assemble unique sounds in the X/Y space from timbres of a wide variety of vintage and modern Moog synthesizers and pedals Note: this is NOT simple sample playback.
Polyphonic Modulation – Simply slide your fingers to control multiple modulation parameters in Animoog right from the keys.
Polyphonic Pitch Shifting – Easily manipulate the exact pitch of each note in a chord by rotating or sliding your fingers.
Delay Module – A classic analog style ping pong delay.
Thick Module – From bit crushing to unison voice detuning and drive, this module adds depth, edge and character to Animoog's already massive sound palette.
Moog Filter – The classic four-pole Moog ladder filter with High Pass, Low Pass and Band Pass modes.
Record Module – Record your performance and overdub new layers, or play along live. Transfer recordings between Animoog and any other apps that support Copy/Paste
Path Module – Direct ASE through Animoog's X/Y space to create new expressive and shifting sounds that will blow your mind!
Orbit Module – Control the rate of orbit in the X/Y space around the path you created for subtle to insane voice manipulation.
Flexible Modulation Matrix – Amp, Filter and Mod Envelopes, LFO with infinitely variable wave shapes and sync, and four super flexible and assignable modulation slots.
MIDI in/out – Use your Little Phatty or any other MIDI controller to control Animoog.
When Animoog launches in the next couple of weeks, it will be available for $0.99 for a limited time, then get bumped up to a $9.99 regular price. This is pretty awesome, considering an actual dedicated device that does this kind of synthesizer costs more than a BlackBerry Z10 would
Animoog is the first creative tool for the BB10 platform from Moog Music, the legendary electronic musical instrument company founded by Bob Moog in Asheville, NC.
Powered by Moog's Anisotropic Synthesis Engine, Animoog allows you to move dynamically through an X/Y space of unique timbres. This creates a constantly evolving and expressive soundscape that is unlike any other musical instrument.
Download Animoog for BlackBerry at:
http://appworld.blackberry.com/websto…
All sounds in this video (excluding drums) created using Animoog.
NOTE: This version of Animoog is only approved for use with the BlackBerry Z10 handheld device.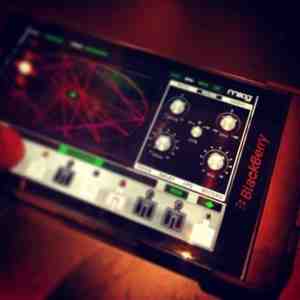 Blackberry has announced that Moog is now official on the BB10 platform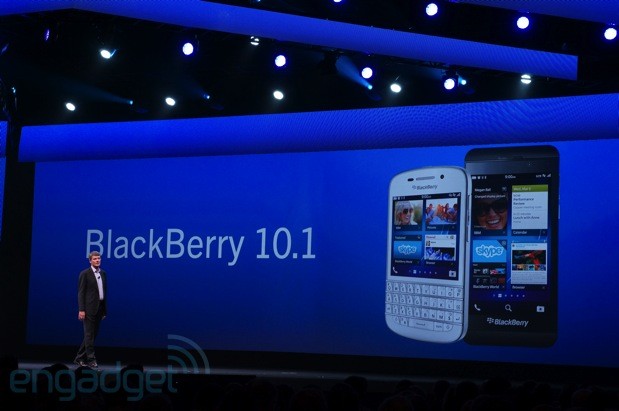 Amongst the flurry of announcements this morning at BlackBerry Live in Orlando, CEO Thorsten Heins finally made good on an app promise from this past January. Yes, Skype is now available on the Z10. Users that want to make VoIP calls will have to upgrade to the latest iteration of the platform, BB10.1, in order to download the preview from BB World. Additionally, Heins also told attendees that Moog will be bringing its synthesizer app Animoog, previously exclusive to iOS, to the BB10 platform starting today. So, slowly, but steadily BlackBerry's following through on its vision to make BB10 a robust developer-friendly OS.
A very fat synth !! the 3 rd oscillator really opens up some extra sound possibilities
This is the very source of cheap Moog bass! It is a lot like the strap-on Moog Liberation in its design and architecture and also looks and sounds very much like the Moog Rogue. The MG-1 was built by Moog for Realistic (Radio Shack), and was designed specifically for the home market. Very basic and easy to use, this is a nice cheap way to get your hands on Moog sounds!
The MG-1 is a 2-VCO monophonic/polyphonic analog synth with a genuine 24dB/oct Moog filter, however the overall sound is thin. On the MG-1, the VCOs are referred to as 'Tone Generators'. It can produce sawtooth, square and pulse waveforms, and the oscillators are detunable and syncable. A simple ASR (attack, sustain, release) envelope called 'Contour' can be applied to both the amp and the filter. The LFO section provides triangle or square wave patterns as well as Sample-and-Hold. Additionally there is a simple Ring-Mod effect called 'Bell'.
Unique to the MG-1 is a slider on the far right side of the keyboard which controls the volume of a simple divide-down polyphonic organ sound. This feature makes it at least a little more versatile than the Rogue. There are RCA inputs and outputs (the input is routed straight to the output for playing along with music from your stereo system) but no external speakers as in most other home marketed synthesizers. There is also no sign of Midi or patch memory on the MG-1.
Back in 2011 Mutemath stepped into the Moog factory to record a Moog Sound Lab Session, here they transform "Blood Pressure" from their 2011 LP "Odd Soul".
For those of you curious about the instrumentation:
"Blood Pressure" fades in with Darren playing pulsing bass lines in the verse and higher etherial notes on Animoog, being controlled by a Minimoog Voyager.
Paul sings and plays a Little Phatty Stage II, holding out elongated single lines while opening and closing the Filter Cutoff knob with the Resonance set high.
Roy uses his Minimoog Voyager Select Series for low rumbling bass to hold the foundation.
Darren plays the Trap-Kat, triggering 3 Minimoog Voyager Rack Mounts through an MF-104Z Analog Delay for rhythmic echo.
See more of the Moog Sound Lab series at: http://www.moogmusic.com/sight-and-so…
and be sure to check out more of Mutemath at: http://mutemath.com/
During a recent visit to the Moog Factory, Professor Herb Deutsch, synth pioneer and collaborator of Bob Moog, gave an impromptu discussion on the evolution of the Minimoog.
http://www.moogmusic.com/legacy
Moog Engineer Rick Shaich discusses the Ladder Filter, the first Voltage Controlled Filter, which is the heart and soul of the Moog modular synthesizers of the 60s, the Legendary Minimoog of the 70′s, and is still the same filter topology used in all Moog Synthesizers to this day. The Ladder Filter creates the massive, thick sound for which Moog instruments are renowned.
Vintage synthesizer track by RetroSound
"Apperception"
lead and fx sounds: Oberheim OB-X Analog Synthesizer
bass sounds: Moog Taurus 1 bass pedal
pad sounds: Roland Juno-60 Analog Synthesizer
arp and sample sounds: Korg MicroX
recording: multi-tracking without midi
fx: reverb and delay
more info: http://www.retrosound.de and
http://www.facebook.com/pages/RetroSo…
Swedish folk artist Kristian Matsson, aka The Tallest Man on Earth, stepped into the Moog Sound Lab along with Strands of Oaks to reinvent the title track from his 2012 album There's No Leaving Now. Matsson trades the solo piano of the original song for the infinite sustain of the Moog Guitar which he plays through an MF-103 12-Stage Phaser and an MF-104Z Analog Delay. In a rare moment of collaboration Strands of Oaks' Timothy Showalter accompanies Matsson on a Minimoog Voyager while drummer Chris Ward uses a Trap-Kat midi controller to trigger the percussive sounds of three Rack Mount Voyagers.
Watch Moog Sound Lab Season 3 as it debuts at: http://www.brooklynvegan.com/
See more of the Moog Sound Lab series at: http://www.moogsoundlab.com
Visit The Tallest Man on Earth at: http://www.thetallestmanonearth.com/
Mitchell Sigman compares the King Korg's modeled Prophet-5, Oberheim SEM and Moog filters to the real instruments. Opening sound montage created with King Korg. Watch for the full King Korg review in the June 2013 issue of Keyboard!