The DigiEnsemble Berlin Physically Premieres the Aria "Großer Herr, oh starker König" from Bach's Cristmas Oratorio in the Berlin Cathedral on the 16th Dec 2012.
Keep track on our
website http://digiensemble.com/
German website http://digiensemble.de
http://facebook.com/DigiEnsemble
http://twitter.com/digiensemble
This is the intro to 'Dance of the Knights' done just using the Modcan Touch Sequencer. There are 4 rows of 8 x 8 note sequences driving Modcan & Bubblesound VCOs. The filters used are the Intellijel Dr Octature, AmSynths JP8 and Doepfer A-106-5. This will be the last of my classical videos as I am busy on a new project. Some new material coming soon.
More Info: http://bit.ly/T8Fyfn
During their recent visit to NYC for the Out of Doors Festival at Lincoln Center, Dubspot connected with German classical/techno ensemble Brandt Brauer Frick for a deeper look into the trio's blend of live acoustic instrumentation, classical music and modern dance beats.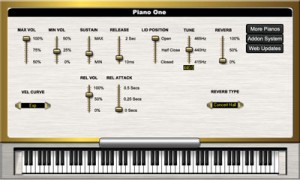 Sound Magic has announced Piano One Special Edition, a free virtual piano instrument for Windows and Mac.
In order to Celebrate Piano One is selected as one of the 27 best free VSTs by music radar! Sound Magic releases Piano One Special Edition. The Special Edition contains all the presets published up to Sep 2012, 20 presets in total and most important, adds previous hidden key noise and harmonic controls into automation list, which previous only available on our commercial products.

The Sound of Piano One comes from the Yamaha C7 concert grand, a true workhorse in the professional piano world, appearing on famous concert stages, in international competitions and in prestigious music events throughout the world.

By utilizing the Sound Magic Hybrid Modeling Engine, Piano One offers both the Realistic Sound of Sampling and the Playability of Modeling. Hybrid Modeling provides an instantaneous feeling – no delay – and a truer and richer sound than canbe created with either sampling or modeling alone. What's more, Piano One utilizes only 160MB, which is quite a small footprint, making Piano One usable even on older PCs. There is no waiting time when loading and the CPU usage is so small that it's virtually unnoticeable.
Piano One is available for Windows and Mac (VST/AU) at no cost.
Features
Sound Magic Hybrid Modeling Technology
32 Polyphony Limited
Add-on System (needs internet connection)
Actual modeling and soft pedal samples vividly present the sound of three
kinds of pedals.
Actual Modeling of the key release sound
Built-in professional Reverb Engine simulates resonances with environment
and soundboard, adding extra realism to the sound.
Faster load times. Smaller hard drive footprint, less memory and less CPU
usage.
Oberheim Xpander playing the Toccata and Fugue in D minor, BWV 565,Johann Sebastian Bach (MIDI sequence).
Starting from the default Oberheim patch, this patch was made with the Xplorer editor, a real time editor for the Oberheim Xpander and Matrix-12.
You can download the sysex of this patch here: http://xplorer.programmer.free.fr/bb/viewtopic.php?id=15
More info about the Xplorer editor: http://xplorer-editor.com
Music by Hilary Hahn and Hauschka hahnandhauschka.com
video by: Eric Epstein
featuring: Jordan Bruner (also a director/animator jordanbruner.net)
with: Nadia Husain, Kevin Lawler, Edward Tasick, Ayli Velorok, Desmond Williams, Nancy Diana Wong
associate producer: Desmond Williams
'the box' made by: Andi Burnett andiburnett.com
co-editor: Robert Lopuski forgottensundays.com
© Deutsche Grammophon GmbH
Here's a nice video featuring the Moog Modular, enjoy
This Moog Modular was originally owned by Gershon Kingsley and played at the January 1969 performance of the Moog Quartet. Over the years, it was also owned by Ken Bichel and has had numerous additional modules installed.
The Analog Lab in NYC has restored this piece to beautiful playing condition and the unit can be heard in all its glory in this video*. No additional effects were added.
This piece of Musical History is also for sale on eBay, so check it out!
www.theanaloglab.com
*editors note: I know some parts aren't perfectly in tune…get over it.
Here a few moments from the Concerto for iPad Orchestra by Ned McGowan, performed by Keiko Shichijo on the iPad with the Sinfonia Rotterdam, conducted by Conrad van Alphen. This work is the 2nd in the Rotterdam Concerto series initiated by the Doelen and Sinfonia Rotterdam.
Some info about the piece: http://www.youtube.com/watch?v=rLMqQc1t80w
The theremin in this video is the instrument that once belonged to Julius Goldberg, the partner and personal assistant of Russian inventor Leon Theremin. This is a 1929 RCA theremin that was customized by Goldberg in the early 1930′s and provided with "lightning bolt" volume and pitch antennas. In this video, I am using an ELECTRO-HARMONIX "Talking Machine" on a fixed, open "AH" sound, which lends to the tone a remarkable likeness to a human tenor.
The theremin has often been compared to an "electric soprano" but used with the Talking Machine, it can also be an ELECTRIC TENOR or an ELECTRIC BARITONE!
The composition is the famous tenor aria, NESSUN DORMA, from the opera TURANDOT by Italian composer Giacomo Puccini.
Edvard Grieg's Anitras' Dance from Peer Gynt reallized on the Sound Lab Mark II and ULTIMATE analog synthesizers.
"This is multi-track MIDI driving MIDI to CV which drives the MFOS Sound Lab Mark II and the MFOS Sound Lab ULTIMATE. The MFOS Gate and CV Distributor and MFOS Delayed Modulation Module were also used in the production. Since both synths are mono all MIDI was broken down to mono tracks (no chords allowed) and each MIDI track played through the MIDI to CV convertor/synth combination one at a time. I set each patch to what I thought sounded good in the position and I think in the end it seems to work. I tweaked and mixed and tweaked and mixed and tweaked and… I'll stop there. ALL sounds are purely from the MIDI driven synths including the triangle. I wanted it to sound analog synthetic but not too "cheesy" (you'll have to be the judge… be kind). Reverb and panning were applied during mix down. I used SONAR 8.0 Producer to mix down the tracks (well over 20 stereo). Sorry about the sucky quality of the video. I forgot to mention that I designed and built the analog synthesizers. If you want to build one go to www dot musicfromouterspace a dot and a com for free plans and reasonably priced PC boards. Hey! Working on a student or independent film and need an analog synth builder/music producer? Lets talk. You can get hold of me via my web site musicfromouterspace dot com."