Claude Debussy's classic "Des pas sur la neige". Made with a patch up of the large format and Euro rack format modular synthesizer. Recorded in real-time to a stereo track in Cubase with Valhalla Shimmer added in places for reverb.
Classical pieces transcribed to and performed on the Moog synthesizer.
There's a bit of crackle here and there, mainly at the end of B2 but I decided to leave it to avoid overprocessing.
General info:
Label: RCA Red Seal – LSC 3125
Format: Vinyl LP
Country: US
Released: 1969
Source: Original German LP
Process: ripped with Audacity 2.1.0 & declicked with ClickRepair 3.9.3. No noise reduction was applied.
Tracks:
A1 Chopin – "Black Key" Etude, Op. 10, No. 5 00:00
A2 Mozart – Turkish March (Rondo From Sonata In A, K. 331) 01:39
A3 Rachmaninoff – Vocalise, Op. 34, No. 14 05:08
A4 Prokofieff – Prelude, Op. 12, No. 7 11:35
A5 Wurman – Thirteen Variations On A Theme Of Paganini 13:34
B1 Bach – Toccata And Fugue In D Minor 23:47
B2 Mozart – Eine Kleine Nachtmusik (Serenade In G, K. 525)
a. Allegro 31.18
b. Romanze: Andante 36:50
c. Menuetto: Allegretto 42:33
d. Rhondo: Allegro 45:03
Performer:
Hans Wurman – Moog modular synthesizer
Notes:
Recorded at RCA Studios
Engineered by Roger Anfinsen
Produced by John Pfeiffer
Copyright Disclaimer Under Section 107 of the Copyright Act 1976, allowance is made for "fair use" for purposes such as criticism, comment, news reporting, teaching, scholarship, and research. Fair use is a use permitted by copyright statute that might otherwise be infringing. Non-profit, educational or personal use tips the balance in favor of fair use.
This is NOT my work, and all credit for the music and album cover goes to the original copyright holders and other parties that may have anything to do with the songs.
Background video description:
Just a Bit of fun, I decided to remake an old favourite on my synthesisers. in the hall of the mountain king by Edvard Grieg. recorded using Moog Theremini, Moog Phatty, Moog Sub 37, roland TR-8 & TB-3, & the Maplin 5600s, Maplin Spectrum Synth & a Bass guitar. Uploaded June 27th 2015. The Original music from Grieg has expired its copyright. This is my Synthesiser interpretation Based on this piece. also in WAV format on soundcloud (markusfuller)
The Will Gregory Moog Ensemble performing Brandenburg concerto No. 3 BWV 1048. Taken from the album 'Undercurrents' available from 19 March on Society of Sound.
http://www.bowers-wilkins.com/themoog…
Recorded in the Wood Room at Real World Studios
The new symphonic music creation app for iPad, here's a demo of all 10 of the included sounds.EDIT–see my blog at wtomusic.com for a written walk through of the app…no followup video will be posted.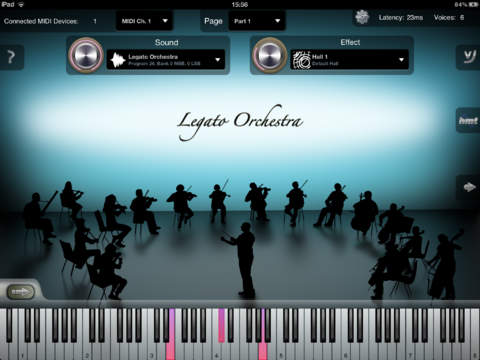 The ultimate orchestra sound app for sophisticated musicians, directed by Kurt Ader, designed as professional sound module for your iPad by connecting an external MIDI keyboard, using the Apple USB camera adapter or another adapter supported by Apple.¹

This app supports Apple's "Inter-App Audio" System (requires iOS 7 or higher) and the "JACK Audio Connection Kit" (up to iOS 6.1.3) for audio & MIDI connections from/to other audio apps!

iSymphonic Orchestra was designed with the goal to deliver you superb, extremely realistic and stunning orchestra sounds, instantly with the first key being pressed by you on your MIDI keyboard. Just select a sound and you are ready for your live performance or for a boost of creativity while composing new songs. The sounds used in this app were explicitly recorded to fulfill these requirements and involved several months of recording and post processing under supervision of Kurt Ader and included a variety of innovative, new recording techniques. So far these sounds were only available to very few, famous movie composers. Now they are finally available for the first time to everybody. The supreme quality of these sounds, combined with the unique way they were recorded and assembled, gives us confidence that you haven't heard anything comparable as of to date, even not on Mac or PC.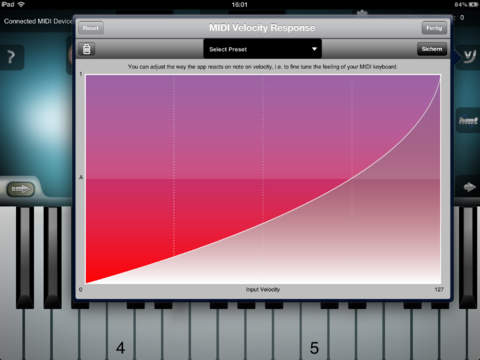 Sounds:
– 1. Orchestra Strings Spiccato & Legato
– 2. Orchestra Strings Slow 1
– 3. Chamber Arco Strings
– 4. Legato Orchestra Strings 1
– 5. Full Sordino Strings 1
– 6. Legato Orchestra
– 7. Staccato Orchestra 1
– 8. Staccato Orchestra 2
– 9. Tremolo Orchestra
– 10. Pizzicato Strings

>General Features:
– Low latency disk streaming.
– Polyphony up to 140 stereo voices.²
– Configurable audio latency down to 5 ms.
– Integrated effects with 18 presets.
– 16 parts.
– MIDI velocity response curve editor to fine tune the feeling of your MIDI keyboard.
– App can keep running in the background, so you can play on your keyboard while e.g. using Safari or another app to display scores or surfing the Internet.
– Hermode Tuning: Makes the sound more brilliant by controlling the pitch of the notes in multivoiced music to better frequency ratios than with fixed tuning. This dynamic tuning imitates the tuning behavior of well educated musicians of i.e. orchestras and choirs.
– Supports Apple's "IAA" system for audio & MIDI streaming between other apps (iOS 7 or higher).
– Supports "JACK Audio Connection Kit" for audio & MIDI streaming between other apps (up to iOS 6.1.3).
– Virtual on-screen piano keyboard with velocity support, scalable & scrollable.

MIDI Player / Recorder:
– Record, save and load your songs in standard MIDI file format.
– Unlimited amount of tracks.
– Configurable target MIDI channel per track.
– Unlimited recording and playback length.
– Download or upload MIDI files with iTunes.
– Load your favorite songs as MIDI files from the Internet, and watch at the virtual keyboard how to play it.
– Use the "Tempo Zoom" dial knob to i.e. slow down playback at any time and learn your favorite songs more easily.

Note: This app requires quite some hardware resources. In case there are problems with this app, please close apps in the background by double pressing the device's home button, the list of active apps appears on the bottom of the screen, tap and hold one app icon in the list, then press the respective app icon "minus" corner to quit those apps.

¹ For more informations about supported adapters and MIDI keyboard devices, please visit our product website.

² Sounds are using several voices per note. Polyphony depends on the exact device model being used. You find a polyphony table on our product website.

Anti-Spy Commitment: We take your privacy very seriously. None of our apps contain so called 'spy' behaviors and we committed ourself to a very high privacy standard. For more informations about our privacy commitment, read our 'Privacy Policy for Mobile Apps'.
The DigiEnsemble Berlin Physically Premieres the Aria "Großer Herr, oh starker König" from Bach's Cristmas Oratorio in the Berlin Cathedral on the 16th Dec 2012.
Keep track on our
website http://digiensemble.com/
German website http://digiensemble.de
http://facebook.com/DigiEnsemble
http://twitter.com/digiensemble
This is the intro to 'Dance of the Knights' done just using the Modcan Touch Sequencer. There are 4 rows of 8 x 8 note sequences driving Modcan & Bubblesound VCOs. The filters used are the Intellijel Dr Octature, AmSynths JP8 and Doepfer A-106-5. This will be the last of my classical videos as I am busy on a new project. Some new material coming soon.
More Info: http://bit.ly/T8Fyfn
During their recent visit to NYC for the Out of Doors Festival at Lincoln Center, Dubspot connected with German classical/techno ensemble Brandt Brauer Frick for a deeper look into the trio's blend of live acoustic instrumentation, classical music and modern dance beats.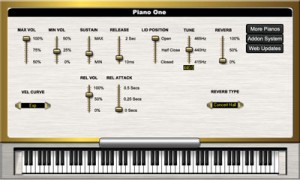 Sound Magic has announced Piano One Special Edition, a free virtual piano instrument for Windows and Mac.
In order to Celebrate Piano One is selected as one of the 27 best free VSTs by music radar! Sound Magic releases Piano One Special Edition. The Special Edition contains all the presets published up to Sep 2012, 20 presets in total and most important, adds previous hidden key noise and harmonic controls into automation list, which previous only available on our commercial products.

The Sound of Piano One comes from the Yamaha C7 concert grand, a true workhorse in the professional piano world, appearing on famous concert stages, in international competitions and in prestigious music events throughout the world.

By utilizing the Sound Magic Hybrid Modeling Engine, Piano One offers both the Realistic Sound of Sampling and the Playability of Modeling. Hybrid Modeling provides an instantaneous feeling – no delay – and a truer and richer sound than canbe created with either sampling or modeling alone. What's more, Piano One utilizes only 160MB, which is quite a small footprint, making Piano One usable even on older PCs. There is no waiting time when loading and the CPU usage is so small that it's virtually unnoticeable.
Piano One is available for Windows and Mac (VST/AU) at no cost.
Features
Sound Magic Hybrid Modeling Technology
32 Polyphony Limited
Add-on System (needs internet connection)
Actual modeling and soft pedal samples vividly present the sound of three
kinds of pedals.
Actual Modeling of the key release sound
Built-in professional Reverb Engine simulates resonances with environment
and soundboard, adding extra realism to the sound.
Faster load times. Smaller hard drive footprint, less memory and less CPU
usage.
Oberheim Xpander playing the Toccata and Fugue in D minor, BWV 565,Johann Sebastian Bach (MIDI sequence).
Starting from the default Oberheim patch, this patch was made with the Xplorer editor, a real time editor for the Oberheim Xpander and Matrix-12.
You can download the sysex of this patch here: http://xplorer.programmer.free.fr/bb/viewtopic.php?id=15
More info about the Xplorer editor: http://xplorer-editor.com