Dance music pioneer A Guy Called Gerald talks about the culture of technology in electronic music and how new tools like TRAKTOR DJ for iPad changed how he performs and creates.
We're giving you the chance to win a VIP weekend in Berlin – just record your own rooftop mix with TRAKTOR DJ for iPad and iPhone and upload it to Mixcloud.
Don't have TRAKTOR DJ? No problem. Just share your best Spotify playlist below and tag #WHATWOULDYOUPLAY
More details here:
http://www.native-instruments.com/en/…
Thanks to:
BASEMENT London and The New British
Music:
A Guy Called Gerald – Voodoo Ray
A Guy Called Gerald – 28 Gun Bad Boy
More on TRAKTOR DJ:
http://www.native-instruments.com/tra…
Just before the arrival of summer this year, Christian Löffler is set to release his next musical statement and autobiographical journey named "Young Alaska" on Ki Records. The German producer unveils his unique soundscapes by delivering seven tracks which are deeply rooted, once again, in harmony and emotion.
Löffler's unique sound based on an intense melancholic feel brought him a busy touring schedule performing at clubs and festivals all over the world. He sticks to his calm approach to electronic music and proves, through his live-sets, that emotions control the dance floor, creating a real sense of euphoria.
His experiences on the road are reflected on "Young Alaska," which is largely inspired by these journeys and places he has visited. From the peaceful landscapes of the title track to the melodramatic heights of "Mt. Grace," he took "Notes" back home to transfer the impressions into his music. Songs like "Beirut", "Veiled Grey" and "Alpine Sketch" are very diverse but come together harmoniously on this release.
As on his debut album, he once again collaborates with Danish vocalist Gry and Me Succeeds lead-singer Mohna on "All Comes" and "Beirut." During the course of "Young Alaska", Christian tells the story of his journey over the course of the past two years.
This is the first single from Vaylon's forthcoming album, set to be released later in 2014.
Vaylon Are:
Ole Ulrich Jensen
Dan Holte Beck
Produced & Mixed by Vaylon @ The Vaylon Nation, Aalborg & Copenhagen.
Mastered by Claus Larsen @ The Strip Farm, Veggerby
Video produced by Vaylon
© Vaylon Nation Records 2014
Join Vaylon on facebook (www.facebook.com/vaylonmusic)
Vaylon is available on Spotifty, iTunes & 24/7 Entertainment
Animated by John von Ahlen for Subterrane
iTunes http://bit.ly/plox-itunes-electricity
Amazon http://bit.ly/plox-amazon-electricity
Bandcamp http://bit.ly/plox-bandcamp-electricity
Google Play http://bit.ly/plox-googleplay-electri…
www.parralox.com
www.facebook.com/parralox
www.twitter.com/parralox
www.soundcloud.com/parralox
Written and Produced by John von Ahlen
Vocals by Roxy
Production #001
Dedicated to the Fairlight CMI
Taken from the Parralox album "Electricity"
http://www.parralox.com/electricity-2008
Machinedrum and Lando aka Travis Stewart and Antaeus Roy can each prove a solid pedigree in forward-thinking electronic music.When the two long-term friends hit the studio together for the first time, it provided a perfect opportunity to get a glimpse into their collaborative process.Watch the results, along with an in-depth interview with the two artists.
Special thanks to Antaeus and Travis, UFO Studios, Loftus Hall, Boiler Room, and Decibel Festival.
The following tracks appear in the video (in order of appearance):
Machinedrum – "Sacred Frequency"
Machinedrum – "Infinite Us"
Lando – "Clockin'"
Machinedrum – "Come1"
Lando – "Let You in the Sky"
Machinedrum – "Make Me"
JETS (Machinedrum & Jimmy Edgar) – "Meu"
Machinedrum – "Now Us Know Tha Deal 4 Real"
Machinedrum – "Vizion"
Learn more at https://www.ableton.com/en/blog/machi…
Long-term friends Machinedrum and Lando hit the studio together for the first time and explore Push.While Machinedrum had been using Push since the beta period, Lando was new to the instrument.Coming from a studio full of vintage and boutique analog equipment, Push was a snug fit with Lando's hands-on method of production.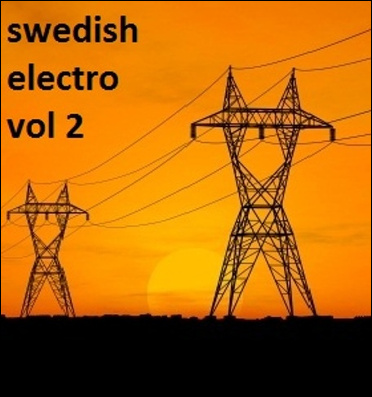 The electronic compilation "Swedish electro vol2" is out now and can be downloaded from Bandcamp for free. The compilation features bands from Sweden such as Cryo, Kite, Henric De La Cour, Steelberry Clones and Vogon Poetry.
Download it here for free or name your price >>
Listen to it here >>
Stickerbrush Symphony by Ace Waters, is the first in a new series of covers of songs from favorite video games:
The first in a new series of covers of songs of favorite video games. Inspired by a marathon playthrough of Donkey Kong Country 2, this is one of the favorite songs from the game.
The on line magazine The Electricity Report has made a nice wrap up on what has been going on in the electronic music scene during 2013, below is an excerpt from the article: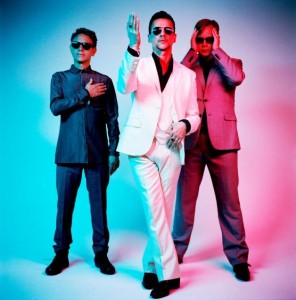 The year started appropriately enough with an electronic number '2013' by Belgian duo METROLAND. For the first six or seven months of 2013, it proved to be one of the most productive periods in electronic pop music. Not since the Autumn of 1981 when THE HUMAN LEAGUE 'Dare', GARY NUMAN 'Dance', ULTRAVOX 'Rage In Eden', DEPECHE MODE 'Speak & Spell', SOFT CELL 'Non-Stop Erotic Cabaret', HEAVEN 17 'Penthouse & Pavement', SIMPLE MINDS 'Sons & Fascination', NEW ORDER 'Movement', JAPAN 'Tin Drum' and OMD 'Architecture & Morality' all came out had so many significant releases coincided. Interestingly from that list, only JAPAN and SOFT CELL are missing as currently performing entities although MARC ALMOND himself made a number of concert and theatrical appearances during the year.
OMD got back to their Kling Klang roots with their best album in 30 years entitled 'English Electric'. Although enthusiasts of the band's pioneering work were satisfied, fans of OMD's pop phase were confused as to why Andy McCluskey and Paul Humphreys had recorded an electronic album influenced by KRAFTWERK! This was an indicator of how the band have mutated and been perceived over the years. But that was nothing compared with DEPECHE MODE whose single 'Soothe My Soul' was remixed by ZZ TOP's Billy F Gibbons… although recognisably reworked, listeners could barely notice the join, thus fully confirming DM's development into the world's premiere stadium electro blues combo. Their album 'Delta Machine' was a big improvement on 2009's 'Sounds Of The Universe' but it was no 'English Electric'.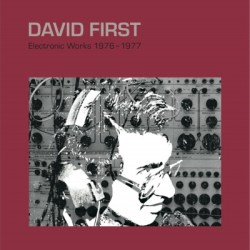 DAIS Records has an upcoming release that features vintage Buchla works by composer David First. Here's what they have to say about the album, David First: Electronic Works 1976 – 1977:
During his time at Princeton, First was introduced to the classical electronic music studio there, a lonely outpost of the famed Columbia-Princeton Electronic Music Center which housed one of the very first Buchla 100 series systems acquired by Vladimir Ussachevsky & Otto Luening.
Due to the introduction of digital technology within the music world, this system was left to languish in the studio unattended and nearly forgotten. First fell in love with this equipment and seized the opportunity to compose using the Buchla 100 synthesizer, at first experimenting only with electronic synthesis but later adding in his signature guitar stylings to make these compositions unique to the academic output typical of university music.
Thankfully, these compositions were recorded by First at Princeton on various reel to reel tapes and stored away for over 35 years. It wasn't until the summer of 2012, when David First and Ryan Martin (of Dais Records) decided to revisit and transfer these reels to compile an album presented here as a selection of genuine, uninhibited exploration into modular electronic synthesis.
The release is limited to an edition of 500 copies, with liner notes by David First. The release/shipping date is Jan 21, 2014.