Spinning of this week with some new additions from Sinine, Vomito Negro and Ministry, enjoy
Free song download: http://www.sinine.org 
Buy album on: http://www.itunes.com/sinine 
http://www.accession-shop.de / http://www.lasering.ee / 
Share with your friends and leave a comment if you download. Thank You!
"I Can't See You" is the third single from Sinine – 'Dreams Come True' album that was released on October 19, 2012 on Accession Records.
Video credits:
Director/DOP/Editor: Ergo Kuld
Gaffer: Holger Helm
Grip: Maksim Podolski
Art director: Marili Rooba
Stylist: Anu Jääts
Stylist assistant: Margaret Kelomees
Make up: Jaana Heeringson
Production assistants: Andres Karumaa, Raivo Kolbak
Colour grading: Aleks Tenusaar at Orbital Vox studios
Vomito Negro new album "Death Sun" out 2014 by Metropolis-Records
Ministry – The Last Sucker – 13th Planet Records
iPassenger – Messing about with his MDUW Mk2.
One kit made up of all internal sounds, plus a ramR and ramP machine resampling the output and adding some dirt.
Quite a few GND_— used just for lfo duties over other tracks to keep it weirding out.
CTR_ALL Also programmed and hammered on this. Often forget how useful this is to push the pattern/sounds/vibe in different directions.
Viennese-bred producer Patrick Pulsinger has managed to leave his warped electronic signature on just about every style and tempo of dance music, including albums from Hercules And Love Affair and Elektroguzzi among others. Here, he demonstrates patching his bespoke modular synth at the 2013 Red Bull Music Academy in New York.
Originally from East Germany, Pulsinger moved to Austria while still a child, and got into producing acid techno after he moved to New York to escape the Austrian military service. On returning home, he set up the Cheap Entertainment label and began releasing his music under various pseudonyms, on imprints like Disko B, Compost Black Label, and Mo' Wax. Weaving together elements from across the spectrum of Detroit techno, Chicago house, funk, jazz, electro, soul, hip hop, and disco, Patrick has the ability to spin out a masterpiece. When he isn't working on compositions for film scores, collaborations with orchestras and choirs, or as co-operator of Vienna's Feedback Studio, he is also responsible for two remarkable albums in electronic music in recent years: Elektro Guzzi's self-titled exploration into organic techno, and the second album by Andy Butler's Hercules and Love Affair.
For more films, lectures and features, visit redbullmusicacademy.com
Background video information:
www.youtube.com/manonthelivingroad
www.facebook.com/MOTLR
(see full description, for lyrics and more information)
(Direct Sound Recording)
Man On The Living Road
Live @ Gilberto Alzate Avendaño (Bogotá, Colombia)
- Intro
- Overlord (starts in 04:50)
Lyrics
Here I come ensambled
And the sun is behind me
eyes on all spectrum
overcome overlord
undergone and evolve (x2)
embrace
- Video Footage Recorded by: Luisa Ospina, Camilo Barbosa. (www.ineclectico.com)
- Color Correction: Diego Pinzón.
- Projection Techs: cineorama (www.cineorama.com.co)
- Direct Sound Recording Engineers: Felipe Santamaria, David Medina.
- Mixing Engineers : Diego Pinzón, Felipe Santamaria.
Man On The Living Road are:
- Diego Pinzón (synths, guitar, programming, composer, voice)
- Jaime Coy (synths, bass, voice)
- Miguel Nova (visuals)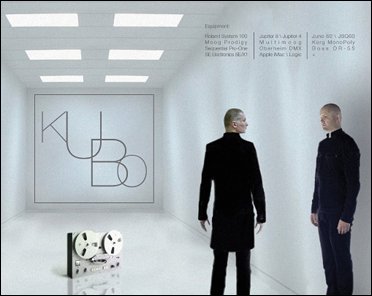 Brian O'Malley (PolyDROID) and Aidan Casserly (The Wazp, Empire State Human) have started a new project called KUBO. Their debut single "I Dream Electric" will be out on the UK based minimal wave label Vocoder Tapes.
The May 3rd released single will be released in a limited edition of 50 individually numbered cassettes, plus digital formats, and is available right now through Vocoder Tapes' Bandcamp page. You can stream the tracks below.
It's not the first time that the duo teams up for a project having first recorded electronic music together in 1986 under the name ManSeries. They kept collaborating in various forms over the years, including the very early days of Empire State Human as well as a film scores for the Brian O'Malley directed short "Screwback".
Mark Mosher – Live Performance of "Stealth" at Future Fest at Vance Brand Civic Auditorium April 18, 2013
Background video description:
Yesterday was E-day, always inspiring, you met people who are also involved in E-music which genarate new ideas.
This one pops up, just a combinated single 8 step and 4 step row off the Doepfer Dark Time. The 4 step row controls the Moog LP bass and the 8 step the Waldorf micro Q and at 2:36 the Roland Juno 106.
Additional sounds/solo's came from the Korg DS 8/Lamda, Realistic Concertmate MG-1 and the Kawai K1r.
Used delay's for the Moog two from the Yamaha E1005 and the Ibanez DM1000, for Waldorf the Alesis Midiverb (3 triplets) and the Ibanez DM1000.
For the Juno I use the Electrix. Mo-fx.
Halfway there are some variations in tone / octave settings (Berlin School style).
I hope your enjoy, and feel free to leave a comment/question
Use a good audio device to listen to it.
greetings Hans
"Skoulaman"
SNOG – Everything Is Under Control
Australia's SNOG is back, with a new album and a new video. The "Everything Is Under Control" video is taken from the album "Babes In Consumerland" which will be out on April 23rd. It will be the band's first album since 2010′s "The Dissolving Satellite of Egoism Overturned". For this album David Thrussell is joined by such collaborators as Atom TM, Felix Kubin, Ash Wednesday, John Justin Stewart (Grace Jones) and The City of Prague Philharmonic Choir.
Details:
From the album "Babes In Consumerland"
Available April 23rd 2013
And the 12″ vinyl "The Plug-In Drug"
Available March 18th 2013
Metropolis Records/M-Tronic Records/Product System Inc.
CD: http://www.metropolis-mailorder.com/p…
12″ vinyl: http://www.m-tronic.com/sr38-snog-the…
Digital single: http://www.metropolis-mailorder.com/d…
http://www.worldwentdown.com/imcc/
http://www.metropolis-records.com/
http://www.m-tronic.com/index.html
Directed by Dee Thrussell
Produced by Samantha Kretschmann and Nikki Valentini
D.O.P. Phillip Unwin
Props, Puppets and Constructions by Tim Bray and Debbie Hall
SuperTweaker: Adam Raboczi
Special Thanks: Dean Smith, Scott Sanders, Ruby Q, Tim Bray, Clay Ravin, Valentina Diaz, Richard Wolstencroft and Oscar Rama.
Thanks: Max Kaye, Noel Taylor, Bill and Judith Jeffries, Grant and Nadine, Chris Harold and Matt Wobbly.
This video is about an electronic band of toys-robot that play some tiny music instruments drived by Arduino Uno and Clavia Nordbeat, a MIDI sequencer app for iPad.
http://www.opificiosonico.com
http://www.facebook.com/OpificioSonico
https://twitter.com/OpificioSonico
http://www.flickr.com/photos/opificio…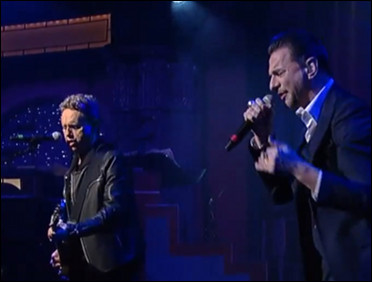 Yesterday evening Depeche Mode performed live on the David Letterman show. For those who missed it last night, you can see a high quality video that got upped a few moments ago right after the jump or in the video player of our mobile app. But more alluring to the fans is probably the fact that the full concert was upped on Soundcloud as well.
The Depeche Mode 'Live On Letterman' webcast aired last night was recorded at the Ed Sullivan Theater in New York and had the following track list:
Intro
Angel
Should Be Higher
Walking In My Shoes
Barrel Of A Gun
Heaven
Personal Jesus
Soft Touch/Raw Nerve
Soothe My Soul
Enjoy The Silence
For many this will be the first time they hear some more new material. Let us know what you think of it.
Note that the deluxe 2CD editions of the new Depeche Mode album are available now at dead cheap prices from Amazon DE ( http://fave.co/ZBjsmM ), Amazon UK ( http://fave.co/ZBjwTv ) and Amazon USA ( http://fave.co/X0hkRP ).