Stickerbrush Symphony by Ace Waters, is the first in a new series of covers of songs from favorite video games:
The first in a new series of covers of songs of favorite video games. Inspired by a marathon playthrough of Donkey Kong Country 2, this is one of the favorite songs from the game.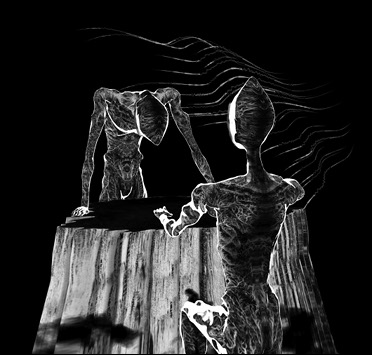 Jean-Marc Lederman has posted on Facebook about a game based on the Joy Division classic "Love Will Tear Us Apart". The game is created by Gordon Calleja and is a free-to-play browser-game about relationships on the brink of breaking up. Here's what the page says it in 'about' section: "Will Love Tear Us Apart? is a free-to-play browser-game about relationships on the brink of breaking up. It is inspired by Joy Division's Love Will Tear Us Apart and follows the song in delivering a dark and frustrating perspective on love. (…) WLTUA encourages players to reflect on the darker side of love: mis-communication, emotional impasse and the sadness of separation. Solace may be found in the brief moment of lightness that comes over us when we come to terms with the reality of an irreconcilable relationship."
And as a nice extra, each verse in the song is represented by a level in the game.

The initial design was developed with Mighty Box Games, an independent indie game studio based in Malta, with a collaborative group of visual artists from Malta and Italy. The project received funding through the Malta Arts Fund. Lightning struck early in the project, with a wrist injury forcing the original artist, Steffi, to leave the project. But the all-Maltese team of Gordon, Marvin, Fabrizio, Thom, Mark, and Costantino (an Italian infiltrator), regrouped around visual artists Anthony and Nel to move forward with the project.
"Will Love Tear Us Apart" is a free to play game inspired by English post punk band Joy Division that puts you through the dramatic journey of a relationship on the brink of breaking up.
game available now: http://willlovetearusapart.com
pics, vids and full press release: http://willlovetearusapart.com/press….
LittleGPTracker (a.k.a 'The piggy') is a music tracker optimised to run on portable game consoles. It is currently running on Game Park's GP2x & Caanoo, PSP, Dingoo, Windows, Mac OSX (intel/ppc) & Linux (Debian).
It implements the user interface of littlesounddj, a very famous tracker for the Gameboy platform that has been tried and tested by many users over the years, leading to a little complex but yet extremely efficent way of working.
Piggy currently supports 8 monophonic 16Bit/44.1Khz stereo sample playback channels. Additionally, the program can drive MIDI instruments (with the gp32 and gp2x a custom MIDI interface is required).
All versions are available for free ; however, if you like the project and want to contribute, don't hesitate to do a small donation. If you'd like to see the piggy wiggling on your platform, you can try donation too, DS users can forget about it, the console is not powerful enough to drive the piggy as is. The archive containing executables for all platforms is here: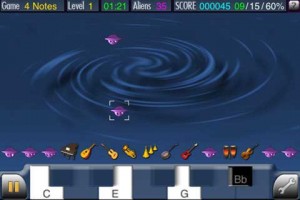 PG Music Inc has released the Pitch Invasion app for iOS. Based on old-style classic arcade games, aliens descend upon your home planet, intent on destroying your prized collection of musical instruments. It's your job to blast them out of the sky by recognizing the pitch that they are playing, and playing that pitch yourself before they reach the ground. If they reach the ground, one of your 15 musical instruments is destroyed. Once your instruments are all destroyed, it's game over. As you blast the aliens, you can move up to harder, faster levels.
Pricing and Availability:
Free
Shows how to rip a CD onto your console and get it into SSX software and a demonstration of RUMR remix features.
Ted Conley, Audio Director of EA Canada and the technical artist behind the RUMR (Realtime User Music Remix) system, has uploaded a video demonstrating how to utilize the custom soundtracks features of SSX, and the RUMR system. In the five minute video, Ted explains and demonstrates the various methods used to dynamically accentuate player performance, using runtime parameters, sampling, filters and a wide variety of DSP effects.
A pretty neat app that lets you create electronic music as you play the game

Get ready for an incredible music gaming experience, so intense that it will create a total addiction.
With just two controls, tapping to jump and tilting to steer, guide the ball on the track and catch the diamonds to play electronic music.
✔ Easy and addictive gameplay
✔ Colors change according to the progressive course of the game, more and more difficult
✔ Interactive "old style videogame" sound-effects created by Valerio K Solari (veryelectromusic.com)
Make your experience even more intense by getting the FULL version:
❖ Challenge the entire world through the rankings and objectives on the Game Center
❖ Full game more and more challenging and agressive
❖ New high-quality electronic sounds to unlock
Download the Famous Game FREE version on iTunes
http://itunes.apple.com/us/app/the-famous-game-lite/id502995675?mt=8
CHECK OUT WWW.FRACTGAME.COM FOR MORE INFO
A quick look at some of the things we have planned for FRACT OSC – a first person adventure game inspired by synthesizers (no kidding!). We're building some really interesting tools that combine exploration, puzzles and musical creation – and we're really excited to share them with everyone!
Grabatron Country (FREE Download)
iPhone: http://bit.ly/vc6sYb
iPad: http://bit.ly/uoqDS4
Android: http://bit.ly/rVtYKv
Future Games of London sent us their new app, so we incorporated it into this cover of Labrinth's 'Earthquake'.
The touching, terrifying, and turbulent story behind Pugs Luv Beats, the brand new music game for iPhone and iPad from Lucky Frame! Find out more at http://www.luckyframe.co.uk/pugsluvbeats
Have fun….I guess
The Sonic Adventure Game
featuring Hans Zimmer
From the makers of the 4 million download smash hit "Inception the App" comes the incredible new sonic adventure game "Dimensions". This unique augmented sound gaming experience transports you to amazing new dimensions using your reality as the interface. With an array of exhilarating new sound effects and stunning use of sensor input the gameplay sets new standards for alternate reality games.
Available in the App Store Fall 2011.