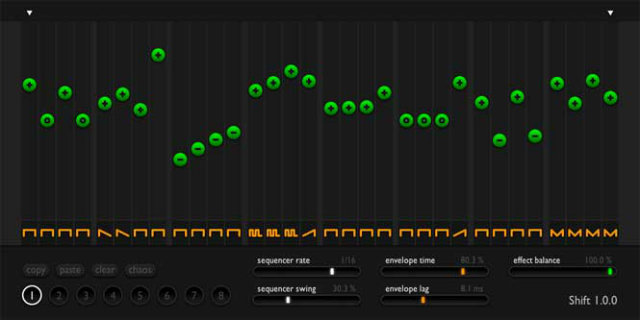 Sinevibes has announced its new AudioUnit effect plugin called Shift, an animated frequency shifter. They tell us that it is designed to add tasty vibes to basses, synths and pads, spice up drum and percussion loops, or simply turn anything into a mad glitch. Here's the details directly from Sinevibes…
Processing bliss
At the core of Shift lies a precise model of the Bode frequency shifter with a silky smooth sound. It can be tuned to produce anything from phasing and wobbling to metallic ringing, beeps and buzzes. And this effect works well with absolutely any type of sound source.

Advanced motion
To modulate the frequency shifter, Shift uses its built-in sequencer with up to 32 steps, variable rate and shuffle. With an ability to assign one of 8 envelope shapes per individual step, you can build incredibly elaborate patterns. Inside a single preset, Shift can also store up to 8 separate sequences which you can instantly switch between or automate via your host.
Never-ending fun
Shift has been meticulously designed to blend usability with flexibility. Its colour-coded, single-view interface has fluid visual feedback and takes no time to learn. This makes it a kind of tool you will want to use again and again.
Pricing and Availability:
Shift is immediately available for $29 as an AudioUnit plugin for OS X 10.6 or later.
More information:
Here is a preview of the sound and functionality of the Dubreq Stylophone S2. This preview was made with a prototype of the S2 which was demonstrated at NAMM 2013.
The S2 is available through the Dubreq website: http://www.dubreq.com
Background video description:
A demo of 3 iMini's running in Tabletop, with a iMPC playing a beat, then AC into Audiobus and Cubasis. It's also a test video for better sound quality and picture quality as we had a few comments about having better sound, hope this is OK..
Roland keyboard specialist Scott Tibbs demonstrates the Roland INTEGRA-7 SuperNATURAL sound module (and A-49 MIDI controller) at Kraft Music.
Roland marcomm pitch:
With the development of SuperNATURAL sound and Behavior Modeling technology, Roland has blurred the boundary between acoustic and electronic instruments. Built upon these core technologies, the new INTEGRA-7 gives musicians a gold mine of the latest SuperNATURAL sounds in a fast-access, fully stocked 16-part module.
The powerhouse rack comprises a "greatest hits" collection of sounds from Roland's flagship keyboards and V-Drums modules, plus a coveted lineup from the legacy SRX library. It also introduces a new technology called Motional Surround, a 17-part ambience engine that lets you graphically control the distance and position of each part within 360-degree sound field. With the immense power of the INTEGRA-7, you can create amazingly realistic and detailed orchestral arrangements, immersive, spatial sounds, and beyond.
Additional links and info below:
Watch "Rock Paper Scissors" here: http://youtu.be/xJU3h34DuFg
Andrew Huang — http://andrewismusic.com
Facebook — http://facebook.com/andrewismusic
Twitter — http://twitter.com/andrewismusic
Tumblr — http://andrewismusic.tumblr.com
Additional information can be found via the links below:
Download Link – http://support.image-line.com/redirect/performance_drumloopmasher
Don't forget the FLaunchpad competition – http://www.image-line.com/documents/news.php?entry_id=1355190084&title=wi…
MIDI Pattern Sequencer for iPad. Make a simple song demo.
MIDI Pattern Sequencer is a tool with powerful and at the same time very comfortable, intuitive and easy interface. It is the main feature, through which the sequencer can easily used by anyone, from beginner to professional, and everyone will find it most necessary for their own purposes. The sequencer is designed to control via MIDI any external sound modules, samplers, synthesizers and other applications running on iPad or another computer. Full support for external MIDI interfaces, network and virtual ports, synchronization with external devices and transport control makes this sequencer like playback control center for music devices or other applications.
Main features:
Classical data structure: Project – Song – Pattern.
Four main control modes – Transport, Keyboard, Edit pattern, Edit cell.
No need to save data. All changes will be saved automatically.
Pattern tracks can be configured for notes or drum events.
Real-time recording and editing patterns.
Recording and editing events through internal keyboard or external devices.
Playback one or more patterns at once. Start and stop patterns during playback.
Changes pattern events (Transposition, Velocity, Duration) during playback.
Editing individual events or changes all events in track.
Length of pattern is defined by last note or can be set to fixed value.
Correct simultaneous playback patterns with different length.
Each pattern and song track have individual mute/solo function.
Song can contain patterns from current project and patterns from any other projects.
Extended set of editing functions for patterns and songs – insert, delete, move and scroll a single event or entire track.
Ability to set track titles, pattern titles (pattern button titles) and drum pad titles.
Set of different color schemes of interface.
See more:
ReBirth for iPad: https://itunes.apple.com/us/app/rebirth-for-ipad/id401704148?mt=8
Figure: https://itunes.apple.com/app/figure/id511269223?ls=1&mt=8
What's better than making music? Making music with a friend of course! And doing it instead of working, like Kalle and Mattias…
With ReBirth for iPad's Duo mode two people can make squelchy techno music on the same iPad. Connect ReBirth to other equipment with MIDI Sync, or enable WIST sync to bring Figure or other WIST-enabled apps into the mix.
Musix Pro is the most innovative app for performing music. Music theory is baked right in through the use of a technique called isomorphic note layouts. Novices learn to play in minutes, and professionals benefit from built-in harmonic relationships between notes. Unlike other music apps, Musix Pro provides a wide range of octaves, scales, keys, chords and modes, without limiting your creativity. With multiple built-in instruments and support for OSC and Core/Virtual Midi, most existing synthesizers work beautifully with Musix Pro as a controller.
Traditional musical instruments are difficult to learn because notes are arranged based on physical constraints. Musix Pro arranges notes based on their harmonic and musical relationships instead, allowing shapes and patterns to emerge that unlock the mathematical beauty of music.
Musix Pro is a new isomorphic iPad /iPhone Instrument available on the app store.
Check it out here: http://get.musixapp.com/r/bXzD
Website: http://shiverware.com/musixpro/
Features Video: http://youtu.be/V5JQ61TSshQ
Braten Video: http://youtu.be/GYITcNsunGw
Escape Video: http://youtu.be/KSKv5H1qPBg
Why Musix Pro?
- Learn how to play every major and minor chord in minutes
- Learn one pattern and instantly play in any key
- Explore the harmonic relationships between notes
- Play along with your friends without being an expert
- Realize your own personal musicality
Download Strum for FREE for iPhone, iPad, and iPod touch! http://bit.ly/Strum_YT
Turn your life into a music video!
Introducing Strum, a new app that transforms your video into a music video in just seconds. Smule's advanced audio filters automatically compose music to match your video. With over 20 different visual and audio styles, from simple background melodies to outrageous remixes, you will create a unique experience every time. Share your videos with your friends, and follow creative people from all over the world. Each day, discover inspiring new videos from the Strum community.
Check back frequently for new and limited-time filters!