Soundcrafts is a new video series from Moog Music Inc. that explores the importance of creating new sounds through insight from renowned artists, producers, and engineers from around the globe.
The first episode features Bryan Michael-Cox, a Grammy winning songwriter and producer who has worked with Mariah Carey, Usher, Destiny's Child, and countless others during his extensive career. In this session Cox delves into the importance of creating and exploring new sounds, and its relationship to making lasting impressions on listeners.
Peff treats us with some nice synth noodling:
Just some weird jamming with directre and buffre. Original drum loops are from a recording of Tim Bulkley.
Meet a supergroup formed by Native Instruments, that includes artists Jamie Lidell, Tim Exile, Jeremy Ellis, Mr. Jimmy and DJ Shiftee. Watch as they explain how the group works and show of the tech that powers it.
Going through some settings to create visuals from sound, using the iOS app "PixiVisor" on an iPad. The app is also available on other platforms, so go ahead and check it out:
http://warmplace.ru/soft/pixivisor/
The audio transmitter in this video is the Anyware Tinysizer analog modular synth. Its audio is routed into the iPad's mic input through a cheap StarTech headset splitter.
Questions or comments? Go ahead and post them below!

Thanks for watching! MORE INFO: V V V V
Gear used in this video:
– Apple iPad 3 with PixiVisor video synth / audio visualizer
– Anyware Tinysizer (audio transmitter for PixiVisor)
– Vermonad DRM1 mkIII (drums, the kick drum is triggering the saw wave ADSR)
– Akai MPC 500 (sequencing Vermona DRM1 drums)
– Yamaha Tenori-On (sequencing the saw wave's pitch later on in the video)
mobygratis.com is a resource for independent and non-profit filmmakers, film students, and anyone in need of free music for their independent, non-profit film, video, or short.
Moby has made a selection of over 150 tracks from his huge catalog of music available to licence for free, via a simple online application system. The catalog tracks from Destroyed, Wait For Me, Hotel, 18 and Play, along with a host of remixes and unreleased tracks.
To begin just create a new account, browse the catalog and fill in your application for the tracks you would like to use. You should receive a response to your application within 24 hours.
Browse the catalog here: http://mobygratis.com/catalog
Sign up here: http://mobygratis.com/user/register
Once you have finished your film, you can share it with the mobygratis community by uploading to YouTube or Vimeo.
Armed with only a JamStik, an iPad, a handful of apps, and a microphone – you can create some amazing music.
Check out http://www.jamstik.com for more info, or goto http://igg.me/at/JamStik/x/2880027 before July 9 to preorder via Indiegogo.
In "Get Lucky" we use:
Audiobus – http://audiob.us
Loopy HD – http://loopyapp.com
Animoog – http://www.moogmusic.com/products/app…
Sunrizer – http://beepstreet.com/sunrizer
Peter Vogel CMI – http://petervogelinstruments.com.au/ios/
Sampletank – http://www.ikmultimedia.com/products/…
iVoxel – http://www.virsyn.net/mobileapp/index…
@JamStik
http://www.facebook.com/JamStik
"Get Lucky" by Daft Punk on iTunes – https://itunes.apple.com/us/album/get…
For full details visit: http://bit.ly/YI0HgY
Garritan Instant Orchestra is about instantly producing orchestral music very quickly and easily. Our goal is to provide an instantly playable orchestral library with many pre-packaged orchestral sounds.
This library was designed to be an effective shortcut to reach your musical goals. Consider it as a Swiss army knife for musicians – a clean, simple, multi-purpose orchestral tool that will allow you to do many things in an instant. Moreover, it is affordable and fulfills our mission of simplifying and democratizing making music and orchestrating.
Instant Orchestra is for those who do not want to spend time building orchestrations with one instrument or section at a time. It provides pre- packaged groups of instruments, combined sections, orchestral effects, and mood-based presets. Instant Orchestra is designed for those who know little about orchestration or do not have the time to build them. The idea is to provide a large variety of lush, playable orchestrations with the least time and effort.
This is mostly to show what is available and what IO is about. It does not even touch the amount of patches one can use. Often I just randomly hit the notes with the mouse in some cases. I did not want to make a composition, just simply show some stuff from each folder including big multis that are presets to give instant gratification.
I hope this clears up any misconceptions. It is a swiss army knife for orchestra.
In this You Tube exclusive video DJ/Producer Funkagenda explains how to create from scratch that classic Anthemic Mainroom sound using the Lennar Digital Sylenth1 software synth.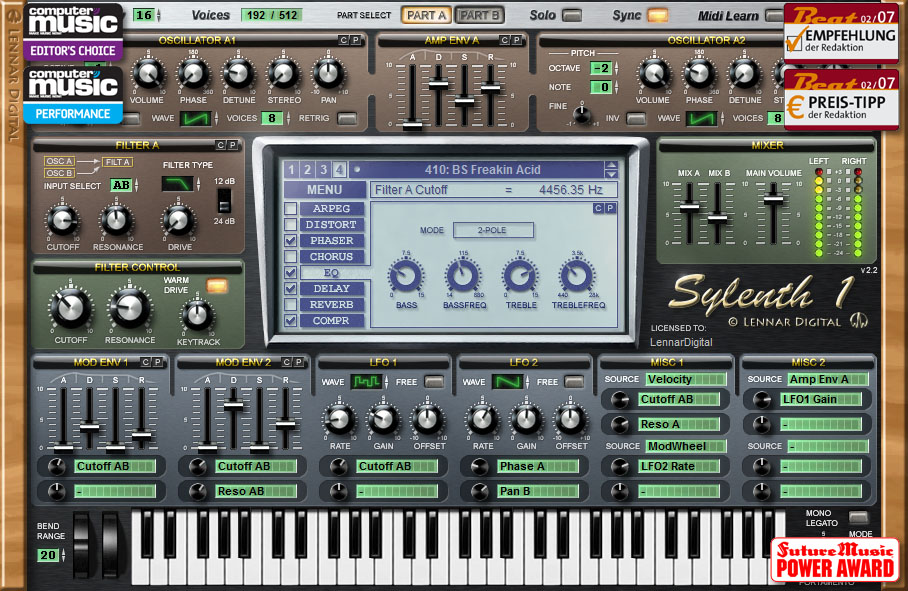 Sylenth1 is a virtual analog VSTi synthesizer that takes the definitions of quality and performance to a higher level. Until now only very few software synthesizers have been able to stand up to the sound quality standards of hardware synths. Sylenth1 is one that does.
Sylenth1 is not just another synth. It was built from a producer's point of view. It was built to produce superior quality sound and music. It was built to perform. A lot of research has been invested in order to achieve unheard warmth and clarity. The graphical interface ensures the highest level of usability so you can fully unleash your creativity.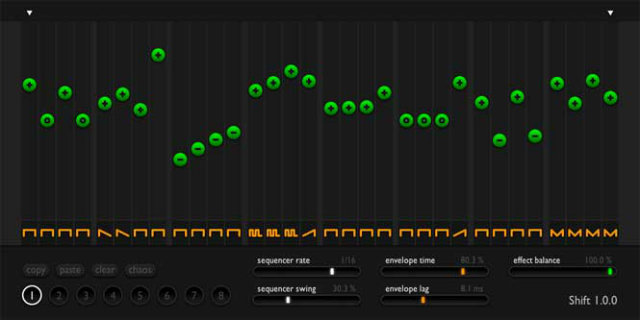 Sinevibes has announced its new AudioUnit effect plugin called Shift, an animated frequency shifter. They tell us that it is designed to add tasty vibes to basses, synths and pads, spice up drum and percussion loops, or simply turn anything into a mad glitch. Here's the details directly from Sinevibes…
Processing bliss
At the core of Shift lies a precise model of the Bode frequency shifter with a silky smooth sound. It can be tuned to produce anything from phasing and wobbling to metallic ringing, beeps and buzzes. And this effect works well with absolutely any type of sound source.

Advanced motion
To modulate the frequency shifter, Shift uses its built-in sequencer with up to 32 steps, variable rate and shuffle. With an ability to assign one of 8 envelope shapes per individual step, you can build incredibly elaborate patterns. Inside a single preset, Shift can also store up to 8 separate sequences which you can instantly switch between or automate via your host.
Never-ending fun
Shift has been meticulously designed to blend usability with flexibility. Its colour-coded, single-view interface has fluid visual feedback and takes no time to learn. This makes it a kind of tool you will want to use again and again.
Pricing and Availability:
Shift is immediately available for $29 as an AudioUnit plugin for OS X 10.6 or later.
More information:
Here is a preview of the sound and functionality of the Dubreq Stylophone S2. This preview was made with a prototype of the S2 which was demonstrated at NAMM 2013.
The S2 is available through the Dubreq website: http://www.dubreq.com