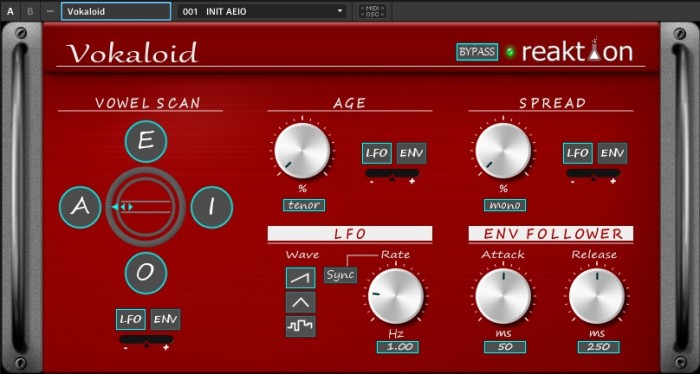 Reaktion has released Vokaloid, a format filter ensemble for Native Instruments Reaktor.
Vokaloid is basically a Formant Filter – a special kind of filter with fixed frequencies in the spectrum (formants) that simulate the sound of vowels of the human vocal tract.

In each circular box you can select a different vowel sound and smoothly scan through them with the "Scan" parameter.
You can vary the timbre with the "Age" parameter and control the stereo widening with the "Spread" parameter.
You can use an LFO or an Envelope Follower as a modulation source for all these parameters.
Vokaloid is available for purchase for 9 EUR.

Sampleism has introduced Thales Model I – a new virtual instrument for Windows VST (32bit & 64bit), Mac OS X VST and AU. The instrument features the sound generated by early sixties computers.
The sounds have been sourced in public domain films, which means that they are not clean: tape noises and background hisses are part of the sound. Acording to Parenteau,, Thales Model I's tone is reminiscent of the Mellotron, as a result.
There's a free fully functional version of the plugin available at archive.org. The full version of the plugin is available for £6.99 at Sampleism.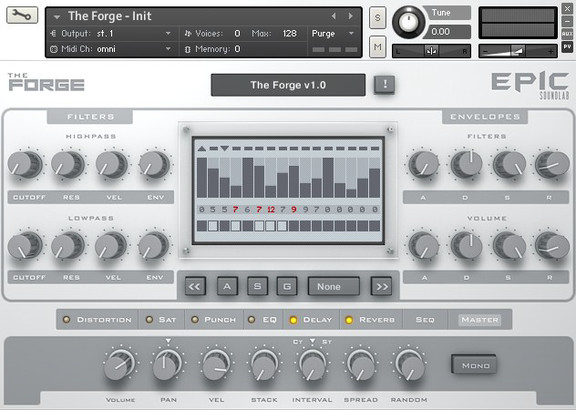 Epic SoundLab has launched with the release of The Forge, a hybrid scoring instrument library for Native Instruments Kontakt.
The Forge is a powerful yet intuitive sample library aimed at Film, TV and Games composers.

It is designed to offer a flexible environment to customize every sound and making your own.
The Forge features
Advanced User Interface.
Arpeggiator.
Polyphonic Sequencer.
Rhythmic Gater.
Unison / Voices Stack.
Resonant Delay.
Dual Engine Reverb.
Over 200 Kontakt patches.
Over 3GB of open WAV files.
MIDI Files.
Customize your own samples.
The Forge is available for purchase for the introductory price of $149 USD/119 EUR/£95 GBP until November 1st, 2014 (regular $189 USD/149 EUR/£119 GBP). Requires full version of Kontakt 5.1 or higher.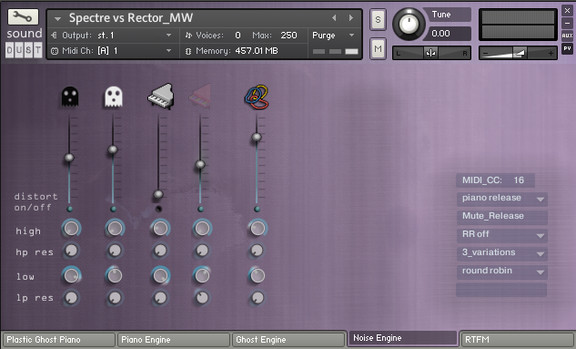 Sound Dust has launched Plastic Ghost Piano, a convolution based hybrid piano instrument for Native Instruments Kontakt.
The piano sample set was made by sending bursts of controlled noise through unsuspecting piano samples used as convolution reverb impulses.

Plastic Ghost Piano is designed to be a warm, analogue sounding hybrid piano with real character and lots of sonic possibilities that range from warm, woody and expressive acoustic piano to "blissed out orchestral shoegaze haze".
Plastic Ghost Piano features
549MB of 24-bit samples with up to 23 velocity levels per note.
Advanced architecture with automatable control of everything.
Sample start control.
Ghost Engine with per voice algorithmic reverb.
Noise Engine with per voice distortion and filtering.
69 specially created convolution reverb impulses recorded from real spaces, expensive hardware, and some less obvious sources including a Roland Space Echo, Lexicon reverb and the stage of Glyndebourne Opera House.
6 deeply multisampled sound articulations; Dark Ghost convolution, Pale Ghost convolution, Hohner Pianet, Convolved "plastic" piano, palm mute Stratocaster and Release Piano.
Leslie effect, cabinet modelling and morphing EQ.
Selectable and adjustable release group.
Round robin sample swapping.
MIDI timing jitter.
25 "starter" presets.
Built-in instruction manual.
The library is available for the introductory price of £20 until October 18th, 2014 (regular £25 GBP). Requires full version of Kontakt 4 or above.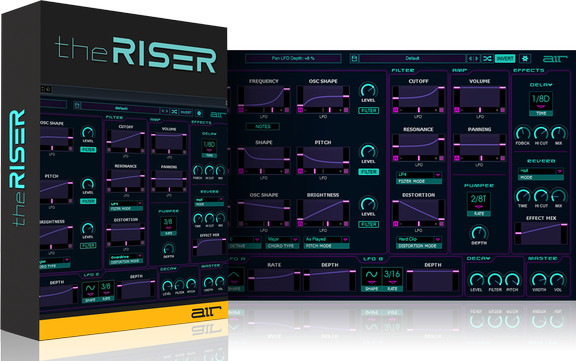 AIR Music Technology has introduced The Riser, a synthesizer instrument designed for creating powerful transitions with electronic dance music producers and DJs in mind.
A powerful, synth-based instrument, The Riser features all of the tools you need to compose heart-stopping transitions in one intuitive user-interface. In seconds, you can construct rises, falls, swells, fades, and more, based on our coveted sound synthesis technology. For instant inspiration, The Riser includes 300 pro-grade presets that you can edit, deconstruct, copy, mangle, and implement into your tracks.

Transitions add suspense, hype, drama, and movement to your music. Cymbal swells and reversed instruments were go-to transitions for years, until the DAW pioneered fast and flexible audio editing, paving the way for complex sound effects. When combined with synths and other audio shaping tools, transitions completed their metamorphosis from science to art. Until now, this process has convoluted and time-intensive, taking attention away from the overall project itself. The composer spent more time trying to get plugins, virtual sample players, hardware effects, sound modules, and other gear to play nice with each other – and that was before hitting "record".
The Riser features
Transition designer optimized for electronic music production, scoring, and remix work.
3 editable oscillators; sweep, noise, and chord.
3 LFOs; free-running, tempo-synced, and Pumper.
23 filter types including multi-pole and phase shift.
300 professionally designed, editable presets.
Randomizer generates patches at the click of a button.
Invert mode creates complementary patches by instantly changing transition direction.
Easy MIDI-Learn Mode; just click and twist to assign parameters to your favorite MIDI controller hardware.
Pumper effect creates pulsating movement.
Configurable delay and reverb with wet/dry processing; 4 reverb types.
Adjustable panning movements and master stereo width control.
64-bit AU; 32- and 64-bit VST/AAX; Mac or Windows.
The Riser will cost $79.99 USD. A full version 15-day demo is available for 48 hours only.
We hope this video gets a rise out of you.

Acrobatics has released Mate, a free synthesizer instrument for Windows.
Mate is a hands-on, simple desktop musicians friend, inspired by synthesizers of the seventies and eighties.

It produces original synth tones and reproduces strings, pianos, basses, organs and bells patches with ease, but it can also explore wild and spacey atmos using its flexible modulation options and smart programming.
Mate features
32-bit ultra-optimized code, zero latency, samplerate independent engine.
All sample rates supported.
Each control is fully recordable and automatable in host.
Most knobs & switches receive external MIDI control changes.
Mate for Windows (VST) is available to download from KVR Audio as part of the Developer Challenge 2014.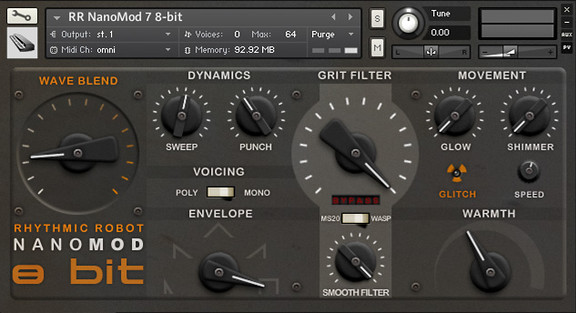 Rhythmic Robot has launched NanoMod 8-bit, a free instrument library for Native Instruments Kontakt.
NanoMod 8-bit is a simple but versatile Kontakt synthesiser based on vintage 8-bit polysynths, featuring an "intelligent" interface that allows the user to adjust multiple parameters with single controls. It is offered as part of the KVR Developers' Challenge 2014.

NanoMod 8-bit brings the simplicity of Rhythmic Robot's NanoMod interface to bear on the crusty, gritty, aliased sounds of classic 8-bit synthesisers of the early to mid 80s. Using source waves taken from vintage Ensoniq hardware and a front-end incorporating convolved Wasp and MS20 filters, this NanoMod is aimed squarely at big, powerful polysynth sounds – everything from warm and evolving pads to screaming leads.
The library is a free download, released as an entry to the KVR Developer Challenge 2014.
Roger Linn shared another sneak preview of his newLinnStrument in action – doing 'blues slide guitar'. 
The demo highlights the malleability of notes on the LinnStrument. Linn stretches and slides individual notes around the instrument, articulating the sounds expressively in ways more familiar to string musicians than keyboardists.
The LinnStrument is currently under development. Release date and pricing is still to be announced.
http://youtu.be/odk98v588rg
In this video, Beethoven's "Für Elise" is playing in Logic Pro X as a MIDI file.
The LinnStrument is connected over USB and receives the MIDI notes in real-time. MIDI channel 1 is shown in the left split and channel 2 in the right split. Each note highlights all the possible cells that can be played to perform the same piece.
The LinnStrument automatically takes the layout, octave and transposition settings into account.
This feature provides an excellent teaching aid since it works with any existing MIDI file. By varying the speed at which the MIDI notes are sent to the LinnStrument, the piece can start slow at first and be gradually sped up.
Obviously, this can also be used for cool light effects, it's not necessary to make the MIDI notes play sound. A separate method using MIDI CC messages is also available to directly control cell colors by coordinates without them being related to MIDI notes
Download Free Sample Library by Crypto Cipher – Indian Kontakt Instruments and Sound Designed Instruments.
http://www.cryptocipher.in/?page_id=4
Crypto Cipher Audio Lab has released a free sample library for Kontakt, featuring Indian instruments. 
List Of Instruments and Audio Content:
Double Sided Hand Drum Sample Size : 12 MB , 250 Samples, This is a multisampled Instrument – 10 RR with Low , Mid and High Velocities. Play with the script to get beautiful patterns.
ThingamaKit – SFX Instrument. Sample Size :- 70 MB , 170 Samples, Scripted.
Pambai – Rare South Indian Percussion. Sample Size :- 60 MB , 270 Samples. Multisampled Instrument , Scripted.
Tabla Mouth Percussion / Thunderous Raga Voice Samples – Audio Wave Format.
Mouth Shots(Tabla Mouth Percussion) – Scripted/Mod-wheel Controls Speed ((Kontakt 5.3+ Needed))
Indian Harmonium Scripted – One the the Instrument from Our Bollywood Harmonium Pack.
Tabla Loops – Wave/REX/Kontakt
A patch from Voices Of Ragas Vol-1 (Kontakt 5.3+ Needed)
Sound Design Instruments
Violin Raga Phrases Instrument ( A patch from Bollywood Harmoniums Product)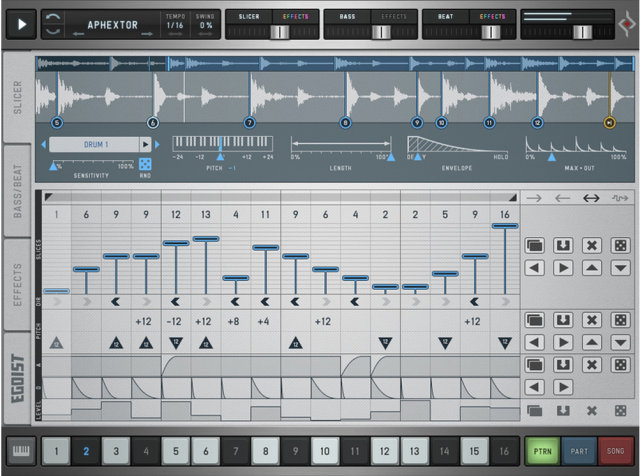 Sugar Bytes has introduced Egoist, a new groove instrument plug-in for Mac & Windows.
Here's what they have to say about it:
Egoist is a groove instrument. Load any audio file and squeeze the groove out of it!
Try your mp3 library and use it a a sound source! The additional onboard bass, beat and fx units make Egoist the perfect track sketch tool in the studio and on the road.
Features:
Quick + Easy track sketching, based on sample slicing
Minimal, yet effective bass line
Unique beat box with more than 1000 drums from vintage to electronic
Effect Sequencer
Randomizers in all areas