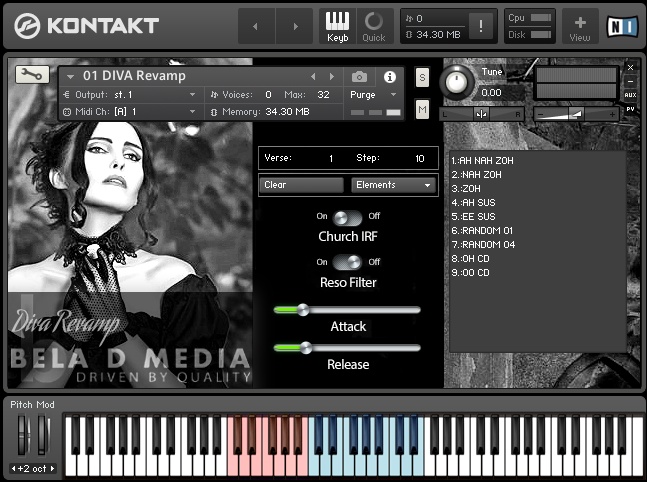 Bela D Media has announced release of Diva Revamp 2015, a female vocal library for Native Instruments Kontakt.
DIVA Classical Female Soloist was created in 2003 and is the very first product every produced by Bela D Media. Since that time, DIVA has sold world-wide and is used by many top composers for film, television and videos games. In the States, often one would be hard-pressed to not to hear DIVA in use on many popular television stations – even to this day. We are extremely proud of this and always consider it to be an honor when a composer (professional or other wise) finds a place for our work in their arsenal of digital tools.

Welcome you to DIVA REVAMP 2015. Once again we have trimmed the digital fat and employed our Vocal Tools style scripting features and GUI to complete this special version. Features include, sample offset polyphonic legato, creation and storage of custom vocal verses, attack and release control per vocal step and real-time playback sequencing.
The library is available for purchase for $150 USD. Users of the Diva Bundle and/or the original Diva Revamp (full version) will received a crossgrade offer. Requires Kontakt 4/5 full version.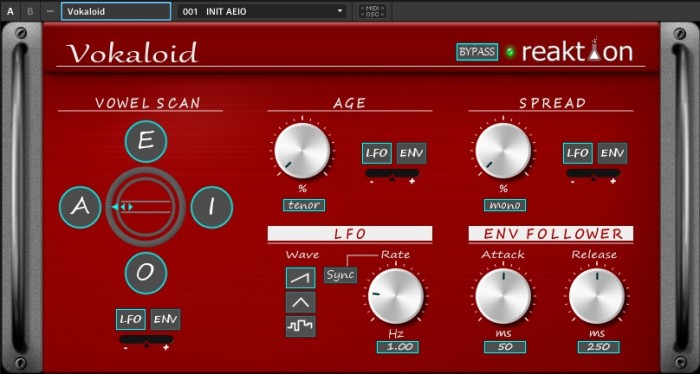 Reaktion has released Vokaloid, a format filter ensemble for Native Instruments Reaktor.
Vokaloid is basically a Formant Filter – a special kind of filter with fixed frequencies in the spectrum (formants) that simulate the sound of vowels of the human vocal tract.

In each circular box you can select a different vowel sound and smoothly scan through them with the "Scan" parameter.
You can vary the timbre with the "Age" parameter and control the stereo widening with the "Spread" parameter.
You can use an LFO or an Envelope Follower as a modulation source for all these parameters.
Vokaloid is available for purchase for 9 EUR.
by Anna-Maria Hefele | http://www.anna-maria-hefele.com/ Video: Jo Zapf | http://www.invisual.de
my EP "SWEVEN" is ready, get it here!
https://itunes.apple.com/be/album/swe…
http://www.amazon.de/Sweven-Anna-Mari…
http://www.shazam.com/track/228445432…
http://www.mixrad.io/at/de/products/a…
https://play.google.com/store/music/a…
http://www.anna-maria-hefele.com/
https://www.facebook.com/amoberton
https://twitter.com/AnnaMariaHefele
my ensemble! http://www.supersonus.eu
http://youtu.be/s4BJ3wng6Mk
http://youtu.be/ysSLfwEk5l4
overtone singing is a voice technique where it seems like one person sings two notes at the same time.
You can sing the overtone scale on one fundamental. Another fundamental has its own overtone scale, so in order to have more overtones to sing nice melodies, you can use different fundamentals and change them while singing.
the video is live, and every human being is able learn overtone singing 😉 ….well…not starting directly with polyphonic overtone singing…. but singing overtones on one fundamental isn't too hard.
We go through the voices and features of Realivox Ladies, our vocal instrument for Kontakt. For more info, please visit us at:
http://realitone.com
Realitone says that the updated Realivox Ladies is designed to be a vocal sample library, that you can play on your keyboard, that sounds smooth and real. 
Here's what's new in version 2.0:
This collection of 5 solo singers with full legato now has almost double the articulations, as well as 6 ending consonants.   This makes 25,000 samples, up from 16,000.
Singers can now also be combined to form ensembles, all in a single instance.
Also featured is a new Poyphopnic Legato mode.
Learn more and download Take for free: https://www.propellerheads.se/take
Take Creative Vocal Recorder is the fastest app for capturing your ideas on iOS so we figured we'd show you Take in action with the fastest video walk through. Record your voice, load backing beats, sing along with yourself, add effects, and even tune your voice from subtle pitch fixes to "that" hip hop sound. When you're ready, share your song ideas to Discover on Propellerhead to share your music with friends or to invite a world of other music makers to collaborate with your music.
Here's what's new in Take 2.0:
Tune your voice – stay in tune or go full-on robot voice with Take's Voice Tune effect.
Clean up, distort or color your recordings with effects on each channel
Give your tracks a "final mix" sound with mastering presets
Sing in a key that works for you with transposable backing tracks
Trim your songs to the desired length
Numerous performance and usability improvements
Take is a free download from the App Store.
Producer Butch Vig (Nirvana, Smashing Pumpkins, Garbage, Foo Fighters) demos the Butch Vig Vocals plugin, created in collaboration with Waves.
Butch Vig Vocals Plugin:http://www.waves.com/plugins/butch-vi…
Waves has released the Butch Vig Vocals plugin, created in collaboration with ProducerButch Vig (Nirvana, Smashing Pumpkins, Garbage, Foo Fighters).
Features:
Take is an app from the makers of Thor and Figure, Its a quick way to capture your song ideas anytime you may have one
For more about Take:
http://www.propellerheads.se/take
Sing, rap, hum, strum. Take lets you capture your musical ideas – anytime, anywhere. Take combines the drop-dead simplicity of your voice memos with features custom-tailored to vocalists' needs. Record harmonies along with your voice, blend in effects to sweeten the sound and sing along to inspiring beats and rhythms.
Sing, hum, rap, strum. Take captures your musical ideas—anytime, anywhere. With a single tap you'll be recording, beatboxing, overdubbing, riffing, writing, trying out song ideas that you'll want to share with the world.

Feel the groove. Stay on the beat. Keep in time. Inspiring built-in clicks, loops and beats to kick start your creativity.

Add new parts, double them up, create harmonies, sketch out the song

Three tracks to build on your tune and flesh out your ideas

Surprise yourself with how good you sound.

Processing and effects that make your iPhone's mic shine.

Share on Facebook, Twitter, email.

Designed by Propellerhead Software—makers of Figure, Apple App of the Year 2012—Take is a creative recorder for musicians. It's got the same drop-dead simplicity you've come to expect with your voice memos, with features custom-tailored to vocalists' needs—like the ability to record harmonies along with your voice, blend in effects to sweeten the sound and sing along to an array of beats and rhythms. Take will soon become your go-to sketchpad for musical ideas.

Note: Take is optimized for the built-in microphone on your iOS device. Wear headphones to hear your backing tracks. Best results come from using headphones (the ones without an integrated microphone) and recording into your iPhone/iPod/iPad mic directly.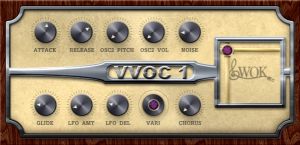 WOK has released VVOC-1, a new free synth plug-in that generates vocal sounds with a vintage electronic touch, from single formants to synthetic choir sounds.
The integrated triple-chorus and the X/Y pad for adjusting the formants, a pitch glide function and a hidden secret unveil more power than the easy GUI might imply.
Price: Free. As with all of WOK's plugins there is no adware or spyware included.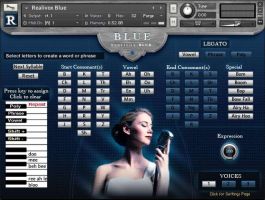 Realitone has released Realivox Blue. Realivox Blue is a solo female vocalist sampled into Kontakt, and features a word/phrase builder which allows the user to type in their own words. Over 12,000 samples are used to make the wordbuilder work.
True sampled legato is employed, for smooth transitions in legato phrases. Legato can be either monophonic or polyphonic.
Also featured is the ability to double or triple the voices, useful for either creating an ensemble, or to simply thicken a lead voice. Combined with the polyphonic legato feature, Realivox Blue can emulate small choirs in a single instance.
Optionally available in Kontakt Player format.
Price: $149. Introductory price is $99.95 for users who own the full version of Kontakt, or $114.95 for users preferring the Kontakt Player version.