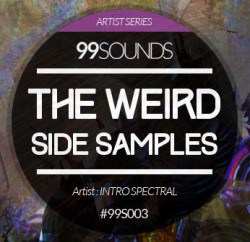 99Sounds has released The Weird Side Samples– a free glitch sound effects library.
The Weird Side Samples is a free collection of glitch samples, weird sound effects and abstract sonic textures produced by Johan Ekelove aka Introspectral.
The author describes this sound collection as "a sonic exploration through hidden worlds afloat on a metaphysical plane".
Contents:
182 audio samples in total
19 atmospheric sounds
29 sonic movements
17 percussive elements
69 tech samples
31 sonic textures
17 vox samples
24-bit WAV format
44.1 kHz Stereo
284 MB size on disk
174 MB download size (RAR archive)
The Weird Side Samples are available as a free download at 99sounds.
Camel Audio has announced Artificial Intelligence, the 30th Sound Library for their sample manipulation synthesizer, Alchemy. They tell us that Artificial Intelligence draws inspiration from the futuristic, glitch-driven side of electronic music and is packed full of twisted, abstract soundscapes, intricately detailed sound effects, stuttering digital rhythms and warped synths and basses. They say that, with eight carefully designed remix variations for every preset, it's easy to tweak the sounds to fit your music, and with a full set of tags, finding the right sound is just a click away.

The desktop version of Artificial Intelligence contains 150 presets and works with both Alchemy and Alchemy Player. Artificial Intelligence for Alchemy Mobile contains 50 presets.

Pricing and Availability:
The desktop version of Artificial Intelligence is available now from the Camel Audio shop for 59 USD / 49 EUR / 39 GBP. It's also included in Alchemy Complete which comprises Alchemy and 30 Sound Libraries at a discount of over 50%.

Artificial Intelligence for Alchemy Mobile is available as an in-app purchase for 3.99 GBP / 4,49 EUR / 4.99 USD.
For full details visit: http://www.timespace.com/product/AW2-…
Dark Ambient is the second in the series of Analogue Workshop sample libraries from renowned sound designer Ian Boddy. Featuring 300 samples and over 500 Kontakt patches culled from his collection of vintage and analogue modular synths, these sounds dwell very much in the darker realms of ambience and electronic music.
The patches run the full gamut from subsonic drones, evolving pads and haunting modulations to weird, surreal atmospheres. The one-shot section contains a range of crunchy, deep, weird short percussive sounds and FX that can be used to spice up any drum kit or add impact to key moments in your musical compositions.
A new custom designed graphical interface has been scripted in Kontakt to provide even more variation & programming opportunities in the way the sounds are presented. This is rounded out by a set of impulse responses for the convolution reverb taken directly from analogue modules such as spring reverbs & bucket-brigade delays to further enhance the overall sound character.
Plugin Guru has introduced Omniverse III: Aurora – a patch library for Spectrasonics Omnisphere that has its own sci-fi backstory.
Creator John "Skippy" Lehmkuhl decided to something a little different with Omniverse III: Aurora.
The patch library is based around a sci-fi concept story and comes with a 4-page comic of the 'Omniverse Chronicles'.
Demo Songs showing the 100 patches that are included in the Omniverse III: Aurora library for Spectrasonic's Omnisphere.
written by Amin Bhatia and published by Bhatia Music (SOCAN)
www.aminbhatia.com
This is the introduction video showing you the comic, the cool music and the 100 Patches that come with this awesome library for Spectrasonics Omnisphere! Get your copy from my site: www.PlugInGuru.com.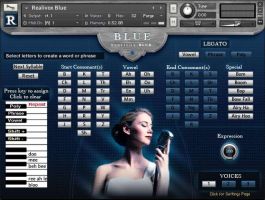 Realitone has released Realivox Blue. Realivox Blue is a solo female vocalist sampled into Kontakt, and features a word/phrase builder which allows the user to type in their own words. Over 12,000 samples are used to make the wordbuilder work.
True sampled legato is employed, for smooth transitions in legato phrases. Legato can be either monophonic or polyphonic.
Also featured is the ability to double or triple the voices, useful for either creating an ensemble, or to simply thicken a lead voice. Combined with the polyphonic legato feature, Realivox Blue can emulate small choirs in a single instance.
Optionally available in Kontakt Player format.
Price: $149. Introductory price is $99.95 for users who own the full version of Kontakt, or $114.95 for users preferring the Kontakt Player version.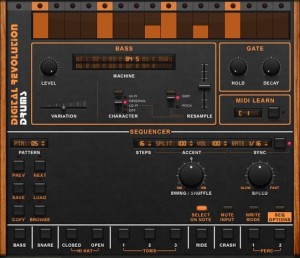 Wave Alchemy has introduced Digital Revolution, an upcoming drum machine instrument library for Native Instruments Kontakt.
Since the release and subsequent update of Transistor Revolution MKII we have been busy behind the scenes working on a brand new instrument which is inspired by the classic digital drum machines of the past…

Powered by 'Revolution Engine' technology our forthcoming Digital Revolution virtual instrument puts vintage digital drum sounds from the 1980′s at your fingertips.

We have faithfully captured the unique sound of 9 iconic digital drum machines spanning from 1980 to 1989, including all sample variations of the original drum machines, tune, decay and various other settings. Each drum sound has also been re-sampled multiple times through an iconic 'grey' 12-bit sampler to allow for real-time re-sample/grit modes which can easily be selected from the instrument interface.
Digital Revolution features
9 classic digital drum machines and 3 bonus analogue machines.
New 'Character Mode' allowing real-time selection of Lo-Fi (re-sampled), Hi-Fi and Original sound sources.
Sequence patterns quickly and easily using the 'Revolution Engine' step sequencer.
Mix and match drum sounds from 12 iconic drum machines in real-time and dynamically browse any available sound either by machine or drum voice.
Assign the same percussion sound to multiple voices to quickly play and sequence melodic patterns.
Easy synchronization with any host or DAW.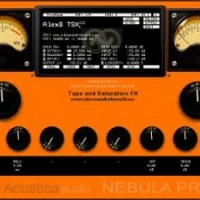 The European software developer Alessandro Boschi aka AlexB has released "Tape and Saturators FX Pro," his latest library for the Nebula VST plugin.
Nebula, from Acustica Audio, uses libraries sampled to extremely high specifications to emulate different types of vintage gear, including equalizers, filters, microphones, preamps, compressors, reverb and generic time-variant processors.
The prices are 20.00 EUR for the library, or $25.09 USD at today's exchange rates, and 65,00 EUR special "Welcome" price for the TSX library bundle, or $81.54 USD at today's exchange rates.
In short, the newest release from AlexB includes:
. 4 units sampled: ANM, DTE, FTS, MWT
. 38 differents programs at 7K and 5K
. Clean and Driven programs
. Real "Saturation" and "Warmth" controls
. Internal HPF SideChain for the compressors
. Special skin
. Over 1GB library programs
. Available as single library or as discounted bundle
More from AlexB, as he tells it:
"A collection of the best hardware tape emulators FX.
ANM
The ANM Tape Simulator is the first product that uses the analog process for modeling complex analog circuitry entirely in the analog domain Unlike digital plug-ins or processor-based outboard gear. The result is a faithful recreation of the original response, without using the original analog hardware. The circuit has been improved and a custom dard has installed.
DTE
DTE is a homemade unit that simulates a vintage tube tape machine with a mastering tube compressor and a tube saturator stage built in. Class A design, real tape and head circuitry digitally controlled.
FTS
It's a modern digitally controlled analog device that offers many of the "musical non-linearities" exhibited by the older tube, class A discrete, and magnetic tape mediums. The unit has several compressor "types" with fixed attacks and releases. The unis has been enhanced for better sound characteristics.
MWT (Modern White Tape FX)
The MWT provides a remarkable simulation of true tape sound through the inclusion of genuine tape drive circuitry. This emulation circuit provides the nostalgic rounding and compression usually only achieved by the use of tape. This typically offsets the harshness often found in digital recordings. The unit has been enhanced in the DC and audio path with top grade audio components.
The programs:
Carefully sampled @96kHz and @44.1kHz in a professional recording studio with hi-quality audio and digital cables and master grade converters with audio levels perfectly matched and calibrated. They are precisely programmed without normalizing or other destructive digital processing. The programs don't sound processed, harsh or digital as most plugins do, but instead sound like a natural extension of the original audio, gluing your tracks in the mix with an analog vibe.
Free demo available.
Programs characteristics and details in the user manual: http://www.alessandroboschi.eu/alexb/doc/Tape_and_Saturators_FX_Manual.pdf"
http://soundsandgear.com/soundiron-tuned-artillery-review checking out a tuned percussion library from Soundiron called Tuned Artillery for Kontakt 4 and Kontakt 5. Helmets, grenades, and artillery shells all turned into musical instruments.
Puremagnetik has released Devil07, an emulation of the classic Roland TR-707 as modified by Diabolical Devices with ring modulation, filtering, distortion and doubling type effects.
Devil07 is a classic Roland TR-707 drum machine instrument and much, much more! With close to 600 individual samples, and 21 banks of sounds, Devil07 will take you to places that the original 707 could never come close to.
The TR-707 used for this library was completely upgraded by master circuit bending technician Diabolical Devices. Using a system of patches and switches, each "bent" sound was explored and all of its expressions captured with high resolution a/d conversion. The library includes an enormous collection of "Mechanical", "Bitpitched", "Shorted" and "Rusted" sounds all categorized into individual banks.
Devil07 features
– Over 20 multi-sampled banks.
– Close to 600 high quality samples.
– Singly integrated Ableton Live Rack can be played as a seamless instrument.
– "Renoise Ready" XRNI files for instant playability.
– Kontakt KSP easy edit GUI
Devil07 is now available to Puremagnetik subscribers (requires Ableton Live 8.2.2, Kontakt 4.2, Logic 8 or Renoise 2).
Hologram Room – vol.1 by usoproject
Hologram Room is the first bundle of the abstract Sound Design Collection produced by sound designers and composers Matteo Milani and Federico Placidi (aka U.S.O. Project).
The two gigabytes of "ready to use" original sound elements are designed to help sweetening and enhancing a sound production. The whole library is organized in eight main folders: Active Drones, Alarms, Blips, Buttons, Communications, Ignitions, Telemetries, Transitions. It provides a selection of out of this world drones and ambiences, futuristic sound effects and electronic tools.
The sound designers have been spending hours composing, editing, mixing these categories in Symbolic Sound Corporation Kyma and Avid Pro Tools. All of the audio files have been embedded with metadata for detailed and accurate searches in a asset management software.
A note about the mastering: the library has not been peak normalized, but loudness normalized, based on the recommendation by the European Broadcast Union. What does it mean? During the audition of the samples, they will have the same loudness level when played through monitors.
This work has been made possible by the aid of LevelOne, a program developed by Grimm Audio.EBU TECHNICAL provides all kinds of information about the EBU R128 loudness recommendation. The official R128 documents and guidelines can be found online, as well as introduction papers and videos.
Here is what is included in Hologram Room – vol.1:Folders:Active Drones (81 items)Alarms (26 items)Blips (52 items)Buttons (62 items)Communications (18 items)Ignitions (34 items)Telemetries (35 items)Transitions (123 items)Tab-delimited file (.txt)Excel spreadsheet (.xls)License Agreement (.pdf)Artwork (.jpg)
Audio Format: Broadcast Wave Files (.wav) Sample Rate: 48 kHz Bit Depth: 24-bit Size: 1.87 GB Download size is 1.66 GB (compressed .zip archive)
Price: $ 25