You can get Diode 108 Drum Machine here at the App Store
https://itunes.apple.com/us/app/diode…
Diode-108 is the only iPad drum machine on the market with direct control over every effect—HIT BY HIT. The new leader in drum machines is here, with 16 voices (not 9), drag-and-drop per beat effects, note mode to change pitch, and the ability to make and share kits. Revolutionize your groove-making and create sounds you've never heard before.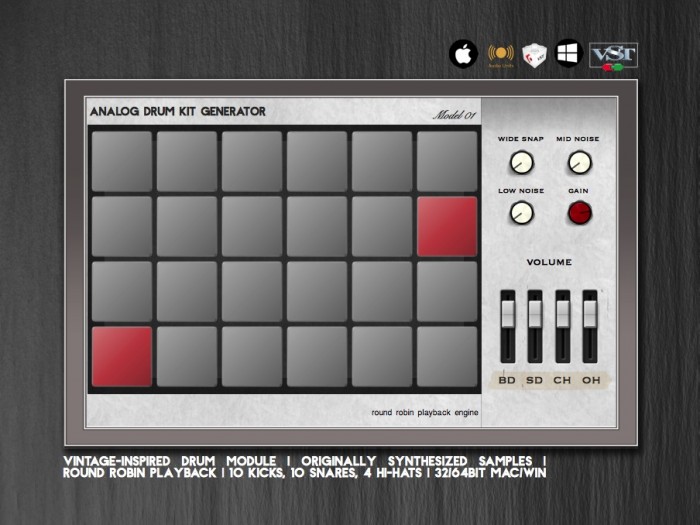 Greynote Music has announced the release of Analog Drum Kit M01, a drum instrument plug-in for Windows and Mac.
"Analog Drum Kit Generator" (model 1) is a vintage inspired drum module plugin!

It contains 10 kick sounds, 10, snare sounds, 4 hi hats along with additional noise & snap sound generators. It has an unprocessed sound, so you'll have the opportunity to shape its sound using your favorite plugins.
Analog Drum Kit M01 features
Unique Samples.
Straightforward Interface.
Round Robin Playback.
10 kicks, 10 snares, 4 hi-hats.
Noise generators, "Wide Snap" functionality.
32/64bit Audio Unit & VST Mac/Win compatibility.
Analog Drum Kit M01 is available for purchase for £4.99 GBP.
Virtual drum machine for Kontakt, where sequencer program is being derived from a text string.
see: http://waveforms.fairlyconfusing.net/…
Soniocipher, is one completely unnecessary tool, which can convert a text string to machine drum sequence. The practical uses of this device are severely limited, as there is no backward conversion tool. However, it makes noises and it has blinking lights, so it's quite fun for those, who enjoy such activities.

The machine is quite simple to use, you use virtual keyboard to type in text, then press "enter" to decode it into sound sequence. "Play" button in upper right corner starts sequence playback.
Sonocipher is free to download for Kontakt 4.24 or newer (full version). Download includes samples.
Buy it now! http://www.themaschinewarehouse.com/k…
All new VST /AU drum machine from Themaschinewarehouse.com
160 Kits (stereo and Multi-outs!)
12 drum pads per kit
2 layers per drum pad
12 Dirt Layers with pre and post trigger
808 sub layer on trap kits
ADSR control over each sound
Global reverb tune and level controls
individual pan and volume per pad
over $40k worth of sound sources captured
High quality analog drum machines run through boutique FX chains captured and sculpted for all new sounds never heard before.
Available this JUNE 2015!
catch the intro price
during the month of
june only $99 (normally $149)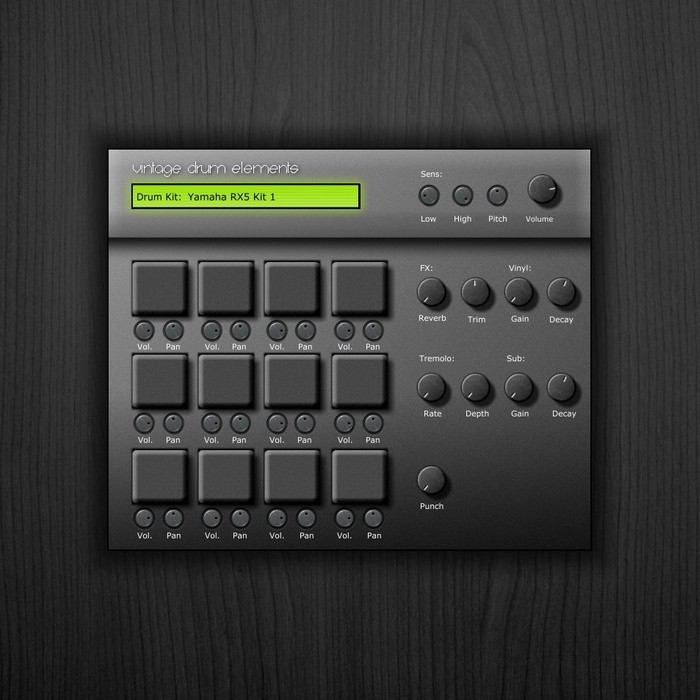 Single Cycle Audio has launched Vintage Drum Elements, a virtual drum machine featuring the sound of the Yamaha RX5.
This seminal drum machine of the eighties is the perfect companion to any synthwave, vaporwave, synthpop and chillwave enthusiast who seek that eighties vibe in their drum patterns. The RX5 has been use by such artist as the Cocteau Twins, Bomb The Bass, Masters At Work, Orchestral Manoeuvres in the Dark, Louie Vega, Chromeo, Vangelis, Depeche Mode, The Pet Shop Boys among many other professional producers.

The plugin drum machine comes with 4 drum kits, 1 FX set and 4 instruments.
The plug-in is available as a free download for Windows and Mac (VST/AU).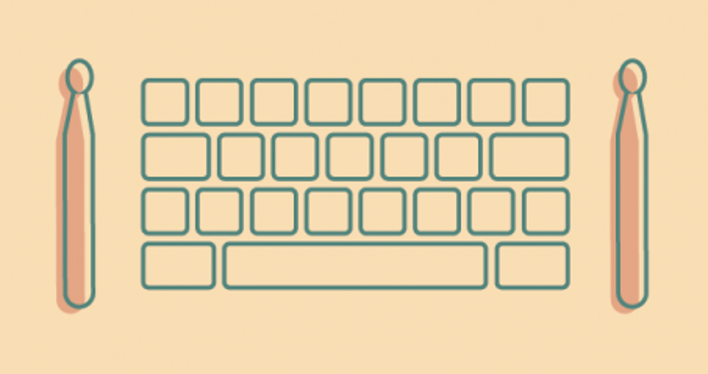 typedrummer was created by Kyle Stetz.
Vibrant Digital Engineering has introduced Diode-108 – a new drum machine app for iPad.
Diode-108 comes with a variety of built-in vintage, classic, and acoustic kits, but you can also mix and match the samples provided or import wav files to create your own kits.
Features:
Drag and drop effects let you put effects on individual beats!
Drum kits licensed from respected partners. Dubsounds, Samples From Mars, Orange Tree Samples, and 99Sounds.
16 drum voices with unlimited patterns that you can arrange into your own songs
Each pattern can have its own swing and tempo multiplier
Every voice has PER BEAT control of pan, volume, tone, pitch, decay, compression, and distortion, delay, and reverb.
Turn NOTE MODE on for any voice and control the musical note (up or down an octave from the original pitch). Great for basslines or pitched percussion
Wav sample import
Mix and Match kits (easily substitute any sample in any kit). Want an 808 kick in a 909 kit? No problem.
Diode-108 lets you export your songs as wav files to SoundCloud, DropBox, or iTunes, or send them through Audiobus to other apps on your iPad.
Diode-108 is available now for US $5.99 in the App Store.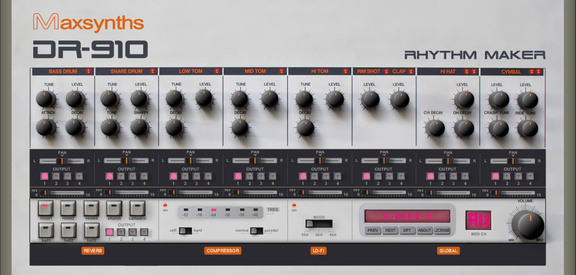 MaxSynths has announced the release of DR-910, a drum machine instrument inspired by one of the most known percussive instruments that massively helped to define the sound of modern electronic music.
The instrument itself does not need presentations: used by artists like Moby, Fatboy Slim, The Prodigy, Jean Michel Jarre, The Chemical Brothers, Faithless and many many others, the TR-909 quickly became one of the most classic pieces of gear in the electronic musician's arsenal.

DR-910 VSTi is a faithful reproduction of the original device: each sound section (bassdrum, snare drum, etc.) has been developed to sound and act as similar as possible to the original instrument. The plugin includes also some extra features not available in the hardware version: a reverb unit with independent send controls for each sound source, a compressor tailored to work with drum sounds (based on the same engine of MaxSynths DSP-1) and a Lo-Fi FX processor.
DR-910 features
Faithful emulation of the original sound.
Four stereo outputs.
Mute and pan options for each instrument.
Independent send level to the built-in reverb unit for each instrument.
Built-in compressor featuring IDP cicrcuit.
Built-in reverb unit routable to output 1-4.
Lo-Fi FX with three independent modes.
Full MIDI support through MIDI CC#.
Behringer BCR-2000 custom template.
Easy to operate.
Low CPU usage.
DR-910 for Windows (VST) is available for purchase for 24.99 EUR.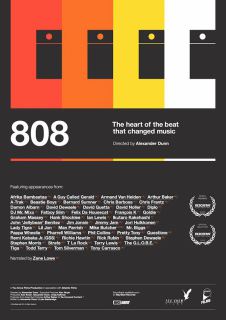 808 The Movie – a documentary about the Roland TR-808 drum machine and its influence on music – makes its world premiere this Friday, March 13th, at SXSW.
The film has been in production for three years, and feature a "Who's Who" of producers, including: Afrika Bambaataa, The Beastie Boys, Pharrell Williams, Questlove, Phil Collins, Rick Rubin, Diplo, New Order, David Guetta, Damon Albarn and many others.
808 is an inspirational story of the Roland TR808 drum machine and how its ground-shaking beats changed the musical world.
Its sound transcends countries and musical genres, in turn inspiring countless artists and producers, giving them an iconic sound from which to build upon.
Even if you don't know the 808 by name, you know its sound. It's everywhere, even now. 808 reveals the stories of the world famous artists, producers and most importantly the hit music to which the 808 was key, offering a cross section of personal experiences about the development of musical genres from around the world.
And 808 reveals why, after only three years of production, the 808 befell an untimely demise.
Today's show is all about drums!
The Altair8800 now works as a 8 steps drum machine, with 8 voices!
The sense switches are used as channels' ON/OFF and each one of the 8 steps programmed in the sequence outputs a byte (used as a binary number instead of a MIDI note number) which I've used inside max to trigger all the drum kit samples. As usual the interface is programmed in MaxMSP and it communicates with the Altair with a serial to usb connection.
Easy and way funny!!
see you in the next episode, and may the assembly be with you!