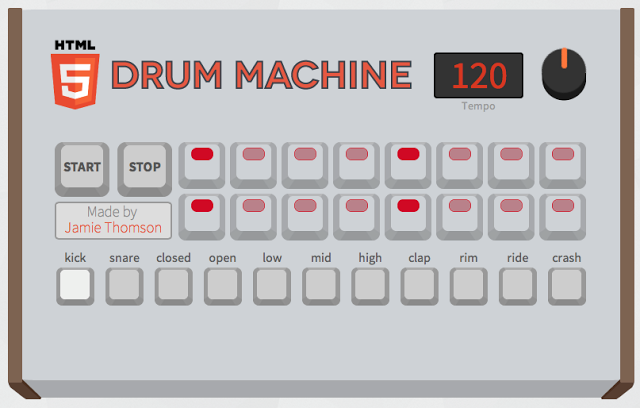 In celebration of the new(ish) html audio element, Jamie made a loose-emulation of everyone's favorite drum machine: the Roland tr-909. As the drum machine runs using html5 audio, it will, unfortunately, not work on older browsers. For best results, use Chrome and be sure to click the like buttons!
Try it out here: http://html5drummachine.com
Via Matrix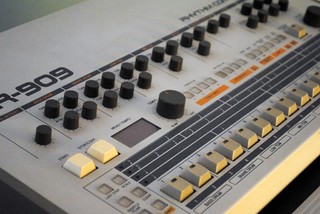 Tonebuilder has introduced Driven Machine Drums: FR-909, a free sample pack featuring the sounds of the Roland TR-909 drum machine.
This is a new capture/take on the ever popular TR-909, this time combining outboard vintage NOS tubes and body compression in parallel.
Those signals are then combined and fed into a high-end mastering equalizer to further glue, shape, and focus the sound.

The entire 549 sound collection in 16-bit, 44.1kHz WAV format is available here, complimentary.
The download is available from the Tonebuilder Facebook page (no Facebook account required).
Demo of the drum machine Sequential Circuits Drumtraks from 1984.
It is a great American drum machine. It is very flexible – for every beat and every sound in a pattern you can set volume and pitch to your needs, similar to the E-mu SP-12. It has a groovy sequencer! One of my favourite drum machines.
It is a studio machine with single outputs for drumsounds, MIDI, Clock IN/OUT and more…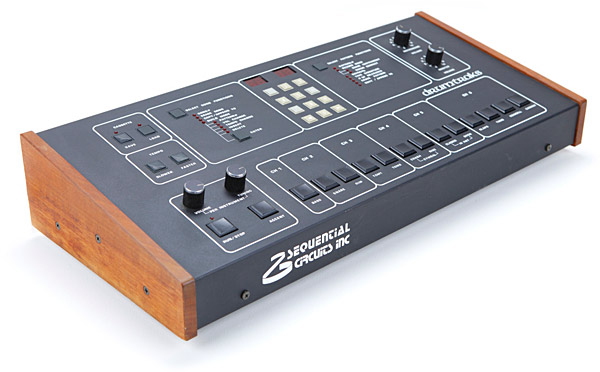 The DrumTraks is a very programmable classic drum machine from the eighties. While its electronic drum kit sounds may not be as popular today as the TR-909 or TR-808, the DrumTraks exceeds them with superior editing capabilities. Thirteen drum sounds all with programmable tuning and level control. Extensive editing with copy and paste ability. There's even a mixer section for individual sounds, six individual outputs, one mono mix output, and cassette in/out for offline memory storage.
Pretty basic and easy programming, record a couple patterns and link them into a song. The DrumTraks can output a 24PPQN clock signal and is also fully MIDI capable. This makes it very easy to use with old analogs and new MIDI synths and sequencers. If your looking for classic eighties electro beats and the vintage instrument that generates them then look no further than the DrumTraks.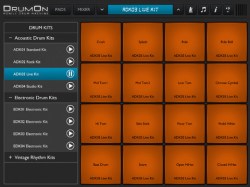 Tapgic Technology Limited has introduced DrumOn – described as 'a professional mobile Drum Machine'.
DrumOn is intended to turn your iPad into an advanced drum pad for live performance – like a hardware drum pad.
Main Features:
Over 16bit/44.1kHz to 24bit/48kHz PCM quality sound bank with maximum polyphony of 32-notes.
Each Drum Kit has a individual rhythm Demo playing in loop, you can change the drum kit when you play.
Realistic Choke Performance of Pedal Hi-Hat, Closed Hi-Hat and Open Hi-Hat.
15 grades of Touch-Velocity let you play like a real instrument, the harder you play, the more dynamics and volume you'll get.
Available to change the drum pad numbers from 8 to 12 or 16 to get bigger area or more sounds as you need.
Available to open or close the pad names.
Exclusive Function Side-Bars are available to open or close by the top-bar buttons or two-fingers touch gesture.
Full control of individual pad's Level and Pan, each drum kit has a built-in setting and you can change it.
Full-featured built-in metronome which is absolutely accurate with the industrial quartz precision.
High quality effect module for the global output including OVERDRIVE, REVERB, DELAY (iOS6+ ) is fully user-defined. You can also the change the effects order to get different sound effect.
Music Player lets you import your music tracks to Jam with, you can change the Volume, Loop and Speed of the music tracks.
Drum Kits in Version 1.0 :
ADK01 Standard Kit
ADK02 Rock Kit
ADK03 Live Kit
ADK04 Studio Kit
EDK01 Electronic Kit
EDK02 Electronic Kit
EDK03 Electronic Kit
EDK04 Electronic Kit
VRK01 Vintage Kit
VRK02 Vintage Kit
VRK03 Vintage Kit
VRK04 Vintage Kit
VRK05 TR606
VRK06 TR808
Here is a new video featuring the DSI Tempest. Tempest is a professional drum machine that generates its sounds using six powerful analog synthesis voices, and uses an innovative, performance-oriented operating system that permits an extraordinary level of control to create, edit, arrange, and manipulate beats in real time without ever stopping.
"This is the first of two videos were I recorded the Tempest 6 individual outputs live in one take into Logic and then afterwards mixed it.
I recorded the DSI Tempest 6 individual outputs straight into the UAD Apollo sound card in one take. Then I played 2 overdubs on the Tempest pads with polyphonic synth sounds.
The reverb, EQ and compressor are from the UAD Apollo and recorded live at the same time. Then some mixing/mastring in Logic. All synth sounds made by DreamProbe.
Check out my website: www.dreamprobemusic.com
There you can listen to my music, download sounds/samples etc."
The Analog Four is a 4-voice analog synthesizer with digital controls and sequencing.
More info: http://www.elektron.se/products/analog
The Machinedrum SPS-1UW+ MKII combines drum synthesis and gritty 12-bit sampling with expressive sequencing.
More info: http://www.elektron.se/products/machi…
The Monomachine is a digital synthesizer featuring numerous finely-tuned synthesis methods as well as sequencing capabilities.
More info: http://www.elektron.se/products/monom…
The Octatrack is a radical 8-track dynamic performance sampler and sequencer.
More info: http://www.elektron.se/products/octat…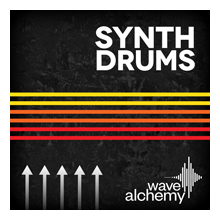 Ten Vintage synthesizers expertly programmed to create a ground-breaking Drum Library, our most comprehensive and intricately designed to date. Incorporating all-time classic analogue machines with modern High-End processing hardware and production techniques…
Introducing Synth Drums, offering over 5900 cutting edge, totally unique drum samples and percussive hits, each carefully crafted by hand, on a sound-by-sound basis.
Synths used in the creation of Synth Drums:
Roland Jupiter 8
Roland System-100 (101, 102, 104)
Sequential Circuits Prophet 5 Rev 2
Sequential Circuits Pro One
Korg MS-20
ARP Odyssey MK1
Moog Minimoog Model D
Oberheim OB8
Roland Juno 106
Roland SH-09
"We've designed this library to be as flexible as possible: as well as the extensive processed section, the unprocessed source samples are also included as they were originally recorded – straight-from-the-synth. A third section includes selected samples bounced through special processes to add character, tone, warmth and punch, using Vinyl and Reel-to-Reel ¼ inch Tape with multiple saturation levels.
We feel that this attention to detail will translate into a unique, creative and useful addition to any electronic music producer's toolkit."
Our Pyramind friends made this intro to getting the Midi Fighter Pro set up with Reason's Kong. Learn more about Pyramind's tutorials + download a Reason demo: http://bit.ly/15Y9wZ4
A video demo and tutorial of the much talked about app Different Drummer
Different Drummer is your secret weapon in the quest for innovative beats that make sense yet defy the status quo. Using patent pending Cyclophone Technology, Different Drummer taps into the primal source of all drumming—waves. Wave motion propels almost everything you can imagine and it's the perfect controller for drumming too. Different Drummer puts out multi-track drum beats and music sequences which are remarkably lifelike or primal at times and out of this world at others. Different Drummer is not a drum synthesizer but uses waves to play the drum samples (or other samples) in amazing ways that vary from electro and dubstep to tribal to classical.