Novation appears to have a bass synth in the making, teasers pics from thier Facebook site yesterday below:
Or perhaps a a two oscillator mono synth
MFB has introduced the Tanzbär Drumcomputer – a new analog drum machine.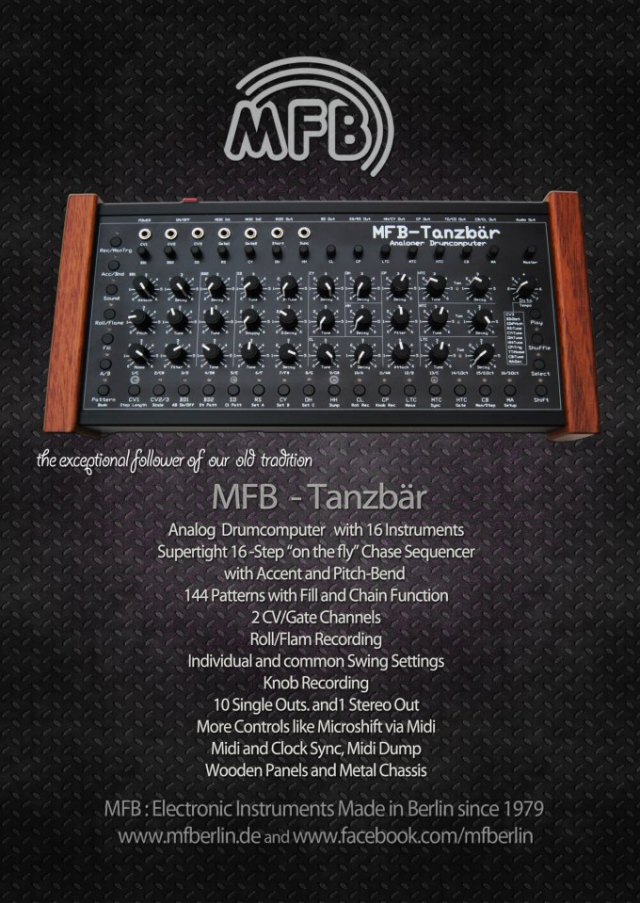 Audio demo below:
MFB Drum Computer Session 2 by Yapacc on Mixcloud
And finally a new electronic instrument from Dualo: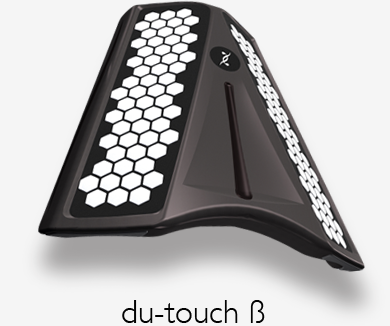 Dualo, a start-up company etablished in 2011 by two musicians and engineers, has designed a musical instrument based on a innovative and intuitive keyboard: the du-touch ß.
This original key layout, which is closer to harmony, is an alternative to the layout encountered in a piano, and is called the dualo keyboard.The manner in which the keys have been laid out has been validated by several musicians, and is designed to provide an opportunity to learn, to read and to play music faster than traditional instruments.
In Decembre 2012, after two years of extensive research and development, Dualo has released a limited edition of his first instrument, dualo du-touch ß, already sold-out. Several famous artists decided to support our project, including Cyril Atef (-M-, Bumcello, …), Fixi (Java) and Khalid K.
In view of the enthusiastic reception for our instrument, Dualo is now launching a crowd-funding campaign on KissKissBankBank.com to finance the professional edition, which will be delivered from Decembre 2013.
Our first instrument, "dualo du-touch ß" is designed for amateurs and professionals.
innovative : it's the first instrument in the world which use a layout of keys based on the dualo principle
compact, portable and featuring a wide tessitura : light, designed to come with you everywhere, 5 octaves for 29cm high
standalone : battery-powered, built-in synthesizer, built-in multi- effect processor, built-in multitrack looper ; audio line out and amplified audio headphones out
versatile : thanks to the built-in features which allows to play with a wide palette of sounds and to organize them in songs
original and allowing a wide stage presence : fitted with gesture and movement sensors offering a new generation of musical gesture, a new feel and a new phrasing
intuitive and instructive : thanks to the dualo principle and to the built-in help system : screen, light display
Ever since Reason 1.0 beatmakers, producers, and button-mashers alike have all loved the venerable old Redrum Drum Computer. And it's easy to see why. Step sequencing drum machines like Redrum or even the classic Roland 808 offer a nearly perfect layout for programming the rhythmic syncopated beats used in so many popular music genres. The 16 buttons, representing the 16 steps in the beat, provide the right blend of predictable beat construction and random experimentation when you want to spice up your beats.
In this micro tutorial, we'll get you started with drum step sequencing and get familiar with the Redrum's layout. You'll soon learn why producers the world over love Kong but also keep coming back to Redrum for that special creative simplicity.
Icebreaker Audio has introduced Bitrate, a semi-modular, digital drum machine for Native Instruments Reaktor 5.
Offering a variety of sound generation styles, all based on digital synthesis from the late 80s and early 90s, BitRate is a gritty device with a retro heart of silicone.
Bitrate features
5 drum slots into which you can load any one of 13 different sound modules.
4 main sound engine types, each based on a different style of lo-fi digital sound generation.
A built-in sequencer with 2 modulation sequences per drum.
Automatic tempo-synchronization when used in a host.
EQ, Compressor, and Speaker Simulator master effects.
BitRate is available for the introductory price of £15 GBP until March 31st, 2013 (regular £25 GBP). Requires Reaktor 5.8 or higher.
This demo is of the Elektron Analog Four, a four voice analog synthesizer/sequencer and the Roland TR-707 drum machine. The Elektron is doing all the tones here and of course, the 707 is playing the drums. In terms of effects, there is a slight bit of analog delay and chorus on the 707′s snare. Otherwise, all effects used are the ones built into the Elektron (it's reverb and delay were used on this project). The mixer is an Alto AMX-220. The master of that was then sent to an Electra EQ, then finally to my soundcard. No post-processing, compression, etc was used.
Jordan Passmore says: I am having lots of fun with the Analog Four. It excels very well as modulated and filtered textures. It sounds very different than other analog synths I have owned in the past and the sequencer is (of course) fantastic. All tones here were programmed by me.
Yamaha RX8 drum machine. Yamaha launched the RX8 in 1989 as a replacement for the RX7 and to be Yamaha's first drum machine using 16 bit PCM samples. In the late eighties there were several successful 16 bit drum machines available, the Alesis HR16 and HR16B as well as the Roland R8 and R5 to name a few, but the RX8 was still able to carve out a niche in the market of the time.
"Shaped like a plastic doorstop. Not one of the best drum machines ever but still has its charms. Not as boring as the RX17 and RX21. Clearly a budget drum machine, it boasted 16 bit samples and it would have gone head to head with the Alesis HR16, which had better samples."
Crumar Nerve Centre 15 is an analogue drum machine that was build into a number of Crumar's organs from the mid 1970′s.
"I took this particular specimen out of an old defective organ some years ago (and made a video of it) and now the time has come to find out how it works so that I can use it for something.
One very special thing with this drum machine is that there is a separate row of selector switches for the auto-accompaniment so that you can pick and chose independantly – in other words it is possible to combine for instance the samba rhythm with waltz bass and arpeggio (not that it would sound very good but it is possible). I wonder why so few organ companies came up with that idea. It makes the auto-band much more flexible and it only costs an extra row of switches.
The music in something I made on Yamaha HE-8 and Technics SX-C600 organs, Roland SH-2000 synthesizer and TR-66 Rhythm Arranger drum machine, and the little Casio CZ-101 phase distortion synthesizer."
Arduino based drum machine with adjustable samples and loop sequencing.
Available February 8th from bleeplabs.com and Sparkfun.com.
All audio direct from The Bleep Drum.
Transdimensional hand modeling provided by the HSS3jb (not hooked up to the Bleep Drum).
Specs:
Four sounds, two with pitch control
Four selectable sequences
Record patterns just by playing them
Tap tempo
Reverse mode
Hyper Noise 30XX mode
http://bleeplabs.com/store/the-bleep-drum/
A Deep House-inspired improvisation using Roland Juno-60, Korg M1, Roland TR-909
"I bought my 909 in the '90s when it was at the peak of its popularity in Techno, House and Rave music. This old faithful has been to many raves and house parties back in the day, yet, amazingly, still works and more importantly, grooves like a fox on rollerblades."
The Roland TR-909 Rhythm Composer is a partially analog, partially sample-based, drum machine introduced by the Japanese Roland Corporation in 1983. The brainchild of Tadao Kikumoto, the engineer behind the Roland TB-303, it features a 16-step step sequencer and a drum kit that aimed for realism and cost-effectiveness. It is fully programmable, and like its predecessor, the TR-808, it can store entire songs with multiple sections, as opposed to simply storing patterns. It was the first MIDI-equipped drum machine. Around 10,000 units were produced.