The BOSS DR-220E is a little programmable digital rhythm machine. This is the "E" version – it means E-DRUM sounds (very Simmons-like). The DR-220 has a twin brother with acoustic drums sounds – the DR-220A.
Although the DR-220 is from 1986, it lacks MIDI – but it has SYNC IN and OUT. It has nice Simmons-like eighties drums! It is similar to the Korg DDM-110/DDM-220, but it has better sounds in my opinion.
The DS-M (Drum Synth Module) is a complex, modifiable, 100% analog drum synth loosely based on the Coron DS-8 and neatly packaged into an 8hp module.
Changes to the original DS-8 include:
VCA-like trigger input (more voltage = louder output)
Trimmer-adjustable attack
LED trigger indicator
1v/o tracking (C0-C4)
Triangle core oscillator
Additional noise color switch setting (3 settings instead of 2)
More distinct noise timbres
Louder, improved noise circuit
Really LOW bass frequencies
Total range ~4Hz to 2.6kHz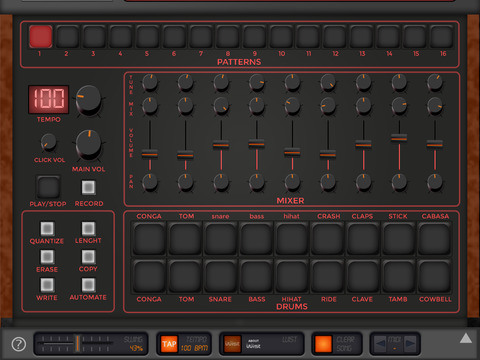 Elliott Garage has introduced EGLM1 – a software drum machine for iPad, inspired by the classic Roger Linn LinnDrum drum machine.
Features:
16 programmable rhythm patterns with variable length
Save the pattern you've created and play songs
Automation of Drumkit parameters (pan, volume and mix)
Song Mode page (swipe to left to open it) with loop option
Swing and tap tempo
Core MIDI & clock MIDI (network session, external controller, inter app midi)
Audiobus
Interapp Instrument
Record and export your performance with iTunes, eMail or Audio Copy
Korg Wist sync
Official audio/video demos are to come.
EGLM1 is available for US $2.99 in the App Store.
This tutorial explains how to create a drum kit with acoustic qualities.
Performance by Boska.
Read more about the Nord Drum 2:
http://www.nordkeyboards.com/products…
This demo features the Teenage Engineering PO-12 Drum Machine, Yamaha TG-100 rompler/synthesizer and MTI Analog String Ensemble ADL-100 effects unit. All of these are mixed on a Yamaha MJ-100 DJ mixer. The PO-12 is being ran straight into the mixer and is only being effected by the MJ-100's internal digital delay (you can hear me through-out the video adjusting the delay time on the effect). The TG-100, which is doing the chord/pad choir patch, is being ran through the MTI chorus unit. The MTI's effect is quite similar to the ensemble effect built into the Solina String Synthesizer; a triple chorus with very deep modulation. The strings are also being effected by the digital delay on the mixer. The mix is then sent into my audio interface.
Please note: This is the prototype of the PO-12 released at Moogfest.
Vintage gear demo featuring the Boss DR-55
supported by UVI: http://bit.ly/retrosound-uvi
Boss DR-55 "Dr.Rhythm" analog drum machine from the year 1979
4 Instruments (BD, SD, HH, RS), Accent, Tone, 2x Trigger Out,
step by step programming,
"808" | The heart of the beat that changed music.
Film & Soundtrack Coming 2015
"808" features appearances and commentary from: Arthur Baker, Pharrell, David Guetta, Phil Collins, Lil Jon, Afrika Bambaataa, Norman Cook (Fatboy Slim), Rick Rubin, Diplo, Goldie and more.
Produced by You Know Films in association with Atlantic Films
Directed by Alexander Dunn
Executive Producer: Alex Noyer
Producers: Alex Noyer, Craig Kallman & Alexander Dunn
Producer & Co-Executive Producer Arthur Baker for Re-Covered Content Ltd
Written by Alexander Dunn & Luke Bainbridge
Follow 808 online:
Site: http://808themovie.com
Facebook: http://fb.com/808themovie
Twitter: http://twitter.com/808themovie
Instagram: http://instagram.com/808themovie
http://youknowfilms.com
http://atlanticrecords.com
Keio (Korg) Mini Pops 7 Drum Machine + Roland RE 101 Space Echo
Keio Giken (former name of KORG in 60's) Mini Pops 7 (1966, aka UNIVOX SR-95) + Roland Space Echo RE-101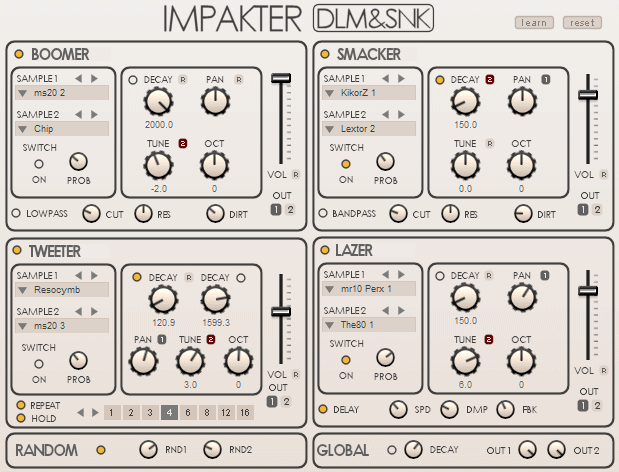 de la Mancha has set free loophole, a midi-triggered loop sampler, and Impakter, a vintage drum module plugin containing 320 samples of original drum sounds generated on analogue synths and drum machines.
Thank you to the 44 wonderful people who have donated so far! After this you all responded positively to help me to raise over £500 (against a target of £1000) for Cancer Research UK, a deserving charity that funds scientists, doctors and nurses to help beat cancer sooner.

As we made it to the half way mark, I am releasing 2 of the 4 plugins for free, for everyone.
The plug-ins are available to download for Windows (VST).
Apple Store link:https://itunes.apple.com/us/app/egdr9…
ElliottGarage presents EGDR909, a drum machine that emulates the vintage hardware from the 80's with all the facilities of modern software.
Its realistic and clear interface recalls the analog machine from the past, for all the vintage fanatics.
You can play with the groove presets included or you can create your own beat to play along your favorite song via InterApp, Audiobus, Core MIDI and clock MIDI.
You can also share your drum patterns with iTunes filse sharing or Audio Copy.
Features:
– Interface like the real drum machine from the 80's
– 16 steps sequencer, with variable lenght
– 48 programmable rythm patterns
– Save the pattern you've created and play your songs
– Manual Play, Pattern Write and Pattern Clear mode
– Drumkit pieces parameters control (tuning, decay and snappy)
– Song Mode page (swipe to left to open) with loop option
– Swing and tap tempo
– Core MIDI & clock MIDI (network session, external controller, inter app midi)
– Audiobus
– Interapp (generator)
– Export with iTunes, mail or Audio Copy
– Korg Wist sync
Check the videos on http://www.youtube.com/ElliottGarage
support: info@elliottgarage.com