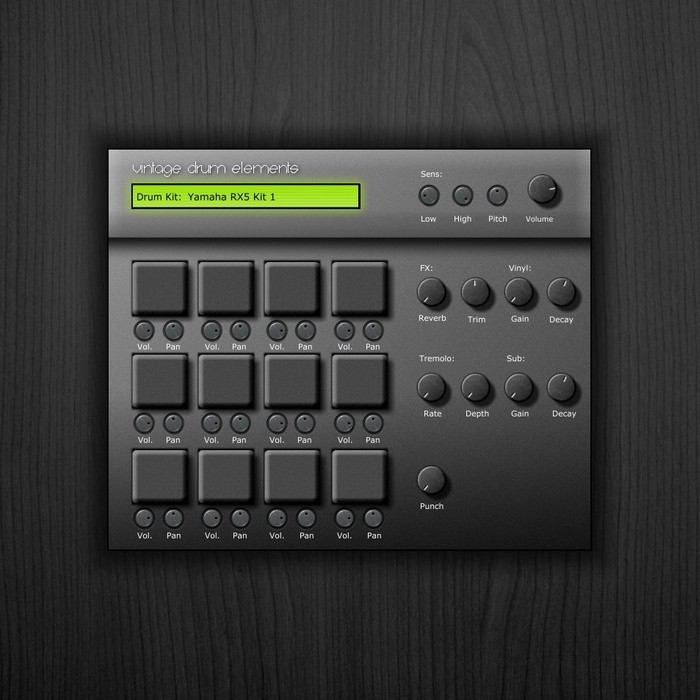 Single Cycle Audio has launched Vintage Drum Elements, a virtual drum machine featuring the sound of the Yamaha RX5.
This seminal drum machine of the eighties is the perfect companion to any synthwave, vaporwave, synthpop and chillwave enthusiast who seek that eighties vibe in their drum patterns. The RX5 has been use by such artist as the Cocteau Twins, Bomb The Bass, Masters At Work, Orchestral Manoeuvres in the Dark, Louie Vega, Chromeo, Vangelis, Depeche Mode, The Pet Shop Boys among many other professional producers.

The plugin drum machine comes with 4 drum kits, 1 FX set and 4 instruments.
The plug-in is available as a free download for Windows and Mac (VST/AU).
info coming soon… stay tuned.
Watch the world premiere of the SH-101 Plug-Out Software Synth as David Ålhund (Roland Expert, V-Topia, NUDE, Tweeky) demonstrates the new software synth running on the new Aira System-1 synth, giving the attendees an exclusive first look at this new Roland hardware and software. He also delivered his signature performance with the Aira TR8, TB3 and VT3 and answered some questions from the audience.
System-1 Plug-Out Synth – http://www.roland.co.uk/products/prod…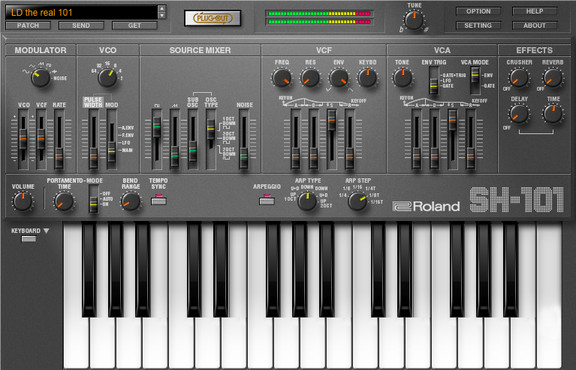 Roland has introduced the SH-101 PLUG-OUT, a software synthesizer for the SYSTEM-1.
The SH-101 PLUG-OUT Software Synthesizer is a complete reproduction of the iconic SH-101 – right down to the fine details and odd quirks that make it one of the most popular classic synthesizers of all time.

Based on Analog Circuit Behavior (ACB) technology, it not only reproduces the SH-101's legendary sounds, but faithfully recreates the very behavior of its analog circuitry – all with a level of authenticity that could only come from the company that created the original.
SH-101 PLUG OUT features
Total authenticity through face-to-face consultation with the original designers and relentless research beyond the original schematics.
Meticulously recreated oscillator and filter behavior – hallmarks of the SH-101 sound.
Authentic behaviors including the unique interaction between low pass filter and envelope controls.
Faithfully reproduces the unstable fluctuations that resulted from quirks in the SH-101's circuitry.
Classic SH-101 synth sounds – bass, lead, noise, and sound effects.
Software layout features standard gray model, as well as red and blue models originally sold as limited editions.
Two envelope sections allow different settings for VCF and VCA while maintaining the option of classic SH-101 envelope behavior.
Reverb, chorus, delay and crusher effects that were not included in the original.
Run as many instances as your computer can handle.
Use SYSTEM-1 as a dedicated USB keyboard controller with lighted knobs and sliders that show only available parameters.
PLUG-OUT with SYSTEM-1 lets you take an authentic SH-101 wherever you go, from mobile production to live performance.
Transfer sounds between SYSTEM-1 and SH-101 with PLUG-OUT.
Supports Macintosh and Windows, and AU and VSTi formats.
The SH-101 PLUG-OUT synthesizer will be available to SYSTEM-1 users on July 24th, 2014.
Reveal Sound has released version 1.0.16 of Spire, a software synthesizer instrument for Windows and Mac.
Spire is a software polyphonic synthesizer that combines powerful sound engine modulation and flexible architecture, a graphical interface provides unparalleled usability. Spire is the embodiment of the best opportunities, both software and hardware synthesizers.
Changes in Spire v1.0.16
Improve stability.
Fixed: Factory banks install under MacOS.
Fixed: Reset controls on opening window.
Add: MacOS uninstall script.
Add: Allow multiple preset select on load.
New presets by Function Loops in Factory bank 5.
Spire for Windows and Mac (VST/AU) is available for purchase for 139 EUR / $189 USD.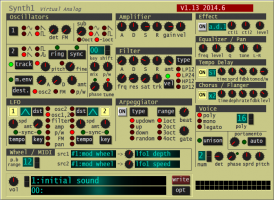 Ichiro Toda has released new beta versions of the freeware Synth1 plug-in for Windows and Mac OS X.
The Windows v1.13 Beta 1 release adds a 64-bit VST version whilst the Mac v1.13 Beta 7 release adds an Audio Unit version (32-bit only for now).
Changes in Windows v1.13 beta1:
64-bit version is available.
VST version up to 2.4 (both 32-bit & 64-bit). There is no change to the previous version in functionality.
Bug Fix: Fixed a problem that occurred is petit noise on MusicMaker.
Madrona Labs has released Kaivo, a semi-modular software synthesizer that combines two ways of making sound: granular synthesis and physical modeling.
Developer Randy Jones says:
"Today we release Kaivo, our new software synthesizer. 'Kaivo' is Finnish for 'well,' as in, a deep well of sounds, and I've been working on deepening that well over the last month or so. Kaivo's models include metal, nylon and gut strings, different sizes of chimes and springs (yes, springs), wooden instrument bodies, membranes and metal plates. "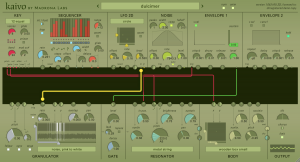 Kaivo brings 'some of the latest academic research in physical modeling to a patchable package for the first time.' Mathematically speaking, its finite difference time domain (FDTD) models let the player affect the internal vibrations inside the instrument at any point. This allows for a fine degree of realistic detail, like the bridge rattles on a "gut string" model, for example. Developers say Kaivo is also designed to apply this subtlety to more abstract creations.
Every time a model is triggered, it makes a slightly different sound due to the initial conditions when the sound starts. This subtle variety can quickly give a very lifelike quality to sounds that would be tedious to recreate with sampling. Kaivo has eight different types of tuned resonators, including strings, chimes and springs, each with its own complex response to sound. As for instrument bodies, there are four, including two wooden body models, a metal plate, and a frame drum—all true 2D models.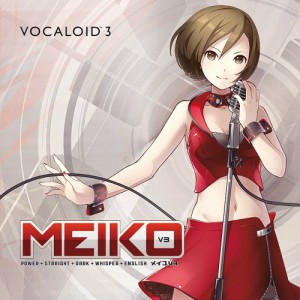 Best Service has released MEIKO V3. Here's all the details in their own words…
MEIKO V3 is futuristic singing voice synthesizer software. It is the brand-new version of Cryptons first released Vocaloid. The new MEIKO V3 features a beautiful female voice that fits a wide range of music genres from rock to electronic music. With its high sound quality and resemblance of a real voice the software lets you incorporate MEIKOs voice immediately into your music production.
MEIKO V3 features 4 carefully produced Japanese voice banks with various voice tones and moods, and an additional English voice bank for your production with English lyrics.
This all-in-one package includes vocal editor Piapro Studio VSTi, PreSonus Studio One Artist Piapro Edition, and over 200 virtual instruments for your immediate music production.
Easily edit Vocals in your music production environment
A vocal editor that allows you to easily operate and modify Meiko´s voice, Piapro Studio works as a VSTi and AU plugin, and therefore performs at a high compatibility with main music production applications (PreSonus Studio One, Ableton Live, Steinberg Cubase, Apple LogicX, Garage Band etc.).
Database (Voice Bank)
The database is based on a human voice, carefully recorded in a high-standard studio environment. Every sound was edited and optimized for the VOCALOID engine in order to create this database. With parameters such as gender factor or brightness, you are able to modify the voice and customize it to exactly fit your sound.
Features
Supported VSTi / AU plugin by all main music software applications
Piano Roll Editor: Easy to use note & lyric editing. Enter the notes you want Meiko to sing via the easy-to-use sequencer window, then type in the lyrics corresponding to each note
Control Effects via Automation: Dynamics, breath, velocity, gender and other vocal characteristics can be manipulated simply with a pencil tool
Vocal parts editable while playback
Chorus: You can add up to 15 voice tracks simultaneously
Leads VSQ, VSQX, MIDI
Import MIDI Files as Input: You can import a standard MIDI file and use the notes as the basis for Vocaloid tracks
Save/Export Vocal Parts as .wav files
Interface Language: Japanese, English, Chinese
Display of multiple Automation Tracks
Automatic Update (requires Internet Connection)
Bundled Software
MEIKO V3 comes in an all-in-one package for your own music production of songs! The product contains MEIKOs English and Japanese singing voice database, vocal editor Piapro Studio and the music production application Studio One Artist Piapro Edition coming with over 200 virtual instruments (guitar, piano, drums, and various other synthesizers). All applications can be synched with each other which enables you to easily produce whole musical compositions.
Studio One
With Studio One Artist, you can not only create rhythms and melodies, but also add all kinds of effects on Meikos voice! The softwares intuitive operation interface allows easy editing, mixing and mastering of your musical creations.
PreSonus Virtual Instruments & Sounds
Studio One Artist Piapro Edition comes with over 200 instruments, enabling your creativity to explore and compose for a wide range of music genres. [Instruments] Guitar / Bass / Keyboard / Drum / Strings / Woodwind / Percussion and more!
Additional Software included:
Tiny VOCALOID™3 Editor (for Windows only)
MUTANT VSTi Version (for Windows only)
SONICWIRE Bonus Samples
Pricing and Availability:
£125 /  €149
Analog Four OS 1.1. has finally arrived! This is a major OS upgrade, adding polyphony, resonance boost, MIDI multi map. Oh yeah, it also unlocks the pre-installed +Drive of all units. Head on over to http://elektron.se/support-and-downloads and upgrade today!
The Analog Four is a four voice polyphonic analog synthesizer. Analog oscillators and filters ensure the most organic sounds imaginable and the Elektron step sequencer caters for the innovative sound control. With sequencer features like parameter locks and variable length per track, intricate Analog Four compositions can be created quickly and efficiently. Add the completely new and incredibly well-crafted effects to the mix and experience the next chapter in analog sounds.
Elektron released OS 1.1 for Analog Four and Analog Keys adding polyphonic functions and increased strorage using +Drive. Here's my demonstration of some new (slightly altered) factory sounds.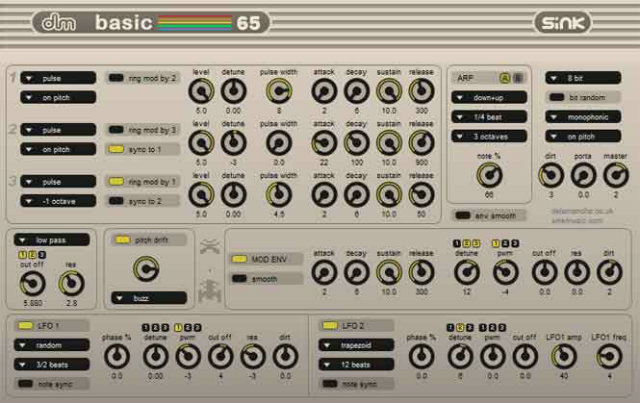 de la Mancha is continuing to put synths that were previously available for purchase online as free downloads. The latest is a monophonic synth, basic 65, inspired by the classic 80s home computer, the Commodore 64 and its legendary SID chip. Building on the waveforms and signal path of this famous chip, basic 65 adds further features and options to take things a step further. Here's more details:
The double arpeggiator allows complex versions of that retro 8-bit game sound and the modulation options inspire experimentation via the mod envelope and 2 comprehensive LFOs. Pulse width modulation, ring modulation and oscillator detune/sync are key ingredients in the signature sound. Throw in some pitch drift, bit drift, a sprinkle of dirt and randomisation and you have a wide range of lofi, chiptune, retro-tastic sounds at your disposal.
This version is the update to the popular basic 64, redesigned from scratch, with many improvements, new features and all new presets. basic 65 was co-developed with sink, who also made the amazing presets.
Features
Monophonic synth in VST format for Windows based hosts
3 oscillators with pulse, saw, triangle and noise waveforms
Pulse width can be modulated by envelope or both LFOs
Each oscillator can be sync'd to another and/or ring modulated by another
Each oscillator has its own ADSR envelope and can be routed to filter individually
Resonant filter with low pass, high pass, band pass and notch modes
2 tempo-sync Arpeggiators in series for complex arp sounds
Arp tempo, range and note length can be adjusted
Modulation envelope can control pulse width and pitch of individual oscillators as well as filter and dirt
2 tempo-sync LFOs with wide range of waveforms, including random
Both LFOs can control pulse width and pitch of individual oscillators
One LFO also controls filter and dirt, the other can modulate the depth and speed of the first LFO
Envelopes are non-linear and can be retriggered from zero or smoothed on each new note
Pitch drift models instability with variable depth and frequency
Options for 4, 6, 8, 12 or 16 bit audio with randomising feature
Developed with SE 1.1, so no problems with multiple instances
128 presets by sink covering arps, leads, bass, drums and lofi sounds
Pricing and Availability:
basic65 VSTi for Windows used to be a payware plugin, but is now free to download. However, if you like and use any de la Mancha plugins, please consider donating to Cancer Research UK in order to help care for and find a cure for cancer sufferers.