Vintage synthesizer demo track featuring the Roland SH-101 Analog Synthesizer (1983)
Some famous classic 80s synth sequences. No external FX used.
All video and audio c.2014 G-Storm Electro
http://gstormelectronica.blogspot.com/
The focus of this demo is the SH-101 plug-out: down-n-dirty short basses, basic arpeggios, and sequences from Arturia Beatstep. I don't have an original SH-101 so I can't comment on how similar it may be. I stayed away from tone/crusher and kept the delay/reverb to a minimum just so you could hear the SH-101 sound engine in all its monophonic glory. Some backing rhythms provided by SCI Drumtraks and Roland MC-303.
All sounds in this song except the choir and speak and spell voice is made with the Roland SH-101.
All photos and video by Youtube alias 'Analog Synthesizers'.
Watch the world premiere of the SH-101 Plug-Out Software Synth as David Ålhund (Roland Expert, V-Topia, NUDE, Tweeky) demonstrates the new software synth running on the new Aira System-1 synth, giving the attendees an exclusive first look at this new Roland hardware and software. He also delivered his signature performance with the Aira TR8, TB3 and VT3 and answered some questions from the audience.
System-1 Plug-Out Synth – http://www.roland.co.uk/products/prod…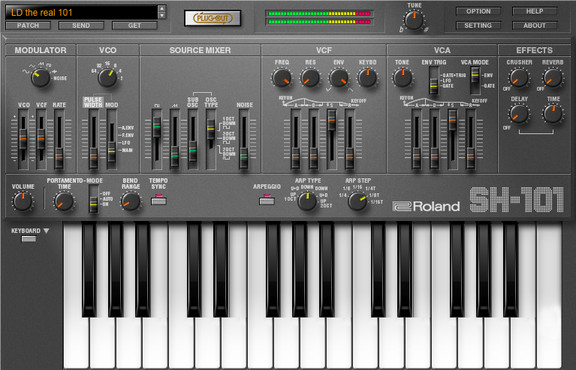 Roland has introduced the SH-101 PLUG-OUT, a software synthesizer for the SYSTEM-1.
The SH-101 PLUG-OUT Software Synthesizer is a complete reproduction of the iconic SH-101 – right down to the fine details and odd quirks that make it one of the most popular classic synthesizers of all time.

Based on Analog Circuit Behavior (ACB) technology, it not only reproduces the SH-101's legendary sounds, but faithfully recreates the very behavior of its analog circuitry – all with a level of authenticity that could only come from the company that created the original.
SH-101 PLUG OUT features
Total authenticity through face-to-face consultation with the original designers and relentless research beyond the original schematics.
Meticulously recreated oscillator and filter behavior – hallmarks of the SH-101 sound.
Authentic behaviors including the unique interaction between low pass filter and envelope controls.
Faithfully reproduces the unstable fluctuations that resulted from quirks in the SH-101's circuitry.
Classic SH-101 synth sounds – bass, lead, noise, and sound effects.
Software layout features standard gray model, as well as red and blue models originally sold as limited editions.
Two envelope sections allow different settings for VCF and VCA while maintaining the option of classic SH-101 envelope behavior.
Reverb, chorus, delay and crusher effects that were not included in the original.
Run as many instances as your computer can handle.
Use SYSTEM-1 as a dedicated USB keyboard controller with lighted knobs and sliders that show only available parameters.
PLUG-OUT with SYSTEM-1 lets you take an authentic SH-101 wherever you go, from mobile production to live performance.
Transfer sounds between SYSTEM-1 and SH-101 with PLUG-OUT.
Supports Macintosh and Windows, and AU and VSTi formats.
The SH-101 PLUG-OUT synthesizer will be available to SYSTEM-1 users on July 24th, 2014.
Vintage synthesizer demo track featuring the classic Roland SH-101

all sounds: Roland SH-101 Analog Synthesizer (1983)
drums: Roland TR-707
recording: multitrack without Midi
DJ and producers Sharooz explains why he loves his Roland SH-101 synthesizer, showing off the features of the synth and some of his favorite sounds.
Background video description:
One of my subscribers needed help interfacing his SH-101 with the Europa sequencer. In this video, I demonstrate clocking the SH-101's arpeggiator and internal sequencer to the Europa using one of its 7 drum triggers. In this instance, I used trigger "B" since it did not have a drum assigned to the MIDI note number on the Roland R-8M. First, I program a steady stream of eighth notes and then sixteenth notes. I also experiment with dropping various steps to create a pattern. The simple bass line used in this video is from a Novation BassStation rack synth. I added some delay to the 101 with the Lexicon MX400.
Next, I hook up a Roland MPU-101 MIDI to CV converter box to control the SH-101 from the Europa sequencer.
A simple live session with the Roland SH-101 Vs TR-909 recorded from the output of an Soundcraft 200sr mixer through a Steinberg MR816x interface. No additional editing, EQ, effects or compression has been added. Just the boxes, unmixed, into a laptop.
My apologies for the Ken Burns effect, I recorded the video stream seperately and ran out of space and hence lost the video.
Just a simple 1 bar sequence with the sequencer of the 101 triggered from the rimshot of the 909.
The Intellijel Dual ADSR:
-Based on the Roland SH-101 design with several enhancements.
-Manual GATE buttons
-Three timing ranges
-Normal and inverted outputs
-End of Decay (EOD) logic output
-Cycle mode
-Dynamic level control of each ADSR output level via built in linear VCA
More details at www.intellijel.com